NEW YORK — The first three weeks of the 2018 season have been a lot of fun for the Toronto Blue Jays. They've taken advantage of some weaker opponents on the schedule, enjoyed some feel-good victories, and performed better than in any April in recent memory.
Now though, things start getting real—a 4-3 loss Friday night in the Bronx, opening a stretch of seven straight games versus the New York Yankees and Boston Red Sox, which will serve as the most meaningful leading indicator of where they stand in the early going.
"These guys in this clubhouse know what it takes to get back to where we want to be and it's about doing it from Game 1," said Aaron Sanchez, who was bled for three runs over six strong innings. "Unfortunate that we didn't come out on top tonight. Hopefully we can do some damage the next three games."
Certainly 4.2 innings of dominant relief work from Chad Green, Dellin Betances, David Robertson—who bent but didn't break in a shaky eighth—and Aroldis Chapman offered a shock to the system after the steady diet of good hitting served up by the Kansas City Royals bullpen earlier this week.
The cookies, on an uncomfortably cold Friday that featured biting 40 km/h winds that made it feel like 1 degree C, were much harder to come by. But the Blue Jays also went 1-for-8 with runners in scoring position through the first 4.1 innings versus CC Sabathia, who watched Luke Maile score on a passed ball in the third before the red-hot backup catcher added an RBI single in the fourth that tied the game 2-2.
And then they let Robertson off the hook in the eighth after loading the bases with none out, strikeouts by Kevin Pillar and Randal Grichuk sandwiching a Curtis Granderson pinch-hit single before Maile flew out to left, ending a club-record 9-for-9 run with men in scoring position.
Rally magic has its limits.
Ben Nicholson-Smith and Arden Zwelling take fans inside the Blue Jays and around MLB with news, analysis and interviews.
"They're good, everybody in the baseball world expects them to have a big year, and I can see why," said manager John Gibbons. "A big hit in that crucial situation like we've been getting a lot lately makes the difference. That's baseball.
"They've got a pretty good pitching staff, too. That's what they do. A guy like Robertson, he's not going to melt. He clutched up, that's really all that happened. That's the beauty of strikeouts—sometimes you need contact, sometimes you don't get it."
Sanchez, starting for the first time since carrying a no-hitter into the eighth inning against the Baltimore Orioles last Tuesday, by and large contained the Yankees with his increasingly impressive changeup for six innings.
But the BABIP monster was unkind to him as the Yankees scratched out three runs, two in the second on a Tyler Wade RBI groundout and a Ronald Torreyes run-scoring single, and another in the fifth, when Didi Gregorius hooked a change through the 3-4 hole after Aaron Judge narrowly beat out a double-play relay to keep the inning alive.
Rockets around the diamond, they weren't.
"Coming out of the gate early I thought the fastball was good, breaking ball was okay, it got better late. Changeup has been a pitch that's been there for me any time I need it, that's been a plus," said Sanchez. "I felt like all game I was really good. …It was one of those nights where things fell for them, what are you going to do about it?"
Sanchez topped out at 95.2 mph with his two-seamer, according to Baseball Savant, and averaged out at 92.8 with it, and 91.8 on his four-seamer. By the sixth his fastball was sitting at 90, a byproduct of the cold.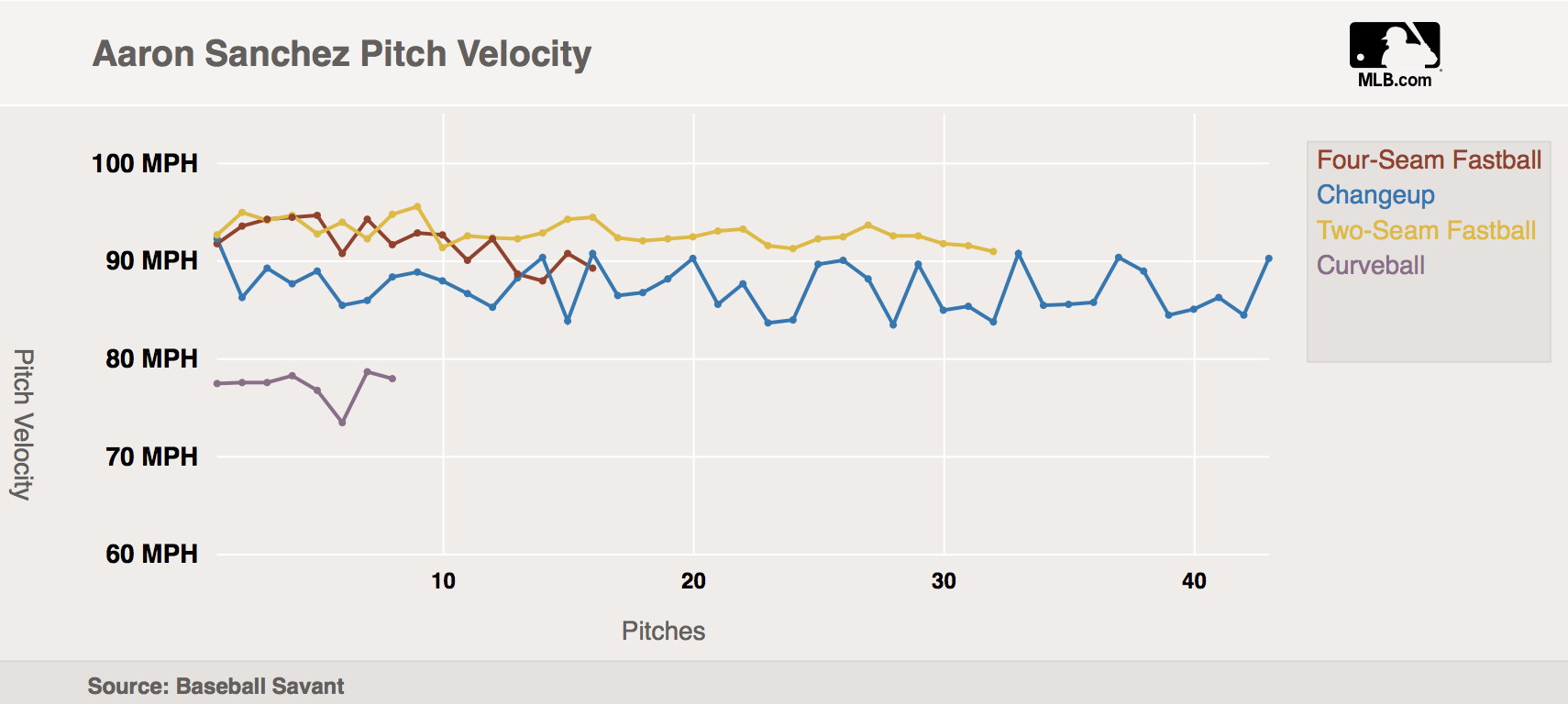 "It's been like that the last two starts," Sanchez said of the late velocity dip. "For me, though, too, I'm just trying to stay in my delivery in games like this so I don't really care what my velocity is doing. Everybody knows what I can do and when it gets hot I'm sure you guys will see it."
Reliever Tyler Clippard surrendered a solo shot to Aaron Judge in the seventh on a full-count splitter that tumbled into the heart of the strike zone and was appropriately punished. The homer was the 61st of Judge's career in game No. 199, making him the fastest to reach the mark in big-league history, surpassing Mark McGwire (204 games).
Judge's blast was one of the few lasers from either team, the conditions making the already difficult task of hitting even tougher.
"Probably the fact that you can't feel your hands—that would be No. 1," Maile said of the biggest challenges in the conditions. "You're just cold, man. Especially those outfielders—I've got it easy because I'm moving around behind the plate. …It's a challenge but both teams have to do it."
Opportunity still beckoned for the Blue Jays in the eighth when Teoscar Hernández led off with a single and Robertson then walked Justin Smoak and Yangervis Solarte. After Pillar struck out, Granderson dunked a single into left to push across one run, Grichuk struck out chasing a ball in the dirt and Maile flew out to deep left.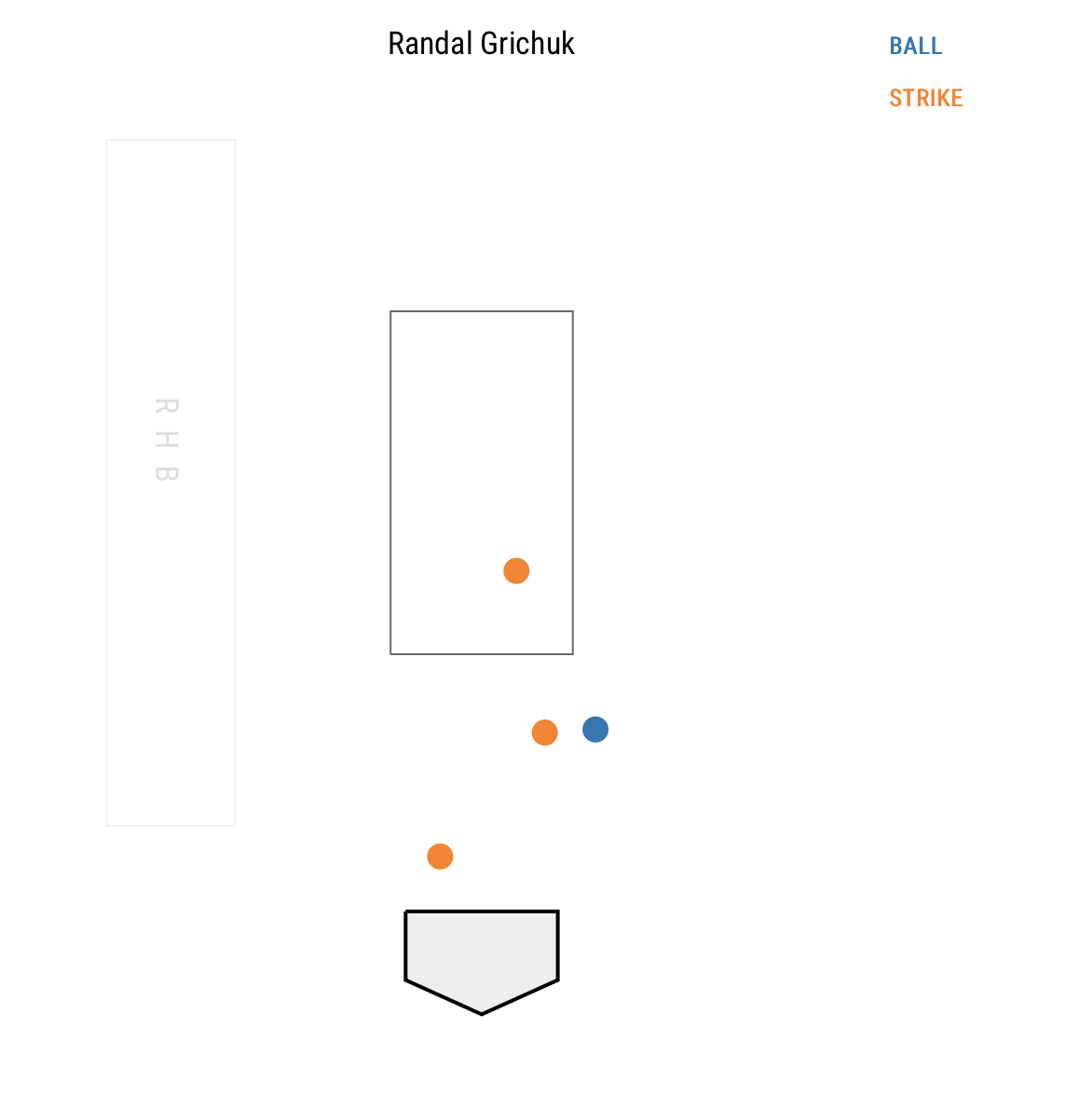 Chapman struck out the side in the ninth, the Yankees getting the jump in this four-game set after splitting a four-gamer in Toronto to open the season.
"The way we're playing right now, we feel we can play with anybody," said Maile, adding later: "We know the matchup is a good opportunity for us but it's going to be a challenge."