Throughout the course of an up-and-down 2017 season, Cavan Biggio was in a constant search for comfort at the plate. The Toronto Blue Jays second base prospect had identified issues with his timing and bat path as he batted .233/.342/.363 over 556 plate appearances at advanced-A Dunedin, but trying to adjust amid the daily grind was impossible. He'd been what he called a "touch-and-go guy" in the batter's box his whole life, doing whatever felt right in a given at-bat, and old, ingrained habits die hard.
Still, Biggio had come to understand that approach wouldn't work as he climbed the ladder in professional baseball, so once the off-season arrived, he delved into two months of trial and error, with plenty of the latter, to find a set-up that would allow him to find that elusive feel.
"There were a lot of those times in those two months where I was just like, 'Am I ever going to feel comfortable doing this?'" Biggio says during a recent interview. "It was just so unnatural for me and everything I've been my whole life has just been all natural, just swinging the way I've been swinging since I was a kid."
Eventually, Biggio locked in on two changes that have allowed him to make one of the biggest leaps forward among Blue Jays prospects this season. First, he lowered his hands in his pre-pitch set-up to keep his bat in the strike zone longer, and second, he added a loading mechanism that allows him to consistently transfer his weight into his swing at the right time.
The combination and resulting spinoff benefits have allowed the 23-year-old to completely terrorize pitchers in the double-A Eastern League, unlocking not only a more consistent hitter but one with significant power, too. Through 95 games with the New Hampshire Fisher Cats he's batted .257/.398/.531 with 21 homers and 76 walks against 108 strikeouts.
And on a team that features two players seen as future cornerstones for the Blue Jays in Vladimir Guerrero Jr. and Bo Bichette, he's created some excitement over what he may turn out to be, too.
"I feel like now, I'm less forcing things," says Biggio. "I'm letting the pitch get to me versus me just stepping in and go and get it and trying to get the bat head out there. Back then I was more susceptible to changeups and off-speed and there was just a whole lot of inconsistency. I've always had a good approach, but now I see the ball a lot better and a lot longer."
[relatedlinks]
To get there required hours upon hours of swinging, trying to get all the moving pieces in sync and to find comfort with them.
Though he checked in regularly with Corey Hart, his hitting coach at Dunedin last year, and worked frequently with his Hall of Fame father Craig, the younger Biggio did most of the work on his own.
"It's kind of hard for me to talk to my dad about stuff like that just because he always did it and he was just really good at what he did and he sometimes doesn't know how to tell you how he did it," he explains. "When I tell him that this is where I want to be, and this is what I want to do, he's not that good at telling me what I need to do to get there. He's encouraging about it and super good about the availability to throw to me and flipping to me. So I told him what I wanted to do and how I was going to do it and he was all on board with it.
"He would tell me what he would see and then I would kind of go off of that."
The loading mechanism involves a shift back toward the catcher before the pitch comes, with the timing allowing him to launch toward the ball once he's ready to swing. The inconsistency of his timing last year led to him being so up-and-down at the plate, he believes.
"I knew that I needed to get a more starting point besides my hands," Biggio explains. "I knew that getting something to go back at a consistent time would always get me on time for when I wanted to get ready to hit."
That worked well with the drop in his hands, which used to start up near the top of his head and then drop down as he started to swing. In turn, that left him with a bat path that swooped in and out of the zone, which is counterproductive to both hitting the ball consistently and hitting it consistently hard.
The lower starting point has allowed him to create the checkmark shaped bat path currently preached by launch-angle aficionados, although that wasn't Biggio's intention.
"I was just trying to keep the bat path in the zone more," he says. "I kept my natural finish, which is a high finish, higher than most people. So, with the lower starting point and higher finish, it created more of a launch angle."
Over and over this season, the results have validated Biggio's work, which in turn has allowed him to build more and more trust in changes he made last off-season. During dry spells – he batted .195/.324/.322 in 26 June games with 32 strikeouts – he now also has a foundation to lean on.
"Last year, you know some of the days I was just like, 'Well, let's see what happens today during the game,'" says Biggio. "This year is just like, 'I can do this a little bit better, work on that before the game.' And then when you go out there and you just go play, it's pretty fun."
[snippet id=3305549]
—
Triple-A Buffalo Bisons
Thomas Pannone, the left-hander suspended 80 games after a positive test for DHCMT, has made four starts at Buffalo since his punishment ended, posting a 5.33 ERA in 25.1 innings with 27 strikeouts. He's expected to get some outings for the Blue Jays this season once J.A. Happ and perhaps Marco Estrada are traded. … Dalton Pompey has eight hits and six walks in his first games back since returning from torn ligaments in his left thumb.
Anthony Alford, OF
Acquired: 3rd round, 2012 draft
Season to date (Majors): 16 PA | 0 HR | .143/.250/.143 | 2 BB | 6 K
Season to date (Buffalo): 274 PA | 5 HR | .224/.299/.329 | 23 BB | 77 K
Danny Jansen, C
Acquired: 16th round, 2013 draft
Season to date: 308 PA | 10 HR | .264/.391/.460 | 41 BB | 42 K
Sean Reid-Foley, 22, pitcher
Acquired: 2nd round, 2014 draft
Season to date (Buffalo): 3.56 ERA | 65.2 IP | 22 BB | 78 K
Season to date (New Hampshire): 2.03 ERA | 44.1 IP | 20 BB | 52 K
—
Double-A New Hampshire Fisher-Cats
Vladimir Guerrero Jr. has hit in each of his first five games back at double-A after recovering from a patellar tendon strain in his left knee. The expectation is once he regains his footing, he'll be promoted to triple-A Buffalo. … Speedy outfielder Forrest Wall, one of the players acquired from Colorado in the Seunghwan Oh deal, will join the Fisher Cats. New Hampshire was in Hartford at the time of the deal, allowing him to cross dugouts. … Santiago Espinal, the infielder acquired from Boston last month for Steve Pearce, was promoted from single-A Dunedin last week and had hits in four of his first six games. But the middle infield logjam that had existed in Dunedin is now in New Hampshire between him, Cavan Biggio and Bo Bichette.
Vladimir Guerrero Jr., 3B
Acquired: Signed as international free agent in 2015
Season to date: 257 PA | 12 HR | .403/.449/.655 | 20 BB | 26 K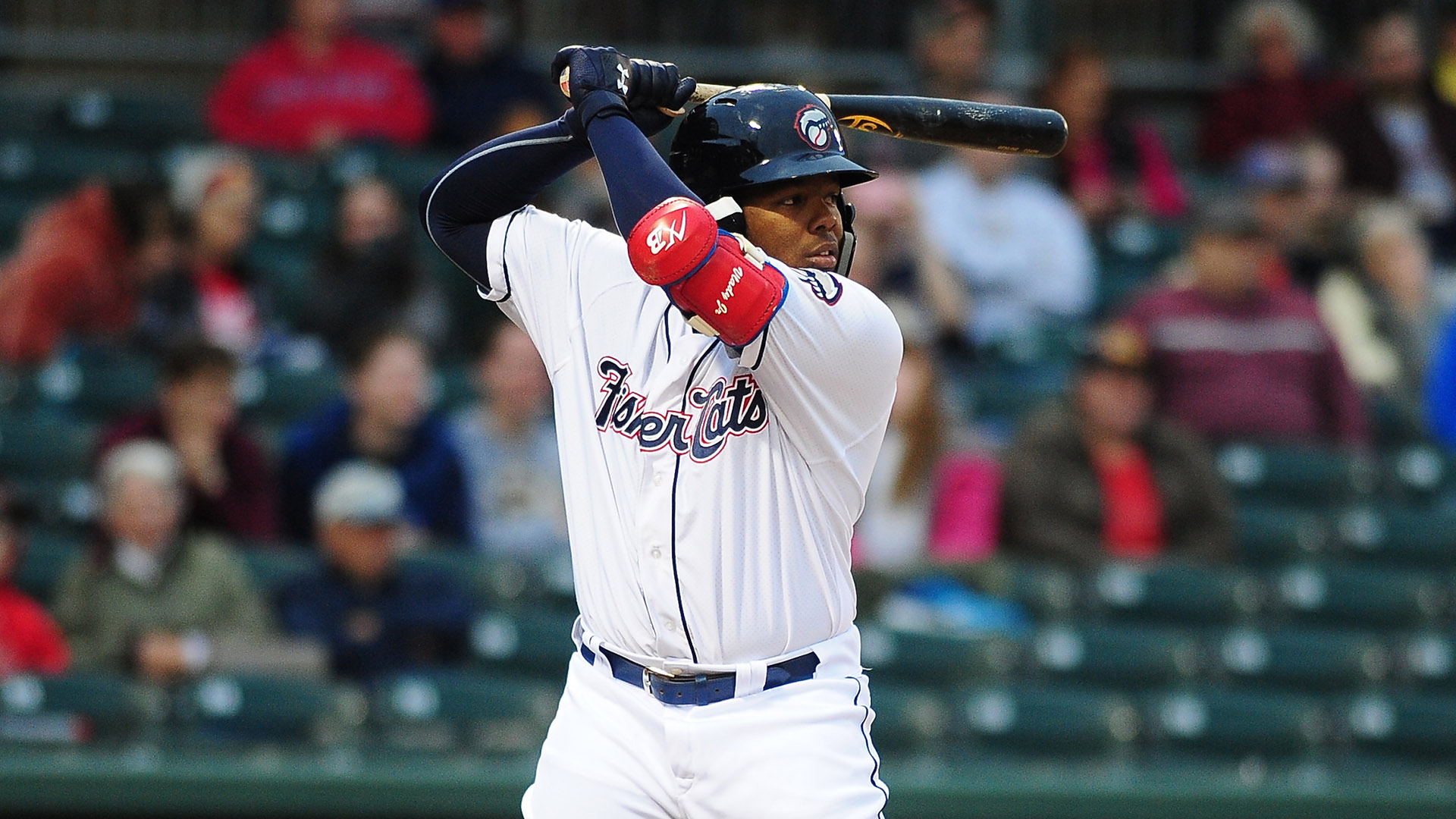 Bo Bichette, SS
Acquired: 2nd round, 2016 draft
Season to date: 425 PA | 8 HR | .268/.327/.431 | 34 BB | 71 K
Max Pentecost, C/1B
Acquired: 1st round, 2014 draft
Season to date: 257 PA | 4 HR | .198/.241/.304 | 14 BB | 65 K
T.J. Zeuch, pitcher
Acquired: 1st round, 2016 draft
Season to date (New Hampshire): 3.54 ERA | 89 IP | 24 BB | 57 K
Season to date (Dunedin): 3.47 ERA | 36.1 IP | 9 BB | 24 K
Jordan Romano, 22, pitcher
Acquired: 10th round, 2014 draft
Season to date (New Hampshire): 3.55 ERA | 106.1 IP | 35 BB | 95 K
Season to date (Buffalo): 3.60 ERA | 5.0 IP | 4 BB | 3 K
—
Advanced-A Dunedin Blue Jays
Patrick Murphy, a hard throwing righty whose career has been sidetracked by injuries, continues to show well at Dunedin, pitching to a 2.78 ERA with 96 strikeouts in 110 innings. Along with the six innings he logged in a fill-in start for New Hampshire – two runs on four hits and six Ks – he's now well past his previous career-high in innings of 106.2. … Logan Warmoth has played two games at shortstop and two at second since returning from an injury. … Lefty Zach Logue, a ninth-round pick last year, has continued to pitch well since a late May promotion from low-A Lansing, posting a 2.67 ERA and 1.130 WHIP in 54 innings over nine starts.
Logan Warmoth, SS
Acquired: 1st round, 2017 draft
Season to date: 205 PA | 1 HR | .232/.312/.298 | 19 BB | 44 K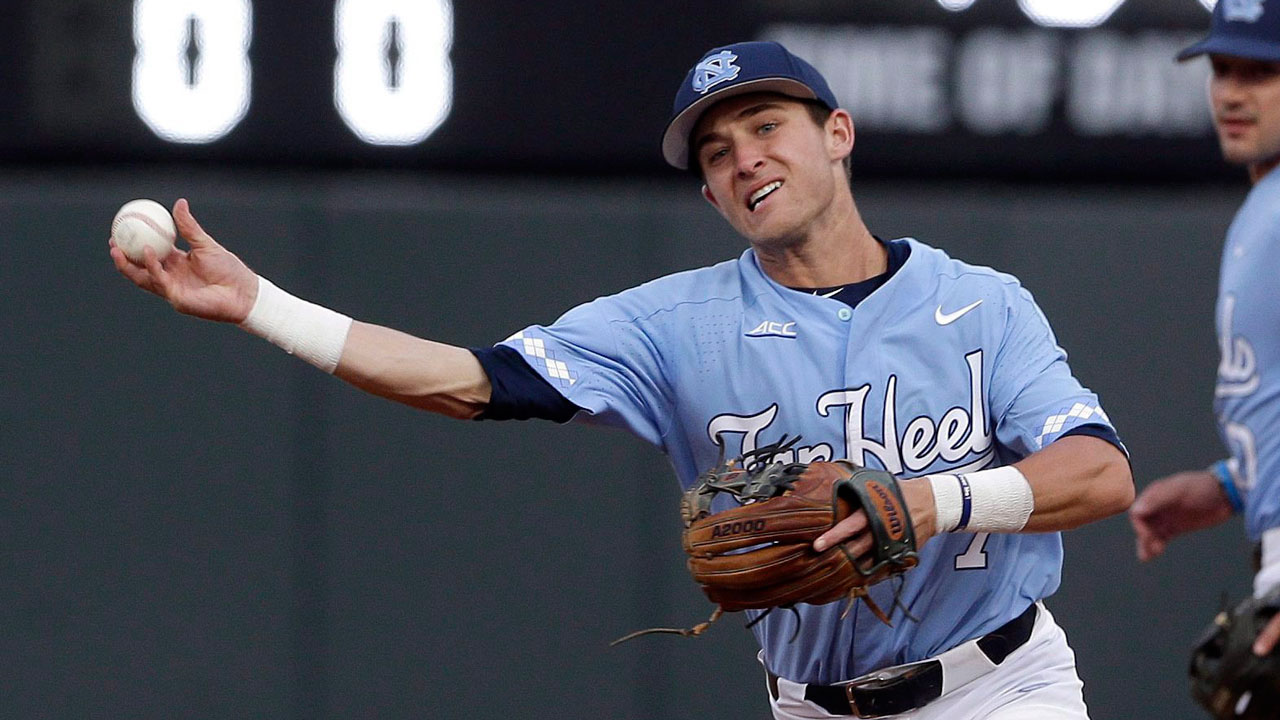 Riley Adams, C
Acquired: 3rd round, 2017 draft
Season to date: 304 PA | 4 HR | .218/.322/.337 | 35 BB | 75 K
Kevin Smith, SS/3B
Acquired: 4th round, 2017 draft
Season to date (Dunedin): 218 PA | 2 HR | .283/.344/.490 | 16 BB | 58 K
Season to date (Lansing): 204 PA | 7 HR | .355/.407/.639| 17 BB | 33 K
Yennsy Diaz, pitcher
Acquired: Signed as international free agent in 2014
Season to date (Dunedin): 4.07 ERA | 59.2 IP | 18 BB | 55 K
Season to date (Lansing): 2.08 ERA | 47.2 IP | 25 BB | 42 K
Nate Pearson, pitcher
Acquired: 1st round, 2017 draft
Season to date: 10.80 ERA | 1.2 IP | 0 BB | 1 K
—
Low-A Lansing Lugnuts
First baseman Chad Spanberger, the other player picked up from the Rockies for Seunghwan Oh, will move from Asheville in the South Atlantic League to Lansing. … Ryan Noda, the first baseman/outfielder selected in the 15th round last year, continues to be an on-base machine with 77 walks and eight hit by pitches to complement his 76 hits in 89 games. He's batting .261/.424/.460 after hitting .364/.507/.575 in 66 games at rookie-ball Bluefield last year. … Since a trio of tough outings in early May, swingman righty Donnie Sellers has pitched to a 2.86 ERA in 50.1 innings over 11 games.
Kevin Vicuna, SS
Acquired: Signed as international free agent in 2014
Season to date: 392 PA | 2 HR | .265/.304/.357 | 17 BB | 56 K
Samad Taylor, 2B
Acquired: Trade with Cleveland in July 2017
Season to date: 375 PA | 6 HR | .226/.316/.375 | 38 BB | 68 K