TORONTO – Patrick Murphy turned the corner in late April after a trying start to the season, moving off a fastball-happy beginning at double-A New Hampshire and finding a better mix between his heater, curveball and changeup. As the gems piled up – eight innings of two-hit ball versus Reading; seven innings of one-hit ball versus Portland; seven innings and 10 Ks in a return engagement with Reading – the 24-year-old right-hander became a regular part of the conversations about how fill the latest pitching need for the Toronto Blue Jays.
So, a promotion to the big-leagues appeared to be on the horizon, only for the latest hurdle to pop up on Murphy's already obstacle-filled career path – a delivery deemed illegal that had to be reset, a process that's halted his progress as he works on it now.
"I've had some crazy stuff happen, this is probably the craziest thing that people don't understand," Murphy says in an interview. "But I'll figure it out and it'll just be another story to tell."
Murphy was first put on alert in May, when an umpiring crew informed him a toe-tap before he plants his drive leg was being reviewed by the Major League Baseball Umpires Association. This is what it looked like: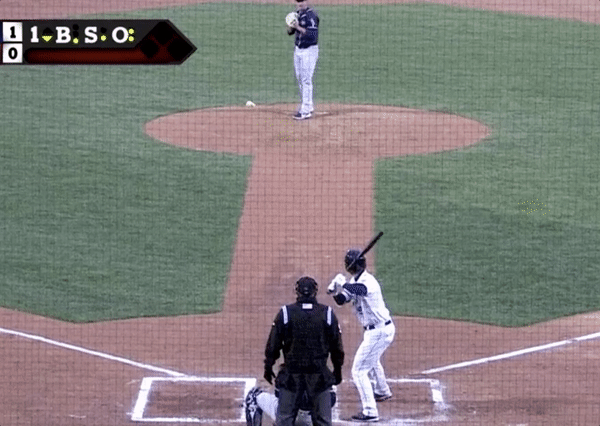 The umpires were checking if it was in violation of Rule 5.07(a), which reads: "The pitcher may not take a second step toward home plate with either foot or otherwise reset his pivot foot in his delivery of the pitch." Violations are punished by the calling of automatic ball with the bases empty or a balk with runners on.
In the interim, they told Murphy to continue doing his thing. On June 2, he threw what he felt might have been the best game of not only his season, but perhaps his career, when he needed only 70 pitches for seven innings of five-hit dominance over Altoona. But rather than to celebrating afterwards, he was left reeling when the umpires dropped the hammer on him.
"They came up to me and said, 'Hate to break the news to you, but today was the last day you can toe-tap. It's officially illegal, you have to change it,'" says Murphy. "They said, 'Whatever we enforce on the big-league side we're going to enforce on the minor-league side,' so it's not something I have to change once I get there. It's something I've got to figure it out now."
Suddenly, Murphy went from pushing toward the big-leagues to scrambling at the drawing board. He tried to stay on turn while making a quickie adjustment, but was roughed up for five runs in 2.1 innings against Richmond on June 7 and eight runs in four innings versus Bowie on June 13, before the Blue Jays pulled him back while he figured things out.
He's now throwing bullpens every other day, trying to gain consistency with a similar motion but rather than tapping his toe – something he did for timing and balance rather than trying to deceive hitters – he hovers over the ground.
The change seems subtle. The change feels significant.
"It sounds pretty silly but it's something you repeat hundreds of times a day for a few years. It becomes muscle memory, your internal clock, everything gets thrown off," says Murphy. "I feel like I'm doing something entirely different. Everyone watching it says it looks pretty similar, I'm just not touching the ground. If that's the case, it's totally fine, because that's the only thing I'm not allowed to do. But it feels like I'm doing something totally different."
Murphy is far from the only one to get caught in a crackdown on violations of Rule 5.07(a). With more pitchers trying to disrupt hitters' timing by varying their deliveries, umpires are on watch. One of the more prominent cases was that of Chicago Cubs reliever Carl Edwards, who reworked his delivery to include a hitch but abandoned it when the Texas Rangers cried foul.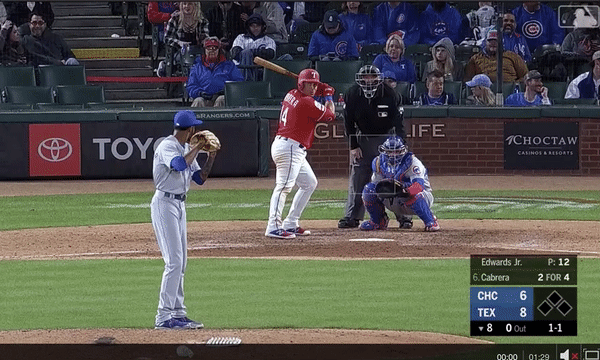 While there's a clear second step there, Murphy's toe tap looks more like a drag than a step.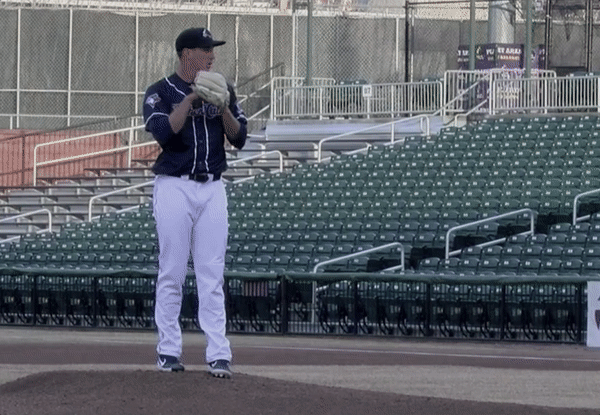 "Just the tip of my cleat," says Murphy. "I guess they decided that it counts as a second step towards home and that's illegal, even though it's not a full step. I don't know. It's out of my control, so I have to roll with the punches and figure something out as fast as I can. It's pretty unfortunate that it happened mid-season. If it was during the off-season, I'd have more time to work on it, obviously, and be able to come in with something new. But if I have to adjust on the fly and pick something up as fast as I can because I don't want to lose much time or suffer (bad) results in a crucial season."
Originally Murphy, a native of Chandler, Ariz., modelled his delivery off that of Clayton Kershaw, who has a similar hitch with his foot but doesn't ultimately touch the ground.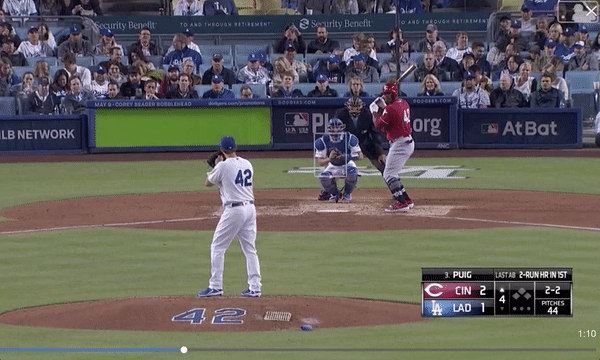 Now, he's simply trying to find something that's comfortable and he can repeat consistently in the heat of the moment, under pressure. In the starts he made post-ruling "I was all over the place, every pitch was something different," he says.
For someone who has already undergone three surgeries – Tommy John, thoracic outlet and a procedure to move a nerve in his elbow – and suffered a stress fracture in his arm, there was little sense in taking chances with messy mechanics. The goal is for him to get back on the mound before the Eastern League's all-star break July 8-10.
"I'm having to train my body and mind, internal clock, get everything on board and in sync, and I have to do it as quick as possible, obviously, because I don't have a lot of time in season," says Murphy. "I don't want to get hurt out there, risk injury, mess up my arm doing something different on every pitch. So let's slow it down and find something I can repeat."
Triple-A Buffalo Bisons
The promotion of Cavan Biggio leaves Bo Bichette as the last of the current wave of top prospects with the Bisons. The sense is that he needs a solid stretch there before debuting in the majors. … Left-hander Matt Dermody, who appeared in some games for the Blue Jays in 2016 and '17, rejoined Buffalo as he works his way back from Tommy John surgery. … Lefty Thomas Pannone is being stretched out as a starter in Buffalo after working out of the Blue Jays bullpen for most of the season.
Bo Bichette, SS
Acquired: 2nd round, 2016 draft
Season to date: 92 PA | 3 HR | .244/.308/.439 | 8 BB | 17 K
Richard Urena, SS
Acquired: Signed as international free agent in 2012
Season to date: 164 PA | 3 HR | .261/.284/.392 | 5 BB | 43 K
Season to date (Majors): 43 PA | 0 HR | .250/.268/.325 | 1 BB | 13 K
Reese McGuire, C
Acquired: Trade with Pirates in 2016
Season to date: 190 PA | 2 HR | .246/.317/.353 | 17 BB | 31 K
Anthony Alford, OF
Acquired: 3rd round, 2012 draft
Season to date: 248 PA | 5 HR | .252/.340/.399 | 26 BB | 74 K
Sean Reid-Foley, pitcher
Acquired: 2nd round, 2014 draft
Season to date: 5.87 ERA | 59 IP | 51 BB | 77 K
Season to date (Majors): 13.50 ERA | 2 IP | 2 BB | 3 K
Double-A New Hampshire Fisher Cats
Jon Harris (shoulder) is back in action, appearing in two games, one start, so far for the Fisher Cats. The 2015 first-rounder's progress is important for the Blue Jays, as he would have been in Buffalo if not for the injury. … Outfielder Forrest Wall, acquired from the Colorado Rockies as part of the Seunghwan Oh deal last summer, is quietly putting together a nice season with an .803 OPS in 63 games.
Kevin Smith, SS/3B
Acquired: 4th round, 2017 draft
Season to date: 254 PA | 7 HR | .168/.233/.323 | 17 BB | 77 K
Riley Adams, C
Acquired: 3rd round, 2017 draft
Season to date (New Hampshire): 148 PA | 3 HR | .252/.311/.385 | 7 BB | 51 K
Season to date (Dunedin): 83 PA | 3 HR | .277/.434/.462 | 14 BB | 18 K
Nate Pearson, pitcher
Acquired: 1st round, 2017 draft
Season to date (New Hampshire): 2.70 ERA | 26.2 IP | 5 BB | 31 K
Season to date (Dunedin): 0.86 ERA | 21 IP | 3 BB | 35 K
Yennsy Diaz, pitcher
Acquired: Signed as international free agent in 2014
Season to date: 3.50 ERA | 74.2 IP | 28 BB | 58 K
Hector Perez, pitcher
Acquired: Trade with Astros in 2018
Season to date: 5.48 ERA | 65.2 IP | 37 BB | 66 K
Patrick Murphy, pitcher
Acquired: 3rd round, 2013 draft
Season to date: 4.78 ERA | 69.2 IP | 21 BB | 70 K
Logan Warmoth, SS
Acquired: 1st round, 2017 draft
Season to date (New Hampshire): 25 PA | 0 HR | .174/.200/.174 | 1 BB | 5 K
Season to date (Dunedin): 158 PA | 3 HR | .292/.380/.423 | 19 BB | 41 K
Ben Nicholson-Smith is Sportsnet's baseball editor. Arden Zwelling is a senior writer. Together, they bring you the most in-depth Blue Jays podcast in the league, covering off all the latest news with opinion and analysis, as well as interviews with other insiders and team members.
Advanced-A Dunedin Blue Jays
T.J. Zeuch, the 2016 first-rounder, has made a pair of rehab starts with Dunedin as he builds up from a lat injury that derailed his first big-league camp with the Blue Jays. Given the need at the big-league level, there's an opportunity for him if he progresses quickly. … Dunedin clinched a playoff spot last week by winning the Florida State League's North Division first-half title. The team's 43 wins entering Saturday's action leads the league.
Kevin Vicuna, SS
Acquired: Signed as international free agent in 2014
Season to date: 252 PA | 1 HR | .249/.316/.329 | 19 BB | 49 K
Alejandro Kirk, C
Acquired: Signed as international free agent in 2016
Season to date (Dunedin): 110 PA | 0 HR | .319/.418/.447 | 15 BB | 16 K
Season to date (Lansing): 96 PA | 3 HR | .299/.427/.519 | 18 BB | 8 K
Maximo Castillo, pitcher
Acquired: Signed as international free agent in 205
Season to date: 2.62 ERA | 68.2 IP | 13 BB | 54 K
Joey Murray, pitcher
Acquired: 8th round, 2018 draft
Season to date (Dunedin): 1.74 ERA | 41.1 IP | 13 BB | 47 K
Season to date (Lansing): 3.82 ERA | 30.2 IP | 12 BB | 40 K
—
Low-A Lansing Lugnuts
Jordan Groshans suffered a stress reaction in his foot and his season is on hold until the problem fully clears up. … Right-fielder Griffin Conine returned from a 50-game suspension for using a banned stimulant like a man on a mission, batting .347/.417/.707 through his first 20 games. … Centre-fielder Reggie Pruitt is up to 29 steals in 39 attempts.
Jordan Groshans, SS
Acquired: 1st round, 2018 draft
Season to date: 96 PA | 2 HR | .337/.427/.482 | 13 BB | 21 K
Hagen Danner, C
Acquired: 2nd round, 2017 draft
Season to date: 189 PA | 9 HR | .180/.238/.413 | 11 BB | 60 K
Reggie Pruitt, CF
Acquired: 24th round, 2015 draft
Season to date: 290 PA | 1 HR | .264/.334/.368 | 28 BB | 74 K
Otto Lopez, IF
Acquired: Signed as international free agent in 2016
Season to date: 207 PA | 3 HR | .304/.364/.413 | 19 BB | 31 K
OTHER NOTES: Adam Kloffenstein, the six-foot-five right-hander selected in the third-round last year, has made two starts for short-season A Vancouver, striking out nine in 6.2 innings of work. … Alek Manoah, the 11th overall pick this year, is expected to end up at Vancouver at some point. … SS Miguel Hiraldo, ranked as the 10th best Blue Jays prospect by Baseball America, opened this season with rookie-ball Bluefield.