Roemon Fields is coming off a very good month in the Toronto Blue Jays farm system. After a promotion from double-A New Hampshire, where he slashed .237/.274/.305 in 16 games, the speedy outfielder went off at triple-A Buffalo, batting .416/.469/.551 in 24 May games.
Even in a relatively small stretch numbers like that get noticed, especially when a player is a step away from the big leagues. The task for Fields over the rest of the season is not in maintaining an impossible stat line, but in maintaining the development at the plate that led to 37 hits and nine walks against only 13 strikeouts.
"I've been working on a consistent swing and (hitting coach) Devon White has been telling me to hit my strong points and I've been sticking to it," says Fields. "I'm starting to be my old self and not be too mechanical – see the ball, hit the ball. I'm more of a middle-away guy, hit that six-hole, left field, up the middle, not really a big pull guy. So I'm trying to stay to my strong points."
Among those strong points is continuing to hunt the fastball for the 26-year-old, who is in his fourth season of pro ball after signing as an undrafted free agent on Aug. 27, 2013. Convinced his playing days were done after college, Fields was selling hats in a Seattle mall and delivering mail for the U.S. Postal Service when he caught the eye of Blue Jays scout Matt Bishoff while reluctantly playing for a former coach in the World Baseball Challenge tournament in Prince George, B.C.
As a result, he entered the Blue Jays system a raw product and he's been making up for lost time since. Both White and Bisons manager Bobby Meacham, who also worked with Fields last year at New Hampshire, have emphasized staying on the heater.
"That's everybody's kryptonite, so to speak, they can't hit the breaking ball but they start looking for it, then they forget what they can hit and it's the fastball," says Meacham. "What I've seen this season with Ro is right away he's hitting the fastball well and staying on the fastball. Even with him in the midst of him swinging good, I said, 'Listen, you've got to remember this, stay on the fastball and you'll be OK, you've got to discipline yourself to it.'"
Meacham expects Fields to start seeing more soft stuff now that he's maintained the silly numbers for an extended period, so that discipline is going to be challenged. But the manager has also seen progress in the speedster's decision-making on the basepaths – he's got 10 steals in 15 attempts with Buffalo after going 7-for-7 in New Hampshire – and in the outfield, where his routes to balls are improving but still need work.
"Before he wouldn't have a thought process that you could start at, it would be ground zero basically. Now his questions are better," says Meacham. "Still got a long way to go. We try to get him to watch the game more – it's hard when you're in the middle of it playing every day – but when he's not on the field, when he's not at the plate, watch what's going on so he can learn from it. That's something he needs to do to catch up, so to speak."
Fields sped through the Blue Jays system in 2015, starting at single-A Dunedin and finishing at Buffalo, but spent all of a tough 2016 at New Hampshire, where he slashed .227/.295/.296 in 130 games. His progress seemed to have stalled until his reawakening in Buffalo.
"I didn't really have an approach. I'm learning baseball as well," he says. "The more you play, the more you start to learn about yourself. This is my fourth year, I'm really starting to figure some things out, maybe some things are clicking.
"I didn't really have teaching so I was always thinking, 'Do I need to fix this, do I need to fix that?'"
Now, the Blue Jays front office is paying attention to his progress.
"My grandma always says, 'You're blessed, take advantage of your opportunities.' That's what I'm doing," says Fields. "I haven't really sat back and thought about it, but I've come a long ways and a lot of players haven't been this far. So I'm grateful."
Triple-A Buffalo Bisons
Notes: Right-hander Murphy Smith opened some eyes with a late spring outing and he's been solid for the Bisons in 13 games so far, allowing only three earned runs over 22.1 innings with a WHIP of 0.94. "It's a weird thing to say about a guy who's 29 but he's still developing. He's learning what he's good at and that's his fastball, he can hit both sides of the plate down in the zone with his fastball," says Bobby Meacham. "His slider isn't an out pitch that most right-handers his size have, but he's developing a changeup that works against righties and lefties. Watching Danny Barnes a bit has helped. We're seeing a guy who's capable of pitching up there." … Fellow reliever Chris Smith is back from a DL stint with elbow discomfort and his struck out eight in eight innings, allowing four runs. "He's a max effort guy that got out of his delivery a bit, tried to throw harder and lost command of his pitches," says Meacham. "So much of being successful is command. He's pitching within himself since he's come back. I see the command, I see the control in his delivery, he's been really efficient and he's going to keep getting better and better." … Right-hander Mat Latos was released this week, leaving Luis Santos, Brett Oberholtzer, Jarrett Grube, T.J. House and Cesar Valdez in the Bisons rotation.
Rowdy Tellez, 22, 1B/DH
Acquired: 30th round, 2013 draft
Season to date: 188 PA | 4 HR | .222/.309/.358 | 21 BB | 35 K
Dwight Smith Jr., 24, OF
Acquired: 1st round, 2011 draft
Season to date: 186 PA | 5 HR | .315/.373/.461 | 16 BB | 28 K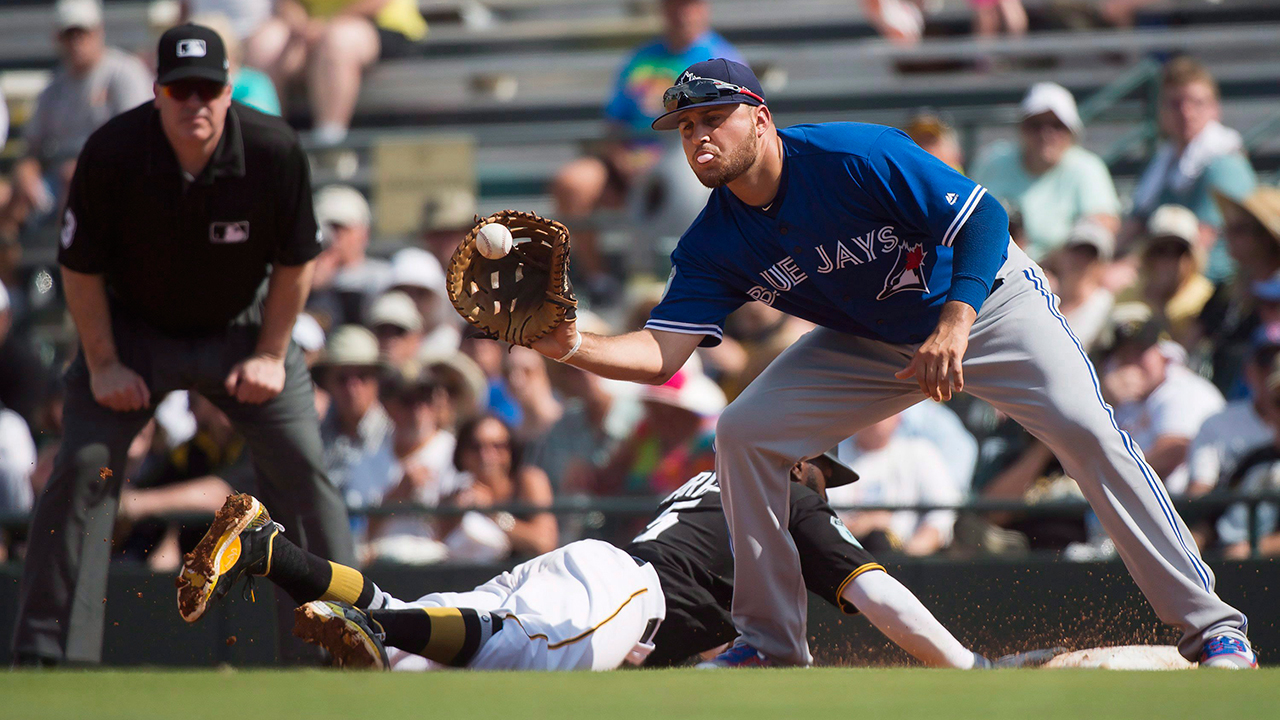 Pittsburgh Pirates second baseman Josh Harrison (5) slides safely back to first base past Toronto Blue Jays' Rowdy Tellez (1) during Grapefruit League action in Bradenton, Fla., on Tuesday, February 28, 2017. (Nathan Denette/CP)
---
Double-A New Hampshire Fisher-Cats
Notes: Anthony Alford underwent surgery Wednesday on the hamate bone he broke May 23 in Milwaukee, capping a wild few days for the centre-fielder. He became a surprise call-up four days earlier when Darrell Ceciliani hit the disabled list, and then broke his hamate bone on a swing in the at-bat after collecting his first big-league hit, a double to centre. He's expected to be out until at least until the start of July. … Catcher Reese McGuire, who had been sidelined by a strained left oblique, underwent surgery to repair a meniscus tear in his right knee. There's no firm timetable for his return but he's expected back before season's end. … Reliever John Stilson was demoted from Buffalo despite posting a 2.81 ERA in 25.2 innings over 15 outings. "He's still trying to create that command factor and maybe the consistent of his delivery, instead of trying to throw too hard be smoother and get that going in the right direction," says Bobby Meacham. "Once he does that, he can build on that but the command has to be there. Until that, he's kind of stuck as a guy who throws hard that might be great today but tomorrow is another story if the delivery doesn't solidify itself. He works tirelessly at this and we're pulling for him."
Anthony Alford, 22, OF
Acquired: 3rd round, 2012 draft
Season to date: 141 PA | 3 HR | .325/.411/.455 | 16 BB | 24 K
Danny Jansen, 22, C
Acquired: 16th round, 2013 draft
Season to date: 182 PA | 5 HR | .352/.406/.512 | 11 BB | 20 K
Reese McGuire, 22, C
Acquired: Trade with the Pittsburgh Pirates
Season to date: 63 PA | 2 HR | .216/.311/.373 | 8 BB | 11 K
Harold Ramirez, 22, OF
Acquired: Trade with the Pittsburgh Pirates
Season to date: 158 PA | 3 HR | .224/.274/.336 | 9 BB | 23 K
Richard Urena, 21, SS
Acquired: Signed as international free agent in 2012
Season to date: 210 PA | 2 HR | .241/.288/.356 | 14 BB | 39 K
Conner Greene, 22, pitcher
Acquired: 7th round, 2013 draft
Season to date: 3.66 ERA | 59.0 IP | 27 BB | 43 K
Jon Harris, 23, pitcher
Acquired: 1st round, 2015 draft
Season to date: 5.79 ERA | 56.0 IP | 17 BB | 41 K
Sean Reid Foley, 21, pitcher
Acquired: 2nd round, 2014 draft
Season to date: 5.26 ERA | 37.2 IP | 22 BB | 41 K
Ben Nicholson-Smith is Sportsnet's baseball editor. Arden Zwelling is a senior writer. Together, they bring you the most in-depth Blue Jays podcast in the league, covering off all the latest news with opinion and analysis, as well as interviews with other insiders and team members.
Advanced-A Dunedin Blue Jays
Notes: Max Pentecost caught two baserunners trying to steal in Thursday's 5-3 loss to Jupiter and has now thrown out 5 of 8 runners. He's up to 11 games behind the plate now as he works his way back from several shoulder surgeries. … Dalton Pompey is 4-for-10 with four walks and one strikeout three games into the start of his rehab assignment after recovering from a concussion. … Rule 5 pick Glenn Sparkman also started a rehab assignment, allowing three unearned runs in 3.1 innings with three strikeouts Thursday. The clock is now ticking for the Blue Jays to make a call on the 25 year old before they have to either put him on the big-league roster or offer him back to the Kansas City Royals. … Right-hander Lucas Harrell was activated from the Bisons disabled list and assigned to Dunedin.
Lourdes Gourriel Jr., 23, SS
Acquired: Signed as international free agent in 2016
Season to date: 2 PA | 0 HR | .500/.500/1.000 | 0 BB | 0 K
Max Pentecost, 24, C/1B
Acquired: 1st round, 2014 draft
Season to date: 182 PA | 9 HR | .307/.365/.534 | 14 BB | 35 K
T.J. Zeuch, 21, pitcher
Acquired: 1st round, 2016 draft
Season to date: 3.23 ERA | 53IP | 14 BB | 42K
Toronto Blue Jays on Sportsnet NOW
Want to stream every Blue Jays games this season? Sportsnet NOW has you covered. Catch every Blue Jays game, marquee MLB matchups, the 2017 Home Run Derby and All-Star Game, the playoffs and entire World Series.
Low-A Lansing Lugnuts
Notes: Right-hander Justin Maese was placed on the seven-day disabled list as a precaution after experiencing arm soreness after his last start. … First baseman Nash Knight was bumped up to single-A Dunedin.
Bo Bichette, 19, SS
Acquired: 2nd round, 2016 draft
Season to date: 192 PA | 6 HR | .381/.458/.619 | 20 BB | 34 K
Vladimir Guerrero Jr., 18, 3B
Acquired: Signed as international free agent in 2015
Season to date: 199 PA | 4 HR | .333/.422/.500 | 25 BB | 24 K
Justin Maese, 20, pitcher
Acquired: 3rd round, 2015 draft
Season to date: 4.24 ERA | 63.2 IP | 20 BB | 54 K