TORONTO – Given the urgency of the moment and all that had gone wrong in recent weeks, underlined by Friday night's feces fest in the first game of the season's most pivotal series so far, the Toronto Blue Jays decided they needed to talk.
For roughly 40 minutes they gathered in the clubhouse Saturday morning, veteran players taking turns speaking, airing out a variety of issues, an eye towards figuring their way out of a recent slide. While details were vague afterwards – even who called the meeting was unclear but Troy Tulowitzki seems to have been a driving force – matters such as the expectations on each player, execution and playing a team game were sure to have come up.
"All the veteran guys were together and we thought we needed it," said slugger Edwin Encarnacion. "We need to change things around, in the last month we can lose what we've been (working toward) all year long. We've got to turn it around and keep it up. …
"We can't wait two more weeks, we have to do it now if we want to win. We've got to turn things around. It's now or never."
The Blue Jays proceeded to pick themselves up afterwards with a 3-2 victory over the Boston Red Sox, pulling back within a game of the American League East leaders. J.A. Happ put the game under his thumb for six innings, Melvin Upton Jr. hit a two-run homer in the second to create an early edge and they held on to end a four-game losing streak before a crowd of 47,829.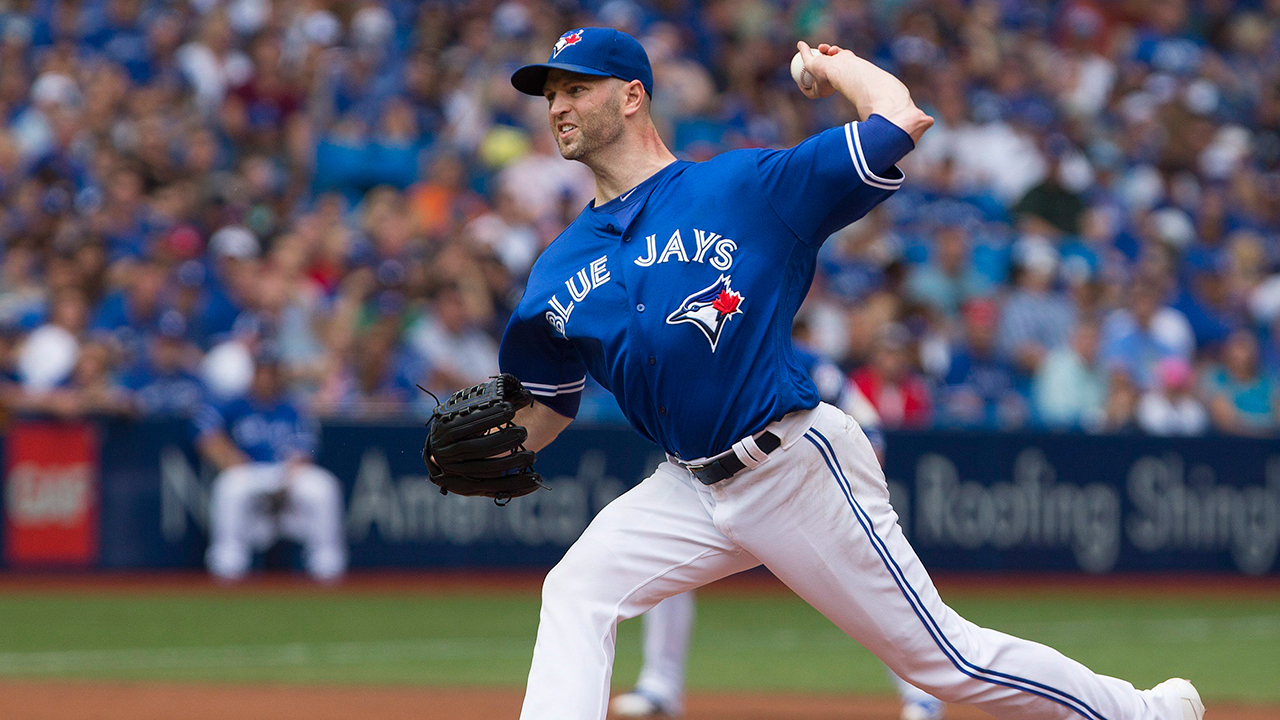 How much the meeting helped is impossible to know, although Happ, who participated in the discussion before his outing, felt there was a direct correlation.
"From the first pitch to the last it seemed like our dugout was really into this one," he said. "(The meeting) was overwhelmingly positive, it ended on a very good note. I feel like it translated into the game."
Added Jason Grilli, who mowed through the top of the Red Sox order in a crucial eighth: "I think everybody in here locked arms today, and we trust each other's ability and we know we're going to stay in the fight right 'til the end."
Still, many of the issues affecting the Blue Jays of late still emerged in this one, in particular an inability to add on runs. Jose Bautista's RBI single in the third opened up a 3-0 lead, but Martin and Tulowitzki both struck out with two men on to end that rally. A leadoff walk and stolen base by Upton in the fourth went to waste as did men on the corners with one out in the seventh, as Josh Donaldson lined out and Encarnacion mashed a ball to right that Mookie Betts hauled in.
Rather than letting frustrations fester, however, it made sense for the Blue Jays to be proactive now.
"I'm glad we had it," said Martin, whose leap into the Red Sox dugout in pursuit of an Aaron Hill pop up demonstrated the Blue Jays' resolve in this one. "It was good to get the guys in the room and talk about the things we need to talk about, just to make sure we're all in it together and remembering it's about winning, it's not about individuals, it's about the team … I'm not really going to get into details, but it was a good meeting, a positive meeting."
Bautista, in a pre-game interview with Sportsnet's Hazel Mae, said: "I can say it happens from time to time where teams get together and talk some stuff out, especially heading down the stretch, in the position that we're in, we don't want to take anything for granted and leave anything unsaid. … The one thing I can tell you is I think everybody is on the same page, we're all committed, we're all dedicated, we're all grinding through. Everybody's situation physically, individually, might be a little different, but everybody's pulling the rope in the same direction and we're all using today's meeting as a refocus kind of thing. I think we're going to be all right down the stretch."
That of course will depend on how well they overcome the problems that have plagued them of late.
Here's a look at some of their key trouble spots of late:
Too Right-Handed

Heading into Saturday's play, the Blue Jays had only taken 41 per cent of their at-bats with platoon advantage, the second-worst rate in the American League, 12 per cent below league average. Given the prowess of their lineup, being overwhelmingly right-handed shouldn't necessarily be the problem, but with many of their top hitters not at peak performance levels right now, they're vulnerable to righties with inner half velocity and good sliders. Without enough left-handers to balance things out, it becomes easier for a pitcher to find a groove since he can pitch a run of hitters in a similar way.
The Blue Jays tried to address the issue before the non-waiver deadline when they revisited trading for Jay Bruce (who ended up going from the Cincinnati Reds to the New York Mets) and again in August, when they picked up switch hitter Dioner Navarro in a waiver deal.
Perhaps the most confusing thing is that the Blue Jays hit .247/.325/.433 against righties and .257/.338/.431 against lefties before Saturday, when in theory they should be crushing southpaws. Instead, they're not compensating for the steady lack of platoon advantage by dominating lefties.
Execution

A constant in recent weeks has been the way the Blue Jays have struggled hitting with runners in scoring position and there was more of that Saturday, when they went 1-for-10 in those spots. They began the day slashing .255/.346/.440 with runners in scoring position, a batting average that was 11th in the American League. In close and late situations, their numbers dipped to .244/.344/.381.
The Blue Jays also failed to score with a man on third and less than two out in the seventh, although that's something that for the most part they've been good at this year, bringing the man home 56 per cent of the time, a success rate second in the AL.
Their baserunners also score 31 per cent of the time, a number that's tied for fifth and is at league average.
"We do a pretty good job of moving runners, guy at second base with no outs (tied for fourth at 55 per cent), we've got no problem doing that," said manager John Gibbons. "We don't do a lot of stealing, things like that, because there's not a lot of speed out there. Do you bunt? Those questions are up in the air. … They're all capable of making adjustments but really, we've got guys who are certain types of hitters, they've always been that way, and really that's their strength."
Playing to the Situation

In the top of the third inning Wednesday in New York, Kevin Pillar and Upton both walked to open the third and Devon Travis came up. A spot to bunt? Some thought so, but Gibbons opted to let Travis swing away and he hit into a double play against Bryan Mitchell. The Blue Jays lost 2-0.
"That's an argument," Gibbons said of whether he should have called bunt. "To be honest, (Mitchell) had walked those first two guys, I thought young kid out there, he might walk this guy, you know? (Travis) came around like he was going to bunt, he was doing that on his own, I think he was trying for a base hit bunting. I don't know, third inning, a guy that's been one of your better hitters – I don't know. Definitely later in the game, I'm not opposed to that at all, but I'd like to put three or four up and we're fully capable of doing that."
What about playing for less with the offence struggling?
"That's a valid argument, no doubt about it," said Gibbons. "But sometimes you play for one early in the game, that's all you get."
The debate aside, the Blue Jays have been sound playing to the situation, with a productive out percentage of 31 that's tied for third in the AL, and a sacrifice bunt success rate of 67 per cent that's also third in the AL.
Intriguing is that last year the Blue Jays ranked fourth in the AL with 88 stolen bases and fifth in sacrifices at 36. They also led the AL with 62 sacrifice flies.
This year, they're 13th in steals with 43 (a drop largely the result of Pillar stealing far less and Jose Reyes no longer being on the team), eighth in sacrifices with 18 and 10th in sac flies at 32.
A common suggestion is that they play more small-ball, but they don't really have the tools for it.
"This team is not like that, this team is different, we have a lot of people with power, we know we're not going to winning games with hit and run, bunting over – we've got to hit," said Encarnacion. "We can hit, we have the talent to do it. Do it.
"(At the meeting) all we talked is about baseball, doing our thing, doing our part, don't try to do too much and be confident. Have confident at-bats and give the fans what they want."
Just Pitch Better

The offence has taken a lot of heat, but the pitchers haven't been particularly good of late, either.
Consider that from Aug. 7 to Sept. 9, Blue Jays starters posted a 4.62 ERA, allowed 37 homers and walked 85 batters over 251.1 innings in 29 games, going 14-15 over that span. Compare that to the numbers from opening day through Aug. 6, when they had a collective ERA of 3.71 in 1010.2 innings over 111 games, going 63-48.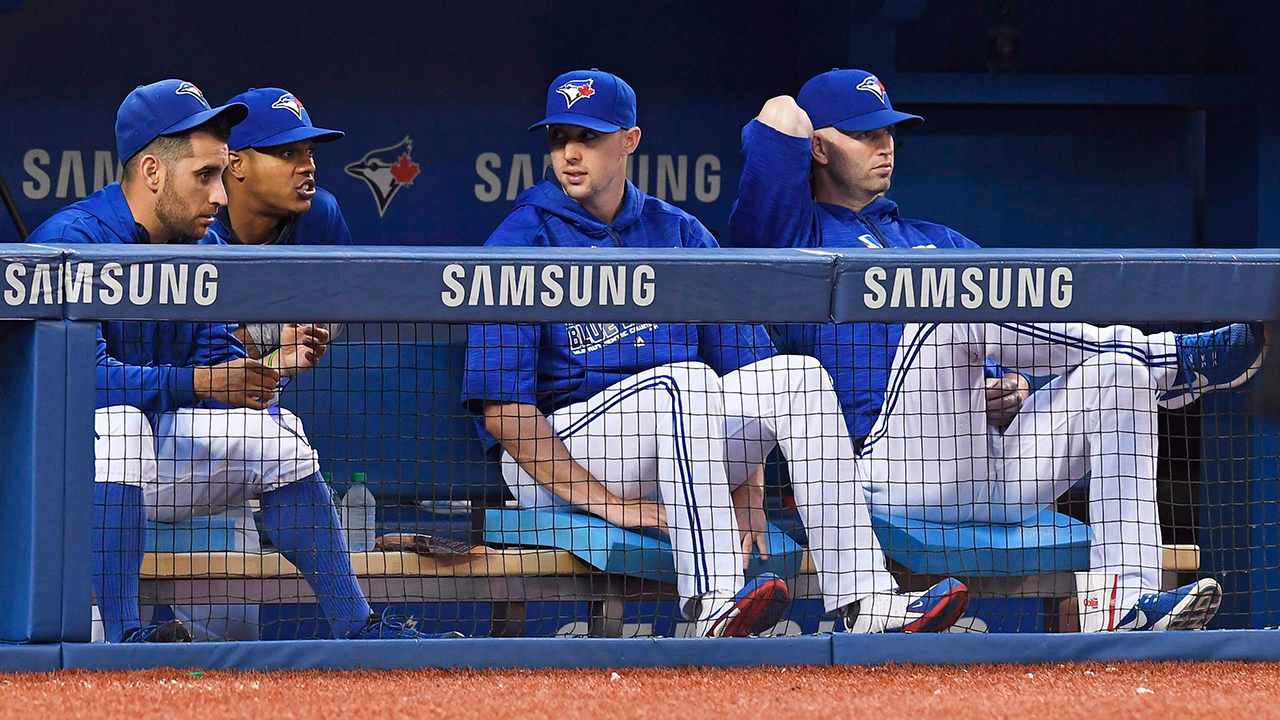 There is a major difference when a team's starter is in control and when he isn't, illustrated by how Toronto looked behind Happ on Saturday versus a shaky Marco Estrada on Friday.
"It makes all the difference in the world, they set the tone up there, they're working fast, they're throwing strikes," said Gibbons. "A lot of times when you work that way, you give up fewer hits, in my opinion. If you look back over the last week, it might stretch a little longer than that, we've had a lot of rough first innings, gotten through them but they were battles. We had that good quick one today. When a team is struggling, you get a great pitching effort, especially when a team is having trouble scoring runs, that might make the difference. Look at today, we made three runs hold up against a pretty good offence."