TORONTO — Late last May, as Randal Grichuk was suffering through the worst month of his career — a miserable string of 22 games that saw him bat .202/.253/.333 with 28 strikeouts and only one home run — the St Louis Cardinals outfielder was optioned all the way down to high-A.
Grichuk was shocked. He knew he'd been underperforming, but he'd always thought his place in the Cardinals lineup was secure. He remembered a time in 2016 when he was similarly struggling and St. Louis manager Mike Matheny called him into his office. Matheny told him he had nothing to worry about, that no matter how deep his slump went the Cardinals would stick with him through it. Grichuk thought that was still the case.
It wasn't. But after taking a few days to process his thoughts, Grichuk decided that if he didn't like his situation, he needed to do something about it. So, he went to work. He met with George Greer, a player development coordinator in the Cardinals system. They broke down Grichuk's mechanics first. Then, they focused on his mental approach, and discovered some troublesome habits that were holding him back.
"There were words or phrases that I would tell myself that I thought were doing good, but they were telling my body and mind to do something different — something I wasn't thinking about, necessarily, in the moment," Grichuk says. "It turns out some of the phrases or words I was thinking about in the box were kind of hurting me. So, I was able to take a step back and just think about what I wanted to tell myself to make me do something differently."
If that sounds a little nebulous, that's because it is. But Grichuk's mental overhaul had a profound effect regardless, as he returned to the majors a month later and put up an .830 OPS with 18 home runs over his final 76 games. They were the final games he'd play for the Cardinals, who traded Grichuk to the Toronto Blue Jays last week.
Now in Toronto, Grichuk is hoping to carry that momentum forward into 2018. He's pencilled in as the Blue Jays everyday right-fielder to start the season, and he'll have every opportunity to prove he's the man for the job. These are welcome circumstances for Grichuk, who, despite his strong finish in 2017, was perpetually uncertain whether he'd be in his team's lineup or not.
"There was a lot of times when me and fellow outfielders kind of felt that if we were in the lineup, you've got to get two hits — or one hit and a walk — to be in there the next day. And that wasn't good for anybody's confidence or anybody's state of mind stepping in the box," Grichuk says. "It's a tough game to play. And it's even tougher when you're looking over your shoulder. Or questioning what's going on or why it's going on.
"So, the confidence in just being able to go out there and play, and say you're going to be the guy in spring, I think that's a big thing for me on the mental side of being successful."
Playing right-field is a boon for Grichuk, as well. It's his favourite of the outfield positions (he won a minor-league gold glove playing right in 2013), and after splitting time between all three for the Cardinals, Grichuk is looking forward to a little familiarity.
"I'm excited to be able to stick in one [position] — to be able to take fly balls and ground balls in right and work on throwing to bases from right and understanding the tail of the balls from lefties and righties in one position," Grichuk says. "I think one of my strengths is just getting jumps on the ball. I think I get pretty good jumps and I'm able to react quickly. I don't know what my arm strength is, but I feel like when I get an opportunity I have pretty good accuracy on the ball."
Blue Jays evaluators regard Grichuk as a plus defender, and actually think he's underrated by industry metrics, which give him 25 DRS and 14.5 UZR over his career. Statcast graded Grichuk as two outs above average last season, which is better than every outfielder the Blue Jays played in 2017.
Ben Nicholson-Smith is Sportsnet's baseball editor. Arden Zwelling is a senior writer. Together, they bring you the most in-depth Blue Jays podcast in the league, covering off all the latest news with opinion and analysis, as well as interviews with other insiders and team members.
Of course, the defensive upgrade is nice. But perhaps the biggest factor in Toronto's thinking when acquiring Grichuk — other than adding a young, athletic, plus-outfielder who's been worth 7.3 wins above replacement since 2014 — is that his power will play up at Rogers Centre and the rest of the AL East's cozy ballparks.
The thump is certainly there. He's hit 46 home runs over the last two seasons, despite playing a part-time role. Plus, Grichuk's .239 isolated power since 2014 is the 18th-highest among qualified MLB hitters, and his 40 per cent hard-hit rate is 13th.
Simply put: he barrels the hell out of the ball. But playing half his games at St. Louis' Busch Stadium — the sixth-worst offensive environment in 2017 — has likely limited his results on balls in play.
"Oh, most definitely," Grichuk says. "Busch Stadium, I think they technically say it's a neutral stadium. But everybody who's played there over the four seasons that I was there definitely did not think that. We feel like it's a pitcher-friendly ballpark. The ball does not fly.
"Plenty of times you think you crushed one, you think it should have been a home run, and it's caught at the track or at the wall."
Another thing Grichuk is looking forward to doing more of in Toronto is running. Despite possessing above-average speed — per Statcast Sprint Speed, Grichuk was on par with Kevin Pillar and Ezequiel Carrera last season in feet-per-second — Grichuk has stolen only 15 bases in 24 attempts over his career.
It's not for a lack of desire. He battled soreness and inflammation in his left knee throughout the 2016 season, which limited his ability to run and necessitated off-season surgery. And in 2017, for one reason or another, whenever Grichuk reached base and looked across the diamond for a sign from his coaching staff, he more often than not was told to stay right where he was.
"I don't know if the Cardinals weren't big into stealing bases or taking that chance was not the best percentage they liked," Grichuk says. "But we never really got the green light or the steal [sign] that often. I would like to steal more."
The knock against Grichuk throughout his time in the majors has been plate discipline, as evidenced by his much-less-than-ideal 416:81 career strikeout-to-walk ratio. His 14.7 per cent swinging strike rate over the last four years is the 15th-highest in baseball, and last season he chased 35.4 per cent of the pitches he saw outside the strike zone, more than five percentage points above the league average.
The trouble has mostly come against breaking balls, with sliders giving him particular difficulty. But, really, Grichuk has shown a tendency to swing and miss a wide variety of pitches.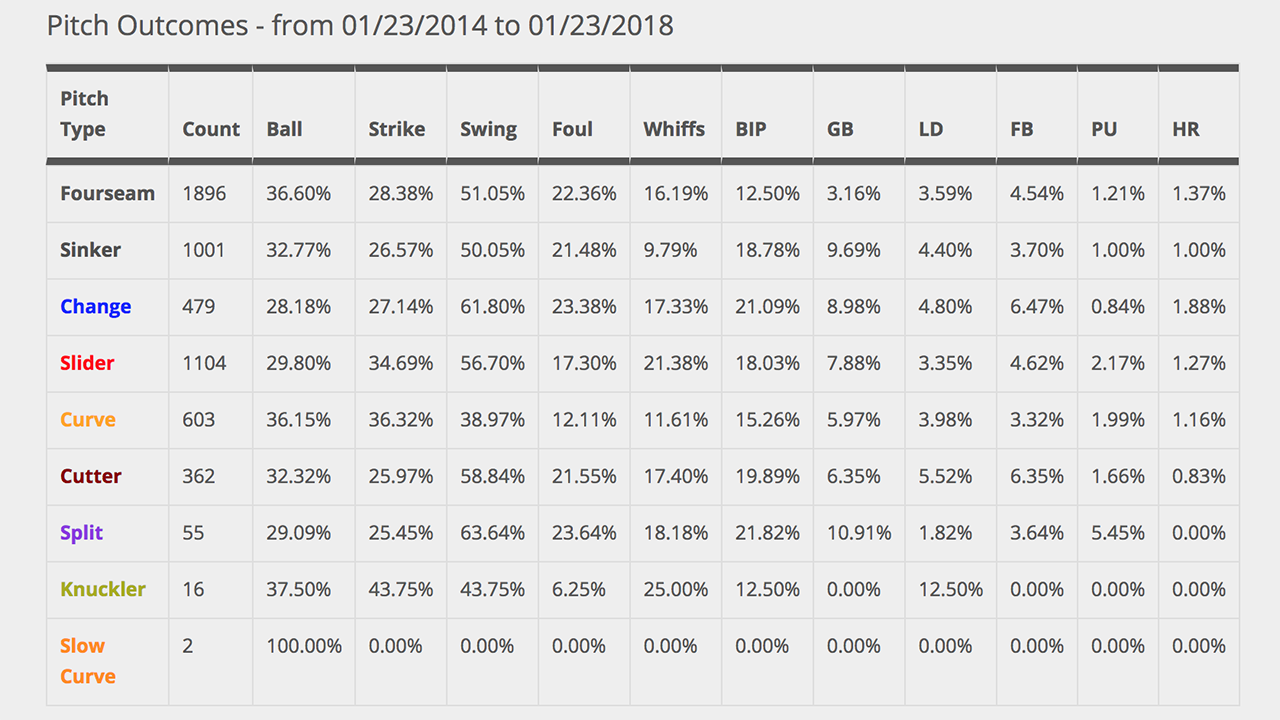 Of course, Grichuk is aware of this. And instead of tolerating his shortcomings, the 26-year-old is being proactive. This winter, he purchased a pitching machine and set it up at a training facility in his hometown of Rosenberg, Texas. The machine throws every pitch you can think of — fastballs, sliders, curveballs, cutters, sinkers, change-ups — and can be set to throw them for strikes, balls, or a random assortment of both.
Five times a week, Grichuk sets the machine to random, steps into the batter's box, and works on his pitch recognition. Sometimes he does it with a bat in hand, trying to swing at the strikes and lay off the balls. Sometimes he just watches the pitch, and tries to call out whether it's a ball or strike before it reaches the plate.
He's also enrolled in vision training courses in the hopes of improving his eyesight. If he can train his eyes to pick up the spin of a baseball a millisecond earlier, it could make a difference.
"People don't really work out their eyes," Grichuk says. "And I think there's a lot of muscles in the eyes that are just like a normal muscle in the body. You need to train it; you need to work it out."
Whether Grichuk can refine his approach, whether he can turn all those big swings into results, whether it'll all work out, remains to be seen. All Grichuk knows is he was ready for a change of scenery. And he can't wait to get going.
"My main goal moving forward is just to be a little bit more consistent at the plate and have a good mindset," Grichuk says. "I'm super excited. I think that the Blue Jays lineup and pitching staff look amazing. I know there's a lot of hype on the Yankees, but I think that we have a good team and it's going to be a fun year."