WASHINGTON – The Residence Inn across the street from PNC Park is a convenient and easy landing spot for players new to the Pittsburgh Pirates, a temporary home for those shuttling between the majors and minors, or those who unexpectedly find themselves in black and gold.
J.A. Happ fell into the latter category when he and wife Morgan, newlyweds at the time, holed up there following a trade from the Seattle Mariners minutes before the 2015 trade deadline. And it was to that hotel he returned after his Pirates debut Aug. 4, after the Chicago Cubs roughed him up, near a breaking point, determined to make a change.
"We're sitting there, my wife and I, we're just talking about stuff and I'm not in a good place and she's always positive, kind of pumping me up, she always says everybody needs their tires pumped a little bit, and I think it was just a moment where I felt like it's not going to get worse," says Happ. "You always say it can get worse – it was to the point where I've got to let that go or I'm going to be in real trouble here."
Happ did indeed let that frustration go, and all the frustration that had built over the course of a trying half-season in Seattle beforehand, and began the progression that led him back to the Toronto Blue Jays, and to Washington, D.C., this week for the first all-star game of his career.
At the end of his first tenure with the Blue Jays, Happ started making the mechanical changes that helped him become a 20-game winner in 2016 and the reliable staff anchor he's been for the past two-and-a-half seasons. Pitching coach Pete Walker had suggested he drop his arm slot and after some trial and error, a slight move down helped him gain some more sink.
The development went backwards in Seattle, but in Pittsburgh, he worked with pitching coach Ray Searage on improving his direction to the plate, the focus on striding directly at the dish, rather than swinging his leg forward like a gate opening and closing. Happ took off with the Pirates after that Cubs start, posting a 1.37 ERA and 0.915 WHIP with 63 strikeouts in 59 innings over 10 starts.
The Blue Jays, coming off their first trip to the post-season since 1993, noticed Happ's progression and their background work left them convinced the performance was sustainable, even in the American League East. They had tried to acquire him before the deadline but were out of money, but weren't going to lose him a second time. Tony LaCava, the acting GM at the time, signed him as a free agent to a $36-million, three-year deal that's worked out well for both player and club.
And so much of it traces back to that conversation with Morgan at the Residence Inn, when Happ felt his career was on the precipice.
"I think that was the turning point, for sure," he says. "That was a crossroads where it was like, hey, this is going to determine a lot moving forward, how the off-season is going to go. That was a big moment to be able to turn it around right there."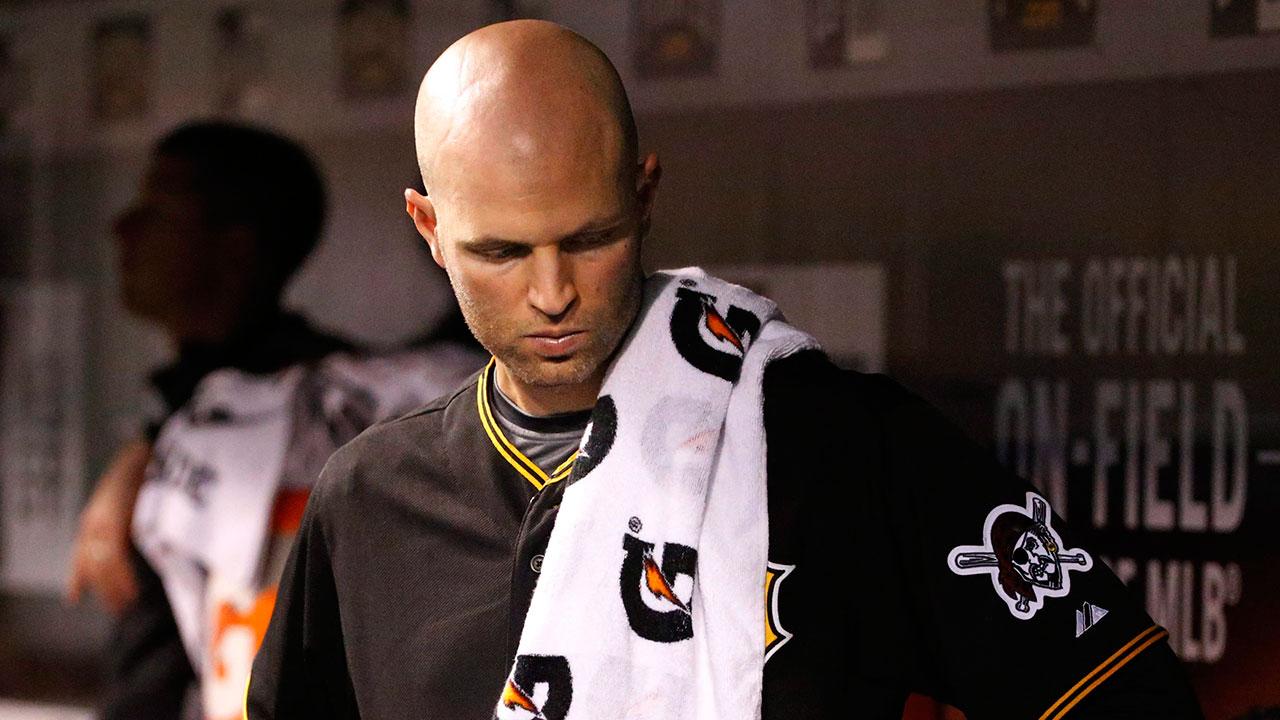 ***
The Philadelphia Phillies selected Happ in the third round of the 2004 draft out of Northwestern University and that's where a lot of his big-league pedigree is rooted. He debuted in 2007, a one-and-done four-inning outing versus the Mets, appeared in eight games in 2008 when the team won the World Series, and stuck in 2009, when he posted a 2.93 ERA over 166 innings.
His ties there run deep, coming of age around Cole Hamels, Jamie Moyer and Cliff Lee until he was traded to Houston on July 29, 2010 as part of a package for Roy Oswalt, a deal that led to the Blue Jays acquiring Anthony Gose from the Astros for Brett Wallace.
The trade turned his life, and for a while his career, on its head.
"I remember being in the lunchroom in Philadelphia and it came across the (sports channel ticker) that I got traded but I had not been called into the office to be officially told that yet. It was a weird thing," recalls Happ. "So I just continued going about my day and then when it became official, they called me in and let me know that. It was emotional the first time, I'm not super emotional, but I remember crying. That's all I knew. I was happy being there, that's a team going to the playoffs, we just came from two World Series, and then go to a team where the following few years, we lost close to 100 games, so that certainly weighed on me. Mentally, I think I'm better for it now, but it was difficult at the time."
He arrived in Houston just as the Astros were headed into the teardown that led to last year's World Series title. In 2011, they lost 106 games and Happ endured his worst season in the majors, posting a 5.35 ERA over 28 starts and getting demoted to triple-A for three starts.
"It was a mental grind and I've always prided myself on being mentally tough," says Happ. "I got sent down there for a couple weeks, and right there, you've got to pick yourself up if you want to get back. You feel like you're climbing out of this insurmountable hole but the option is never coming back. So I think it made me better by just strengthening my resolve to not only get back, but continue to work to be the pitcher I know I can be."
A rebound in 2012 lead to another deadline deal for Happ, this time to the Blue Jays as part of a 10-player swap with the Astros. Initially, he thought Toronto would offer a fresh start and he was excited for it, although that disappeared when he was inexplicably sent to the bullpen so Aaron Laffey and Brett Cecil could remain in the rotation.
"He was a starter in his mind so it was difficult for him initially when he came to us," says Walker. "But obviously once he got back into the rotation, got into his routine, you can see that's what he wanted to do and what he was meant to do. But there certainly were some adjustments that needed to be made and he was at a point in his career where he was willing to make some."
The substantial changes came midway through 2014, when he posted a 3.56 ERA over his final 13 starts. Once the season ended, then-GM Alex Anthopoulos phoned Happ on the morning of his wedding and let him know the Blue Jays were picking up his $6.7 million option for 2015.
But there was a caveat, as Anthopoulos added a 'we'll see what happens during the rest of the off-season' before ending the conversation. The Blue Jays sent him to Seattle for Michael Saunders on Dec. 3.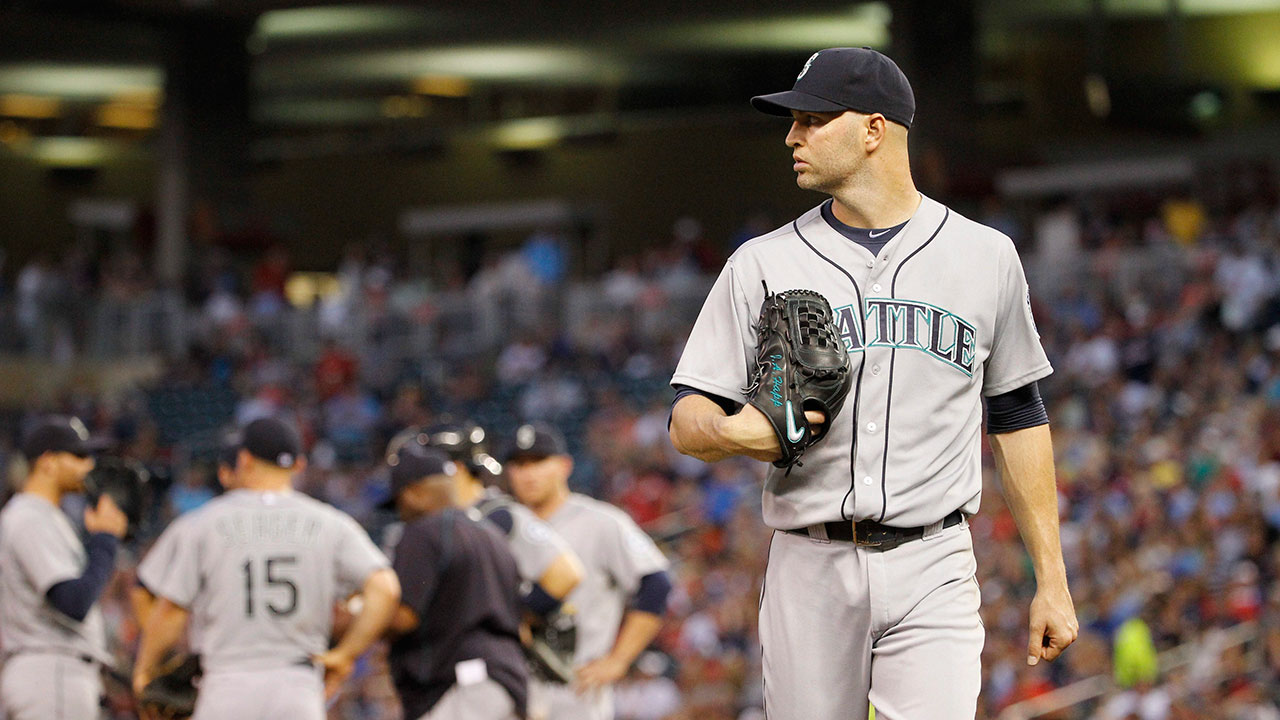 ***
Given the way his first tenure with the Blue Jays went, Happ didn't seem like a likely free agent target after the 2015 season. But LaCava, acting as GM after Anthopoulos's sudden post-season departure, prioritized re-signing both the lefty and Marco Estrada, who also had become a free agent.
He got them both and while bringing back Estrada played well, giving Happ another run did not.
"I felt like I was really close my first time here … and when they showed interest to come back, it was exciting," says Happ. "There was another sort of part of me where it was another challenge to kind of try to win over maybe the fan base here. I felt like maybe I was viewed a little unfairly the first time around and I felt like I really wanted to obviously get better results, but also win over the fan base a little bit more than the first time around."
Happ did precisely that in 2016, going 20-4 with a 3.18 ERA over a career-high 195 innings. He was similarly strong in a 2017 truncated by an elbow injury, while this season, he's been among the few bright spots in a dismal Blue Jays season, going 10-6 with a 4.29 ERA in 109 innings over 19 starts, his numbers skewed by three outings before the break in which numerous plays weren't made behind him.
[snippet id=3966765]
Before signing back with the Blue Jays, Happ told himself that no matter what, not to look back with regrets. As he approaches the end, he has none.
"Every time we bring it up we say we would never change a thing – we've met great people, we've had great experiences, some of the personal highlights I'll never forget, and some of the team highlights I'll never forget," says Happ. "Going to the playoffs in '16 was incredible. You want to do that every year. I don't know how realistic that is, but that's always your goal, and yeah, I wouldn't change it, 100 per cent happy that we decided to come back to Toronto."
The all-star selection is perhaps the final highlight of his second tour with the Blue Jays, as a trade is likely for the lefty ahead of the July 31 non-waiver trade deadline. It's one last moment to share with Morgan, two-and-a-half-year-old son J.J., and eight-month old daughter Bella.
"It's been emotional at times," says Happ. "When I told her she pretty much broke down and cried, too, she was wanting it so bad for me to make the all-star team. She's been so supportive throughout the whole thing. I get a message from her before every start and every message is different and it's like full paragraphs of just inspiration and faith that she has in me. She's been a huge part of the journey and I just feel really fortunate to have her and our kids and be a part of this and go through it all together."
[relatedlinks]