ARLINGTON, Texas – Dioner Navarro knows the numbers, the odds, the history.
Forty-seven times teams have fallen behind 2-0 in the best-of-five division series, and only five of them have fought back to advance in the baseball post-season. Of those five, just two pulled it off after losing the opening two games at home, the way the Toronto Blue Jays have against the Texas Rangers.
"The last time was 2012," the catcher points out.
Yup, that year the San Francisco Giants rallied against the Cincinnati Reds en route to a World Series title.
"I was playing with Cincinnati," Navarro reminds a reporter. "We started the series in San Francisco, won the first two games, then we went back home and we were feeling really good about ourselves, and our chances. The next thing you knew, we were tied 2-2 and we ended up losing that series."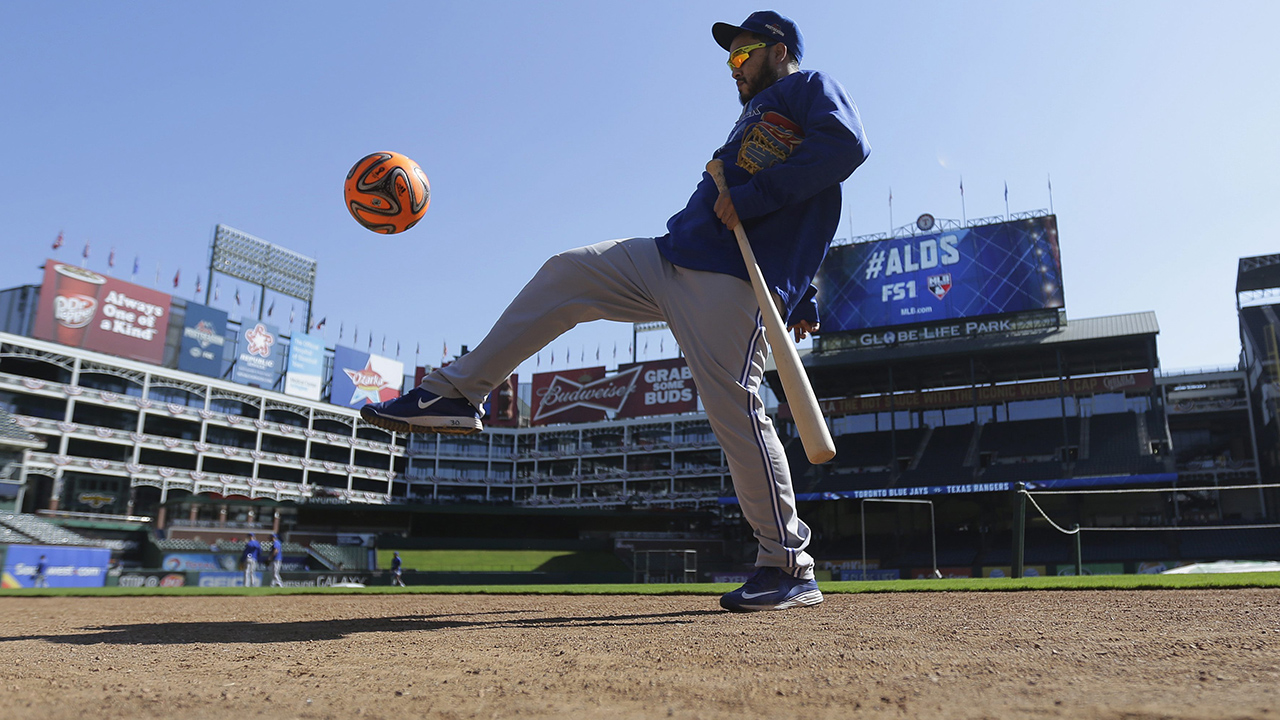 Dioner Navarro kicks a soccer ball during Saturday's workout in Texas. (Eric Gay/AP)

Having already been on the wrong end of such a comeback, Navarro hopes to be on the right side of one with the Blue Jays, who worked out at Globe Life Park on Saturday ahead of Sunday's Game 3 against the AL West champions.
He'll be behind the plate when Marco Estrada takes the hill against Martin Perez, trying to keep the season alive for the AL East champions, who could potentially turn to David Price on short rest in Game 4, should they get there.
But first things first, Sunday night.
"Look, it's not a series, it's a game-to-game thing," says Navarro. "Whatever happened already happened, we've just got to win one game, and win the next game, and win the next game."
As hackneyed as it sounds, any potential rally by the Blue Jays starts with that one elusive win, much the way it did for the 1995 Mariners over the Yankees, the 1999 Red Sox over the Indians, the 2001 Yankees over the Athletics, the 2003 Red Sox over the Athletics, and, of course, the 2012 Giants.
Despite being down 2-0, the Blue Jays didn't necessarily play poorly in the 5-3 Game 1 loss or the 6-4, 14-inning Game 2 setback, but they certainly weren't themselves with some sloppy play in the field, untimely mistakes on the mound, and, pivotally, their inability to leverage their big blow offence.
As Jose Bautista put it Friday night, "we've lost those games, not anybody else for us."
Critically, the Blue Jays have reached base a mere 17 times in 87 plate appearances – that's a gory .209 OBP – which is allowing Rangers pitchers to pitch without too much heat. Credit to them, but the Blue Jays have missed a handful of good pitches to hit that might have turned things in one, if not both games, and they've got to get untracked in that regard to climb back into this thing.
"That's how we win," says manager John Gibbons. "If our offence is cranking we're in good shape, if it's not, we're not. It goes back to our record when we score four or less (16-56 during the regular season, 0-2 in the playoffs). It's pretty glaring. In this case, the facts are the facts."
Any such outburst will need to come against Perez, the 24-year-old left-hander they've never faced before who has a career OPS against of .766 to right-handed hitters. He comes in having allowed just six earned runs in his last 24 innings over four starts, against a lineup that posted an .818 OPS versus lefties.
If the Blue Jays are going to suddenly get hot at the plate, Perez may be the kind of guy they can do it against.
"We've got to hit," says Navarro. "We scored four runs (yesterday), three runs the first game, we're capable of way more. Obviously we're facing a great team, too, they've been doing a great job pitching-wise, bottom line is we've got to score one more run than Texas and go from there."
The caveat here is that performing with no margin for error is a different animal, entirely.
Baseball is a game built on there always being a tomorrow, but a loss Sunday means tomorrow won't come until 2016. Even for a team that's overcome major spring injuries to Marcus Stroman and Michael Saunders, a leaky bullpen that nearly submarined the season in April and May and a skid that left it seven games under .500 June 2, this is a test.
"We'll see what we're made of," says Troy Tulowitzki.
Adds Kevin Pillar: "For the most part, we've been able to answer the bell, we've been able to show up and do what we need to do. … Obviously this is a little different, you lose some games during the year and as much as you tell yourself they're must-wins, there's a tomorrow. This is the first time where there really isn't a tomorrow, it's all about going out there and doing whatever it takes to win."
R.A. Dickey, announced as the Game 4 starter before the series although there were some internal discussions about using Price on short rest in dire straits, argues that winning three straight games "is not really that unbelievable," which is why he thinks the Blue Jays will respond well Sunday.
"In the course of 164 baseball games now, you have a few where you don't play your best defensively, or you don't get the big hit when you need it, or whatever," he says. "Any team that gets to the post-season is a good baseball team, but we feel like we've given away a couple of games."
There is overcoming the challenges they've faced for the Blue Jays to lean on, as well as the experience of running off multiple extended win streaks. Twelve times they won three games or more during the season.
"We've gotten hot several times this year, we've won 11 games two times this year, and we believe in the calibre of players that we have in this room," says Josh Donaldson. "We believe that we have an opportunity right now to play our best baseball and that's what we're going to do."
At this point, that's what it's going to take.