TORONTO – Sean Reid-Foley once did this to New York Yankees slugger Giancarlo Stanton.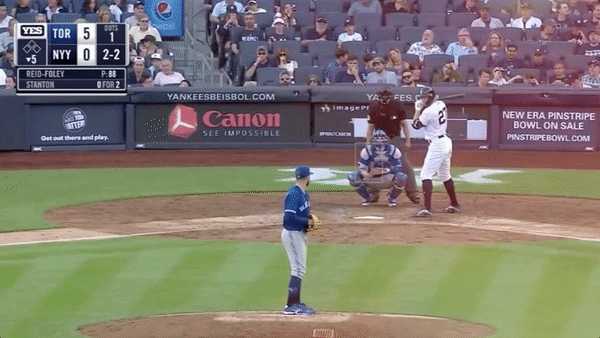 Remember that? It was Sept. 15 last year, when the Toronto Blue Jays right-hander struck out 10 over five innings of two-hit, no-run ball at Yankee Stadium. Worth noting is that he did walk four that day, a figure that will be pertinent to the discussion a bit later, but that level of domination against a post-season team's lineup doesn't happen by fluke.
Reid-Foley is a legitimate big-league arm, but at issue for the 23-year-old and the Blue Jays is precisely what type of arm will he be. Is he a power-armed starter capable of missing bats over multiple innings against even elite batting orders? Or – given a 2019 season in which he's struggled badly enough with his command to walk 51 batters in 69 innings at triple-A Buffalo – is it time to pull the plug on that dream and use his all-out attack style in a leverage-relief role?
A strong 5.1-inning, two-run, one-walk start by Reid-Foley in Friday night's 6-2 victory over the Kansas City Royals won't decide the matter either way. But, at minimum, it will surely give Reid-Foley some more run in a rotation slot that was a bullpen game last time out.
"He's got a great arm, no doubt, and he's a bulldog," said pitching coach Pete Walker. "I still think he's a capable major-league starter. He's shown that at times. He hasn't had enough of an opportunity yet up here so I'm anxious to get him back out there and see if it carries over."
Before the outing manager Charlie Montoyo was non-committal about Reid-Foley's future in the rotation, saying only, "we'll see," when asked if the start was a one-off or part of a longer look. The reluctance is understandable when you consider that the Blue Jays only recalled him from triple-A Buffalo last Sunday because of a desperate need for some length in the bullpen.
Carrying an unsightly ERA of 5.87 and WHIP of 1.52 underpinned by that 6.7 walks-per-nine-innings rate at Buffalo, Reid-Foley wasn't exactly forcing his way back into the mix. Yet, in what's been an ongoing theme this season, the Blue Jays had no better internal options at the time.
Ryan Borucki is starting to move now after throwing three unblemished innings with six strikeouts Wednesday in the rookie-ball Gulf Coast League, but he's still three or four more rehab outings away from a return. T.J. Zeuch, the 2016 first-rounder, is two starts in at Buffalo after returning from a lat injury and could work his way into a look, but that's going to take some time. Thomas Pannone is still stretching out with the Bisons.
So, this is a window for Reid-Foley to reclaim his place on the depth-chart, if he can avoid the command issues that have to this point plagued him.
"He did what we were hoping – he was throwing strikes, he was around the zone and he made them make weak contact," said Montoyo. "That was the main thing."
Against the Royals, he gave the Blue Jays more than they expected, pushing a limited pitch count to 67 pitches – 42 strikes – while recording 16 outs. Intriguingly, he did it without his usual whiff, generating only six swinging strikes, instead inducing lots of weak contact.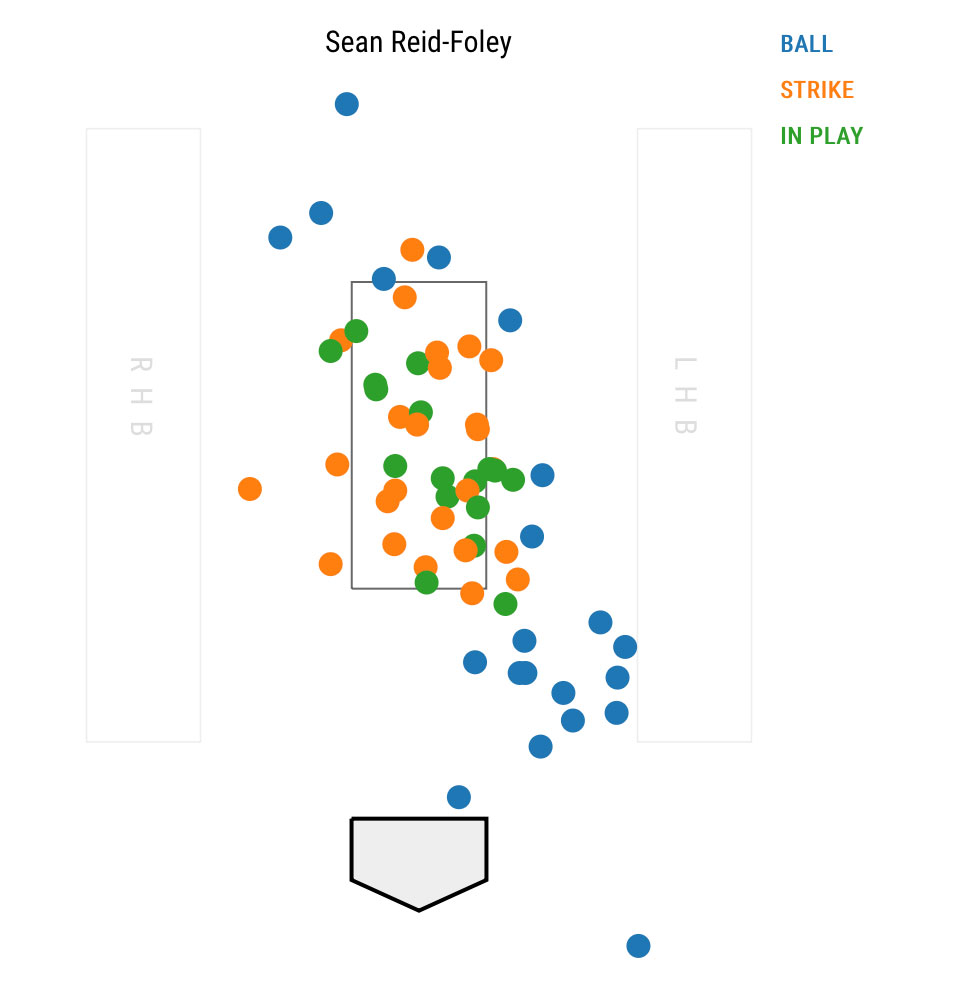 "His biggest thing is simplifying a little bit," said Walker. "He's got a lot of moving parts in his delivery and he's done a pretty good job with that. He talks about it, we've talked about it, it's not trying to throw too hard too early – letting his foot get down before he steps on the gas. When he does it early, he yanks the ball. When he lets his delivery take care of itself, gets his landing foot down, his timing is good, it seems like the ball carries the zone a lot better.
"Tonight he was very good. There were some pitches he yanked. But he was able to get back into his delivery because of his thought process. He was really able to slow the game down."
Reid-Foley was almost exclusively fastball (37)/slider (23), mixing in five curveballs and two changeups. While he topped out at 94.6 m.p.h., his fastball velocity sat 92.9 m.p.h., down a tick from where he's been in the past but enough to keep the Royals in check.
The blemishes against him came on a Martin Maldonado solo shot in the fifth, and a Nicky Lopez double followed by an Alex Gordon single in the sixth that ended his night.
"Pitch ahead, a lot better. Stay ahead, a lot better," Reid-Foley said of his takeaways from the outing.
Whether the same stuff would play as effectively against some of the league's better offences is up for debate. But finding the zone more consistently is at least a good starting point, and catcher Danny Jansen helped that along with game-calling designed to keep Reid-Foley over the plate by stressing the need to attack.
"I know when Sean is leaving balls arm side, throw a slider to get him back in the spot," said Jansen. "Elevating with him, too. He's got good spin on it, heavy fastball, so just try to keep a real simple game-plan for him, focus on executing and that's what he did."
The Blue Jays quickly erased the 2-0 deficit thanks to the ridiculously hot Lourdes Gurriel Jr., whose two-run shot in the bottom of the sixth knotted things up. Eric Sogard hit a go-ahead solo homer on Danny Duffy's final pitch of the night in the seventh, while Gurriel capped off his fourth career multi-homer game with a solo drive on the first pitch of the eighth inning.
Randal Grichuk added a two-run shot later in the frame to ice things, and the outburst was enough for the Blue Jays to win their second-straight home game after seven consecutive losses at Rogers Centre.
Reid-Foley set the stage for the rally with a solid start, one that wasn't as dominant as he's shown he can be, but one that should earn him a chance to keep taking the ball and show everyone what he might be.