DUNEDIN, Fla. — People always ask John Axford how Los Angeles was and he's never quite sure what to say. That's because he might have been there for about a week total after the Toronto Blue Jays traded him to the Los Angeles Dodgers last July.
What Axford can tell you is where to buy a winter hat and gloves in Truckee, Calif. Or where to get a decent breakfast sandwich in Ogallala, Neb. Or how to pronounce Winnemucca, Nev.
Forget L.A. Axford would rather talk about the 3,800-year-old archaeological dig in Coralville, Iowa. He'll let you know about Marshall, Mich.'s history as part of the underground railroad. He'll share the fact that the Chicago metropolitan area's largest WalMart resides in Country Club Hills, Ill.
Those were all stops on a cross-country road trip Axford took last October following a disappointing end to his 2018 season. After he was traded to Los Angeles, Axford pitched only once at Dodger Stadium before taking a 98.5-m.p.h. comebacker off the right leg during a game in Colorado a week later, fracturing his fibula. He spent the next month in Arizona rehabbing, and returned to pitch in two more games for the Dodgers in late September. But he was left off the eventual NL champion's playoff roster, spending the rest of his season in Arizona staying ready for a call that never came.
That's when he decided to pack up some stuff at his residence in Oakland, Calif., load it into his Tesla Model X SUV, and drive all the way home to Burlington, Ont. — a mere 4,000-km, 10 states, and three time zones away.
"Just heading home for the off-season," Axford said almost too casually, standing outside the Blue Jays clubhouse in Dunedin where, for a second consecutive year, he's trying to crack Toronto's roster out of spring training on a minor-league deal. "Figured it's easier to drive the car across the border than it is to ship it."
Axford's so nonchalant about the whole thing because, for starters, he's just that kind of guy, and secondarily, he's made a few extended journeys before. He's driven out to San Diego; he's trekked from Burlington to Phoenix for spring training; in 2015, when he pitched for the Colorado Rockies, he drove home from Denver after the season.
Usually, he tries to power through as quickly as possible, sometimes logging as many as 14 hours of driving in a day. But this year, driving an electric car that required intermittent charges, he took his time, documenting his many stops across middle America through Instagram stories.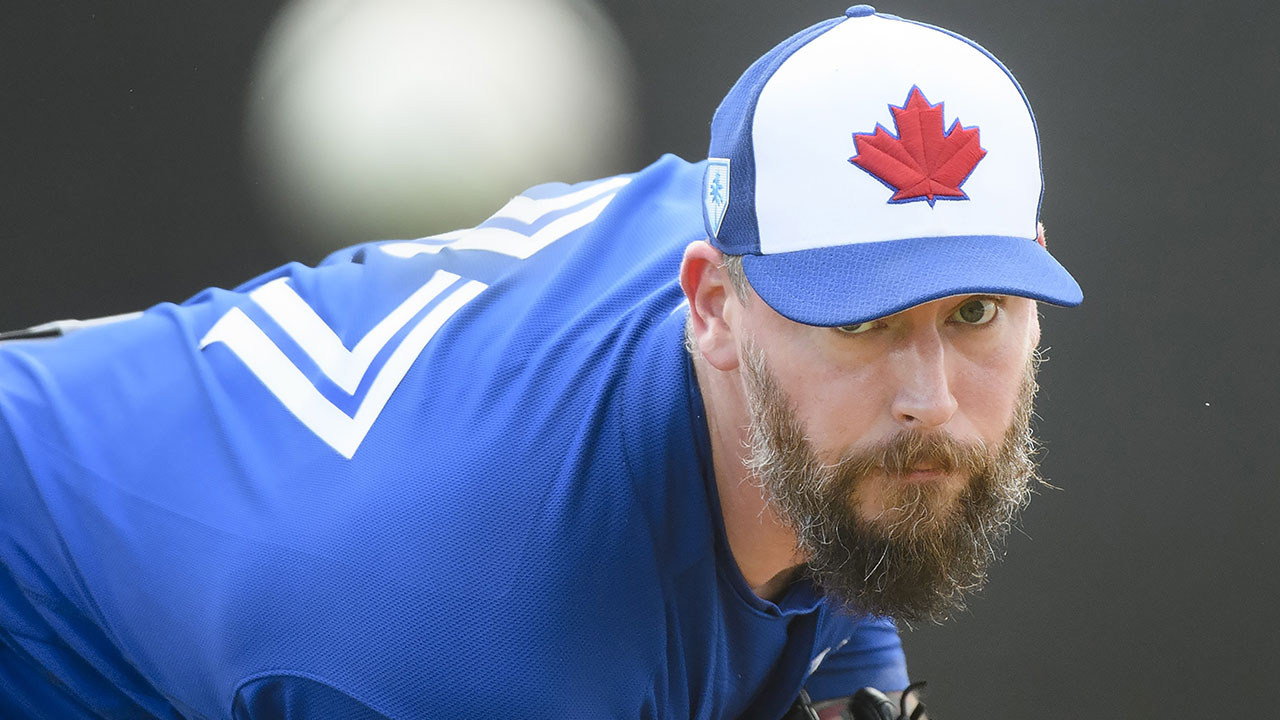 "The views kept going up as the trip carried on. At the start, I had just over 1,000 or 1,500 people following along — and towards the end it was getting up to somewhere around 4,500," Axford said. "I started posting more frequently because people were messaging me being like, 'I missed the first day of this trip, what happened? Why are you doing this?'"
In all, Axford charted a four-day drive that covered nearly 4,500-km. Using Tesla's trip planner, he drew an ascending line across the continent, dipping off course briefly in Colorado to visit a college friend living in Denver. He made three stops for the night: at a Shilo Inn in Elko, Nev., a Hampton Inn in Denver, and a Holiday Inn in Coralville, Iowa. He stopped here and there during the day, as well, stretching his legs and grabbing a bite to eat while his car charged, sometimes reclining his seat and catching a half-hour nap.
Axford provided historical context at nearly every stop, annotating his Instagram story with various Wikipedia pages. He noted Laramie, Wyo.'s role in getting federal hate crime legislation passed in 2009; the German roots of Grand Island, Neb.; West Des Moines, Iowa's respectable No. 18 ranking on Money magazine's list of the Hipster Cities of 2015. At one point, he was pulled over by a cop in Atkinson, Ill. and given a warning for driving 79 m.p.h. in a 70-m.p.h. zone. When he crossed the border into Canada, the customs agent told Axford he'd been following the journey on Instagram.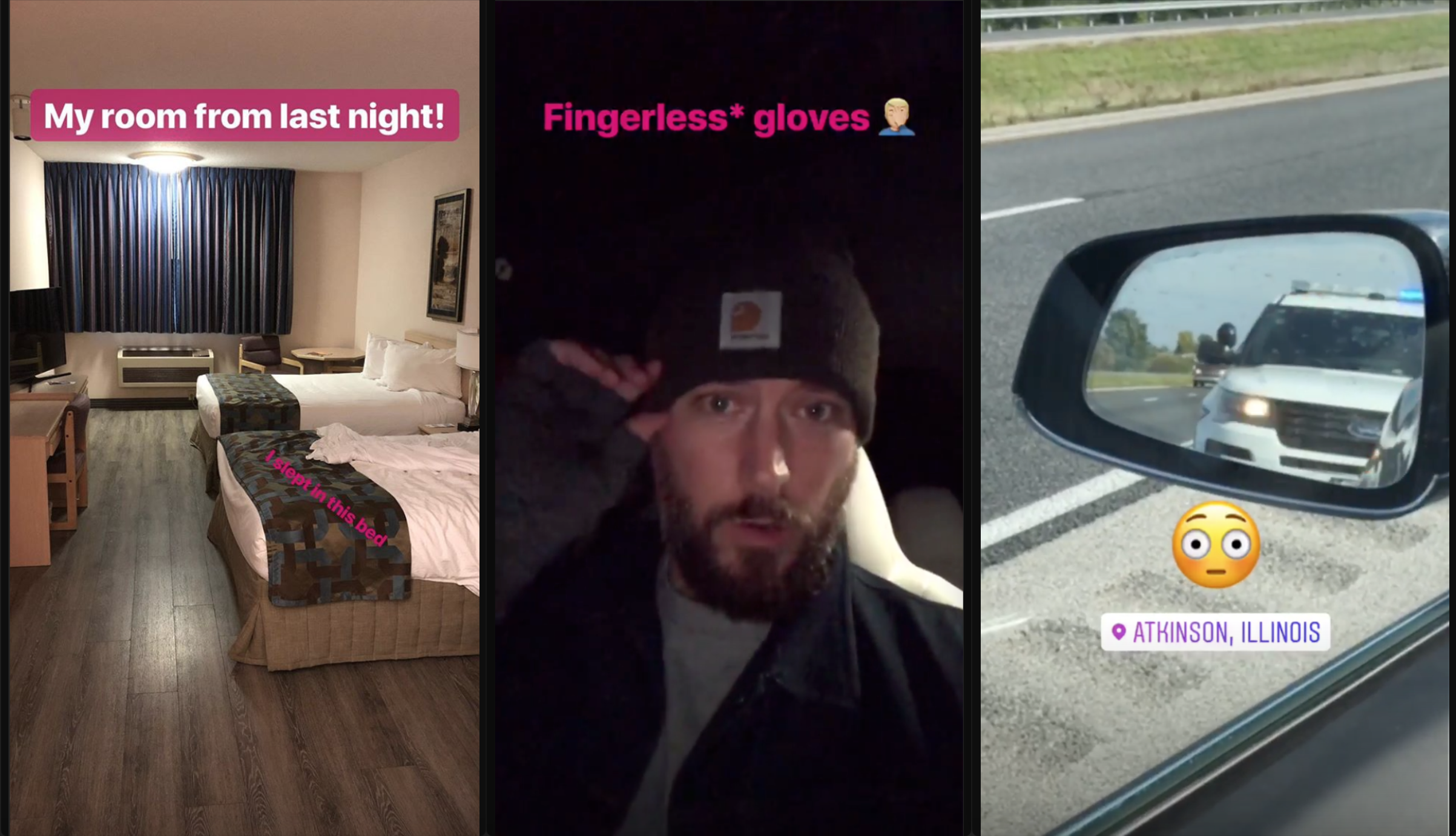 In February, Axford chose a more expeditious, if less interesting, airborne method of transportation to get from Burlington to Dunedin after finalizing his minor-league deal with the Blue Jays the day Toronto's camp opened. If he cracks the opening day roster, he'll make US$1.65-million, a slight raise on the $1.5-million he earned last season after making the club on a minor-league deal.
The story of what happened to Axford between his road trip and signing with the Blue Jays is a familiar one for both veteran relievers and fans who have paid attention to the recent circumstances of MLB free agents possessing an age that begins with three. A handful of teams reached out early in free agency, gauging what Axford was looking for and what terms he might be willing to accept. Then, nothing. For months. Complete silence as teams waited out the veteran relief market until the last possible moment, aiming to use the impending start of the regular season as leverage to sign a major-league arm on minor-league terms.
Axford went through it last off-season, too. What he decided to do differently this time around was lay his cards on the table. He told Sportsnet's Ben Nicholson-Smith at the annual Baseball Canada banquet, "I want to be in Toronto — that's where I want to be."
Speaking with Nicholson-Smith, Axford made a purposefully public case for not only the contributions he would provide the Blue Jays on the mound, but in the clubhouse, where he could serve as a mentor on a young, rebuilding team. Not content stopping there, Axford approached both Blue Jays President Mark Shapiro and GM Ross Atkins at the banquet to personally express his desire to return, and make his case for how he could help the club.
"We talked about where the team is, what I wanted, what they wanted. It was a pretty open conversation," Axford said. "Thankfully, it aligned the way I wanted it to — and the way they wanted it to, as well. It's where I want to be. It's good to be home, be with family. It's really great to get to spend that time with my kids and be around for them."
Axford's two boys, JB and Jameson, were a fixture in the Blue Jays clubhouse last season, kitted out in full Blue Jays uniforms with their dad's No. 77 on the back. Three-quarter sleeved undershirts, wrist tape, eye black — the whole deal. Before games, Axford would take the pair out on the Rogers Centre turf to hit them grounders and throw them pitches. The opportunity to spend more time with his sons was a driving force behind not only Axford's desire to sign in Toronto last off-season, but the two-month sabbatical he took from the game after being released by the Oakland Athletics in 2017.
Prior to weekend day games, when Axford signed for autograph-seekers hanging over the barricade in left field foul territory, his sons would grab batting practice baseballs and find young fans to give them to. It became a habit whenever Axford signed. It's one of his favourite memories from his four months with the Blue Jays.
"I think this year they really began to understand how special it is to be out on the field, how exciting it is for another boy or girl to get a baseball," Axford said. "Just to see them learning at a young age that contributing and doing something for somebody else is very rewarding — that was something that was really special for me.
"Not everybody has a job in which they can bring their kids and have moments like that. And have their kids be really interested in what they do, and getting a lot of enjoyment out of it. I'm really fortunate to have one of those jobs."
Of course, Axford still has to earn that job in camp. Spring training results are what they are, but it's at least worth noting the 35-year-old has allowed only four hits and one earned run over his five appearances to this point. More important is that the ball's been coming out of his hand smooth and easy, with mid-90's velocity. And that 9 of his 13 outs have come via strikeout or groundball.
Axford's 95.4-m.p.h. average fastball velocity was among the top 15 per cent of MLB pitchers last season, and the sink he threw it with helped him generate a 54.6 per cent groundball rate, which ranked 25th among pitchers who threw at least 50 innings. The Blue Jays will gladly take those statistics in late innings once again, and could even use Axford as an opener, as they did last Julyin his final outing before being dealt at the deadline.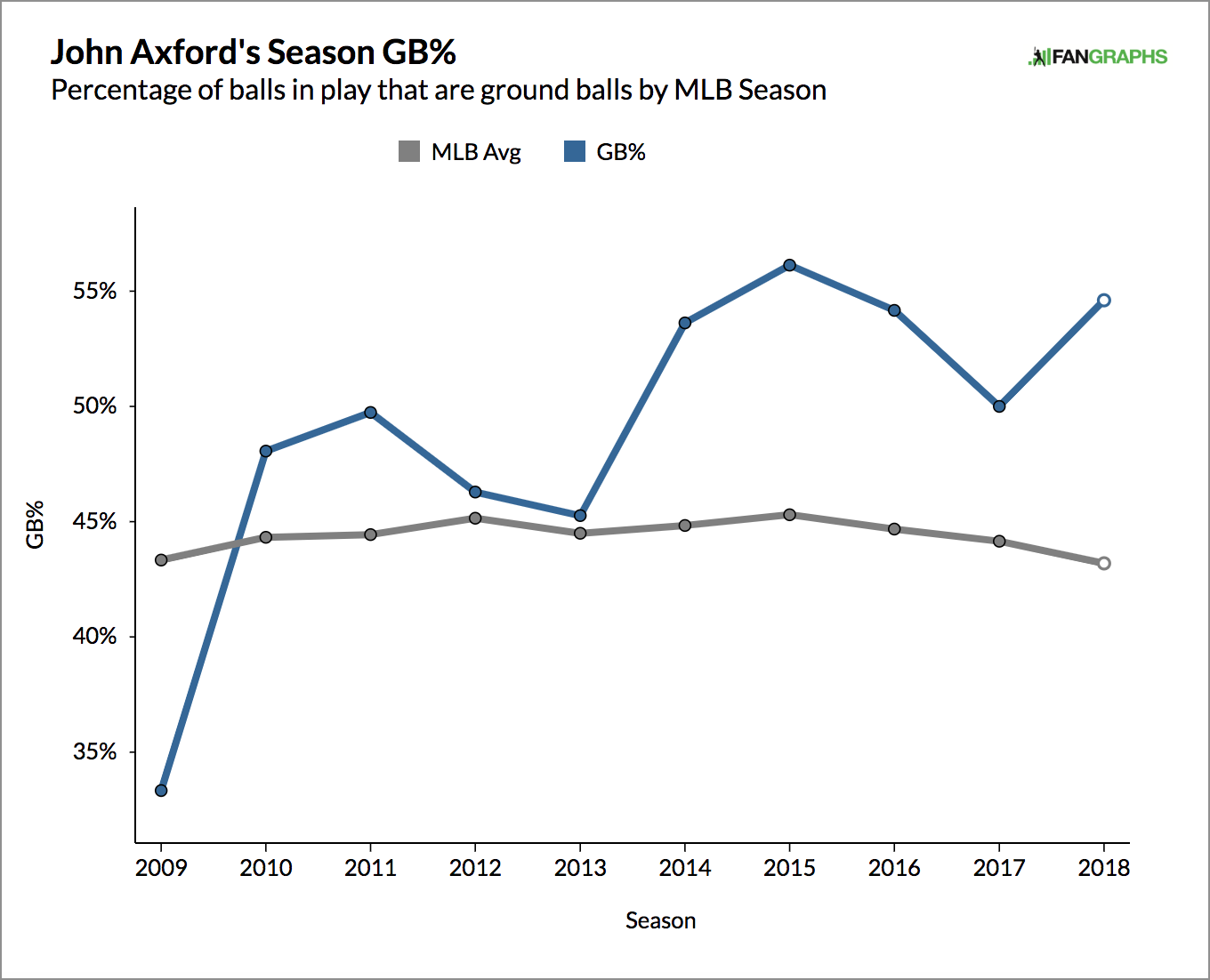 Considering his experience, how he's throwing, and the number of spots up for grabs in Toronto's bullpen, Axford has a good chance at being in uniform at Rogers Centre on opening day. The Blue Jays certainly have plenty to gain by rostering him — from his productivity, to his leadership, to his potential value at the trade deadline, much like last season when Axford fetched minor-league reliever Corey Copping, who's been pitching in major-league camp this spring.
And if you ask the Axford boys, it's a foregone conclusion. When he signed in February, Axford didn't tell his sons right away, instead waiting to surprise them by laying out those uniforms they'd worn at Rogers Centre all summer on a couch at their Burlington home.
He captured the moment on his phone — JB and Jameson grabbing the jerseys, jumping up and down in excitement. What came next was the less-fun part when Axford had to explain it was a minor-league deal and that there was a chance things wouldn't work out, just like last year. Their response?
"So, my youngest, Jameson, he's like, 'Ah, it's no big deal. You'll do it, it'll be fine,'" Axford said. "But JB, my oldest, his perspective on life is a little different. He goes, 'Oh, well, of course you're going to do it because you're the greatest baseball player I've ever seen in my entire life.' I was like, 'Wow, you know, that feels pretty good to hear. Thanks, bud.'"