DUNEDIN, Fla. — Last week, during a Grapefruit League game against the Tampa Bay Rays, Justin Smoak stepped into the box for his first plate appearance and saw this:
"I don't know if that's respect, I don't know if that's them thinking you're a bad hitter — I don't know what it is," Smoak said the next day. "But when you've got to play four outfielders out there, I feel like that's respect. I'll just take it as that."
Really, it's not as much a reflection of Smoak's abilities as it is his tendencies. Why did the Rays play their second baseman in deep right field, and their shortstop in shallow right, leaving a vast expanse of grass and infield dirt uncovered to Smoak's left? This plot of the balls Smoak put in play last season while batting left-handed is a good start: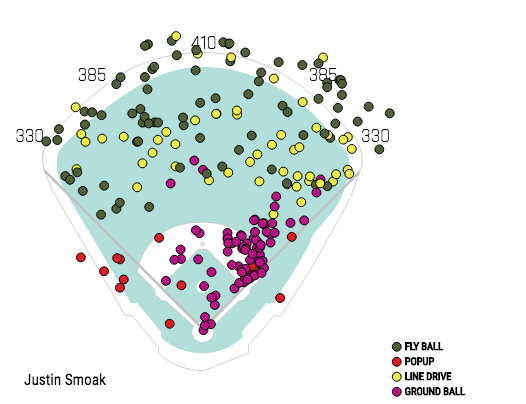 Why play defenders in areas where Smoak rarely hits the ball? Still, there is risk to the strategy, demonstrated when Smoak popped a pitch up above third base, which ultimately fell just to the foul side of the bag with Rays catcher Mike Zunino racing after it. An out would have easily been made if the Rays had a defender on the left side of the infield. And if the ball fell fair? "I was thinking double," Smoak said.
Ultimately, the entire exercise was moot, as Smoak struck out. But for the Rays, it's not about one plate appearance. If they employ the tactic consistently going forward, and Smoak's well-established batted ball trends continue, probability suggests the Rays will have given themselves a better chance of getting Smoak out.
And Smoak isn't the only player who will have to get accustomed to a four-outfielder alignment this season. The Blue Jays employed the strategy twice against Philadelphia's Bryce Harper during a game on Saturday (he drew a walk both times). And, according to Marc Topkin of the Tampa Bay Times, Rays manager Kevin Cash said he could use the tactic against as many as 20 batters this year. That alone would represent an increase on the MLB-wide frequency in 2018, when only 15 batters faced a four-man outfield.
Smoak faced the alignment last season against only the Rays and Minnesota Twins. But as more teams move to employ the tactic, he's working to counter it. This spring, for what he reckons to be the first time in his life, Smoak's been practicing bunting.
"Yeah, might have to try to bunt a few times this year," he said. "We've worked on it a little bit. I definitely will if I can get a free knock. It's hard to get knocks."
A Baseball Savant search returns more than 2,600 batted ball events over Smoak's career, but not a single one flagged as a bunt. Smoak says he's tried a couple times. But rather than laying it down the line, he's overcompensated in an effort to keep it away from the pitcher, and sent balls closer to the dugout than the field of play.
This spring, he's been taking rounds off a pitching machine in the batting cages in order to correct that tendency. The difficulty of bunting is often underestimated, particularly in an era when fastball velocity is higher than ever. You're already trying to manipulate one round object with another. And the first round object is often moving upwards of 95-m.p.h. with sink, cut, or run. But Smoak's determined to make it a weapon he can use.
"There's definitely times that I could do it. You've got to pick and choose your spots. If we're down a run late in a game, I'm not going to bunt just to try to get on base. My job there is to tie it up," Smoak said. "But I feel like there's situations, like leading off an inning, if we're up a couple runs or down a couple runs, where a solo shot's not going to do anything. We need baserunners at that point. It depends on the situation.
"I'm not going to do it late in the game against [Craig] Kimbrel, down a run. I'm not going to mess with that."
It seems counterintuitive for a power hitter like Smoak, who has slugged .495 and hit 63 home runs over the last two seasons, to try to not hit the ball very far at all. Smoak is one of Toronto's biggest threats to leave the yard, and his strong combination of thump and on-base percentage — he has a .353 OBP with 156 walks since the beginning of 2017 — is one of the reasons why he's such a valuable hitter. The response to infield shifts for hitters like Smoak has conventionally been to try to muscle the ball over it rather than finesse the ball against it. You're doing the opposition a favour by not driving the ball for extra bases, right?
But the four-man outfield makes life more difficult. A fly ball is almost sure to be tracked down, and even a well-struck line drive isn't as favourable as it once was when there are four men with gloves to hit it towards. The counter for players like Smoak may be to prove they're willing to bunt for a cheap hit when its presented, forcing the opposition to adjust.
"It's something I need to get better at," he said. "Because the shift definitely takes away a lot of hits."
Last season, in the 355 times he hit left-handed, Smoak was the second-most shifted player in baseball. He saw a shift in 89.4 per cent of his plate appearances, trailing only Baltimore's Chris Davis, who faced one 91.9 per cent of the time he was at the plate. Here's what Smoak grew to expect when he hit without runners on:
Smoak's case is obviously extreme, but teams across MLB are growing more aggressive with the strategy. According to Baseball Savant, a dozen teams played a shift in more than 20 per cent of plate appearances last season, up from only three in 2017.
And it's not only left-handed hitters that have to worry. Last season, right-handed batters faced an infield shift nearly 9 per cent of the time, up from 6.6 per cent in 2017. (Lefties faced one 17 per cent of the time, up from 14 per cent in 2017)
"Righties come back to the dugout and they're like, 'what the heck, I hit it up the middle,'" Smoak said. "I'm like, 'Well, yeah, now you know what I've been going through for the last seven, eight years.'"
Fortunately for those whose offensive numbers have suffered, reform may one day come. This season, players in the Atlantic League of Professional Baseball will experiment with a shift restriction as part of a three-year partnership with MLB that will see the eight-team independent circuit serve as a testing ground for potential changes to the game. Under the rule, two infielders must be on each side of second base as the pitcher delivers. It will still allow for slight, strategic shifts. But not the dramatic ones players like Smoak have grown accustomed to seeing.
Smoak's happy to see it addressed. While he acknowledges that many fans love dominant pitching and defence, he's of the opinion that many more watch the game to see runs scored.
"I feel like, as a hitter, as a power guy, the shift is something that needs to be talked about," Smoak said. "I feel like the majority of the time fans want to see offence. And when you're shifting all the time, not as many runs are getting scored."
But for now, he'll work on his bunting in the batting cages, and maybe lay one or two down come the regular season. And when it's time to swing the bat against four outfielders, he'll try to take them out of the equation entirely.
"People wonder why strikeouts are up and home runs are up. Well, it's because they can't field it over the fence," Smoak said. "You can shift all the time. You can throw your four outfielders out there. They can't catch it in the seats."