TORONTO – By any objective measure, Kendrys Morales was one of the worst hitters in baseball for the first quarter of the season. By the middle of May, his playing time was diminishing. Even his case for a roster spot was weakening.
Yet in the month-plus since then, Morales has hit .314 with an .899 OPS. It's not just that he's seeing more balls drop in; he's making far better contact, too.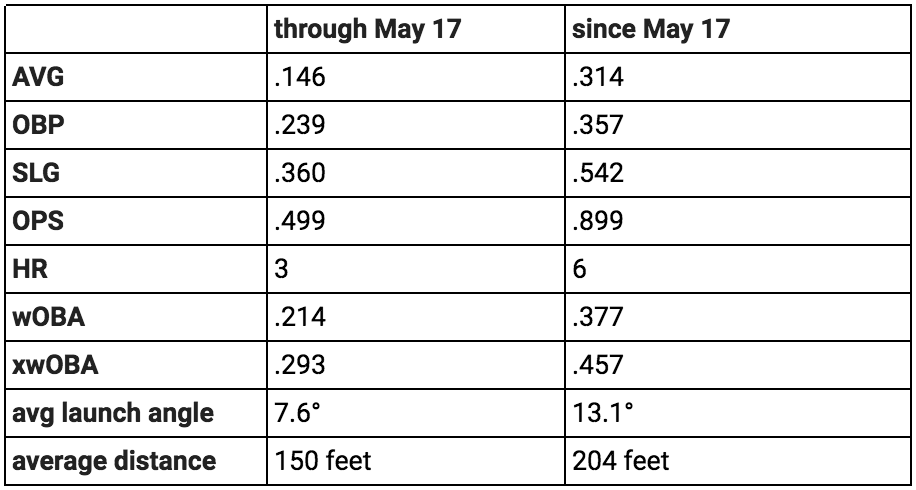 So how do you go from being one of the worst hitters in baseball to hitting like Houston's Alex Bregman or Detroit's Nick Castellanos? Morales did make significant changes, some easily visible and some harder to perceive. Still, to fully understand this turnaround, it's also worth noting what Morales didn't change.
THE WORK
It's often a cliché to say a player works hard. These are the major-leagues, after all, and long days are the default. But when enough people go out of their way to highlight a player's work ethic, there's probably something behind those comments.
Asked how Morales rebounded from his early-season struggles, both hitting coach Brook Jacoby and Blue Jays general manager Ross Atkins pointed to consistent work behind the scenes and a measured demeanour.
"He didn't give up on himself he didn't quit," Jacoby said. "He was a professional through the whole thing. He still comes in and helps players, gets his work done. He's a diligent worker."
"I'll say this," added Atkins. "I've been around a lot of major-league players that have had downturns. That was probably (Morales') most significant downturn in his career. I've seen lots of different reactions from lots of different players. His reaction was incredible. His professionalism, the way he treated people, the way he treated at bats, the way he treated his routine. There was no quit."
WHY THE WORK WAS NEEDED
So, Morales was struggling, and he kept working even when he failed, but that still doesn't answer the question of why that effort was required in the first place. In Morales' view, his timing was off in the early going.
"At the beginning of the year, I was dragging my bat," he said through interpreter Josue Peley. "I had nothing going back because everything was going forward, so I just needed to move back, move my hands back to have a little bit more power and get inside the ball a little bit more."
Too often, Morales was out in front of pitches, lunging over the plate more than usual. Now, instead of committing early, Morales is timing pitches better from both sides of the plate.
"He's not lunging at the ball as much," Atkins said. "He's on time, and making contact at the appropriate point where he's often batting the ball in the air."
"He's staying inside the ball, basically," Jacoby added. "Letting the ball travel a little bit."
WHY HIS TIMING WAS OFF
Morales turned 35 last month, and he's now in his 12th major-league season. Why would his timing suddenly disappear then re-appear?
"He got rid of his glasses," manager John Gibbons said recently. "The glasses were screwing him up. (Now) he's seeing three balls and trying to hit the one in the middle."
Gibbons delivered that last line with a grin, and it could have been mistaken for a joke. The evidence sure supports that theory, though. Compare the launch angle and batted ball charts for Morales before and after May 17, the last day he wore glasses in a game.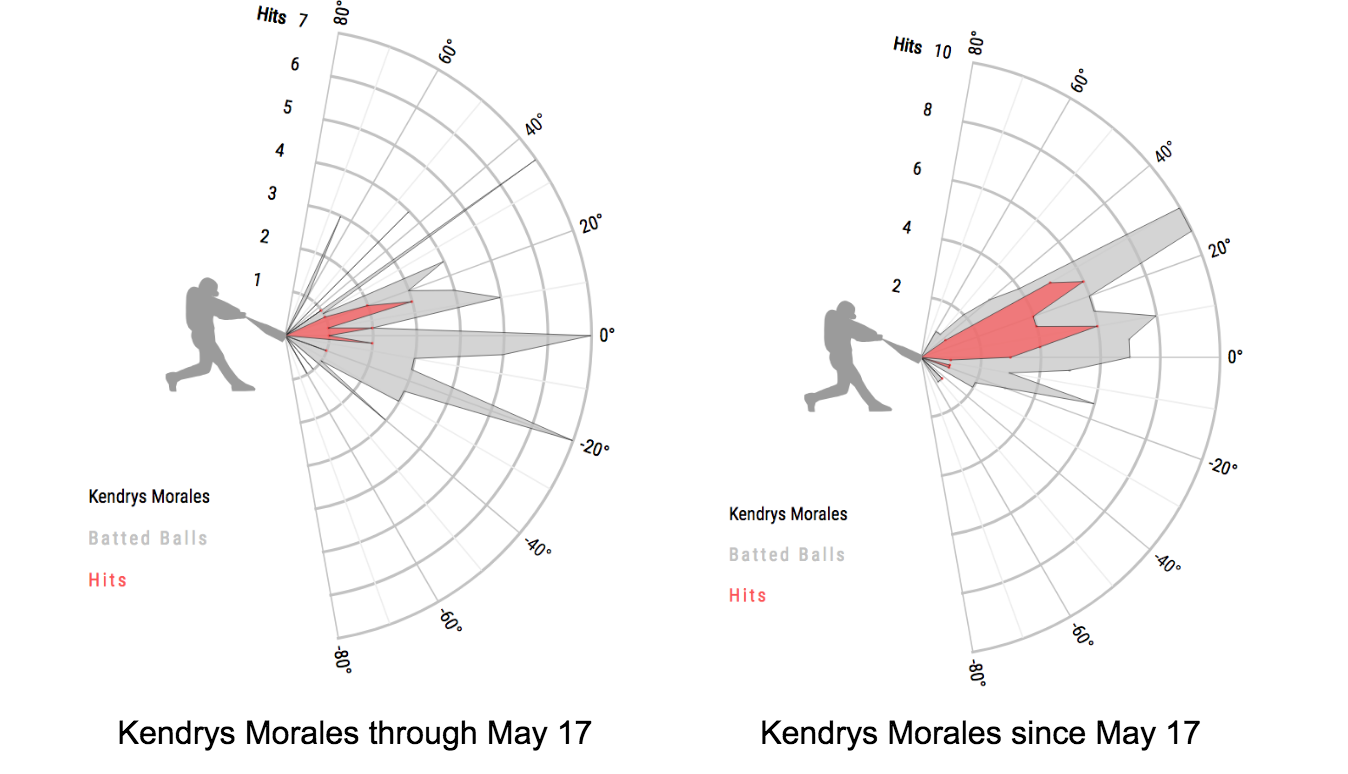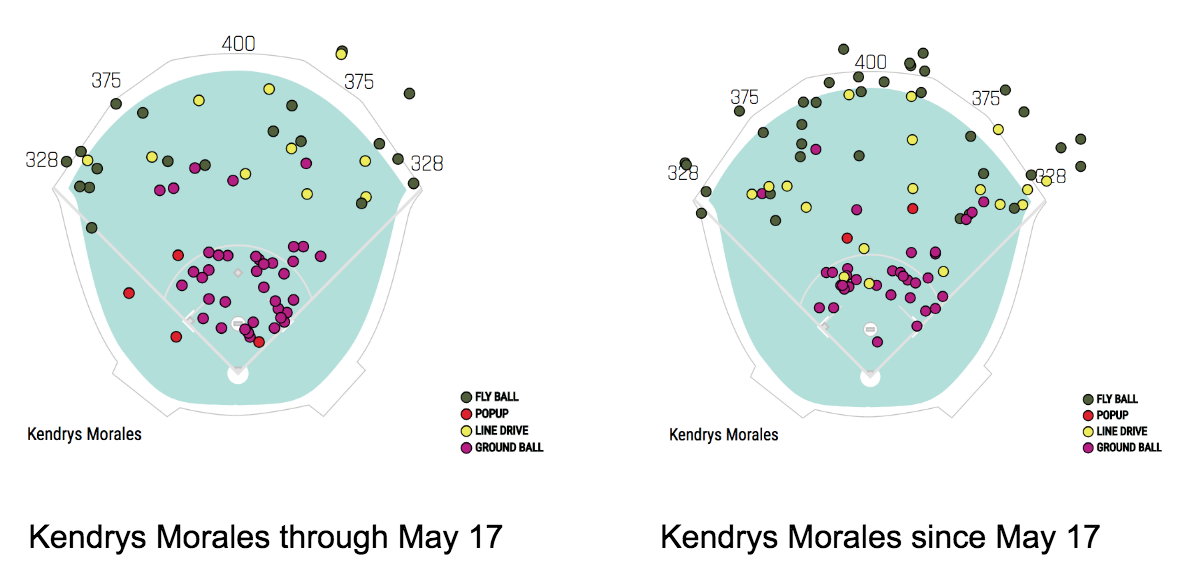 Source: Baseball Savant
The contrast is clear: Morales has been hitting the ball in the air more since he stopped wearing glasses. It seems counter-intuitive — why would seeing better make you hit worse? But, perhaps that undersells the adjustment involved in abruptly changing something fundamental to hitting such as vision.
THE PAYOFF
Regardless of whether ditching the glasses caused these changes, the improvement has been significant. Morales has now raised his season batting line to .238/.303/.416, creating some long-awaited optimism for the rest of this season and also for 2019, when he'll earn $12 million in the final season of a three-year deal.
"How he's performed over the last month, we're very pleased," Atkins said.
"Yeah, the last month has been going pretty well," agreed Morales. "If it's working it's because the work is showing up."