"That might be his best ever."
That's how Buck Martinez reacted to the latest highlight-reel diving catch from Toronto Blue Jays outfielder Kevin Pillar.
Pillar robbed Mookie Betts of extra bases in the top of the sixth inning Monday as the Boston Red Sox all-star sliced a ball to right-centre field. Pillar, in a full sprint, went airborne before landing on the warning track and sliding into the wall.
Blue Jays starting pitcher Marcus Stroman applauded his teammate while fans at Rogers Centre gave Pillar an immediate standing ovation.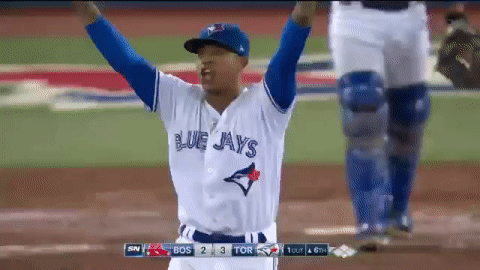 These types of catches are the reason Pillar has been a finalist for the AL Gold Glove in centre field two years running—although he was beaten out by Kevin Kiermaier of the Tampa Bay Rays for the award in both 2015 and 2016.
Pillar is certain to make an appearance on any "Best MLB Plays of 2017" lists and Monday's catch received plenty of acclaim on social media.
Kevin. Pillar. Can someone get the man a gold glove already!? #Jays

— Jackie Redmond (@Jackie_Redmond) August 29, 2017