NEW YORK — Toronto Blue Jays manager Charlie Montoyo remembers watching Trent Thornton pitch for the first time this spring and wondering how this kid was going to make it all work. That huge leg kick. The way his hands start up at his chest, go down to his thighs, then come all the way back up again behind his head. How was Thornton going to be able to maintain this Rube Goldberg machine of a delivery over five, six, sometimes seven innings every fifth day?
"We were debating it — can he pitch seven innings with all that movement and stuff? Or is he going to be a bullpen guy?" Montoyo remembers. "It's a lot of stuff going on."
And as we sit here today at the midpoint of the 2019 season — the Blue Jays marked the occasion by losing, 8-7, to the New York Yankees, dropping to 29-52 over the first half — it's easy to forget Thornton was initially headed for triple-A to try to settle that debate. But then Ryan Borucki was lost late in spring training to an elbow issue. And Clay Buchholz wasn't able to get up to speed in time after signing midway through camp. Needing a starter, the Blue Jays weighed their options and decided to see if Thornton could figure it out in the majors instead.
Then he went out and set a franchise record with eight strikeouts over five shutout innings in his MLB debut. And after a run of inconsistency through late April and early May, Thornton settled into a groove. He pitched to a 3.57 ERA over eight outings from the middle of May up until Wednesday afternoon's start, averaging 5.2 innings per game.
He struck out 10 San Diego Padres over six innings at home; he held the Houston Astros scoreless over 6.2 at Minute Maid Park; he allowed only a pair of runs over 6.1 against the Boston Red Sox at Fenway. As he rolled along, Thornton answered every question Montoyo had when he first watched him back in spring.
"He looks like a big-league pitcher, you know?" Montoyo said in his office Wednesday morning, before his team played a matinee at Yankee Stadium. "When he takes the mound, we've got a chance. I'm comfortable today with Trent on the mound."
Ben Nicholson-Smith is Sportsnet's baseball editor. Arden Zwelling is a senior writer. Together, they bring you the most in-depth Blue Jays podcast in the league, covering off all the latest news with opinion and analysis, as well as interviews with other insiders and team members.
But he's still a rookie. Still only 25 and taking his first trip through a major-league season. Still learning. A little while ago, the Blue Jays showed Thornton some data with regards to his pitch mix, which was trending too curveball-dominant. So, he adjusted, and started throwing his fastball more often. He was trying to stay ahead of the opponents who were accumulating his video and tendencies, engineering new ways to attack him. You have to in this game. The hitters are too good.
And this Yankees lineup is too good. There's no break, even with Giancarlo Stanton — the 2017 NL MVP — on the bench. Wednesday, DJ LeMahieu led off with the highest batting average in the American League. Gary Sanchez, Luke Voit, and Edwin Encarnacion formed a heart of the order with 64 combined home runs. Gleyber Torres, batting eighth, was one shy of a 20-homer season and carried an .898 OPS into the game. It's big boy baseball.
"Yeah, I mean, you look at that lineup and you can't take a breath on any single person," Thornton said. "Every single one of those guys can run the ball out of the yard — especially at a park like this."
Statistically, the worst hitter in the lineup was shortstop Didi Gregorius, who did exactly what Thornton was talking about in the second inning, drilling a 95-m.p.h., full-count fastball over the right-centre field wall to score his team's first run. That gave New York 29 consecutive games with a home run, which has never before happened in MLB history. These Yankees are a lot for anyone. Especially a rookie making only his 17th career big-league start.
And so, Thornton grinded through a long, hot learning experience in the Bronx Wednesday, as the Yankees methodically wore him down like they were swinging an axe at a tall tree. It started immediately, as LeMahieu led off the game with a single at the end of an 11-pitch at-bat. And it continued after Gregorius' homer in the second, as Aaron Hicks walked on five pitches and Torres singled after seven.
Then, a seven-pitch LeMahieu walk. An Aaron Judge single. The inning stretched all the way to 43 pitches in the unrelenting afternoon sun.
Thornton's pitch count soared to 80 through three. And when he gave up a two-run shot to LeMahieu with one out in the fourth, watching an 89-m.p.h. cutter leave his hand and end up in the right-centre field seats, Thornton looked over at his dugout and saw Montoyo coming out to get him.
The last two times that happened, when Thornton was spinning gems on the road against the similarly potent Astros and Red Sox, he lobbied Montoyo to leave him in the game. Wednesday, there was no such argument. Having given up five runs on seven hits and two walks, striking out four, Thornton knew he was done.
"Threw a lot of pitches early in the game. And that kind of set the tone," Thornton said. "I was getting behind in counts, didn't execute my pitches as well as I'd like to. I thought I made some bad pitches in some untimely situations. And when I would get ahead, I would throw things that were too far out of the zone. Like, not even tempting. So, I mean, I just don't think I was very good today."
Again, a learning experience. Thornton was trying to follow the game plan and lean on his fastball Wednesday, particularly up in the zone and inside to a Yankees lineup that can be susceptible to pitches like that. But he simply didn't have his best command. Just look at his pitch chart. He was either missing badly out of the zone, or missing badly on the plate.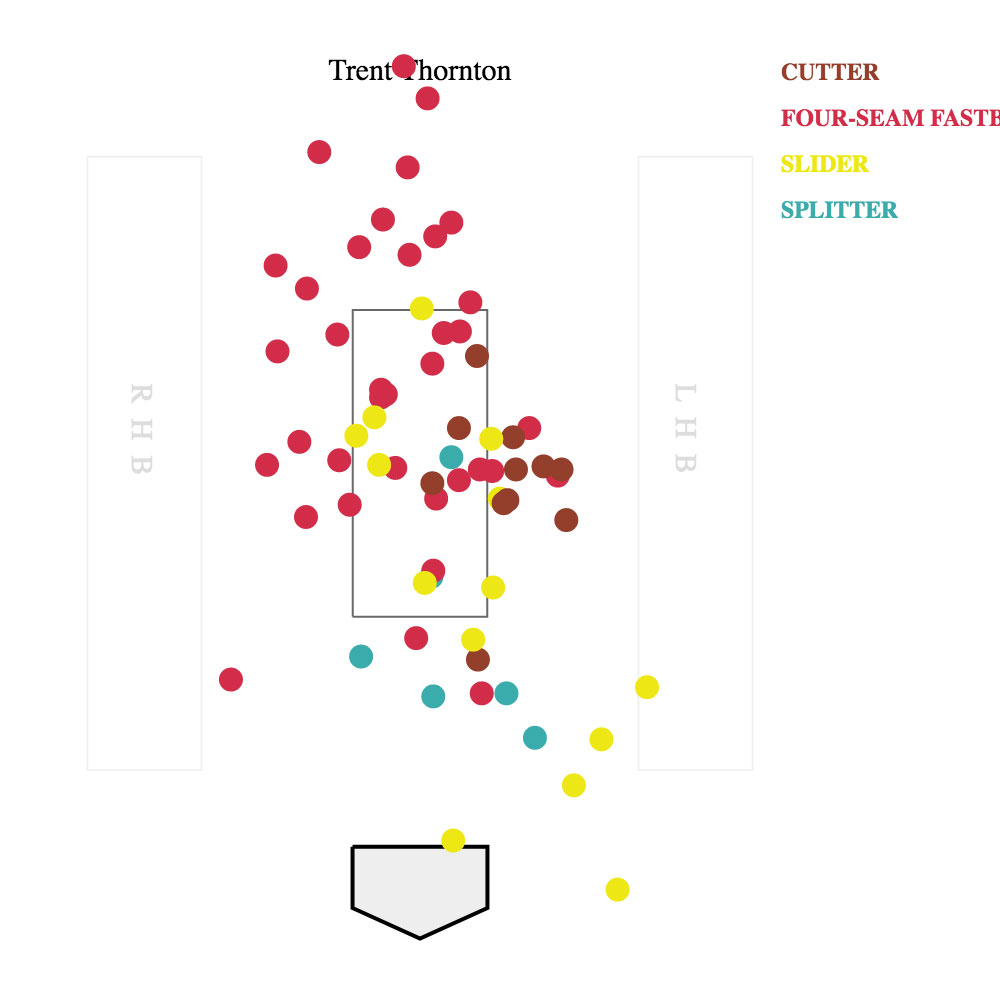 Meanwhile, New York's efforts to wear Thornton down succeeded. After sitting 94-95 with his fastball through his first two innings, Thornton's final eight fastballs over his third and fourth averaged 92.1.
As his fastball lost effectiveness, Thornton started going away from it, which was the opposite of his plan. And with his breaking stuff not performing particularly well on the afternoon either, he wasn't able to find a way to extend his outing beyond 3.1 innings. Now, he'll go back and look at the film, discuss what happened with Blue Jays pitching coach Pete Walker, and figure out what he can take away from it and carry forward.
"It's a big learning curve. I've gone through some ups and downs — I'm just trying to be a little bit more consistent every time out," Thornton said. "Not get too high, not get too low. And then make the adjustments that I need to be making."
Wednesday was the ninth time Danny Jansen's caught Thornton this season. He was also behind the plate for his last two outings in Boston and Houston, when the right-hander was at his best. Jansen doesn't think there was that much difference in the way Thornton pitched in any of the outings. Some tough battles with tough hitters, a wrong pitch at a wrong time.
But that's how thin the margin for error can be in the majors. Particularly against an elite lineup like New York's. Jansen figured they'd devised a solid game plan coming into the start, and still felt that way afterwards. Maybe it would have worked out differently on another day. Separating the results from the process like that is part of the learning curve Thornton was talking about.
"This is a team where you can get on them with fastballs. So, we tried exploiting that. They just laid off some tough, close pitches inside — they battled. And Trent did, too. I thought he did a good job today. I mean, the kid went out there and battled his heart out," Jansen said. "You see him developing. He's really grown. You see him now really mixing in cutters on both sides. His fastball's kind of developing a little two-seam in on guys. And then just a good mix of his slider and his curveball. He's got a good mix. And right now he's just continually figuring out how best to use it."
Remember, these are the kind of growth starts Thornton was meant to be having in triple-A, before the Blue Jays rotation collapsed and he ended up pitching the second-most innings on the team through the season's first half. Thornton was supposed to be learning these lessons against minor-leaguers, not against a top-five MLB offence.
But if this Blue Jays season is about anything, it's testing young players in the majors, allowing them to gain experience, and letting them learn from their mistakes. Thornton's done all of the above over his first handful of big-league starts. He's shown his team a lot. And how he learns and bounces back from Wednesday's rough ride will show even more.
"It's just a kid, man. And he's a tough kid, you know? He's getting used to pitching in the big leagues and he knows what he needs to do now," Montoyo was saying before the game. "For a young guy, first time in the big leagues? The kid deserves a lot of credit for what he's doing."