DUNEDIN, Fla. – The first time through, John Gibbons had physical confrontations with Ted Lilly and Shea Hillenbrand. When he returned as Toronto Blue Jays manager, Gibby 2.0 called out Jose Bautista for his attitude towards umpires.
His message to Bautista this spring? "Be smart about it," Gibbons said Sunday. "You're going to be asked about your contract every place you go."
One of the keys to peaceful co-existence with Bautista in his walk year will be the ability of all concerned to avoid personalizing the normal stresses and strains of a walk year. Bautista has crafted his non-negotiation negotiating by slyly separating the Blue Jays front office from ownership and Sportsnet – easier to fight 'The Man' when you don't see him – and Gibbons avoided mentioning the names of Bautista and Edwin Encarnacion when he gave the team a brief talk before the first full day of workouts.
"I hit on what they did last year and told them one of the keys for us will be focus," Gibbons said. "I work for the front office. On the other hand, those are my guys out there. If I see or hear anything that needs addressing these next few weeks – or any time during the regular season – I will address it."
There were signs this weekend that Bautista is trying to lower the temperature surrounding his contractual status, at least the perception created in the national U.S. media, who will increase in importance as Bautista gets closer to free agency.
Bautista has been something of a trailblazer in recent seasons: he had the first, big, late-career power explosion of the post-PED era and now he's the first, big, post-PED late bloomer to hit free agency. When he says it's hard for him to find a comparable, he's guilty of nothing more than telling the truth. And now he has to sell himself, hinting that he will use social media and outlets such as The Players' Tribune to push his case in an end-run around the mainstream media.
We have, literally, not seen a free agent like Bautista. And while it will be one of the most fascinating individual athlete stories in recent Toronto sports history, so, too will be watching Gibbons respond to the challenge. He is the link between the Paul Beeston-Alex Anthopoulos front office and the new guys; the familiar face for the team's core players. So far, he said, he's found Bautista "to be in a pretty good frame of mind." And he feels he has allies in the room, specifically three players he didn't know much about just 12 months ago.
"Josh Donaldson, Russell Martin – they're uniters," Gibbons said. "And Tulo (Troy Tulowitzki) is the kind of guy who will also hold it all together for you."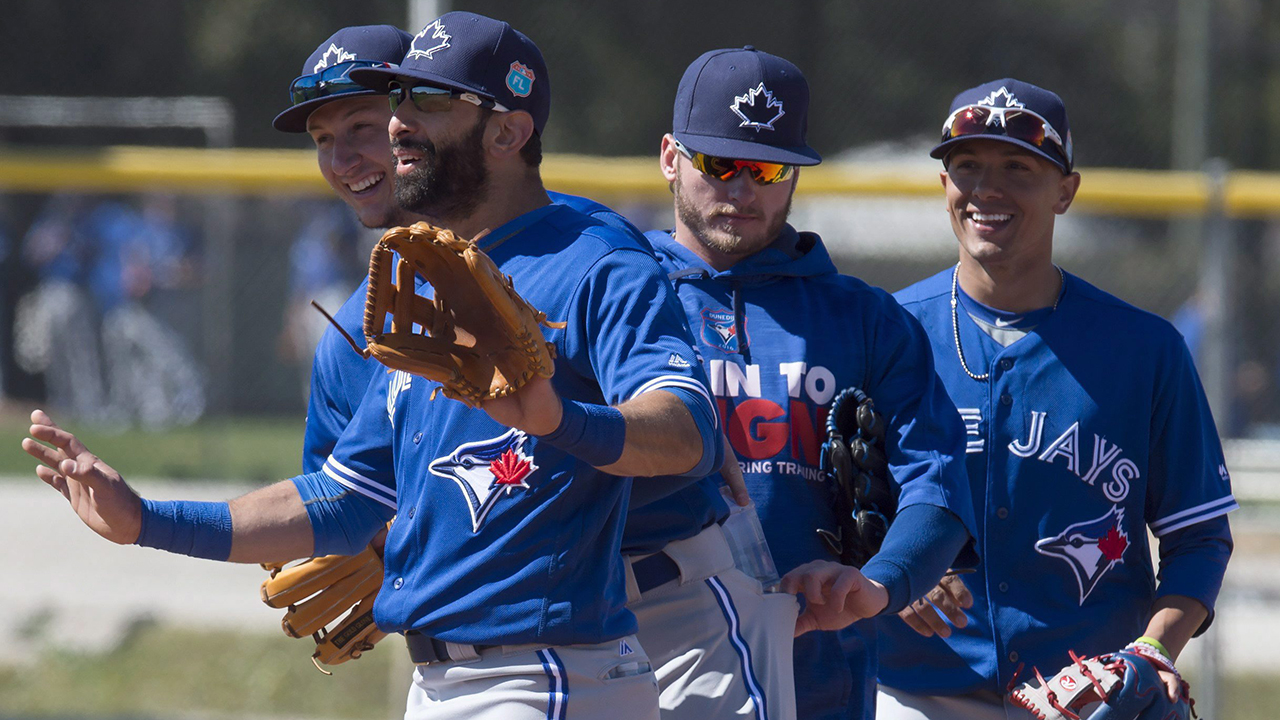 From left, Jose Bautista is pictured with Blue Jays teammates Troy Tulowitzki, Josh Donaldson and Ryan Goins last week in Dunedin, Fla. (Frank Gunn/CP)
That last statement is revealing, because the whispers after Tulowitzki's acquisition was that he wasn't comfortable in Toronto. Some wondered how permanent the relationship would be, but there was Tulowitzki on a couple of occasions this winter hanging out with Donaldson and other teammates in Las Vegas. Translation: the Blue Jays, Bautista and Gibbons have never had to pay the price for success the way it's being extracted right now. The good news is a lot of people seem invested in the process.
QUIBBLES AND BITS
• Gibbons admitted Sunday that he is giving thought to holding Bautista out of the first few Grapefruit League games, or at least paying attention to his early workload, not because of health concerns but because of the length of the 2015 season. "We played deeper than we have in the past, and I think Jose's off-season was altered a bit because of that," Gibbons said. On the other hand, one outfielder who can expect as much work as he can handle is Michael Saunders. The Blue Jays haven't given up on trading him, but realize they need to show people in the industry that he's healthy.
• This was the week that Steph Curry took another step forward in his evolution as NBA icon, and moved into the status of Michael Jordan and LeBron James thanks to Oscar Robertson. When the 'Big O' poked Curry on ESPN by suggesting the roots of his success lay in the poor perimeter defence he sees as opposed to other-worldliness on the part Curry, it was a watershed of sorts. Look at the arc of any transcendent athlete in any sport: at some point, the old-timers feel moved to suggest "he ain't all that." Kudos to Curry for responding by describing some of the chatter as "annoying."
• This season's free-agent loser is Ian Desmond. Less than two years after turning down a seven-year, $107-million contract offer from the Washington Nationals and three months after turning down a $15.8-million qualifying offer, Desmond signed an $8-million, one-year deal with the Texas Rangers on Sunday and is expected to begin a conversion into a Ben Zobrist-super utility role, although his acquisition could also lead to the trading of Jurickson Profar. Adding Desmond could turn out to be one of the shrewdest additions of the off-season, but speaking on MLB Network Radio, former Cincinnati Reds and Nationals general manager Jim Bowden said he's "never seen a worse contract for a player." He might be right.
THE ENDGAME
Put me down as being onboard with Dwane Casey's decision to rest Kyle Lowry in Sunday's loss to the Detroit Pistons, even though the result was one of the worst efforts of the season. The Toronto Raptors head coach is likely tiring of waiting for comfortable in-game cushions to give his backcourt some much-needed rest ahead of the playoffs, and revealed that he and his staff have mapped out days off for their regulars down the stretch without regards to record. Good. Think back to what Casey said on my show just before the start of the campaign: "We could be a better team going into the playoffs this season than we were last season, even though our record might not reflect it."
Resting Lowry after that win over the Cleveland Cavaliers was a smart call – and the way the Raptors played without him only reinforced the legitimacy of the move.
Jeff Blair hosts The Jeff Blair Show weekdays from 9 a.m.-noon on Sportsnet 590 The Fan.