Marcus Stroman lost his arbitration case with the Toronto Blue Jays, he revealed on Twitter Thursday afternoon.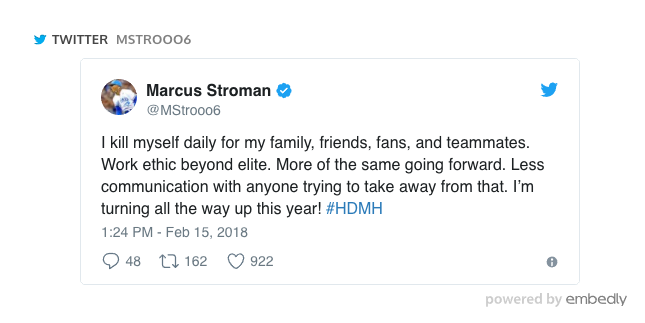 Can't wait to be back in Toronto this year. Dealing on my mound. For the entire country of Canada! @BlueJays #HDMH
Love me some adversity.
Just being real. Not mad at all. I'm aware of the business. Just opens your eyes going through the arbitration process. Second time going through it. Still love my team and the entire country of Canada. More upset that I had to fly to AZ and miss my Monday workout.
The right-hander asked for $6.9 million in the Monday hearing before arbitrators, while the Blue Jays argued he should be paid $6.5 million. Stroman, 26, made $3.4 million during a 2017 campaign that saw him emerge as one of the best pitchers in the American League.
He was fourth in the AL in ERA (3.09) and tied for sixth in innings (201), while finishing eighth in CY Young voting. He will be eligible for free agency following the 2020 campaign.
Arbitration hearings involve the team and player presenting their case to an independent arbitration panel. Several factors are considered, including service time, comparable salaries, position and performance. The panels have been criticized in recent years for lending heavy weight to "old school" stats such as wins and RBIs.
Jonah Keri to Marcus Stroman: That's how arbitration works
February 15 2018
Blue Jays general manager Ross Atkins has not spoken to Stroman about the incident, but likely will.
Earlier this month, Toronto closer Roberto Osuna reportedly lost his arbitration case and will earn $5.3 million, instead of the $5.8 million he requested from the team.
Stroman won his 2017 case against the Blue Jays, and tweeted the following on Feb. 14 last year:
Excited to win my case. Really enjoyed the process. Shout to my family @us_tla for always having my back. Always stay true to my day ones!
Shout to the @BlueJays for being extremely professional throughout the entire process as well!
[relatedlinks]