TORONTO – New glasses are the most obvious change for Kendrys Morales this season but it's adjustments he's made with his lower half that the Toronto Blue Jays designated hitter believes will make more of a difference in his production.
"It's about the timing," Morales, speaking through interpreter Josue Peley, says of the changes. "This year I've been working a lot on my legs, trying to use my legs. I saw some video that I wasn't doing it too much last year, which I'm doing way better now.
"And I feel way stronger now, too."
Livestream the Toronto Blue Jays on the most popular devices. Plus, get over 150 marquee MLB matchups, the Home Run Derby, All-Star Game and Postseason.
So far there hasn't been an instant payoff for the 34-year-old, who has two hits in 14 at-bats, limited to three starts when Josh Donaldson was forced to DH four times due to his shoulder weakness.
The hits, each an RBI single, have come in each of the past two Blue Jays games, the most recent of which manager John Gibbons dropped the switch-hitter to seventh in the lineup, trying to take some heat off after a stop-and-go opening to the season.
How quickly he moves back up will be up to him but if he's to rebound from last year, when he hit 28 homers with 85 RBI but slashed .250/.308/.445 with 132 strikeouts, he'll need the adjustments he's made with his lower half and his glasses to help him swing at better pitches.
Last year, the number of fastballs Morales saw dropped from 56.40 in 2016 to 51.52 per cent, according to data from Brooks Baseball, while he swung through heaters more often, his whiff rate on the hard stuff going from 15.80 two seasons ago to 22.37 last year.
While his chase rates weren't vastly different year-over-year, from 34.8 per cent to 35.2 per cent, his contact rates on pitches outside the zone dropped five per cent, from 61.1 per cent to 56.1 per cent.
Per Statcast data, that led to swinging strikes on 93 breaking balls outside the zone and 194 strikes on chase swings overall, often well outside the box, as shown below.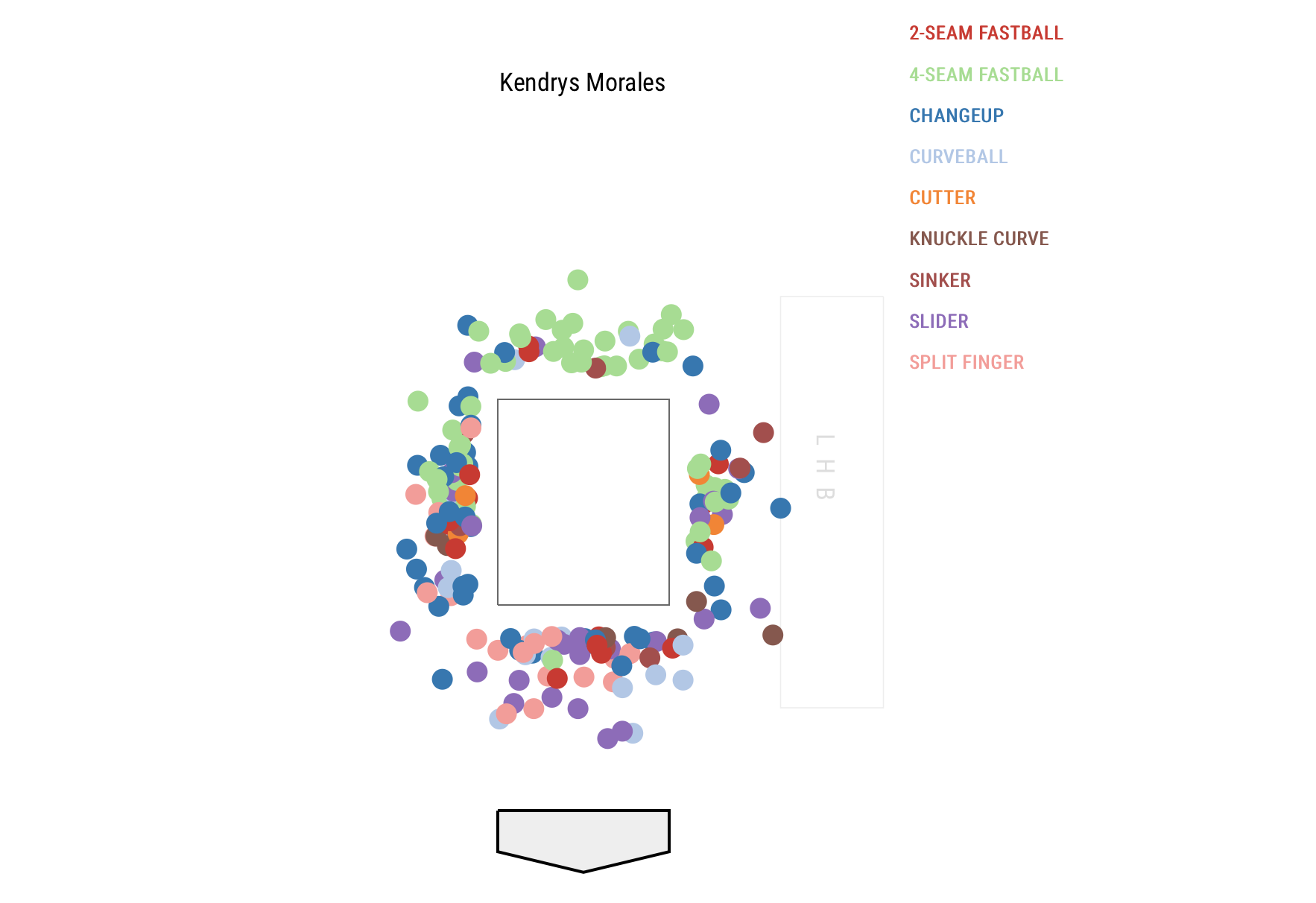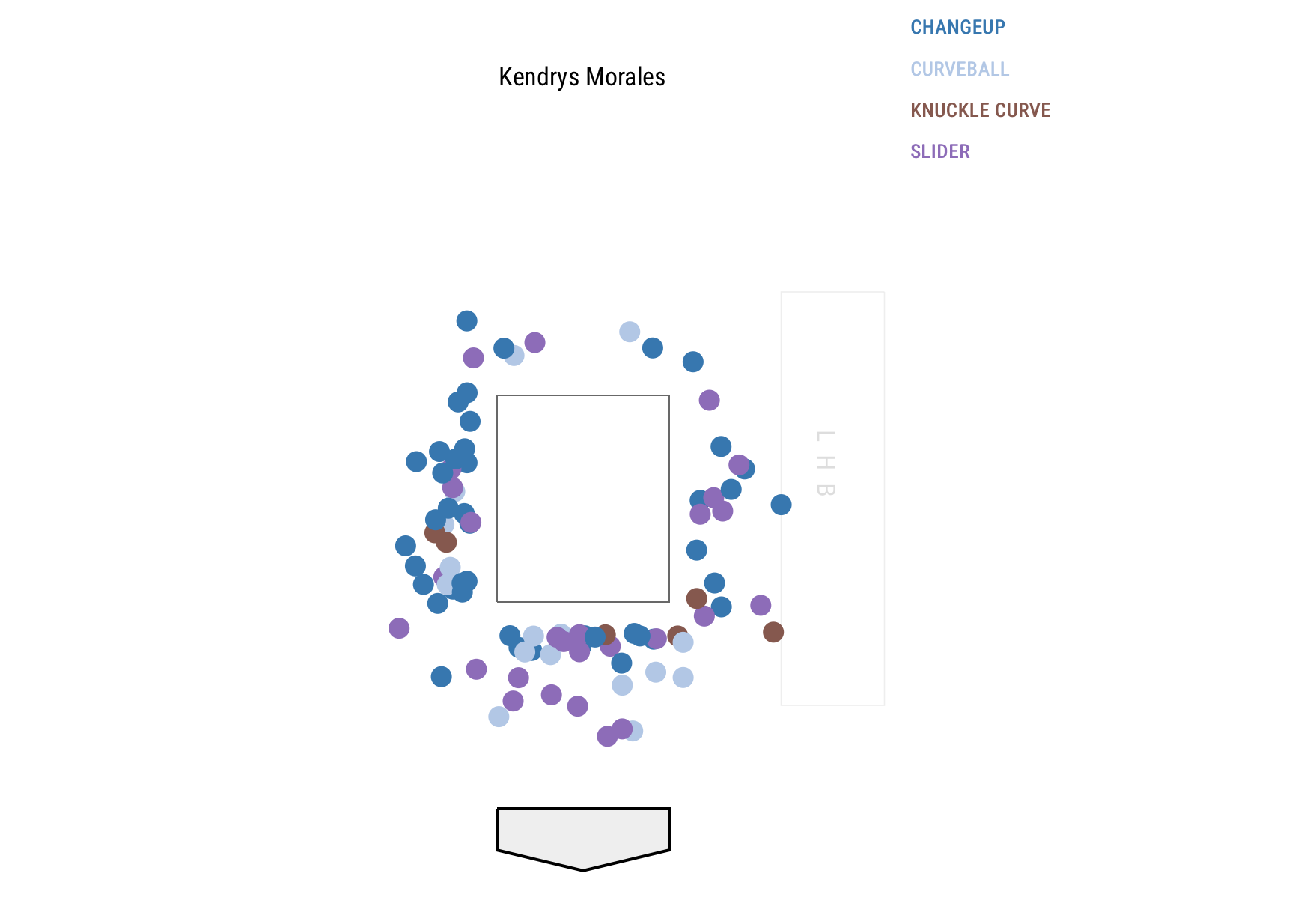 The issue, says Morales, was less about his eyes and more about him.
"I don't think [glasses] would've helped me or not helped me – it was more mechanics last year. And that's on me," says Morales. "I should have worked more on mechanics last year, something that I really changed this year. I worked a lot on my mechanics in spring training. I don't think that has to do anything with it."
Still, Morales had his eyes checked again after noticing a deterioration of vision in his right eye, causing the ball to sometimes appear a bit blurry, he said. The disparity between eyes was first noticed in 2015 when he was with the Kansas City Royals, but he had a solid season, posting an .847 OPS with 41 doubles, 22 homers and 106 RBI, prompting him to leave well enough alone.
This time around, he tried on corrective lenses and after seeing the difference, decided to give them a go.
"We have a uniform eye-check, it's systematic and it's at a minimum annual for every single player that's a Toronto Blue Jay. It's not just testing vision, but testing visual acuity," says Blue Jays GM Ross Atkins, explaining the acuity testing examines a player's depth perception and how it relates to decision-making.
Morales' checks led to the glasses experiment, Atkins adds, and to this point, "the takes have been encouraging, breaking balls down. … It looks like he's having solid at-bats. We'll see how it plays out."
In this MLB and Toronto Blue Jays podcast, Dan Shulman takes a look at the human side of baseball. Because everyone in the game has a story.
Morales experimented with contact lenses but found them uncomfortable, prompting him to go with the glasses instead.
"I see the ball way better but it's still an adjustment because even when it was sunny outside I didn't hit with sunglasses," says Morales. "So it's just an adjustment. But I see the ball way better now."
Both Morales and the Blue Jays are eager to find out whether it makes a difference.