NEW YORK – Anthony Alford is expected to join the Toronto Blue Jays in Baltimore as soon as Monday, restarting his season after a two-week break in a somewhat unusual mid-September addition to a roster already well stocked with outfielders.
The 24-year-old's addition comes later in the month "because we don't have playing time for him," general manager Ross Atkins explained via text. "We were originally doing the same for Reese McGuire but Russ (Martin) playing some third and having paternity leave changed that for Reese."
Promoting Alford for the final two weeks "is to honour his commitment to being an elite teammate and our belief in him moving forward," Atkins added.
Alford had been only one of two players on the Blue Jays' 40-man roster not with the major-league team, along with fellow outfielder Dalton Pompey.
Kevin Pillar, Randal Grichuk, Teoscar Hernandez, Billy McKinney, Dwight Smith Jr., and Jonathan Davis are already up, but the Blue Jays have been using this month to both reward players for their work in the minor-league season, and to take closer looks at bubble players ahead of a 40-man roster crunch this winter.
While Alford certainly falls into the former category, by waiting an extra two weeks, the Blue Jays also limited the chances that he eventually qualifies as a Super Two player for arbitration should he eventually play two full seasons in the majors.
Typically, players require three full years of service time (172 days on the 25-man roster equals a full year) to qualify for arbitration, the process through which they escalate their earnings prior to free agency. But under the collective bargaining, the top 22 per cent of players between two and three years of service time qualify for arbitration a year early as a Super Two.
That's important because Super Two players become eligible for arbitration four times, rather than three, before entering free agency, which spikes the salaries of premium players because they continually platform off a higher number.
The number of days needed to qualify for Super Two status varies from year-to-year but usually falls between two years 120 days, or 2.120, and 2.150. Last year, it was 2.123 while in 2016 it was 2.131.
Alford earned 68 days of service time last year and earlier this year picked up 24 when he opened the season on the disabled list, and then nine more during a brief call-up in May, pushing his total to 101.
Had he been active all of September, he would have finished the year at 131 days, which could have opened the possibility of him becoming a Super Two player down the road if he breaks camp with the Blue Jays next year or is recalled early in April and sticks.
If he's activated on Monday, he'd add a maximum of 14 days to his total leaving him at 115 and likely comfortably clear of the threshold.
Given that Alford is far from a lock to make the club next spring, it may not matter, but if it ever does, the Blue Jays may very well have the financial end of it covered.
[snippet id=3305549]
MILESTONE KNOCK
Reese McGuire's first-career RBI came on a double down the left-field line in the third inning Sunday off Lance Lynn, and even though the curveball he hit was well out of the strike zone, his rationale for swinging at it says a lot about his awareness at the plate.
Up 1-0 in the count, a fastball (in circle) that per Statcast data was clearly outside the zone was called strike one by home plate umpire Gerry Davis. After a couple of foul balls, the 1-2 curveball he shot down the line was in a similar spot to the called strike fastball.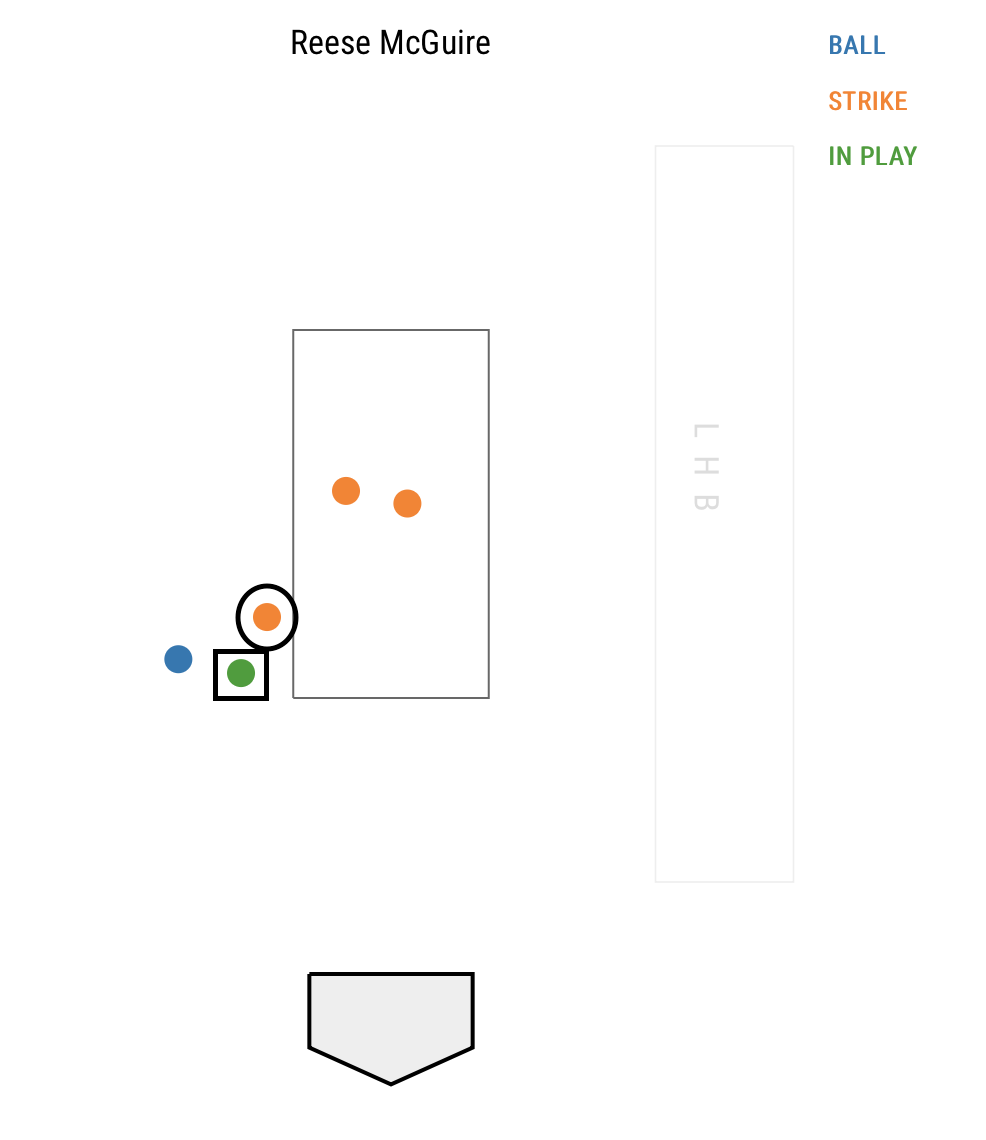 "In the at-bat, I thought it was maybe outer edge, two strikes, too close to take but then when I watched it, I was like, 'Oh, my gosh, that was maybe a foot off the plate,'" McGuire explained. "A couple of pitches before I hit a ball down the left-field line and I thought that maybe it had a chance to get down, it didn't, and then a couple of pitches later, I ended up dropping one in there."
McGuire hit another curveball, this time off Dellin Betances, to centre field for a single to start the decisive rally in the eighth inning. In combination with catching seven strong innings of two-run ball for Thomas Pannone, it made for a strong effort by the 2013 first-rounder.
"It's a fun game of baseball," he says of the experience of playing at Yankee Stadium. "The minor-leagues can be a grind at times and sometimes you show up to the ballpark with the passion of the game and you've got to fight for that.
"Up here, it's pretty easy to get yourself ready to play in front of 40,000 people."
[snippet id=3966765]
SHORT HOPS
For a manager with a reputation for being more suited to veteran clubs, John Gibbons has done some strong work with the Blue Jays' call-ups. Exhibits A and B on that front came over the weekend in the Bronx. On Saturday, his blunt on-mound wakeup call to Sean Reid-Foley helped get the right-hander back on track, while Sunday he stuck with Thomas Pannone in a seventh-inning spot tailor-made for a leverage reliever. … The Blue Jays had used closer Ken Giles on back-to-back days only four times when Gibbons handed him the ball in the ninth inning. He converted the save chance quite comfortably, impressive given that he was coming off his second one-inning plus stint this season Saturday. … The Blue Jays shook up their pro scouting department over the weekend, letting Dan Evans, who headed their Pacific Rim coverage, Jon Bunnell, Kimbal Crossley and Bryan Lambe go. Jim Beattie and Brad Matthews both retired, as well. The Blue Jays plan to hire replacements for each of the jobs.