TORONTO — Pitching on back-to-back days and throwing a successful leverage inning were a couple of firsts this week for Jaime Garcia as the longtime starter transitions to his new bullpen life.
The 32-year-old threw a clean ninth inning to close out Wednesday's 10-5 loss to the Boston Red Sox before delivering a scoreless sixth to protect a 7-4 lead in Thursday's 8-5 victory over the American League East leaders.
Small steps, but good ones for the lefty in what's been a difficult season.
"It felt good, man," he says in an interview. "Every time I take the mound, that's the goal, to give us a chance to win. I'm glad I was able to do that."
Garcia has been in the bullpen since returning from his second stint on the disabled list for what the team called left shoulder inflammation. His final start was a five-run, three-inning outing against the Atlanta Braves on June 19. His first relief outing was a two-out, three-walk stint against the Red Sox on July 15, and he hasn't allowed runs in five of his seven appearances so far — although he got roughed up six runs, five earned, on July 30 in Oakland when shoddy fielding didn't help him out.
"One of my biggest assets pitching is being able to adapt to anything, having the ability to embrace and adapt to anything that comes my way," says Garcia. "Obviously, bullpen is something I don't have much experience with, but my mentality is always the same — go with what I have and get ready whenever they need me to. The team can use me in the bullpen, it's got its good things and bad, but at the same time, I've learned to adapt and compete when I'm on the mound."
Learning to warm up quickly and the challenge of back-to-backs are parts of the downside, elements that he's learning to cope with. But the good includes less of an overall toll than starting, which has helped him be more effective in shorter bursts.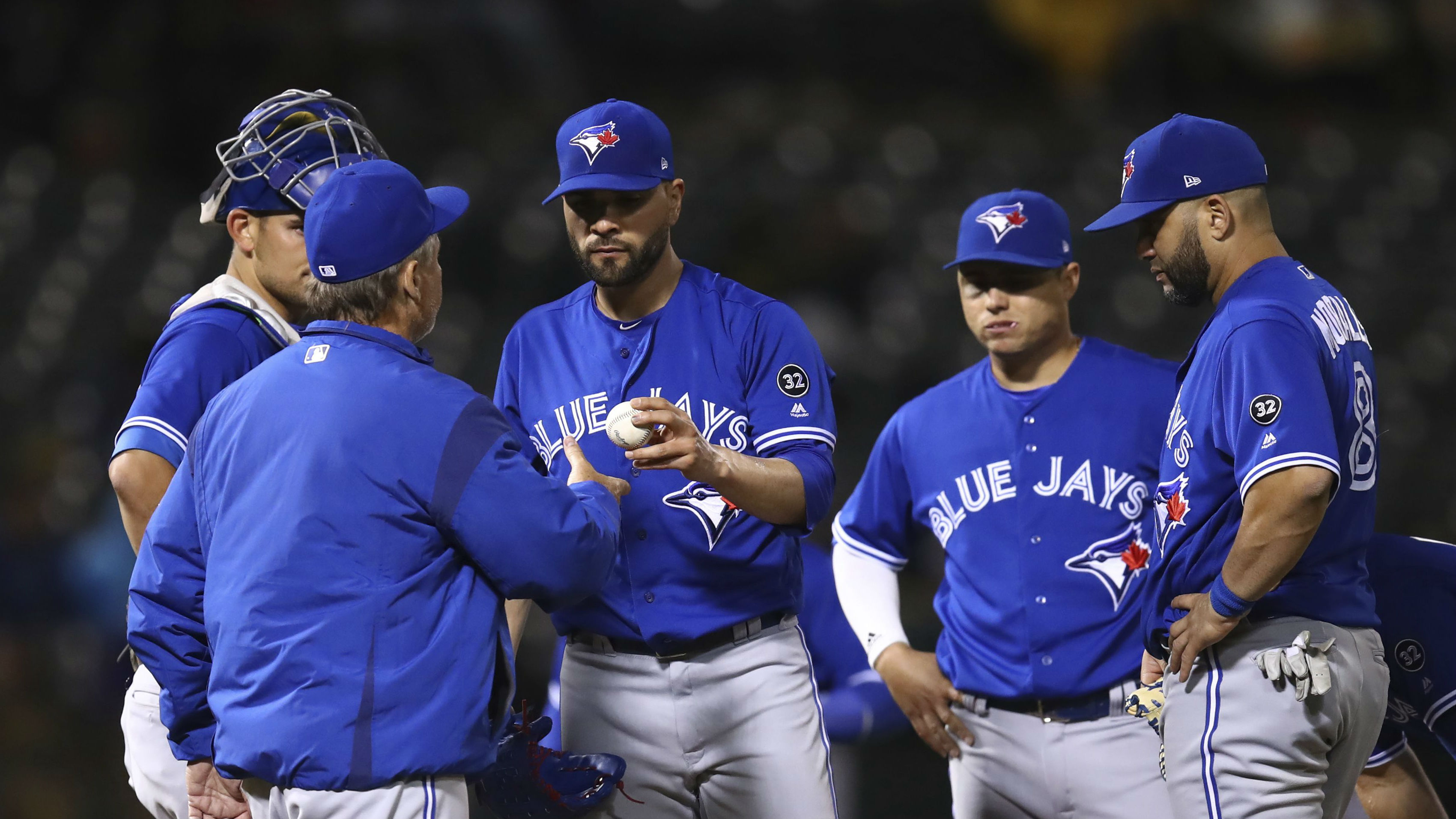 Garcia is reluctant to detail the physical challenges he's faced, but the lingering effects of the 2014 surgery he had to correct thoracic outlet syndrome are at the root of his troubles, at times causing his arm to feel like it "shuts down, the nerves shut down and you lose feel."
"Right now it's been good," he says. "I don't like to get ahead of things. I don't like to make excuses, I don't like to say this is what happened. We as a team decided we're going to give the bullpen a shot and I'm going to do everything that's in my control to help them out whenever they need me. That's my mentality.
"If they want me to start, if they want me to throw an inning, two innings, three innings, I've made myself available for whatever they need."
Garcia signed an $8-million, one-year deal that includes a $10-million club option or a $2-million buyout for 2019. The Blue Jays are sure to decline the option, leaving him to re-enter the market in somewhat of a grey zone between roles.
Does he want to be a starter again? Can he see a future as a reliever?
"I don't know," Garcia replies. "This off-season I'd have to sit down with my family and figure out where we're at. I've got 10 years, three major surgeries, I've had a lot of stuff happen. I'm a man of my word, a man of my character, and after going through what I've gone through, I'm done searching things. I'm taking it one day at a time. Right now this is what I've got. At the end of the year, we'll see where we're at physically, mentally and go from there."
MARCO OFF THE MARK
Make sense of this outing: Marco Estrada generated 21 whiffs on 91 pitches and struck out six batters in 5.1 innings of work during a 7-0 loss to the Tampa Bay Rays on Friday, yet somehow still ended up surrendering five runs on five hits and two walks.
"I got to have better fastball command, plain and simple," said Estrada. "I didn't locate the fastball at all. Threw some good change-ups, did have a few swings and misses on it, so that was a positive."
Working against him was that two of the hits he surrendered were home runs — a two-run shot off a hanging curveball to Michael Perez in the third that opened the scoring and a solo shot on a heater to Ji-Man Choi in the sixth.
Estrada threw only 32 fastballs, averaging 88 m.p.h. and not breaking 90, both a couple ticks below his usual for the season. And when asked if he was as physically strong as last time out in Seattle, when he threw seven innings of one-hit ball, he said, "I was fine, I was fine."
The start was Estrada's third since returning from a left glute strain that sidelined him for a month.
"He was really good early and then it looked like they started sitting on his soft stuff a little bit," said manager John Gibbons. "The big home run was a curveball that just sat there. They worked him hard, shot some balls the other way, good job of hitting."
PANNONE DEBUTS
Rookie left-hander Thomas Pannone made his debut 1.2 innings in relief of Estrada, and after the game handed his mother a case with the ball he used to get Kevin Kiermaier, the first batter he faced, to strike out swinging.
"I just gave it to her so I wouldn't lose it," he said with a smile afterwards. "Better off in her hands than mine."
The 28th different pitcher used by the Blue Jays this season (including Kendrys Morales) ended up allowing two runs on three hits with three strikeouts, an outing just short enough that he could still fill the rotation's vacancy Monday in Kansas City.
The Blue Jays could also need some backup for Sunday in case Marcus Stroman's blister prevents him from starting or forces him out early. Stroman played catch for the first time since his last start and believes he'll be ready to pitch.
Pannone, acquired last July 31 from Cleveland for reliever Joe Smith, insisted he's not thinking about those possibilities, and was focused on soaking in his experience.
"I was definitely a little nervous," he said of his feeling warming in the bullpen. "I just stayed in the moment as best as I could, just tried to get loose, warm up. I didn't want to look at the big picture, I just tried to stay focused on what I've been doing on a day-to-day and take it out on the mound."
The at-bat with Kiermaier went called strike on a fastball, swing-and-miss on the curveball, foul ball on the fastball and then called third strike on the hook.
"It felt great," said Pannone. "I made a good pitch on the curveball and it seemed like I fooled him. I went on from there."