TORONTO – Roberto Osuna started the season using his cutter 16 per cent of the time. In May, his usage of the pitch crept to 21 per cent, rose to 35 per cent in June and July, and hit a season high 42 per cent this month, according to Brooks Baseball. The only pitch he's thrown more often is his four-seam fastball, and opponents swing through it 23 per cent of the time.
Still, with four blown saves since July 18, three of them in five appearances before he closed out the New York Yankees without fuss in a 4-2 Toronto Blue Jays victory Tuesday night, an important question to ask is whether opposing hitters were starting to hunt the closer's favoured offering.
His blunt reply?
"Yes."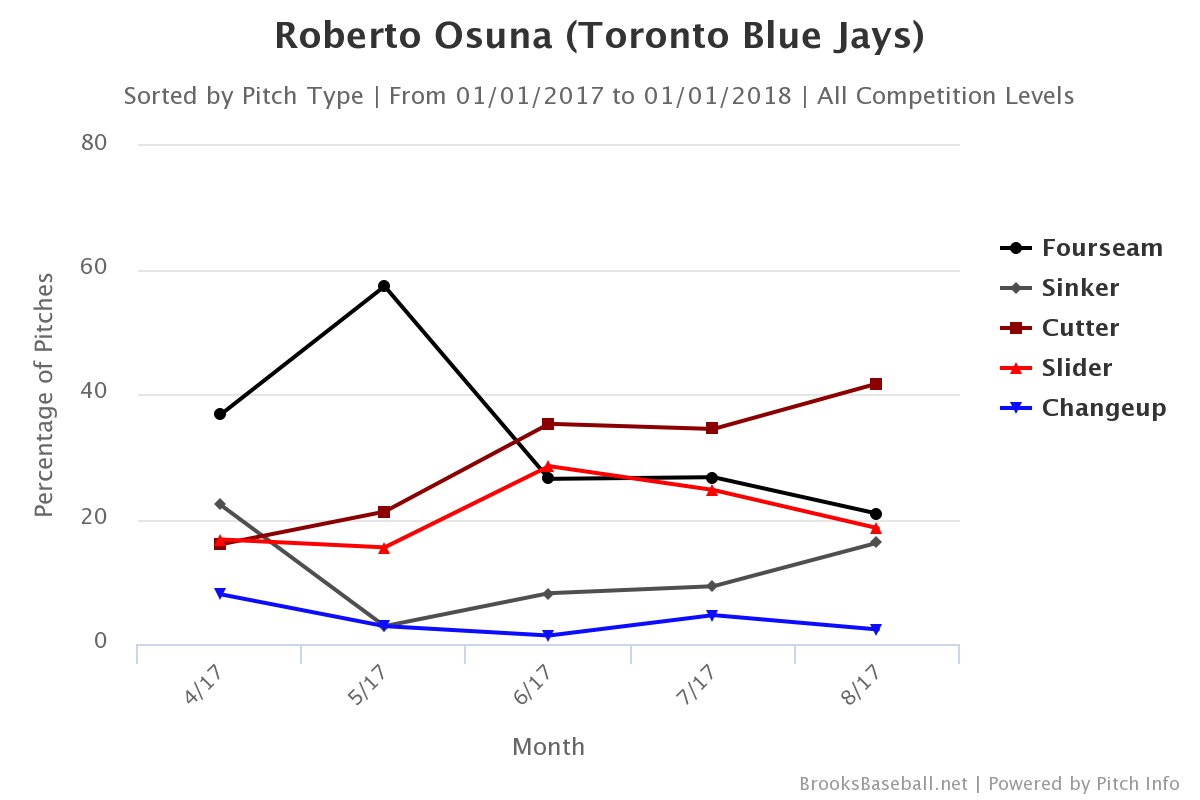 (Chart via Brooks Baseball)
So, what kind of adjustment do you make, once that happens?
"I have two options," Osuna said through interpreter Josue Peley. "Either, I try to mix my pitches, or I just make better pitches, put it where I want, better location, so that way I can make them off-balance."
Osuna did both against the Yankees, throwing three four-seamers, a pair of two-seamers and five sliders in an uneventful nine-pitch ninth against Brett Gardner, Jacoby Ellsbury and Aaron Judge.
It was a far cry from Sunday, when he allowed four runs on five hits in letting a 6-3 lead slip away against the Houston Astros, when 14 of his 21 pitches thrown were sliders.
"It's just baseball stuff," Osuna said of the difference. "[Tuesday] I missed some pitches, too, and I got away with them. Some other times I make good pitches and they still hit the ball. It's a fine line, but it's still baseball. I missed a couple of pitches but it still went well."
The recent inconsistencies, particularly in such a concentrated period, is unprecedented for the 22-year-old, whose seven blown saves are already more than he had all of last year, when he converted 36 of 42 opportunities. He was 20 of 23 as a rookie in 2015 and is now 29 of 36 this season.
"I try to stay positive every time I go out there," he said of handling the adversity. "I just try to help my team make it to the playoffs and make myself better every time I go out there. I don't change anything, I try and do the same things every day and I always stay with a strong positive mind and it works."
Toronto Blue Jays on Sportsnet NOW
Want to stream every Blue Jays games this season? Sportsnet NOW has you covered. Catch every Blue Jays game, marquee MLB matchups, the playoffs and entire World Series.
STRETCHING OUT BIAGINI: The Blue Jays were pleased with Joe Biagini's work during his first start using a full windup at triple-A Buffalo on Monday, and how quickly he returns will depend on how quickly he re-acclimates to the role.
Biagini pitched out of the stretch during his 11 starts with the Blue Jays earlier this season, but that was more a product of simply needing him in the rotation without time to let him prepare properly. They want to take a different route this time around and it starts with him returning to his old windup.
"We worked on it before he left, just revisited it to get him familiar and comfortable with it again," said pitching coach Pete Walker. "He really fell right into it, he said he felt very comfortable [Monday] in the full windup. That's the main reason we're doing it – give him a chance to do things the way he's more accustomed to doing them as a starter."
Biagini allowed two runs on three hits in three innings with a strikeout, but two of the hits came against him in the fourth. He threw 48 pitches, 32 for strikes, his most since throwing 105 pitches in his final start July 2. Since a 38-pitch appearance against Houston just before the all-star break July 9, the most pitches he's thrown is 30 on July 20 at Boston, throwing no more than 19 in five outings since.
Aside from rebuilding his physical base, the Blue Jays also want to see him "get the action more consistent to what it was last year and even parts of this season," with his cutter, said Walker.
"We'll see how he feels after his next start and hopefully he'll be back," he added. "Could be as little two, maybe three. We'll see how it goes."
His current schedule sets up for a possible return as soon as Aug. 17 against the Tampa Bay Rays.
The current look will be about more than just getting through the season.
"This will give us a better idea of what he is for the future," said manager John Gibbons.
DONALDSON GIVES BACK: Josh Donaldson hosted his third annual BaseBOWL fundraiser in support of Jays Care and Big Brothers Big Sisters of Toronto on Monday night, the event once again selling out for a couple of causes near and dear to the Blue Jays third baseman.
"I know how important Jays Care is to this community and what it does for it, so for them to be part of it and be able to talk to the Big Brothers Big Sisters about the impact the fundraisers have for their organization, it's nice to be able to impact the community here in Toronto," said Donaldson. "Especially because I feel very particular about how Toronto has taken me in from Day 1.
"Coming from a single-parent family and realizing how important those Bigs are to the Littles, it's important to me. I wish I would've had something that was available to me like that when I was growing up. The fact they have that going on here and there are programs to help kids that need mentors, it definitely hits home."
Donaldson was joined by several of his Blue Jays teammates and he's thrilled at the way the event is building up a bit of a history in the community.
"It's rewarding," he said. "Being able to talk to some of the mentors and some of the people who help run the organization, it definitely gives me a good feeling that I'm in a position to help these kids and give back."