TORONTO – Look, Chris Sale is a total boss, a gangly, six-foot-six dude who comes at you with limbs flying all over the place, pumping 96 with a slider that's an obscenity, along with two other offerings he can use to beat hitters in or out of the strike zone. Even for the best of offences, the all-star left-hander is an utterly miserable day at the office.
The Toronto Blue Jays, despite a lineup filled with track record that suggests the results should be much better, are right now very far from the best of offences. In fact, they rank among the bottom third of American League teams in batting average, on-base percentage, slugging, OPS, extra-base hits, batting with runners in scoring position, walks and, quite obviously given the preceding list, runs.
In essence, they were prime fodder for Sale, who tore through them like a hungry lion preying on a zebra Saturday afternoon in a 7-1 Boston Red Sox victory. The pomp of the day's Canada 150 celebrations had barely ended before Francisco Liriano got pounced for a pair of runs in the first on Jackie Bradley Jr.'s two-out, two-run double.
Once Sale worked around a walk and a Justin Smoak single in the bottom of the first, and the Red Sox tacked on another pair in the second on Dustin Pedroia's two-out, two-run double, the result was essentially sealed.
"When a guy can throw anything over like that at any time, it's tough to lock in on anything," said manager John Gibbons. "He reads guys and everyone has a different approach, you just kind of hope he makes a mistake and if he does, you can't miss it. Easier said than done. He attacks, he's very aggressive and when you give him a lead like he had today, normally guys like that don't cough it up."
Sale didn't, and a seventh loss in nine games dropped the Blue Jays to 37-43 on the season, and 1-4 during this measuring-stick stretch versus contenders heading into the all-star break. They've scored a total of 10 runs in those contests, and will be counting on Joe Biagini to avert a sweep by Drew Pomeranz and the AL East leaders in Sunday's series finale.
Now is when their mettle really gets tested.
"There's a lot of optimism, guys still believe in the club and who we have here, nobody is thinking things aren't going to work out for us," said Darwin Barney, 1-for-4 covering at third for Josh Donaldson, who was the DH. "At this point, obviously, the clock is ticking on the season. But we feel like the men in here have the ability to make a run. There's a lot of parity right now, especially in the East, and teams are going to beat up on each other a little bit. The way we look at it, if you put a good stretch together anything can happen. Last year after Canada Day, when we played 18 innings, we won 11 in a row after that. Anything can happen. We win 11 in a row, we're right back in the hunt."
Fair, but last year's team had more going for it at this point, with a rotation that led the AL in ERA.
The best development of the day for the Blue Jays on Saturday is that with the bullpen in dire straits, Liriano managed to get through six innings, allowing five runs on seven hits and three walks, all to Mookie Betts, who scored each time.
Lucas Harrell, who had his contract selected from triple-A Buffalo before the game to protect the relief corps, covered 2.2 innings and gave up a two-run single to Xander Bogaerts in the ninth for the only damage before Jeff Beliveau recorded the final out.
"The first at-bat I was trying to be careful but after that I was just trying to throw good pitches and make pitches in that situation," Liriano said of Betts. "I don't know, I think he didn't want to swing at all the last two at-bats. I was missing my spots and didn't execute pitches."
That's a pretty sad silver lining, especially when contrasted against Sale, who threw seven shutout innings, allowing only four hits, a walk and two hit batsmen with 11 strikeouts. Leaning primarily on a slider he threw 48 times to carve up the bottom of the zone, and a four-seamer he used 36 times and topped out at 97, Sale also mixed in a change-up and a two-seamer.
"It's not fun sometimes when he can add and subtract on all of his pitches," said Barney. "He definitely likes to attack hitters, that's where the frustration comes from. You want to attack him early but you know if you keep his pitch count down he can go 10 innings. You want to be selective but sometimes that first one is the best one you see. As a hitter there's a lot riding on those first two pitches of the at-bat. We actually did a good job of getting his pitch count up today but it's saying a lot that he still went seven."
Beyond the impossible arm angle and premium repertoire, Sale also has the ability to beat opponents in the strike zone. Of his 11 strikeouts, only two came on chase pitches well out of the zone, and he generated 15 swing-and-misses, nine with his slider. While he can get hitters to chase, he doesn't need it to get outs.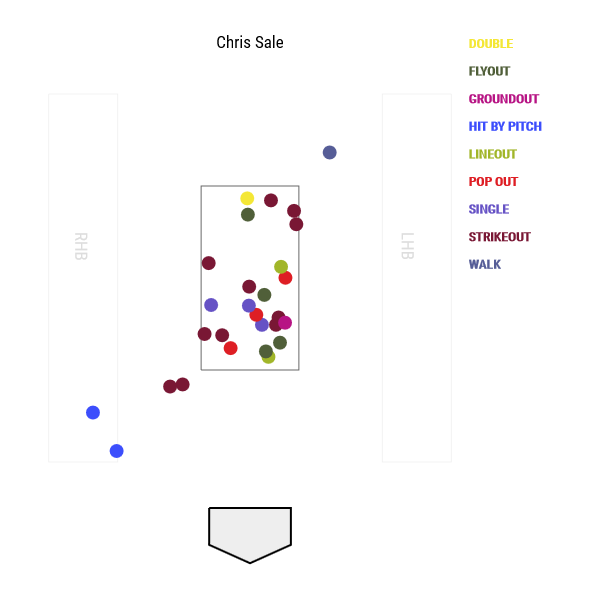 "In certain counts, you can maybe sit change-up and he can throw in 89 mph changeup that looks like a fastball when it goes by and you take it. Then he can throw that change-up at 84. That's the toughest thing," said Barney. "Even when you're sitting pitches on him, that fastball can be anywhere from 91-97 and that change-up anywhere from 84-89. He just keeps you off balance."
Smoak, the only Blue Jays hitter in the midst of a peak-performance season, collected two of the Blue Jays' four hits off Sale, including a double off the left-field wall in the sixth that put men on second and third with one out. But Sale rallied to get Troy Tulowitzki on a weak comebacker to the mound before Steve Pearce flared out softly to first.
Pearce put the only Blue Jays run of the day on the board in the ninth, with a solo shot off reliever Robbie Scott. With an offence that's struggled against Ubaldo Jimenez and Doug Fister in recent days, losing to Sale is not only understandable, but also to a certain degree, expected.
[relatedlinks]