Velocity, particularly when paired with command, is the ultimate weapon for a pitcher and over the course of his first two big-league seasons, Roberto Osuna wielded the old No. 1 mercilessly. Seeing him dot up the zone at 97, occasionally 98 m.p.h., wasn't unusual, and in concert with a vicious slider and the occasional change-up coming in at an average of 12 m.p.h. slower, he simply tore through opposing hitters.
Last season, however, the power to his game ebbed after a spring training disrupted by a neck issue that spread to other areas and all of a sudden he felt exposed. At times he took the mound at 92 or 93 m.p.h., still firm stuff but far more pedestrian, like downgrading into a Mustang from a Lamborghini. On the mound, that meant he couldn't simply blow a heater by batters the way he'd become accustomed to.
Subsequently, he got hit at times, the blown saves mounted at an alarming rate, and Osuna scrambled to adapt. A cutter he rode through an exemplary stretch that earned him his first all-star selection proved to be his salvation. But hitters eventually adjusted, leaving the right-hander to zero in on bringing velo back.
"I did what I could, right?" Osuna says of relying on the cutter. "Last year there were a lot of ups and downs for me, there were tough times, and I didn't feel my fastball that I wanted to. That's why I needed to find another way to get guys out, and that's pretty much what happened. This year I feel strong. I feel my fastball better. My plan this year is to throw fastball/slider/change-up, same as in 2015, so hopefully my velo comes back the way I want it to and see what happens."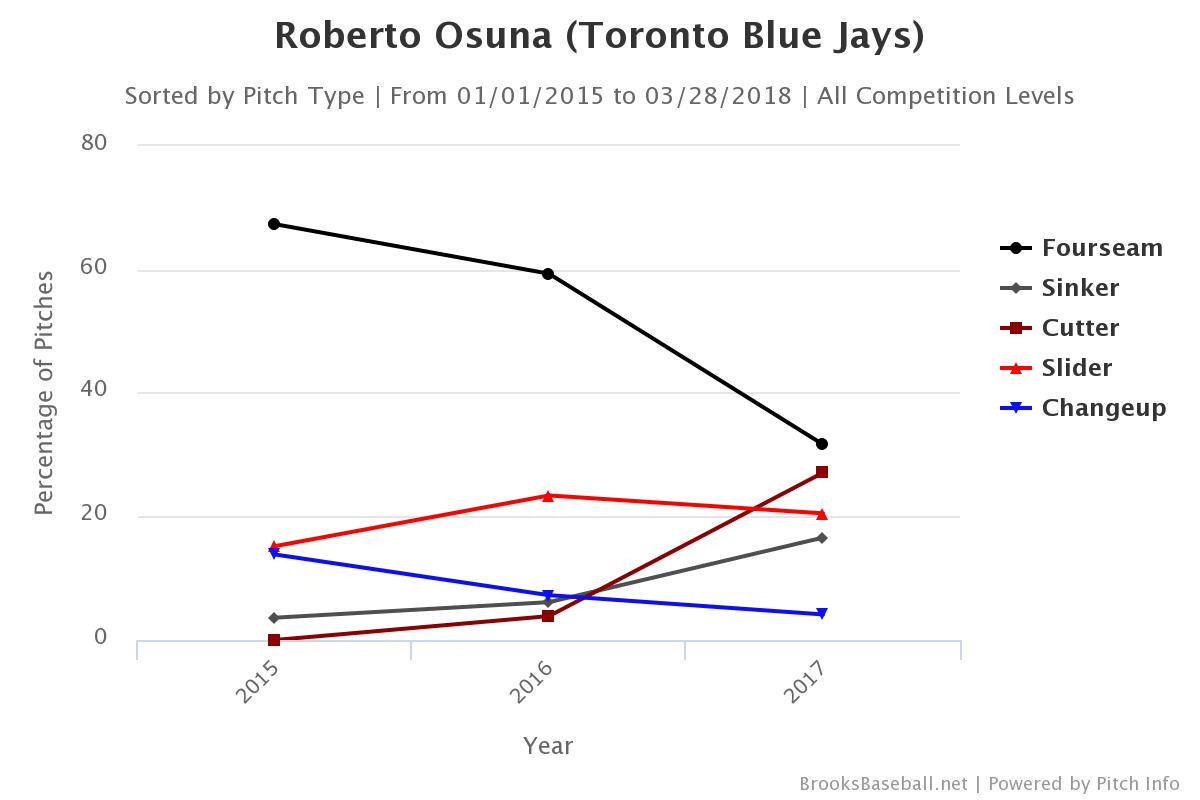 Carrying an additional 11 pounds of muscle, Osuna was back in the mid to upper 90s this spring and the Blue Jays didn't feel the need to shut off the radar gun at Dunedin Stadium the way they did at times last year. The cutter is in his back pocket, there in a break-glass-in-case-of-emergency scenario, as he eyes the mix he rode through that rookie season.
An executive from one American League club said over the winter that while Osuna was still very tough, the players on his team felt he was more gettable than in the past.
Not having the same fastball was surely part of it.
Osuna's four-seamer usage in 2015 was up around 67 per cent in 2015, dipping slightly to 59 per cent in 2016 and then plummeting to 32 per cent last year. Though the dip in his fastball velocity ended up being only a slight one, from 95.8 in 2016 to 94.6 in 2017, it was the inconsistency with it that left him feeling vulnerable.
"Absolutely," he says. "My whole career I was upper 90s, 95, 97, 98, and last year when I was throwing 93-94, yeah, I felt like I had no clothes on, pretty much. Why? As a closer, you've got one inning to throw all you've got. It's not like you go out there and you throw two cutters, two change-ups and one fastball. No. You've got to throw hard, and I was feeling terrible last year.
"Hopefully this year my velo comes back. I feel like it will."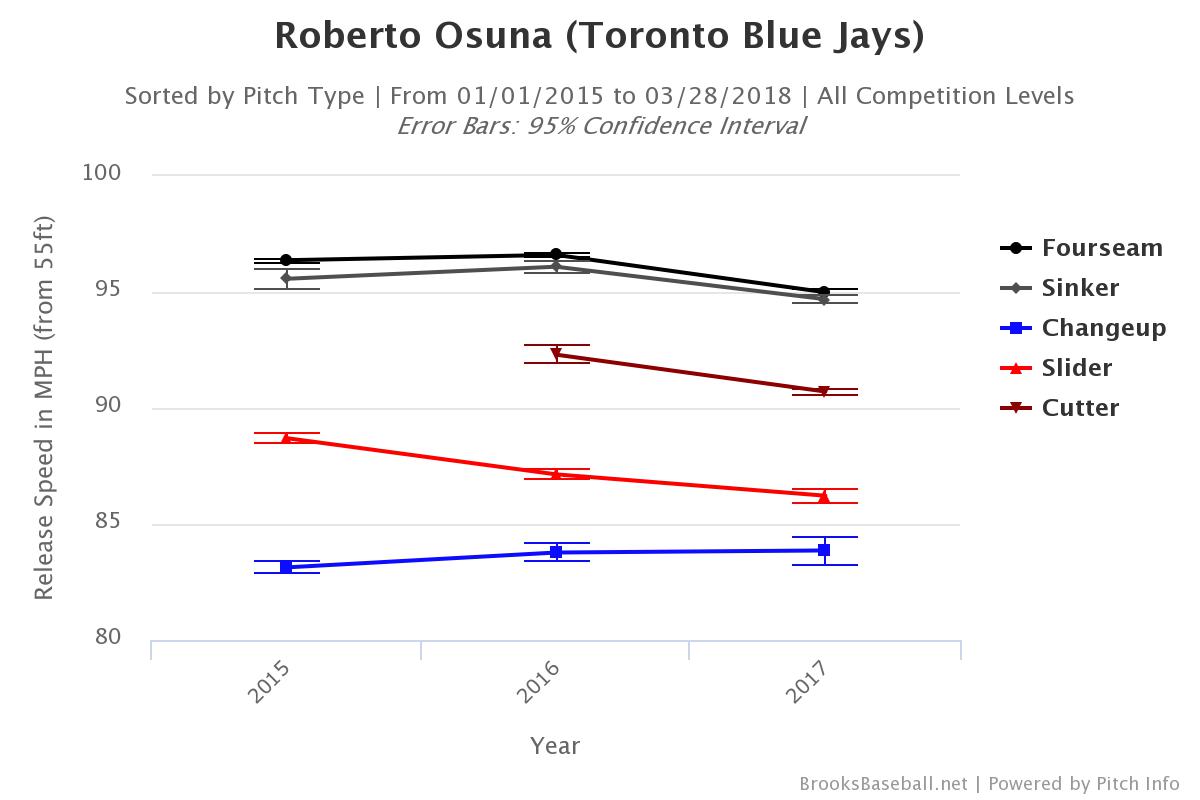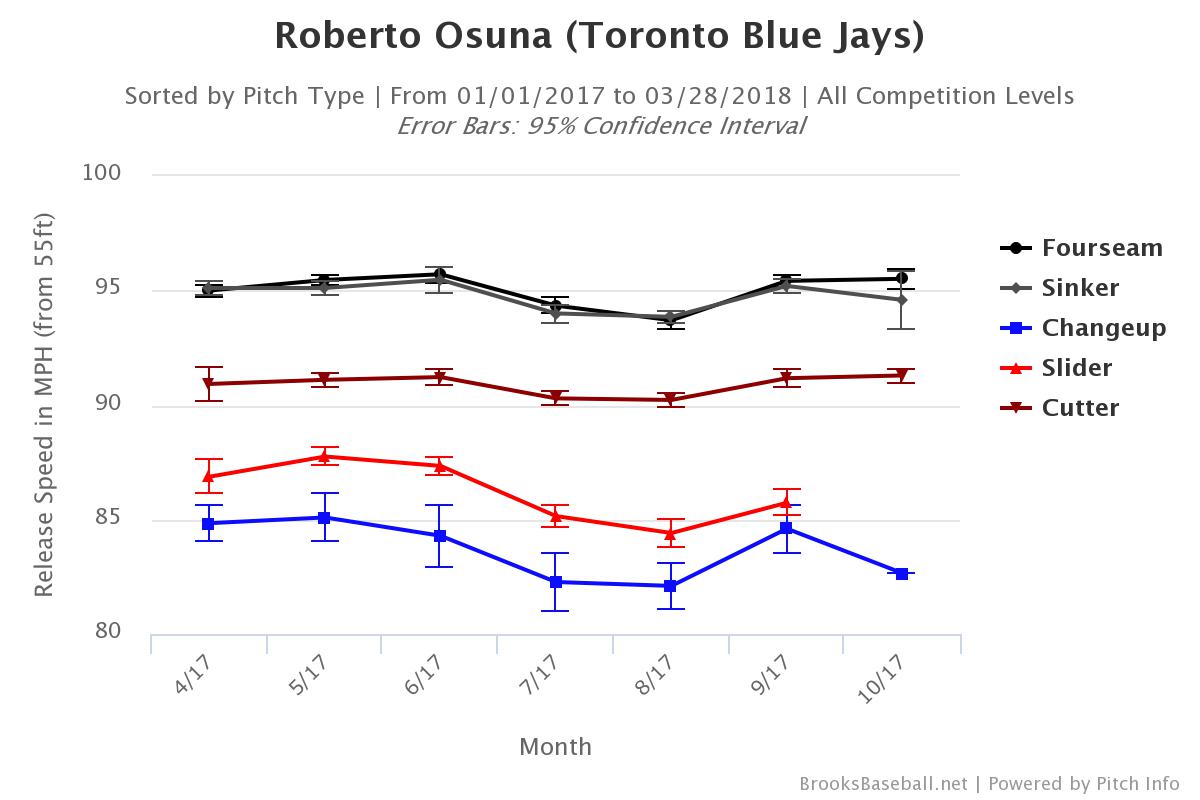 The added bulk is one reason for that. Coming out of spring training healthy, rather than on the disabled list in catch-up mode, is another.
Osuna chased health from the moment he returned to Blue Jays camp after pitching for Mexico in the World Baseball Classic last year, an odd injury that started in his neck and limited his on-field work, contributing to the struggles on the mound.
"It was really weird, something new every day," says Osuna. "One day it was my back, another day it was my neck, another day it was my shoulder, so there were a lot of things going on at the same time. I'm definitely feeling way better this year, feeling strong."
Blue Jays pitching coach Pete Walker sees a difference and believes the extra weight Osuna is carrying into the season will benefit him as things go along.
More importantly, he likes the way Osuna is getting after it on the mound, having re-established his fastball and honed his slider and change-up.
"He knows he had a lot of success and a lot of it had to do with that fastball command and the power to his game," says Walker. "Last year, he was fighting the urge to look at that gun. He knows the ball might have been a bit lighter at times than it had been in the past, and that always affects a pitcher who feels confident in the power part of the game. That's when you go to other stuff a little more frequently.
"He can survive without the big fastball because he's that kind of pitcher, but with re-establishing the fastball, he's just a dominant closer."
Livestream the Toronto Blue Jays on the most popular devices. Plus, get over 150 marquee MLB matchups, the Home Run Derby, All-Star Game and Postseason.
To Walker's point, even though Osuna ended up with 10 blown saves, he still finished tied for second in the American League with 39 saves. Across the board his peripherals improved, too (career bests with a FIP of 1.74, a WHIP of 0.859, a walks per nine rate of 1.3 and a strikeouts per nine of 11.7), although a late-season August stretch in which he blew four saves in 11 chances around the time the Blue Jays had closed within 2.5 games of the second wild card gnaws at him.
"That was a pretty tough time for me, you've just got to go through it," he says. "I didn't have the year I wanted to have. I'm definitely looking forward to having a better season and getting back to the post-season."
Of the 10 blown saves, eight resulted in Blue Jays losses. If five of them are converted, the team finishes at .500 and the post-mortems on the club's 2017 look a fair bit different, which is why any incremental gains he makes this year are so crucial to the team's overall success.
Feeling fully clothed again now that his fastball is back, Osuna believes he's ready to deliver just that.