NEW YORK – For all the good Roberto Osuna accomplished in 2017 – his first all-star game; the second-best single-season saves total in team history at 39; a run of 22 straight saves converted – it's the big-league leading 10 blown saves that will stick with the Toronto Blue Jays closer.
That's why the 22-year-old says bluntly: "I'm really disappointed with the season I had."
Still, with five straight clean appearances that included four saves, with No. 39 coming against the New York Yankees in the campaign finale, to finish out the year, Osuna got not only the strong ending he wanted, but also regained some of his identity on the mound, too.
"I'm using my fastball like I did the last two years. That's what I want to take to next year," he says in an interview. "Get my fastball ready, locate my fastball and just go with three pitches again: my four-seam fastball, the slider and change-up. That's what I did the last two years, and I feel like I had pretty good success, so for me it was a big mistake to just fall in love with my cutter. That was a huge mistake."
The cutter, which he leaned on heavily during a 31-game stretch from April 29-July 6 in which he allowed only three runs on 13 hits and three walks with 41 strikeouts in 29 innings, a mistake?
Why?
"Because I lost my fastball, I lost my fastball for almost two months," Osuna replies. "I didn't feel comfortable, I wasn't feeling happy with myself because I fell in love with my cutter, I lost the feel for my slider, I lost the feel for my change-up, I didn't throw the change-up too much this year. I really feel like I made that mistake and I'm going to make the adjustment for next year."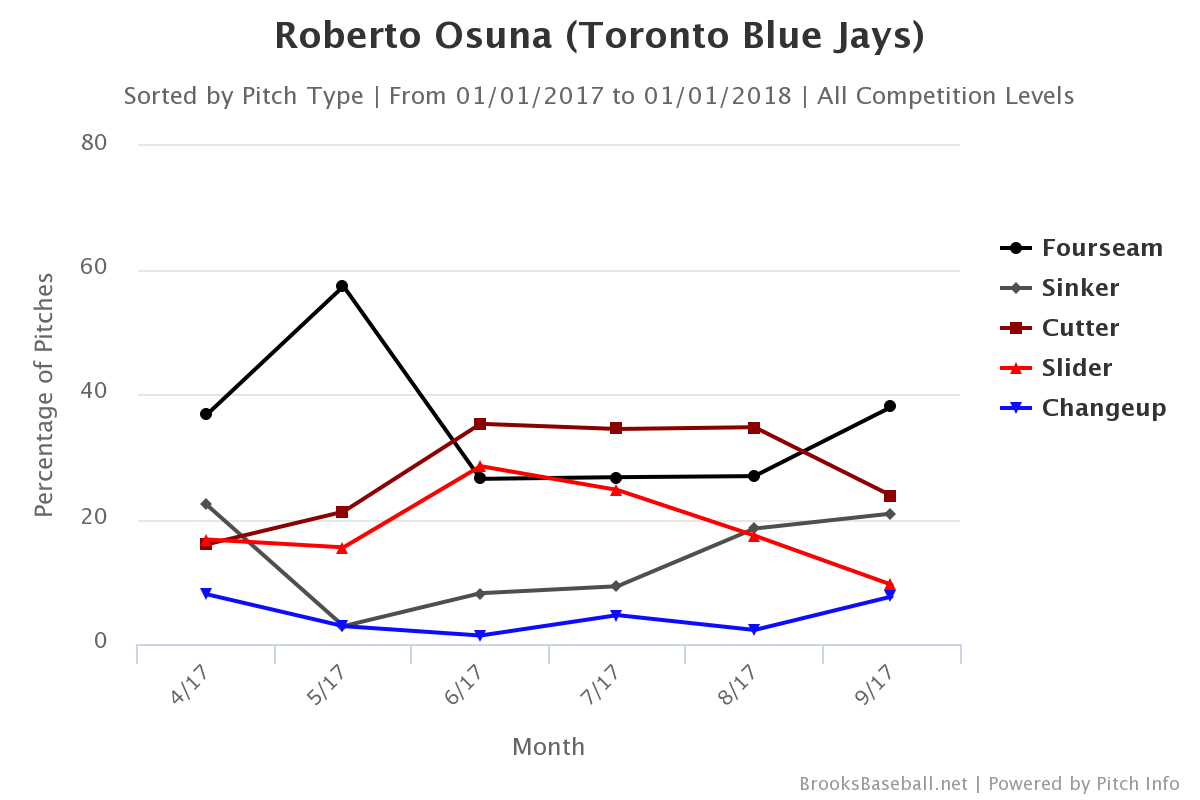 ---
The adjustment is a necessary one for Osuna, since the difference in wrist angles when throwing a cutter versus a slider can cause some pitchers to lose a feel for the other pitch. And if a pitcher throws his fastball less frequently, he can lose the arm strength needed for maximum zip.
The cutter was borne out of necessity for Osuna, who suffered a neck/back injury during spring training, opened the season on the disabled list and struggled to play catchup. Minus his trademark velocity, he blew three of his first four save chances before locking in on the cutter as the run of 22 straight followed.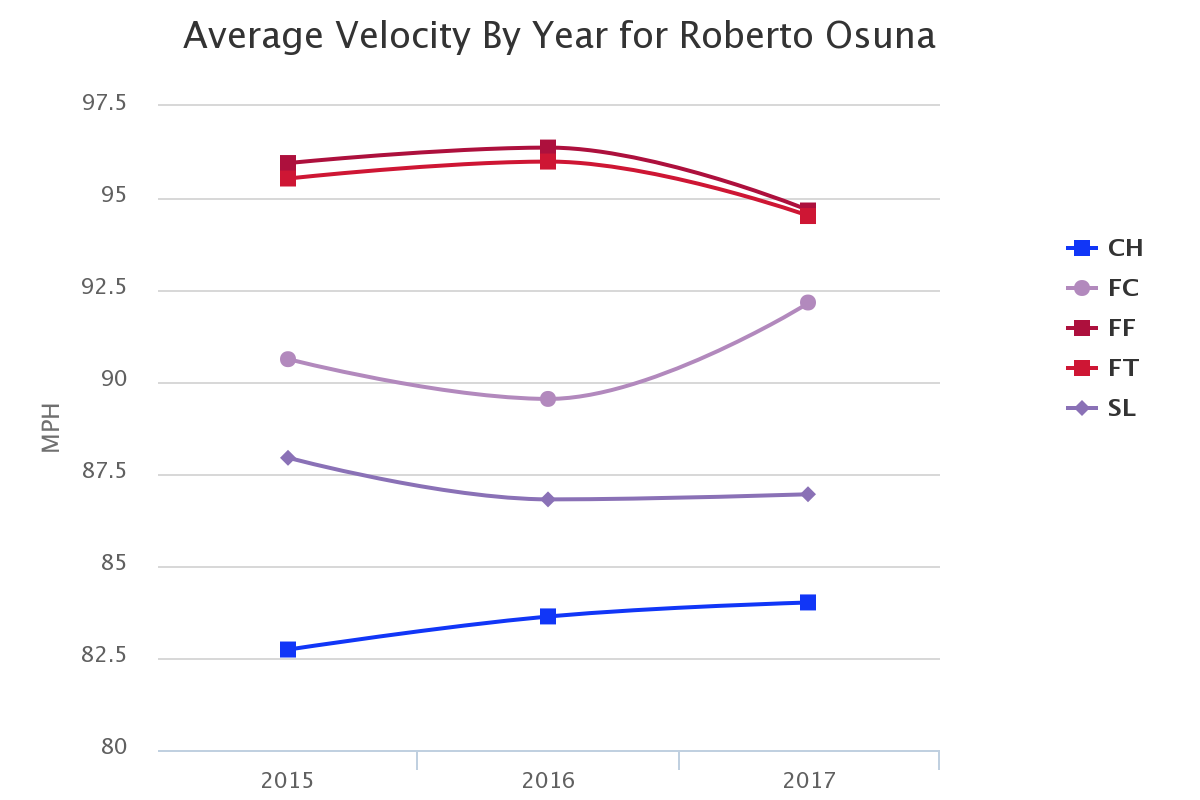 "Something really weird happened to me at the beginning of the season that I didn't throw my fastball. I don't know why," he says. "I was thinking they're looking for my four-seam, and I was afraid to throw it because I didn't want to get hit. That's when I went to my two-seam, then cutter, so there were a lot of thoughts in my mind, I would say."
Eventually, hitters adjusted and some of Osuna's struggles returned.
He blew consecutive saves July 29 at home against Anaheim and July 31 at the White Sox, and added another Aug. 6 at Houston. Pitching with a fever at Wrigley Field, he gave up another Aug. 20 against the Cubs before the Orioles and Red Sox got him Sept. 3 and 5.
Osuna's four-seam fastball usage has spiked up since then.
"(Darwin) Barney was a big factor for why I'm throwing the fastball right now," he says. "He told me, your fastball is so good, even if you're 93 you have a lot of spin when you pitch with your fastball so you don't need to attack them with the cutter, you can attack them with four-seamers and then whenever you throw your cutter, it's going to be more effective because you're using your fastball more. So for me the key is to throw more fastballs."
[snippet id=3305549]
Osuna converted 20 of 23 save chances in 2015 and then 36 of 42 last year, while the 39 in 2017 is second only to Duane Ward's 45 in 1993 for the Blue Jays. Kelvim Escobar in 2002 and B.J. Ryan in 2006 each posted seasons of 38.
Yet despite Osuna's 10 blown saves, his peripherals were all better than last year, with his strikeouts per nine innings rising while both his hits per nine and walks per nine dropped.
Volatility in health and performance is typical in relievers but Osuna has proven more than durable by logging 206 games and 207.2 innings over the past three years, plus another 14 games and 17.1 innings during the post-season.
"I hit the DL once this year but I'm not really concerned about it for next year," he says. "I think I'm pretty strong. I'm going to work even harder than what I did the last two years. I want to have a better season. Even though I went to the all-star game, I'm not happy because I didn't help the team the way I wanted to.
"I think the consistency will be there next year, I'm going to get stronger and I'm going to be ready."
[relatedlinks]