TORONTO — It's going to be awfully hard for the Toronto Blue Jays to deny Kevin Pillar regular playing time if he keeps this up.
Set aside the offensive production — he picked up two hits in the Blue Jays' 12-7 blowout win — and consider the defensive ability he's showing. He made a series of highlight reel grabs during the opening week of the season, but his best catch yet came Wednesday when he sprinted to the left field wall, timed his leap perfectly and grabbed a Tim Beckham home run ball just as it was leaving the yard. Chances are, it'll be the best catch a Blue Jay makes all year.
"The way he's played this first week and a half or two weeks, just give him the Gold Glove right now," Blue Jays starter Mark Buehrle said. "He's made some great catches out there defensively, throwing guys out, on the bases, and obviously what he's doing offensively, he's hitting the ball pretty well too, so give him the Gold Glove and Silver Slugger, everything you'd need to give him right now, since he's been playing outstanding."
The hardware won't be handed out for a while, but Pillar surprised himself with Wednesday's grab.
"I'm pretty amazed by it," he acknowledged. "I watched it a couple times on my phone when I got in and it's going to be tough to top, making a play like that in my career."
"I take a lot of pride in my defence and being able to take back a home run feels just as good as hitting a home run to me," he continued.
But even so, it's not clear what Pillar's role with the Blue Jays will be once left fielder Michael Saunders returns later this month. Saunders, who rested a sore hamstring during his rehab stint Wednesday, is expected to play every day once he returns. On paper that leaves one outfield spot for Pillar and Dalton Pompey, although the Blue Jays could get creative and rotate players in and out of the lineup using the DH slot and the three outfield positions.
One way or another, Pillar figures to be in that mix. He wasn't even assured of a spot on the team entering spring training, but the results to date — impact defence to go along with a .314 average and an .800 OPS — have impressed John Gibbons. The Blue Jays' manager says Pillar's being more selective at the plate, possibly because he's been in the lineup consistently.
"What's happening is he's getting the chance to play every day," Gibbons said. "He didn't have that opportunity the last couple of years. He's come in as basically part of a platoon, but he's always performed well in the minor leagues. You talk to every one of his managers and they say 'this guy can play; he helps you win games.'"
He's starting to look less like an oft-overlooked 32nd round pick and more like a big leaguer capable of making a difference on a winning team, especially considering the Blue Jays' recent push for results over pedigree. It's a good problem for the Blue Jays to have.
Offensively, Pillar was just one part of a well-balanced Toronto lineup Wednesday. The Blue Jays got the turnaround they were hoping for, taking advantage of a depleted Tampa Bay Rays pitching staff in front of 15,086 at Rogers Centre on Jackie Robinson Day. Virtually the entire lineup produced, with Jose Bautista and rookies Devon Travis and Pompey each hitting home runs.
---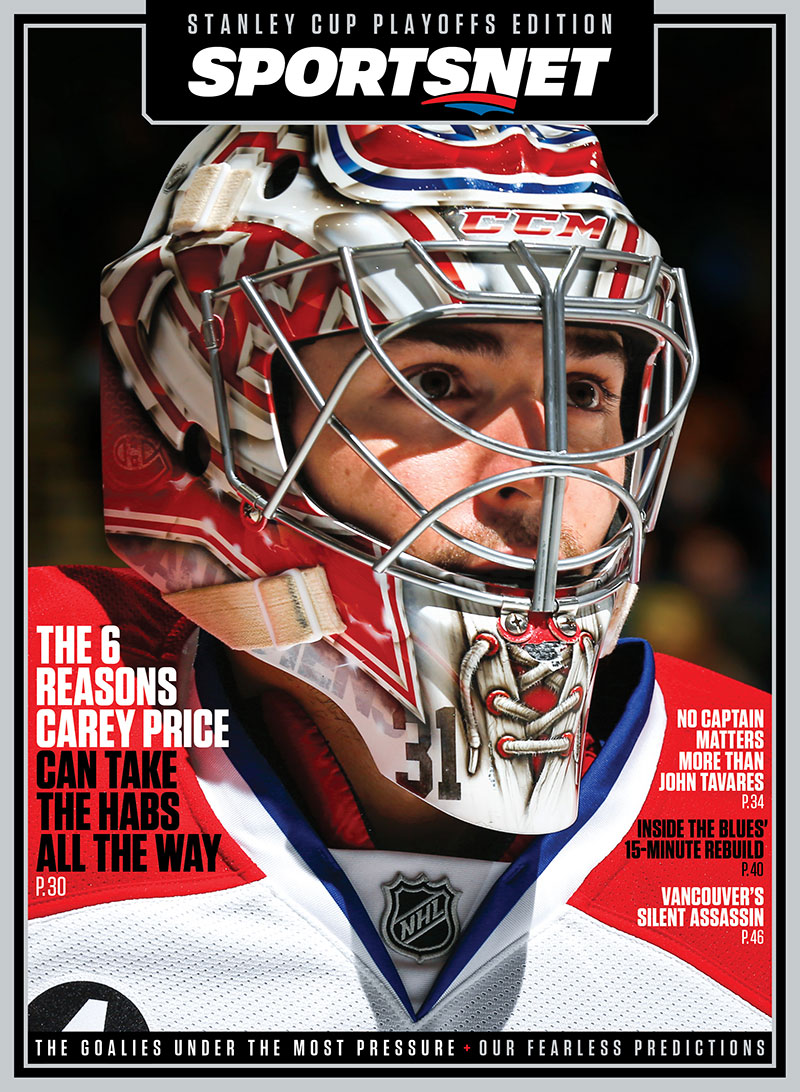 Sportsnet Magazine Stanley Cup Playoffs
Edition: The six reasons why Carey Price can take the Montreal Canadiens all the way. Download it right now on your iOS or Android device, free to Sportsnet ONE subscribers.
---
Josh Donaldson enjoyed the best game of his brief Blue Jays career, collecting three hits while driving in three and narrowly missing a second inning grand slam. In search of an offensive jolt, Gibbons bumped Donaldson to the second spot in the batting order for the first time. The thinking behind the move? Get Toronto's best hitters more chances to do damage.
"You always like your top hitters to get that extra at-bat, up there setting the table," Gibbons said before the game. "He's a threat hitting in the first inning."
The Blue Jays had been scuffling at the plate before Wednesday. As a team, they were batting .223 with a meagre .628 OPS. Worse still, they'd opened their home schedule by scoring a total of three runs in two games against Tampa Bay.
Enter Erasmo Ramirez. The 24-year-old right-hander wouldn't normally have been starting for the Rays, but Tampa Bay has five starters on the big league disabled list, so he got a shot despite having limited MLB success and seven runs allowed in his first outing of the season. By the time Ramirez left the game, he had a season ERA of 23.63 and the Blue Jays were well on their way to an easy win behind Buehrle, who was quietly effective for six innings.
Most importantly, though, Pillar continued building on a strong start to the season and bolstering his case for playing time.
"So far so good," he said. "I set the bar real high for myself. These are things I expect out of myself."