NEW YORK – The fragility of success in the batter's box is such that even after a strong start to the 2017 season carried well into May, all it took was one cold spell for Kevin Pillar to stop trusting what he was doing and scramble to adjust. The Toronto Blue Jays centre-fielder remembers not feeling quite right during a two-game series in Milwaukee, in which he went 2-for-10, and letting things spiral into a 1-for-25 stretch over the next seven games that followed.
It was then the promising opening that hinted at a major jump forward unravelled, leading to an extended down period being eased now by a late-season recovery. And as he readies to close the book on his third full season in the big leagues, the 28-year-old believes the experience will pay off for him next year.
"I struggled for a series, I hit the panic button a little bit and wanted to go back and make some changes when really, the only thing that was changing was the way guys were pitching me," Pillar says in the visitors' dugout at Fenway Park. "I look back on that and it's something I shouldn't have done. I should have stayed with the process and really been a little more disciplined at the plate and changed the pitches I was looking for. But I got caught up in results and I lost sight of the process. Fast forward to now, I've made some changes that I think are going to help me moving forward so I can't be completely upset about wanting to make changes. I think it led me to some good things."
Pillar was doing good things in April and May after arriving at spring training determined to take a definitive plan to the plate, be more selective and disciplined in what he swings at, and stick to that approach regardless of the results.
The numbers validated his changes, as through his first 43 games, he slashed .306/.361/.491 with 12 doubles, six homers and 14 walks. The underlying signs were good, too, as his chase rate on pitches outside of the strike zone was down to 31.4 per cent, a six per cent improvement over last year.
But when the league adjusted, Pillar overcompensated.
Baseball Playoff Bracket Pool
Predict the playoff winners, from the Wild Card games to the World Series, and you could win a share of over $5,000 in prizes.
"I was being aggressive early in counts, I was capitalizing on heaters and teams started spinning me a lot of stuff," he says. "It started frustrating me a little bit because I wasn't getting the fastball to hit and I felt like I need to change something because what I'm doing is not working, when it could have been as simple as let's go up here and whack a breaking ball and we'll get back on the fastball later on. Or let's change our sights a little bit.
"The next thing you know I'm in the batting cage on my own, trying to make some changes. It was stupid and immature of me, but ultimately it worked out in the sense that it led me down different avenues to find where I'm at right now."
Where he's at now is a slightly altered batting stance, which is a touch more open and his hands back a bit, the product of the Blue Jays' Aug. 18-20 series at Wrigley Field in Chicago. Pillar went 6-for-13 with three RBIs that weekend, regaining a feeling he'd lacked for a while. The way his swing worked against the Cubs is now his "barometer" for what his A swing should look like.
"I was feeling terrible that day we got in (to Chicago)," says Pillar. "We were hitting BP on the field, super-excited to hit at Wrigley Field, wanted to hit some balls out just to say I hit a home run at Wrigley Field, and I just couldn't figure out my swing. Something happened where I got the bat a little bit flatter, I started driving the ball my last two rounds, and said I'm going to take this into the game.
"It's something I now go back to on video when I want to know why am I missing this pitch, or what's going on with my swing."
Staying consistent with his approach, with his discipline, will be just as pivotal.
A whopping 23.3 per cent of the pitches thrown to him this season have been balls down and away, a number that swells to 30 per cent if you factor in pitches in the bottom corner of the strike zone. Pitchers are doing that for good reason – Pillar is hitting .125 on pitches in the zone in that corner, and .051 on balls in the area outside.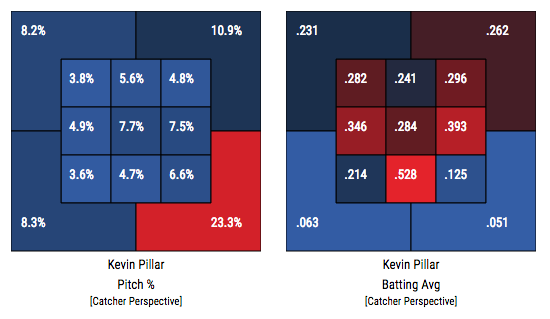 Additionally, the slider remains baseball Superman's kryptonite, as he batted just .234 on the pitch but whiffed on 68 of the 398 thrown to him. Against the change-up he batted .238 while hitting .216 versus the curveball, two pitches he saw less frequently.

That's why he says "the dream would be to have the same approach I had in spring training, I feel that was the most locked in I've ever been as far as setting a plan, sticking with it and really not worrying about the results."
"It's really for me about understanding the zone even more, understanding the pitches I hit well, the pitches I don't hit well and then really trying to swing at the pitches I hit well more often," he continues. "The pitches I don't hit well, even though they might be strikes, we're fortunate enough to have enough information and video now where I can go back and understand maybe I only (hit) .150 at sliders down and away, why am I swinging at them? The more I can play to my strengths the better off I'm going to be."
Identifying what he needs to be done is an important step, but the heavy lifting is in executing that approach consistently, as this season shows.
Over the past three years, Pillar's numbers have been relatively steady, with an OPS of .713 in 2015, .679 last year and .704 heading into the final weekend of 2017. His 16 homers, 37 doubles and 33 walks are all career highs, but after bringing his chase rate down to 30.1 in late May, it's shot up to 40.1 per cent for the season, three per cent higher than last year.
"If I had to sum up my year, statistically it's not where I think I should be or want to be," says Pillar. "I really feel like, more than the last two years, this has been the biggest learning curve for me. I've had more conversations with my teammates and coaches about individual at-bats or a series of at-bats more than I have and I feel like I've really learned a lot about things I've done well, things I've struggled on and it's given me a nice guideline for this off-season."