TORONTO — When Randal Grichuk was a rookie in 2014, he immediately became aware of MLB's policy regarding cleats. The primary team colour of the St. Louis Cardinals is red, so the outfielder made sure his on-field footwear adhered. Grichuk didn't have much experience, but wisely took note of any warnings his veteran teammates received from the league.
On one occasion, he strayed from the policy, only to receive an ominous note from MLB headquarters. A repeat offence would bring a fine. But last season, Grichuk noticed the warnings showed up less frequently in the Cardinals clubhouse, so he decided to take a risk. He donned a pair of all-white cleats in a game, then waited to see if he would get reprimanded. Nothing happened.
"They were relaxed on it last year, and they didn't care the year before that," said Grichuk, who was traded to the Toronto Blue Jays in January. "Then, this year, they said they were going to enforce it a little bit more … I don't know why they decided to do that."
According to the policy, listed in Attachment 19 of the collective-bargaining agreement, "At least 51% of the exterior of each Player's shoes must be the Club's designated primary shoe color and the portion of the Club's designated primary shoe color must be evenly distributed throughout the exterior of each shoe."
The rule has been a hot-button issue this season, making headlines when Chicago Cubs infielder Ben Zobrist was warned for donning a pair of all-black cleats that did not comply.
48.3k Likes, 1,977 Comments – Ben Zobrist (@benzobrist18) on Instagram: "Dear @mlb, I still like you but this is rediculous. For the last two years, I have worn black…"
When reached by Sportsnet for comment, the league would not elaborate on its enforcement of the policy this season. Such warnings have been a regular occurrence in the Blue Jays clubhouse, according to multiple players. And there is a contingent on the team who believe the policy desperately needs to be changed.
"I would highly recommend that," says Grichuk. "I don't understand why guys can wear neon arm sleeves or yellow arm sleeves, but not wear all white spikes … There are plenty of bigger issues to worry about. That's one of the minor ones that is kind of letting guys have a little bit of freedom."
"Great idea," adds Devon Travis in a recent interview. "That's the fun part for the guys and I think people like to turn on the TV and see different kinds of stuff. How guys can incorporate different colours and different designs in their footwear. That's very attractive to fans and I know the players really enjoy it."
The Blue Jays, along with the other 29 big-league clubs, received an email reminder in February from Joe Torre, MLB's chief baseball officer. Addressed to the assistant general managers and equipment managers of each team, it outlined the footwear policy and asked each club to confirm its designation of colour scheme and primary shoe colour for each type of uniform (home, road and special uniforms) for the 2018 season.
The Blue Jays' primary home colour is blue, according to a team spokesman, so at least 51 per cent of each cleat a Toronto player wears at Rogers Centre must be that shade. That means, for instance, all-white or all-red spikes are prohibited. Any messages, quotes and pictures of family members appearing on cleats can elicit warnings, acknowledges Grichuk.
"A lot of that stuff is positive," Grichuk said. "It's family related, it's charity related, it's something that's hit home for them. They've lost a loved one or something like that. I don't think it's any bad motives behind them."
When asked earlier this month about a possible change to the league policy, Blue Jays outfielder Kevin Pillar said it would be great for the sport.
"There's a lot of people in this game that would like to show their personality, since Major League Baseball is still fairly old school with the uniform policy," Pillar said. "Loosening up the cleat policy would be a way to allow some individuals to show their personality on the field."
Personality was a theme at the recent all-star game in Washington, coming into focus with commissioner Rob Manfred's comments about the marketability of Mike Trout, baseball's best player. During the Baseball Writers' Association of America's annual all-star luncheon, Manfred confirmed recent reports — including this one by Jeff Passan of Yahoo Sports — that the league is in ongoing discussions with the MLB Players Association on "substantially" altering the rules of the footwear policy.
"We recognize the need to allow players to be more demonstrative on the field," Manfred said. "We are all in favour of allowing — within the rules set forth in the Basic Agreement that were collectively bargained with the MLBPA — players flexibility with respect to what they wear on the field."
Trout, who the commissioner said could benefit from marketing himself more, is also a fan of loosening rules surrounding footwear.
"Fans want to see your personality," Trout told Alex Rodriguez in an interview that aired on FOX Sports prior to the all-star game. "I think you should be able to wear what you want. Represent what you want. If you want to wear bright green cleats, flash a little bit, be yourself."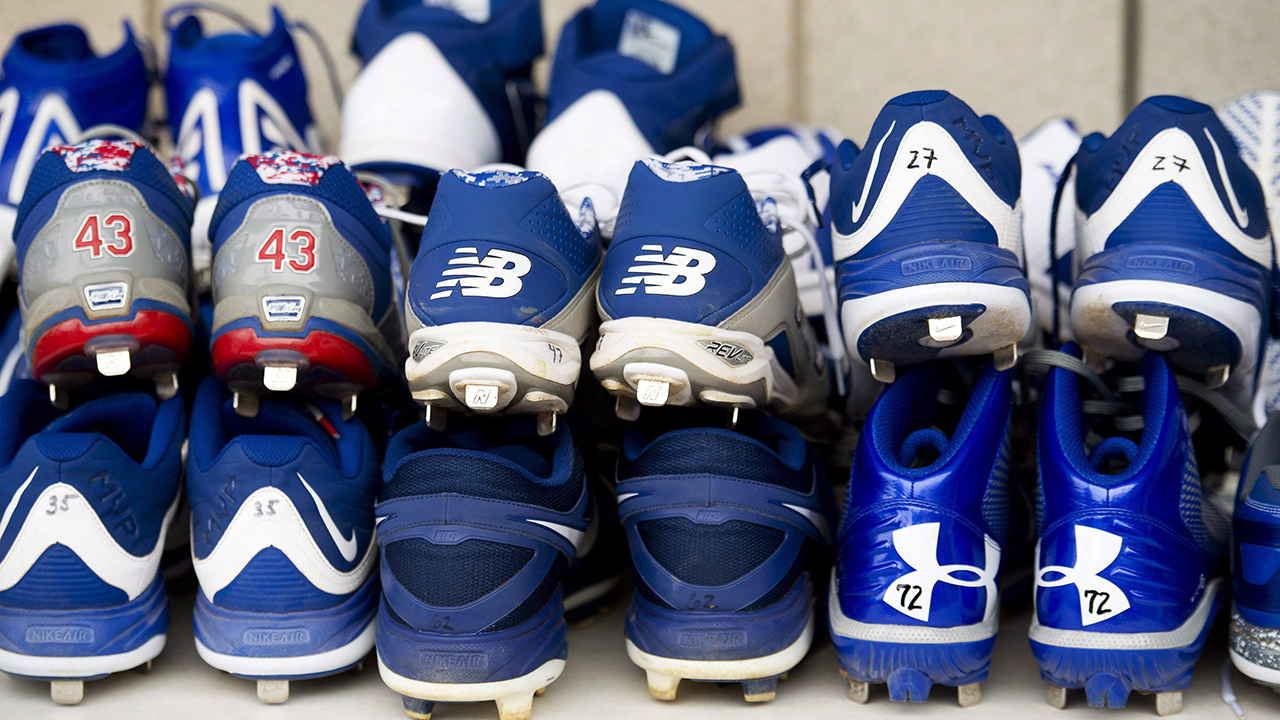 (Nathan Denette/CP)
Pillar believes it's vitally important for baseball to showcase individuality, simply because MLB faces stiff competition from other sports leagues. It's something Manfred has spoken about in the past and is part of the reason behind his efforts to incorporate pace of play initiatives that seek to make the game more digestible for a younger generation with more entertainment options.
"[Changing the footwear policy] could be a way of pleasing younger audiences or attracting a younger crowd that has to choose between baseball, football, basketball," said Pillar. "Baseball is going to be further down the list just because it's a little bit more old school. The NBA has a little bit more character, a little bit more personality."
If the rules change, though, you won't see Pillar wearing neon orange cleats just for the sake of it, he admits. He'll try to find something that suits him but is not exactly sure what that entails. Same goes for Travis, who currently orders about a dozen pairs of Nike cleats each season. He customizes them himself using the NIKEiD feature on the shoemaker's website, making sure to stay within MLB's 51 per cent parameters, of course.
He's counting down the days when that percentage finally, officially changes.
"Baseball is a very vanilla game to watch," Travis said. "I think it's getting more exciting and I think a little bit of extra swag would only help it."