TORONTO – Rowdy Tellez might reach the big leagues regardless of how well he fields. After hitting 23 home runs with a .917 OPS for the Toronto Blue Jays' double-A New Hampshire affiliate, the 21-year-old's undeniably an emerging offensive threat.
But staying in the the big leagues requires more than a potent bat, which is why Tellez worked steadily to improve his fielding during his breakout 2016 season. Between games he'd pull aside then-Fisher Cats manager Bobby Meacham and instruction coordinator Mike Mordecai for work on ground balls, picks, throws, bare-handed plays and lateral movement.
"Defence is always going to be something I preach," Tellez said at the Blue Jays' rookie development camp. "Everyone's like 'oh first base is a power position, offensive position.' But you look at guys who can only hit, they don't play as long and then you cut the teams in half that you can play for.
"I want to play for the Blue Jays for my entire career and I want to play defence for my entire career. I don't ever want to be a DH. If that happens so be it, but for now it's going to be a defensive first baseman with an above-average glove."
That means keeping an especially close eye on fellow left-handed hitting and fielding first basemen like Eric Hosmer, Anthony Rizzo and Adrian Gonzalez. Not only are they considered strong defenders, they produce at the plate.
"Who wouldn't like a guy who hits .300 with 30 home runs and 100 RBI," Tellez said. "Everyone likes that guy. But it's not just their production, it's how they go about it. They're quiet. They work hard. They lead by example. That's what I want to be."
That's what the Blue Jays want, too. The departure of Edwin Encarnacion opens up first base for a Toronto team expected to rely on Justin Smoak and Steve Pearce. That means Tellez could conceivably be an injury away from his first shot at the big leagues. "I can't wait to get here and help them win a World Series," he says. Regardless of when that opportunity presents itself, Blue Jays decision makers like what they've seen from Tellez so far.
"He focused on what he needed to do to get better each day," Blue Jays director of player development Gil Kim said. "Instead of focusing on numbers and advancing levels, he focused on areas that he could control. It was a mature approach for one of the youngest players in the league."
"The more I've worked in baseball, the more I realize that for younger players the timelines and learning curves are varying in large degrees," GM Ross Atkins said early this off-season. "Absolutely (Tellez could contribute in 2017), but we don't intend on planning around that."
After a stellar season at double-A that included 29 doubles and a .387 on-base percentage, Tellez ranked sixth on Baseball America's list of top Blue Jays prospects. He doesn't turn 22 until March, so he's still young to be playing in the upper minors.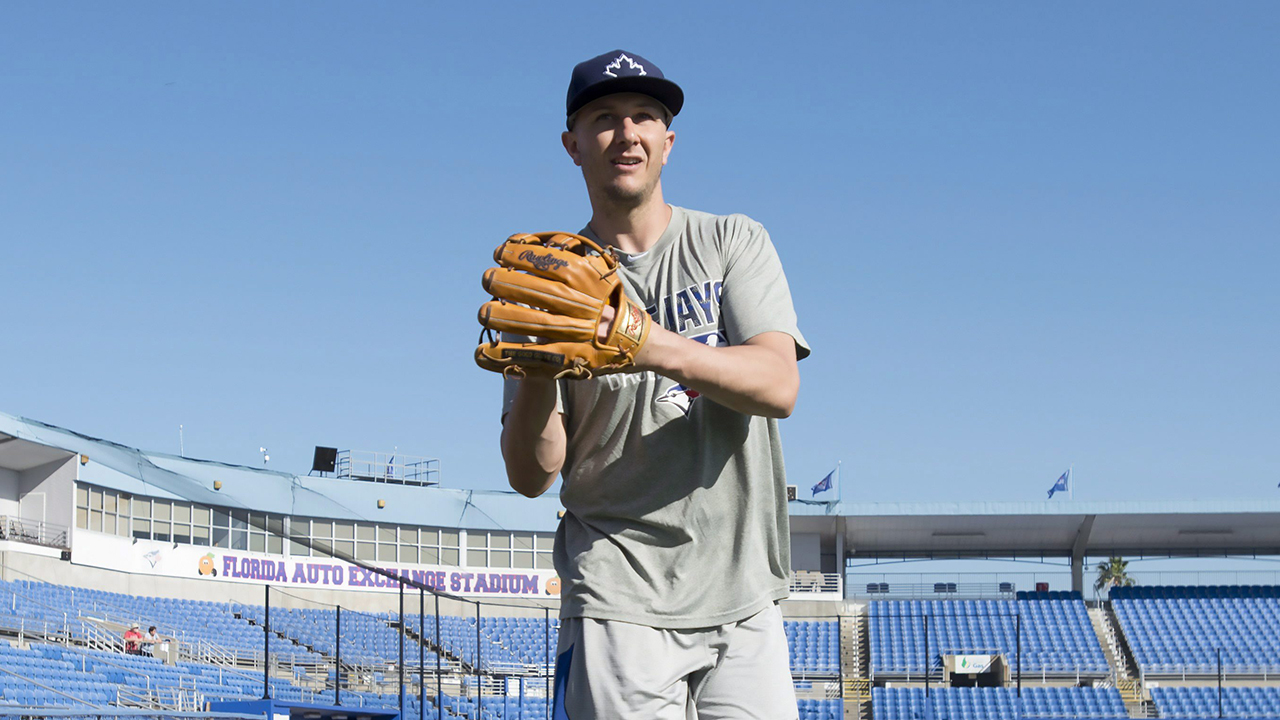 Blue Jays shortstop Troy Tulowitzki. (Frank Gunn/CP)
---
That's part of the reason Tellez moved to Tampa , Fla., this off-season. Established big leaguers like Josh Donaldson and Troy Tulowitzki are among those working out at the Blue Jays' Dunedin, Fla., training facility, providing prospects such as Tellez with the chance to learn from established stars.
"You can't ask for any more than All-Stars and MVPs telling you how to hit face to face," he said.
Months earlier Tellez was watching those same players on television. During the Blue Jays' 2016 playoff run, he was in the Dominican Republic playing winter ball. Whenever possible he'd watch at a local restaurant, hopeful that his limited Spanish would allow him to understand the broadcast.
"You could slightly hear Buck Martinez in the background," Tellez recalls. By the time Donaldson slid head-first into home plate to clinch an ALDS win, Tellez was 'going crazy' to the surprise of other diners.
Tellez describes his experience playing winter ball as an 'awesome, eye-opening' time. In contrast to that, his season started poorly. Tellez, the Blue Jays' 30th-round draft pick in 2013, earned an invitation to MLB spring training last year only to hit just .164 during the opening month of the year at New Hampshire.
"I learned how to be a better teammate. You learn so much in those types of seasons. Whether you're struggling or not, be the same guy," Tellez says. "You have to be even-keeled."
All things considered, the Blue Jays liked what they saw in 2017, both at the plate and in the field.
"Given his age he has an advanced approach, gained even more experience in the Dominican Republic in winter ball," Kim said. "For 2017 the focus is to continue to gain more experience and reps."
While Tellez will likely open the season at triple-A Buffalo, he's not making any assumptions just yet.
"I'm going to give it my all, whether it's double-A, triple-A, the big leagues, rookie ball," Tellez says. "If they put me somewhere I'm going to be out there to win and I'm going to take those 25 guys out there to battle with me again. That's how it's going to be until the day I stop playing baseball."
Make no mistake, though: Tellez has his sights set on the big leagues. Whether that opportunity arrives in a matter of months or years, he believes he'll succeed.
"Of course. If you don't go into the game being confident, you're never going to succeed," Tellez says. "I'm always going to be a confident player on and off the field, whether it's playing wiffle ball with my little cousins, or playing baseball in front of 50,000 trying to win a World Series."