TORONTO – This time last year, Vladimir Guerrero Jr. ranked 20th on Baseball America's list of top prospects. Bo Bichette was nowhere to be found in the top 100. As for Danny Jansen, he was barely considered a prospect at all.
A year later, and those three players have improved their standing in the game with productive 2017 seasons. That said, they're still minor-leaguers with no guarantees of big-league success. They're among the many Blue Jays prospects who will need to continue developing to reach their potential as impact major-leaguers.
With that in mind, I asked some of those prospects about their biggest improvements from 2017 and their goals for 2018…
BLUE JAYS PROSPECTS TALK 2017 LESSONS
Max Pentecost, C
316 PA | 9 HR | .274/.330/.431 | 23 BB | 62 K | Dunedin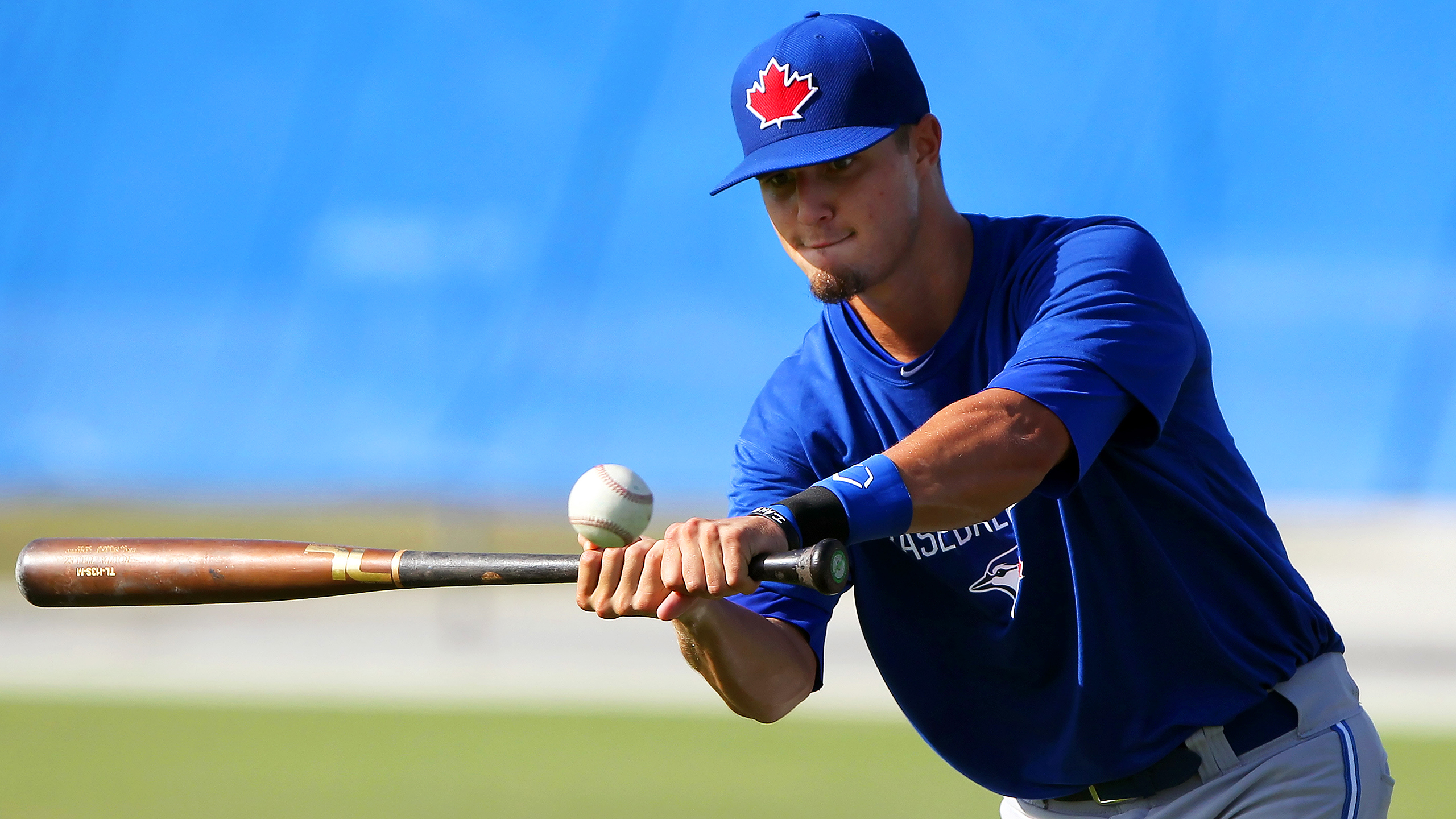 "Where I progressed the most was defensively. Being able to catch last year really allowed me to work on that in-game stuff that you don't really get in drills or from catching sides. I got really comfortable. I feel like my receiving got better, my throwing got better.
"(As for offence) mainly just not missing my pitch. By (late in the season in the Arizona Fall League), my body was dead and I was giving it all I've got to hit my pitch and I'd miss it and then the pitchers there, if you get behind it's a tough battle. But struggling out there I think helped me more than doing well. It showed me that I'm going to have to make adjustments and continue to progress throughout the higher levels."
Ryan Borucki, LHP
2.93 ERA | 150.1 IP | 36 BB | 157 K | Dunedin, New Hampshire, Buffalo
"Definitely my consistency in my fastball command. Last year I really tried to focus on slowing everything down and working both sides of the plate, especially the outside part of the plate — my arm side. That was a big key for me this year. My success came from working the outside part of the plate, because my change-up for me is my bread-and-butter pitch.
"And then the development of my slider. It was a big, huge key for me and once I got that pitch everything fell into place and I started having better outings."
Danny Jansen, C
424 PA | 10 HR | .323/.400/.484 | 41 BB | 40 K | Dunedin, New Hampshire, Buffalo
"Offensively the difference between last year and years prior was (a) I got healthy and (b) I came in with a different mindset. The last couple years when I was spiralling down, getting hurt and missing months I would be thinking about too much stuff on the field: mechanics at the plate and I'd already lost an at-bat when you're thinking about your hands. I came in and I said 'You know what, let's try something new.' I'm just going to have the attitude where you're just like 'It's baseball — just play and have fun.' That's what I did."
Jordan Romano, RHP
3.39 ERA | 138 IP | 54 BB | 138 K | Dunedin
"One of the main things was working on the change-up. That's one thing they stressed to me and it was a challenge at times because it's my third-best pitch and it didn't feel comfortable for most of the season, but near the end of the season, I started feeling comfortable with it."
BLUE JAYS PROSPECTS TALK 2018 GOALS
Bo Bichette, SS
499 PA | 14 HR | .362/.423/.565 | 42 BB | 81 K | Lansing, Dunedin
"Become more professional in the way I go about things. Pre-game, my routines and the way that I never take at-bats off and never take pitches off in the field. Just becoming an all-around player in every aspect."
Max Pentecost, C
"I'm going to go in to big-league camp with my ears open. I'm going to do less talking, more learning. Sit back and listen because (big-leaguers) have a whole lot more knowledge than I do. Like I said I've got plenty of areas to make improvements, so I'm just going to ask them for their advice.
"This season I really hope to be consistent, not really have those real highs and real lows. Learn how to deal with that, improve my approach at the plate and not miss that one pitch — which is easy to do at the beginning of the season when everybody's happy and your body's healthy. By the end of the season, you've got to dig down deep and figure that out. I also want to learn to work with some of the (Blue Jays') pitchers."
Vladimir Guerrero Jr., 3B
527 PA | 13 HR | .323/.425/.485 | 76 BB | 62 K | Lansing, Dunedin
"I'll try to get better at everything, and little by little I think I'll improve."
Ryan Borucki, LHP
"Keep doing what I'm doing with my pitches, stay composed and just try to take advantage of whatever opportunity they give to me. Try to help whatever team I'm with win as much as possible and try to take advantage and have fun. I never have really big goals in the season except for stay healthy and take advantage of every opportunity."
Jordan Romano, RHP
"Fastball command. That's always No. 1, I want to keep working on that all the time and still with that change-up. I want to have a legitimate three-pitch mix, not just be a fastball-slider guy like I was in the past. I want to have three serviceable big-league pitches."
Danny Jansen, C
"What I want to grab from spring training is the most knowledge I can get from Russell (Martin) and talking with all the pitchers that are there. You have to be prepared for that as a catcher. You have so much thinking to do, so much mental preparation and that's what I want to strive to be good at. That's what I want to be good at is a game caller, build those relationships so guys want to throw to you and that starts in spring when I get to know these guys.
"I want to stay healthy. That's my biggest thing. Other than that, I want to keep that mindset, whether it's stubborn or not and just continue to get better, continue to improve on my game-calling is my biggest thing. I want to be a good (defensive) catcher. I want to be one of those guys that people like throwing to. I want to be that backbone."