DUNEDIN, Fla. — When Aaron Sanchez strained a lat muscle last June and missed six weeks of his first full season as a major leaguer, he knew he had to make changes.
"It was one of those things where I told myself, 'Alright, just get through the year, and then this off-season you've got a lot of work to put in,'" Sanchez says, sweat still dotting his forehead after a Wednesday morning workout in Dunedin. "I was weak. I wasn't able to do the things that I needed to. I didn't have the stability. And now that I do, it's a total transformation. Now I just worry about execution, rather than if I'm strong enough to execute."
"Weak" isn't a word many would associate with a six-foot-four pitcher who ramps his fastball up to 97 mph. But while he recovered from his injury last year, Sanchez came to a quick realization that his conditioning needed a dramatic overhaul.
He got in touch with the same Duke University physical therapists who oversaw Marcus Stroman's rehabilitation from knee surgery, listening to their advice about how best to approach the rest of his season. Shortly after it came to its end in Kansas City last October, Sanchez hopped on a plane and flew to Durham, N.C., to work with the Duke team in person, training two times a day, five days a week, with an additional session on weekends.
He slowly added 25 pounds to his frame and substantially increased his flexibility and range of motion. He also focused on what he consumed more than ever before, working closely with a Duke nutritionist and having seven days worth of meals cooked for him at the beginning of each week.
"I knew what I needed to do strength-wise and that was gain weight. It wasn't easy — it definitely wasn't easy," Sanchez says. "But I couldn't have made a better decision in my short career to make that move. Hopefully this is just the beginning."
Of course, Sanchez hopes that beginning involves a job in the Blue Jays starting rotation, something he firmly wants and believes he can occupy throughout the regular season. He enters spring training competing with fellow young starter Drew Hutchison, swingman Jesse Chavez and veteran Gavin Floyd for what appears to be one opening on the staff, with some suggesting Sanchez may be most valuable to the club in the bullpen, where he's excelled each of the last two seasons. Sanchez will stop you right there.
"This is something I've worked so hard for — I didn't do all this work to come out of the pen," Sanchez says. "The team knows what I want to do. Writers and media know what I want to do. Everybody knows what I want to do."
The knock against Sanchez has always been his ability to consistently throw strikes, something he's battled throughout his career. His control was spotty to begin 2015, but by mid-May he had settled in as one of the Blue Jays' better starting pitchers, throwing an eight-inning, one-run, no-walk gem against the Houston Astros on June 5. Of course, then he got hurt.
"I feel like right before I got hurt I was one of those guys where, when I was on the mound, we had a good chance to win the game," Sanchez says. "Would I have said that after my first two or three starts of the year? No. But I was still trying to find it. And when I did, I feel like you really saw what I can do."
When Sanchez came back from his injury he was stretched out in the minors and still wanted to start, but a desperate need at the back end of the major league bullpen forced him into relief. Then Sanchez pitched so well as a high leverage reliever that the team couldn't even consider removing him from the role. He allowed just seven hits and two runs over his first 20 outings and was absolutely dominant throughout the playoffs, pitching in nine of the 11 October games the Blue Jays played, surrendering only an unearned run on seven hits.
Sanchez loved the experience of pitching during a playoff push and into the post-season; he ate up every chance he got to take the mound in must-win situations. But for as much satisfaction as he got out of it, it's not where he wants to be.
"I understand that when I was coming back last year they wanted to win ballgames and I was more useful out of the pen. I totally understand that," Sanchez says. "But I've started for my whole career. It's what I'm all about."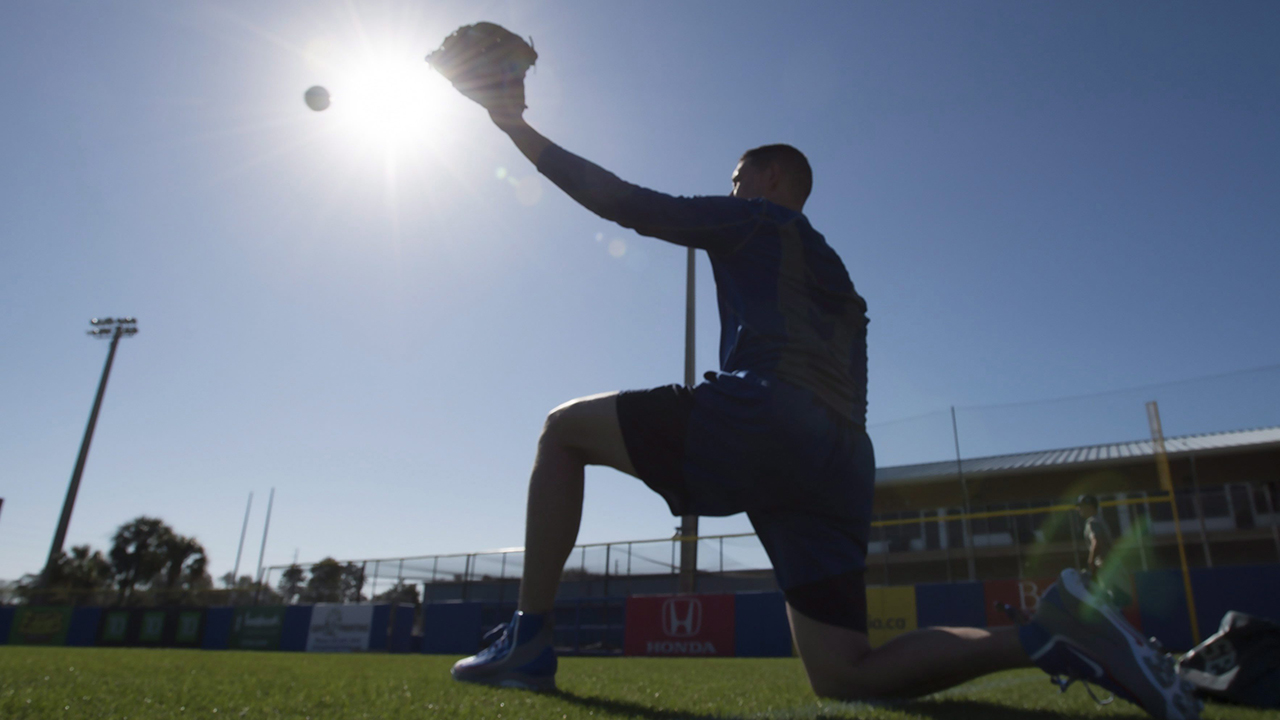 Aaron Sanchez works out at the Blue Jays' spring training facilities in Dunedin last week. (Frank Gunn/CP)
Many often forget just how much time and work the Blue Jays have invested in Sanchez since they selected him in the supplemental round of the 2010 draft. He was piggy-backed as a starter early in his career to protect his arm and has made stops at just about every North American outpost the Blue Jays have, from the low-A New York-Pennsylvania League as a 17-year-old to triple-A Buffalo when he was just 21.
What course the Blue Jays take with Sanchez to begin this season can have a long lasting impact on his career. He's one of the best young arms in the system and he won't benefit by being yo-yoed back and forth between the starting rotation and the bullpen. That's why Blue Jays manager John Gibbons says Sanchez's role is one of his main focuses this spring.
"It seems like it might be an easy decision," Gibbons says, "but it's really not. It affects his future."
With a long, hard off-season of work behind him, all Sanchez can do now is show up and pitch. He'll be stretched out during spring training and everything he does will be under a microscope, particularly his balls and strikes. To that point, Sanchez says he's been particularly excited by the results of his early side sessions, as his sturdier frame has allowed him to be more accurate with his curveball.
"It's finally getting to the point after all this hard work that I've done, where the pitching part that had been so hard for so long has become fun," Sanchez says. "I struggled so much from the time I got in to the organization with delivery and making mechanical changes and all that stuff. And now it's finally coming back to: there's the glove, hit the glove. I'm in all the right spots mechanically. I've put myself in the best situation to execute my pitches. I come to the field now with a purpose and excitement because this is what it's all about."
Whether Sanchez will be rewarded for all his work with a starting job remains to be seen. Health, performance and results will dictate what the Blue Jays do. For his part, the 23-year-old feels he's put himself in as good a position as he's ever been in.
"I'm not worried," Sanchez says. "I've prepared for this grind. I know what it takes to pitch 162 games plus playoffs. That was in my mind throughout my preparation this off-season. It was always, 'You've got to be durable. You've got to be that guy who can go out there and pitch nine innings every five days. You've got to get the job done.'"