DUNEDIN, Fla. – Two lost years on the mound have left Aaron Sanchez focused on the smallest of details, so as he threw his bullpen Friday there was a DSLR camera fixated on him, collecting video for his personal use to ensure everything is right with his delivery.
Essentially, the Toronto Blue Jays right-hander is making sure to unlearn the accommodations his body made to compensate for the blister and subsequent complications to his middle finger that scuttled his 2017 season, and a tendon injury to his index finger that submarined his 2018.
The camera, which he planned to take home to review his first curveballs of the spring, demonstrates how little Sanchez is leaving to chance in the new season. To say he's been frustrated by the pause in his career over the past two years is an understatement, and the 2016 American League ERA champ is bothered by some of the doubts about him.
"Hey, I didn't leave – I just had a setback," Sanchez said during a discussion with reporters Friday. "What you guys have seen and what you guys have witnessed in the past hasn't left. It's not gone."
At the same time, after logging only 141 innings over 28 starts in the two seasons since his dominant 2016, he understands he's got some things to prove as well. Hence, his determination to leave no stone unturned, to seek out any little variance invisible to the naked eye from where he needs to be mechanically and quickly fix it.
"I created so many bad habits trying to alter my mechanics because I had so many issues with that finger," he said. "It was going back to looking at video of when I first got called up, looking at video of when I was right and breaking it down to that point."
The differences Sanchez identified were "just subtle things, nothing crazy, but things that alter plain, alter release point, little things that you don't understand or know that you do when you do them. You're just trying to get from Point A to Point B. It wasn't anything major or drastic, but obviously stuff that I've found that needs to be cleaned up."
[snippet id=3305549]
The results, so far, had new manager Charlie Montoyo giddy enough that he sheepishly acknowledged that he couldn't stop smiling. He said he didn't need a radar gun to tell him that Sanchez's bread-and-butter had the type of life that allowed him to log 192 innings with a 3.00 ERA during that wild-card season of 2016.
At the time, Montoyo was the third-base coach with the Tampa Bay Rays, and would watch the two-seamer dive away from barrels, producing a groundball percentage of 55.3. From that vantage point, he'd think, "that's tough to hit."
"Of course, if you get the good curveball and the change-up, that helps," continued Montoyo. "But to me, he used to be 97, 98. Last year he was throwing 90, 92. That's a big difference. From what we saw today, he's going to get back to 97. That's good."
Sanchez undersold his 2018 velocity a bit, too, saying "I don't think I've thrown 90 miles an hour (before in) my whole career." Per Brooks Baseball, he averaged 94.45 m.p.h. on his four-seamer and 94.23 m.p.h. on his sinker, although there were starts when he was in the 92 range.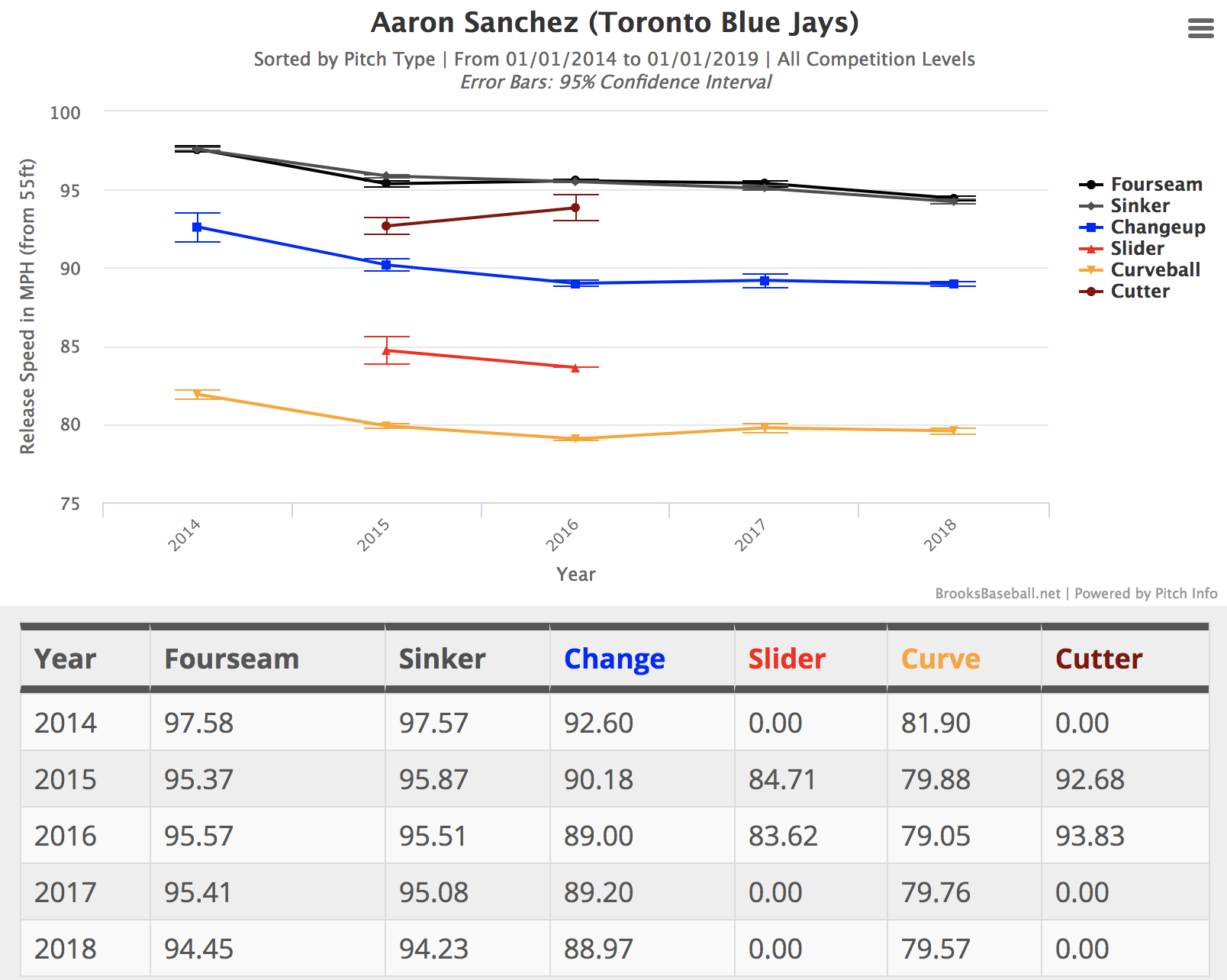 Still, it was a drop from where he was in '16, and now that Sanchez feels healthy again after a September surgery to repair the ligament damage caused when his finger got caught in a suitcase, he expects to light up the radar gun once again.
"I got no concerns about that," he said.
Should the velocity and ruthless bite on his sinker return, Sanchez should be able to better leverage the change-up he incorporated to strong early returns last season, too.
The pitch was a relative non-factor for him before 2018, but opponents batted just .217 against it and missed it entirely 17.10 per cent of the time, giving him the consistent complementary offering he needed.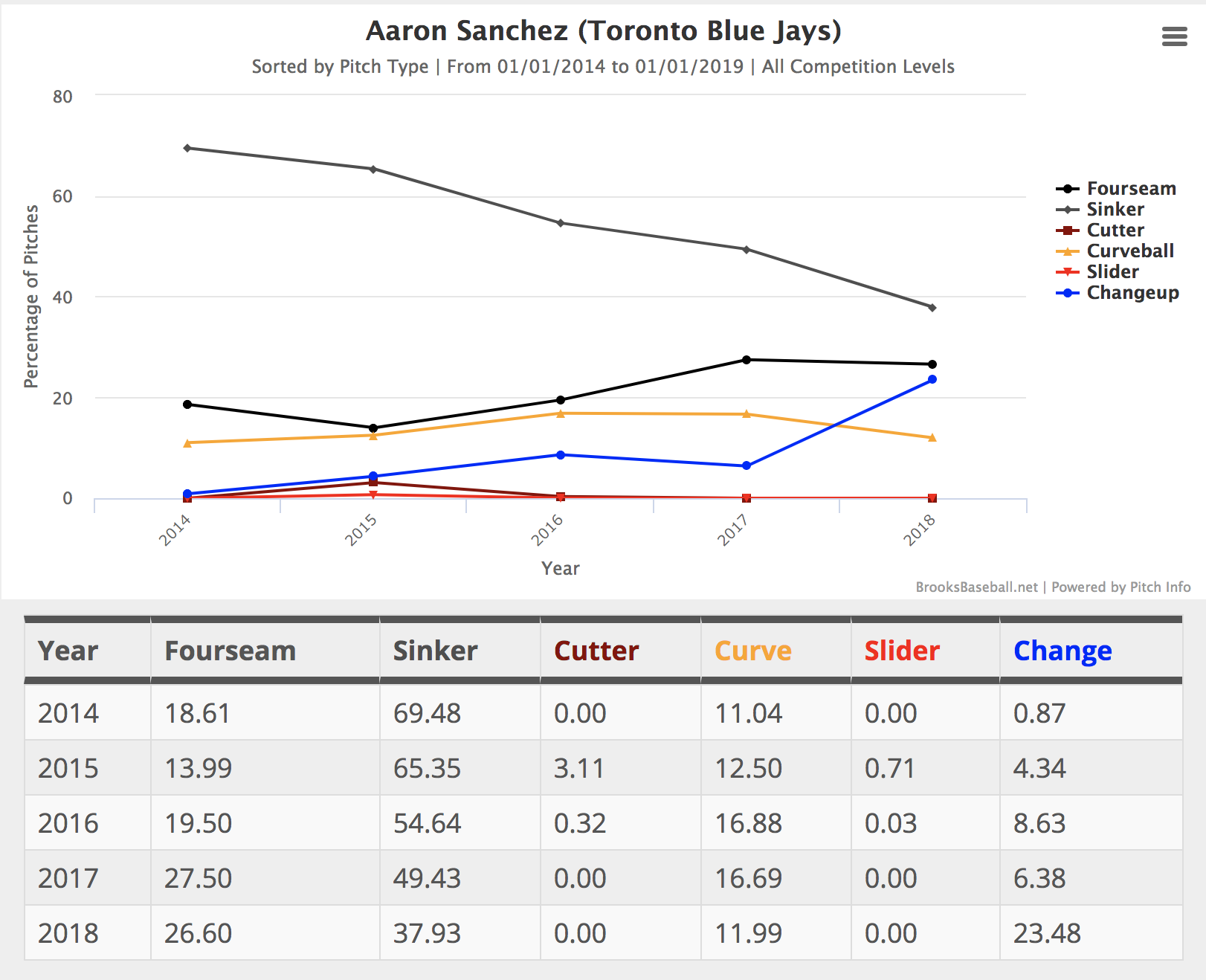 "That's something that's going to be used just as it was last year," said Sanchez. "I'm happy to see where I'm at with everything, my hand is probably the strongest it's been ever, in a sense. I'm not going to say I'm going to use it any certain way or any certain count but I'm going to read the game and I want it to be a weapon just like my heater, just like my curveball. However that plays out, the game and situations will dictate that."
How stable the Blue Jays rotation ends up being depends in large measure on what he and Marcus Stroman can provide, although the better they pitch, the more likely they are to end up elsewhere by season's end.
Sanchez acknowledged the turnover in the roster around him and noted the irony in a 26-year-old like himself being considered one of the veterans now, and an uncertain future lingers in the air with only two seasons of club control remaining for the rebuilding Blue Jays.
Right now, though, all that matters to him is that "I finally feel like I'm back to who I am." And just in case he slips, he's got the video he needs to get him back right again.
[relatedlinks]