OAKLAND, Calif. – There is an important opportunity to pile up some wins over the next three weeks for the Toronto Blue Jays. They won't face a single .500 team until June 27, when they begin a daunting, measuring-stick, 13-game stretch before the all-star break.
So, the time for meaningful internal stock-taking by the front office looms, which is why the defending wild-card champions need to capitalize in the days ahead to tighten up the already cramped American League East standings. They didn't do that in a 5-3 loss Monday night to the Oakland Athletics that left the five divisional rivals separated by only six games, failing for the third time in a week to hit the .500 mark.
Still, with series against Seattle, Tampa Bay, the White Sox, Texas and Kansas City on the horizon before a meat-grinder run through Baltimore, Boston, the Yankees and Houston, this is the time to make a move.
"I think they're all comparable, all five of us," manager John Gibbons said of the division before the game. "I don't think the Yankees got enough credit coming out of spring training. I thought they were better than they were getting credit for. It looks like Boston is starting to hit its stride a little bit in the last week or so. Everybody has been waiting for them to explode. You know they've got the talent to do it. Baltimore is a threat, they're always a threat. And Tampa is playing good ball, they've got a lot of talent on that team, they can pitch and they've got some offence now. I would think it will stay bunched for a while now."
Toronto Blue Jays on Sportsnet NOW
Want to stream every Blue Jays games this season? Sportsnet NOW has you covered. Catch every Blue Jays game, marquee MLB matchups, the 2017 Home Run Derby and All-Star Game, the playoffs and entire World Series.
Maybe, but at a minimum the Blue Jays need to start jockeying for position with their rivals, and they'll need their starting rotation to get untracked for that to happen.
J.A. Happ, making his second start since returning from an elbow injury, allowed three-run and two-run homers to Ryon Healy that the Athletics made stand up. The left-hander ran up a pitch count of 98, which is good, but used them up over 5.1 innings, which isn't ideal.
To be fair, Happ is still trying to smooth out his command and feel after a quick rehab, the three walks he issued an indication of that. The four strikeouts and four hits allowed suggested progress, but two of the hits were the rockets by Healy, who clearly had no issues finding the barrel.
"Just overall I felt like the life on my stuff was good," said Happ, who was disappointed by the walks he issued to Khris Davis before each of the Healy homers. "There are a couple of things in particular I need to tighten up and I've got to do that as soon as possible."
While Happ wouldn't elaborate – "I don't think I want to broadcast it to the league, they can figure it out for themselves," he said – one of those things is surely more efficient use of his secondary pitches. His four-seam fastball, which he threw 46 times, regularly found the zone while his 20 changeups, 16 two-seamers, 10 curveballs and six sliders were far more erratic.
"His off-speed stuff, he's still working on that," said Gibbons.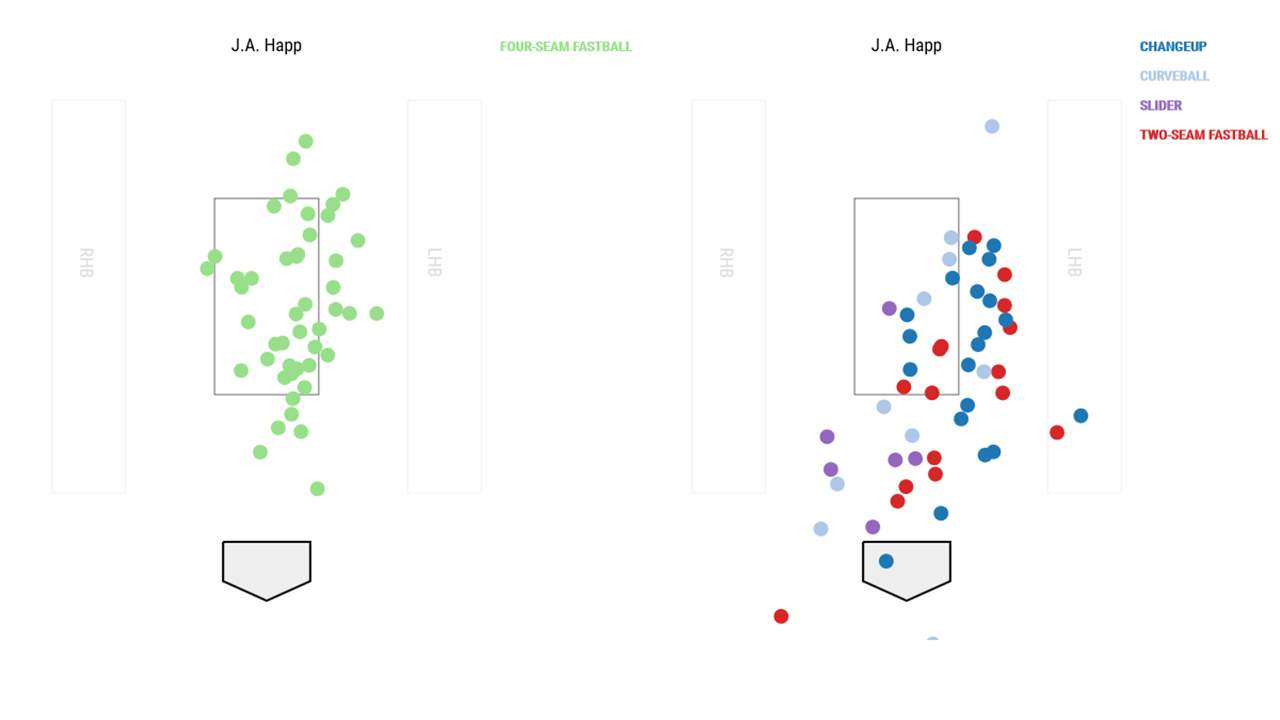 At the plate, meanwhile, the Blue Jays didn't do enough.
They got the jump on Oakland in the first when Kevin Pillar walked and scored on a Josh Donaldson double in his old stomping grounds.
But they didn't score again until after Healy's three-run shot in the second and two-run shot in the fourth had made it 5-1, and couldn't sustain a rally versus starter Sean Manaea or relievers John Axford, Liam Hendriks or Santiago Casilla.
Pillar's RBI double in the fifth cashed in an Ezequiel Carrera single while Justin Smoak rocked a Manaea fastball over the wall in left-centre for his team-leading 15th homer.
"He got behind 2-0. I got a fastball to hit, fouled it off, was looking for it again. He throws It pretty hard, got a good pitch to hit and hit it well," Smoak said of his approach. "You never know here at night time. Snuck it out of there."
That was it though. The Blue Jays were left to draw positives from Happ's increasing stamina, Aaron Sanchez playing catch in the afternoon for the first time since pitching May 19 and their growing hope that a rotation expected to be a strength will soon be healthy enough to perform that way.
"We've mentioned a lot the last week how the bullpen's been taxed pretty hard. It's important that our starters give us a little more innings, but we're also trying to build a couple of them up, you know?" said Gibbons. "So that's contributed to some of that. The gloves are off now (with Happ). He'll be good to go, and I think he'll get back to what he was."
As for how the Blue Jays might fare in the coming while and their impact on the AL East standings, Gibbons didn't really go there.
"I'll let you experts," he said with a grin, "predict the rest."