NEW YORK – Fairly or not, there's a persisting belief around the game that the strike zone at Yankee Stadium gets called a little bit differently for the visitors than for the home side, especially when the umpire is on the younger end.
Whether or not that was at play in the bottom of the second when Sean Reid-Foley issued consecutive walks to open the inning is for the conspiracy theorists out there to decide. But a look at Statcast's game data shows pretty clearly that the 23-year-old rookie lost a couple of strikes on a 3-0 fastball to Didi Gregorius and a 2-1 heater to Gary Sanchez.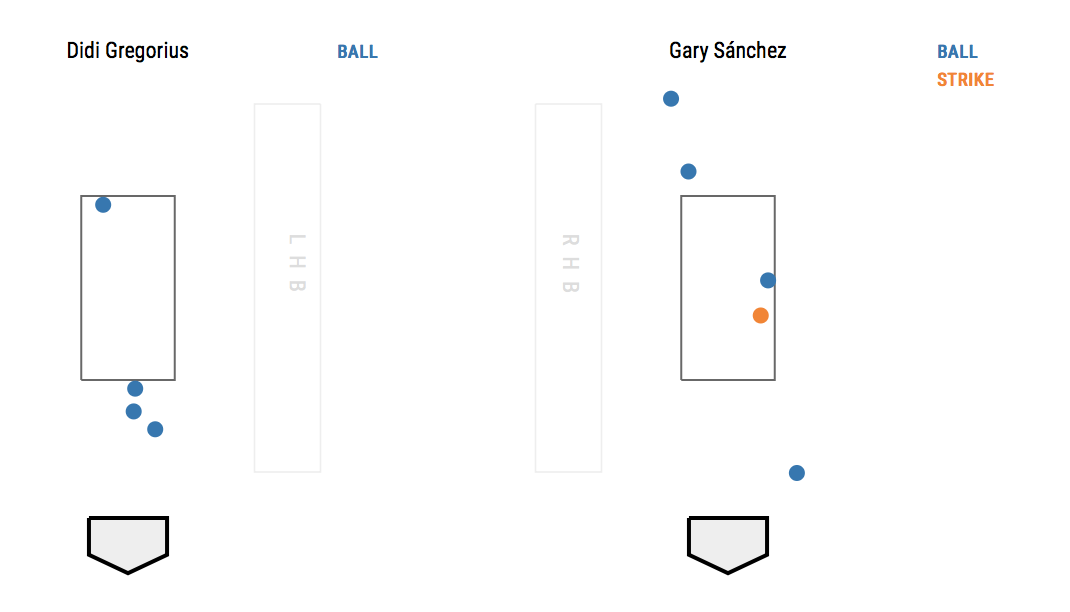 The two walks prompted Toronto Blue Jays manager John Gibbons to visit the mound and deliver a pep talk to his right-hander. "He's like, 'Hey, we gave you runs, the first inning was right where you needed to be at, stop trying to make perfect pitches – throw the ball over the plate, let the defence work,'" relayed Reid-Foley. "Basically, he was like, 'Figure it out.'"
Once Gibbons returned to the dugout, catcher Luke Maile offered his thoughts on the zone to home-plate umpire Roberto Ortiz, who didn't appreciate the input and promptly ejected him. "I was frustrated, it's been a frustrating road trip for us and it just boiled over," explained Maile. "I thought he was being a little too inconsistent and I thought we weren't getting nearly the types of calls that they were over the course of the series."
That sent Gibbons waddling back out on the field, and moments after he appeared to mouth the words "Why did you throw him out?" to Ortiz, he got run, too, for career ejection No. 52.
It was quite a sequence, one that could have caused the inning to unravel quickly on Reid-Foley.
Instead, he locked in, shaking off an infield single by Gleyber Torres that loaded the bases to strike out the next three batters, unleashing a primal scream after Brett Gardner swung through a 94.6-m.p.h. fastball to end the threat.
Reid-Foley kept shoving from there, striking out 10 over five shutout innings in what finished as a harrowing 8-7 win over the New York Yankees after some sketchy bullpenning nearly squandered a seven-run lead. The performance very much had a stepping-stone feel to it given all the elements at play early on, and made for a nice rebound from the eight runs, six earned, he allowed in 4.1 innings during his Yankee Stadium debut Aug. 18
"There's a little bulldog in him," said bench coach Demarlo Hale, who took over after Gibbons' ejection. "I saw him where he wasn't afraid of contact. When he walked those two guys, bases loaded, he let some pitches go and that's a good sign for a young pitcher, not afraid of contact, not afraid of the moment. Three punch-outs, I'm not sure that's going to happen all the time, but just his mentality and him being aggressive, that's a good sign for a young pitcher."
A better sign is the way he harnessed a dominating fastball that averaged 94 m.p.h. and topped out at 96.7.
That made Reid-Foley's slider all the more effective, and the Yankees simply couldn't counter the mix. If he can consistently command his heater the way he did Saturday, outings like this will be a regular occurrence.
"I've also had days where I don't know where my fastball is going," said Reid-Foley. "Obviously we've seen that in the past. It was a good day, (Danny) Jansen knew what was working back there so we didn't really stray away from it."
Reid-Foley was full value in the effort, too, getting 17 whiffs on 92 pitches, including a bizarre strike-three chop at a fastball that sailed up and in by a falling Giancarlo Stanton, who punched the ground in frustration afterwards.
"I completely missed my spot by like five feet," Reid-Foley said. "Take the out, take the little victories."
Before the game Gibbons noted how Reid-Foley's fastball command is "kind of hit or miss right now," but that he expected in time it will be more consistent, playing the way it did in Miami on Sept. 2, when he struck out 10 in seven innings, more often.
"He's like a lot of young kinds when they come up, the tendency is to overthrow, they think, 'I'm in the big leagues now, I probably have to do more,'" said Gibbons. "You still have to pitch. He has shown me, in that last start, too, he's pretty good throwing that breaking ball when he's behind, his change-up, which you have to do at this level. So I've seen a lot of good things."
Saturday may very well have been Reid-Foley's penultimate outing of the season as at 155.2 innings for the season, he's up 23 on his total from last year. Gibbons suggested beforehand that he may very well only have 10 more frames left, so the end is nigh.
Underscoring how good he pitched is the way the bullpen turned the final four frames into a fasten-your-seatbelt landing to victory.
The Blue Jays jumped CC Sabathia for five runs in 2.1 innings behind a pair of solo shots from Randal Grichuk and another homer from Kevin Pillar. Aledmys Diaz and Lourdes Gurriel Jr. added RBI singles in the second while a two-run single by Diaz and run-scoring single from Richard Urena in the seventh opened up an 8-1 lead that looked sure to hold.
But Stanton hammered Ryan Tepera's first pitch in the bottom half over the wall in left to start a rally, Gregorius's second solo shot of the game a batter later off Danny Barnes kept it going and eventually the bases were loaded for Miguel Andujar, who took Tyler Clippard deep for his second career grand slam.
Clippard allowed the tying run to reach second in the eighth but Ken Giles came on struck out Sanchez on three pitches before closing the door in a clean ninth for his 21st save.
It was only the second time this season Giles pitched more than an inning.
"We were just trying to get through it," said Hale, who used six relievers in the final four frames. "He welcomed the challenge and he responded very well."
On a day when things could have gone the other way, so too did Reid-Foley.