DUNEDIN, Fla. – Standing in front of the third-base dugout at Dunedin Stadium shortly after an impressive round of batting practice, Owen Diodati made sure to take in his surroundings and appreciate the coming experience.
"Thirty kids in Canada get to do this and I'm sure every baseball player across the country would love to be in this position," the 17-year-old slugger from Niagara Falls, Ont., said before the Canadian junior national team fell 8-3 Saturday against a Toronto Blue Jays split squad. "Any team you get to wear your country across the chest, it's pretty cool. To be able to do it against the Jays and some major-league players and minor-league players, it's the team you grow up watching and cheering for, it's pretty special."
The eighth edition of the annual exhibition between the country's integral development program and its only big-league squad was the closest one yet, a byproduct of the Blue Jays scaling back on the number of big-leaguers in the contest.
Danny Barnes threw an inning out of the gate while Billy McKinney, Richard Urena, Danny Jansen and Rowdy Tellez took an at-bat each before giving way to the kids, which didn't detract from a strong showing by several Canadians, including starter Theo Mallis of Burnaby, B.C., a 2020-draft-eligible righty who allowed three runs in three innings of work.
Third-baseman T.J. Schofield-Sam of Brampton, Ont., hit a two-run double in the third to briefly give the Canadians a lead while the tantalizingly athletic Dasan Brown, among the top-ranked Canucks for the 2019 draft, homered to left-centre in the fifth, triggering hoots and hollers from the dugout.
Once everything was all said and done, the teams went through a hockey-style handshake line.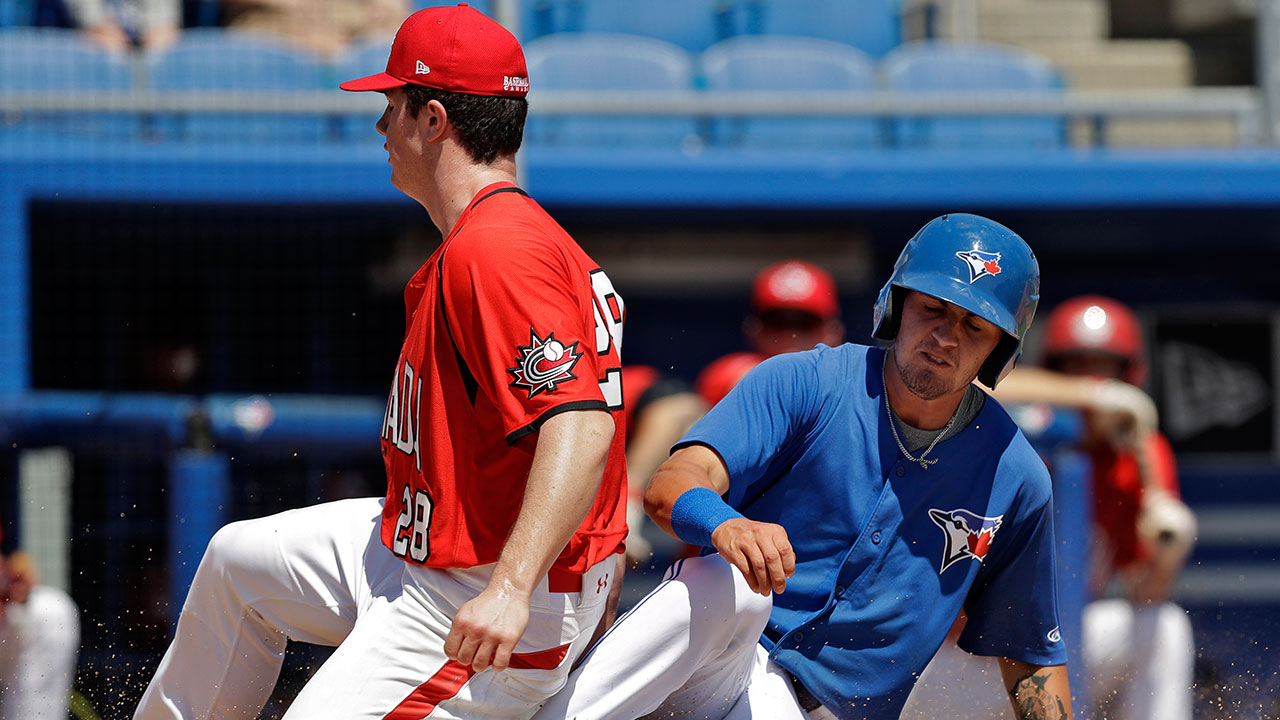 "We like to think of this as Canada's national baseball program against Canada's team," said Greg Hamilton, Baseball Canada's director of national teams and the junior squad manager. "It's very giving of the Blue Jays to allow us to do this. It's very impactful for Canadian young players. Whether they go on to make the major-leagues, play professionally, play collegiately, to have experienced this, it draws our organization and the Blue Jays even closer together. There are a lot of neat things that happen when you put high-school kids with people they emulate, idolize, want to become, see on TV, especially in our marketplace, where there's one Canadian team."
Some nice symmetry in that regard came with right-fielder Demi Orimoloye of Orleans, Ont., becoming the fourth player to appear in the contest both as a member of the junior national team and the Blue Jays.
Before the game, he recalled facing R.A. Dickey in 2014, and playing alongside Mike Soroka, Josh Naylor and Gareth Morgan. "We kept it close for a while," he said smiling. The final score was 12-2, memories of the experience far outweighing the final result.
Diodati naturally gravitated to the Blue Jays as a kid and joked that, if he hadn't, his grandfather, a longtime fan, would have made sure he fell into line. Having him in the stands added to the excitement of the day for the 6-3, 212-pound slugger currently ranked first on the Canadian Baseball Network's projected draft list.
Brett Lawrie was Diodati's first favourite Blue Jays player because "he was high-energy, I'm a pretty high-energy guy, and he was Canadian as well, so that's kind of a bonus."
Like Lawrie ahead of the draft, his defensive position is uncertain, working both as a catcher and first baseman with the junior national team. He started out behind the plate but as he's shot past his 5-9 father in height, "maintaining my mobility and staying agile enough to play back there" is no longer a given.
Certainly his bat should profile at first base, whether he signs with a team that drafts him or ends up in college where he's committed to the University of Alabama. As he notes, "I'm a hit-first guy."
"Definitely a power hitter, I hit in the middle of the order, but I try not to be just a power guy, I try to be a good hitter as well," Diodati continued. "Something I was taught at a young age is that you don't have to be a home-run or a strikeout guy, you can still have power and have a good approach at the plate, work at-bats and have a good average. If you're strong the power will naturally come, so that's something I definitely try to do."
Drafted in 2017 by the Ontario Hockey League's North Bay Battalion, Diodati passed on the opportunity because of his passion for baseball. The decision was somewhat of a leap of faith in his ability since he wasn't a member of the junior national team program at that point, "but I knew I loved it more, I was willing to put more work into baseball, for sure, so I had to trust that, and with the advice of my parents, it was an easy decision."
Underlining his dedication is that three times a week he drives two hours each way to practice with the Great Lake Canadians in London, Ont., working with head coach Adam Stern on his hitting and Chris Robinson on his defence.
The entire package is why Hamilton describes Diodati as "your prototypical Canadian projectable power bat from the left side."
"He's got size to go with the strength, he can catch up to a 98 mile an hour fastball – this environment has allowed us and others to see that and him to identify that he can – and he recognizes spin off a left-handed breaking ball, two things that are pretty good if you're trying to project power."
The draft considerations are going to come for Diodati, a 4.0 GPA student who plans to enroll in a finance and legal studies program at Alabama. He's trying to heed Hamilton's advice to really live his current experience, understanding how fleeting it all could be.
"This isn't work for me, this isn't a chore," said Diodati. "This is as good as it gets."