TORONTO — The last time Matt Shoemaker went seven innings was one year, nine months, and 20 days ago — June 9, 2017. He was in Houston pitching for the Los Angeles Angels and he was absolutely dealing. A couple runs scored in the second, but then Shoemaker threw up zeros through the sixth, at one point retiring 13 in a row. That roll was snapped by a Marwin Gonzalez single, followed by an Alex Bregman home run that wrapped around the left field foul pole. But, as he does, Shoemaker came right back to get the next two batters and finish seven against the eventual World Series champions.
The next morning, when he woke up in his hotel room, something didn't feel right. Shoemaker's right forearm was sore. Not sore in the way a pitcher's arm often is after a 98-pitch outing. But sore in a way that it shouldn't be.
"It was different, you know?" Shoemaker says. "It wasn't that bad, but it was definitely bothering me. We thought it was going to be, like, a one-to-two week thing — max."
Livestream the Toronto Blue Jays on the most popular devices. Plus, get over 150 marquee MLB matchups, the Home Run Derby, All-Star Game and Postseason.
It ended up being a one-to-two year thing, as Shoemaker spent the majority of his 2017 and 2018 seasons battling forearm issues. He was initially diagnosed with interosseous nerve syndrome — an ailment just as tricky as it is to say — and underwent surgery to release the radial nerve in his forearm. That ended his 2017.
He returned to the mound in 2018, but so did the forearm soreness. It turned out nothing had been fixed at all. The real problem was a split in his pronator tendon — again, super frustrating — which, once identified, sent him back under the knife for a nerve decompression and to repair the tendon. That kept him out for five months.
He finally returned to pitching consistently last September. But he didn't look quite like himself over six short outings. That led the Angels to non-tender the 32-year-old in November, which gave the Blue Jays the opportunity to pick him up on a low-risk, high-upside deal worth $3.5-million (plus a series of innings pitched incentives) over one year.
Friday night, in a 6-0 win over the Detroit Tigers, Shoemaker made his Blue Jays debut. Earmarked for only 80-90 pitches, he retired the first 10 he faced, worked out of a few middle-inning jams, and, for the first time in a long time, got through seven.
Ben Nicholson-Smith is Sportsnet's baseball editor. Arden Zwelling is a senior writer. Together, they bring you the most in-depth Blue Jays podcast in the league, covering off all the latest news with opinion and analysis, as well as interviews with other insiders and team members.
"Looking back on the last couple years, it's super frustrating," he said. "We still don't even know what really happened with my forearm. Other than what we fixed, you know? But it's in the past. I got better from it. I feel great. And now I get to just go out there and play."
In the end, Shoemaker was barely touched, allowing only two hits and two walks, none of which came around to score. His only true trouble came in the fourth, when Nick Castellanos shot a first-pitch slider into left field, and Miguel Cabrera worked a seven-pitch walk. But just like he did after that Bregman home run in Houston nearly two years ago, Shoemaker settled in and got the two outs he needed.
A lead-off walk was stranded in the fifth, before a rare test came in the sixth, when Shoemaker found himself at the end of a rundown, slapping a tag on Castellanos who was held up between third and home. Blue Jays pitchers worked on that play during spring training, but it had still been years since Shoemaker had to execute one in a live game.
"It was nice to get that first run down out of the way," said Luke Maile, who caught Shoemaker and took the first throw on the play. "We executed it properly, got the out — glad that one's under our belt. That was awesome."
Maile caught Shoemaker plenty during spring training, so Friday's pre-game meeting was a brief one. The pair discussed how Detroit's hitters had looked the night before, some weaknesses they wanted to exploit, and what the signs would be with a runner on second base. And, of course, how they wanted to use Shoemaker's splitter.
It's a pitch Shoemaker began relying heavily on in 2016 when he pitched to a 3.88 ERA over 160 innings for the Angels. FanGraphs measured it as the second-best splitter in baseball that season, not far behind Masahiro Tanaka, who throws one of the best splits on the planet. And Friday you could see why.
Shoemaker generated eight of his 15 swinging strikes with splitters, and five foul balls. It earned a strike 71 per cent of the time he threw it, and the only two times it was put in play, the pitch resulted in an out. Few of the splitters he threw ended up in the zone, yet Tigers batters couldn't help but offer at it.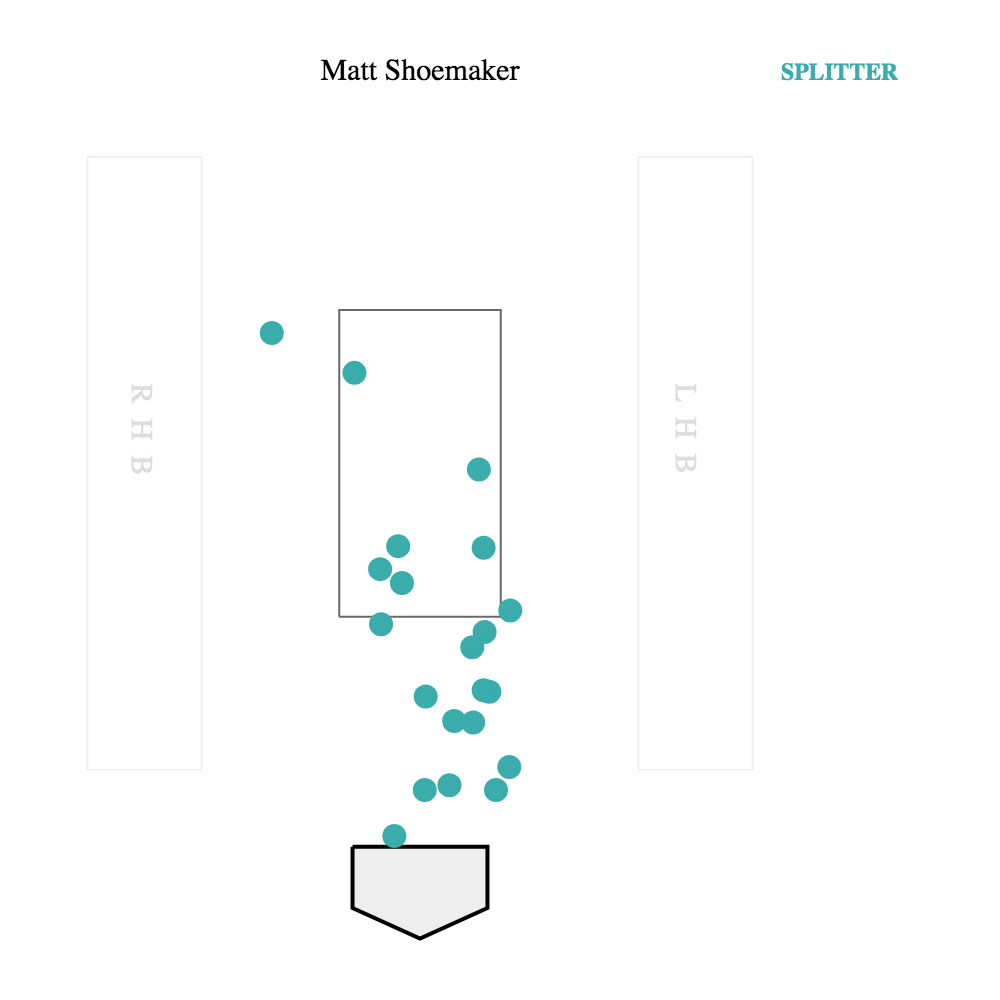 "He throws the absolute hell out of it. He sells it really well. It looks like his fastball coming out," Maile said. "It's got enough lack of spin to where it tumbles, and it's got enough spin to where it still looks like a fastball. So, when he's able to just get that thing started over the middle of the plate, it's tough for those guys to lay off of it."
Shoemaker's been developing his split since he was 14, and will throw it with a variety of different grips depending on the type of action he's looking for. Sometimes, he'll grip the middle of the ball right in between his index and middle finger. At others, he'll grip the ball up a bit higher. His mechanics are everything. Shoemaker feels like when he's releasing the pitch from the perfect point, he can make it do whatever he wants.
"Yeah, he's got a good feel for it. He knows when he needs to elevate it just a little bit, just to make sure that he gets the strike call if they decide to take it," Maile said. "But today the story of his outing was just being able to expand that pitch and use his slider and everything else when he needed to. It was a difference between throwing an 0-1 off-speed pitch and an 0-2 off-speed pitch. And he had good feel for both of those."
This is what Shoemaker will do. He'll mix and match with four-seamers, two-seamers, splitters, and sliders. He'll change speeds, work up and down, in and out. He'll take the hill every five days and try to get his once-solid career back on track.
It's what he's been trying to do since that morning in Houston nearly two years ago, when he woke up after his last seven-inning outing with a soreness that wouldn't go away. He hopes Friday's seven innings are the start of something much better.
"Emotionally, it chokes you up a little bit," he said. "You battle for a year and a half trying to get back. And you feel great, ready to go, and come out with a great, exciting team, and go out there and just pitch, compete, have fun. And win."