TORONTO — J.A. Happ's been a bit down on himself the last few days. The Toronto Blue Jays starter has suffered back-to-back rough outings, including Saturday's loss to the New York Yankees, in which he lasted only 2.2 innings, allowing six runs on four hits and a half-dozen walks. It was his shortest outing in more than two years, and the most walks he's issued in a start since 2013.
Happ's not a belligerent guy. He won't throw things in the dugout or scream into his glove. But he does take his results on the mound extremely personally, particularly when he feels like he's let his team down. So, in the wake of those two outings, Happ was a little more appreciative of the cheerful moment he got to share with his teammates in the Blue Jays clubhouse Sunday afternoon.
His manager, John Gibbons, called a team meeting. With a smile, Gibbons announced to the room that Happ will be going to his first all-star game next week in Washington, D.C.
"That was nice," Happ said. "It matters a great deal to me. It lessens the sting of [Saturday] a little bit. I have gotten better about handling tough outings. But the last couple have hurt. So, this is nice. It helps me turn the page and look forward to my next outing and then the all-star game."
Gibbons was just as pleased to get to deliver the news to one of his most dependable veterans in front of the entire team.
"It couldn't happen to a better guy," Gibbons said. "He's had a couple tough starts, he's a little bit frustrated with that, and disappointed with that. But that had to make him feel good today. And he's earned that. He hasn't had anything given to him. I think he'll be a great representation of the organization.
"He's the ultimate professional. He represents us really well. He's a very good pitcher in this league, in a tough division. He's the kind of guy you root for, you know? You root for them all, but there's something special about him."
Every MLB team must be represented by at least one player at the all-star game, and Happ was the obvious choice among his teammates. The Blue Jays haven't received an exceptional offensive campaign from anyone on the roster, and the pitching staff has collectively suffered through a challenging year marked by injury and underperformance.
But Happ is the lone exception. He's made all of his starts and pitched to a 3.62 ERA through the end of June, posting a 9.8 K/9 and holding opposition hitters to a .211/.271/.356 line. The two rough outings he's suffered in July have hurt those numbers, but he's still been far and away Toronto's best starter. The Blue Jays — currently 41-48 on the season — are 11-7 in games Happ starts.
"I certainly wish, as a whole, that the season was going a different way. But I feel good for the most part about being a guy who can be depended on," Happ said. "I say that a lot, but I mean it. It means a lot to me. It's just really special to be recognized in that way with this honour."
Happ's first all-star nod comes 12 seasons into a winding career that has taken him to five different MLB franchises, including two stints with the Blue Jays. Gibbons has been around for both.
"He's kind of a late bloomer in this game, and he's just gotten better and better," Gibbons said. "It's not easy to be a starting pitcher in the big leagues and then make an all-star team."
During his first stretch with Toronto — Happ was acquired in a 2012 mid-season trade with Houston, and then shipped to Seattle after the 2014 season — Happ was a completely different pitcher. His ERA was consistently over 4.00 during that span, his BB/9 was much too high, and he was bounced between the rotation and the bullpen at times as the Blue Jays tried to find the right fit for him.
But a 2015 trade from Seattle to Pittsburgh proved to be a turning point in Happ's career. At the age of 32, Happ discovered something on the mound and went on to post a 1.85 ERA over 11 starts for Pittsburgh after the trade. He used that strong run as a platform to earn a three-year, $36-million contract from the Blue Jays the ensuing offseason.
Increased fastball usage and better tempo on the mound were two of the primary factors behind Happ's breakout. He also found some more zip on his heater, slightly increasing his average fastball velocity from where it was earlier in his career.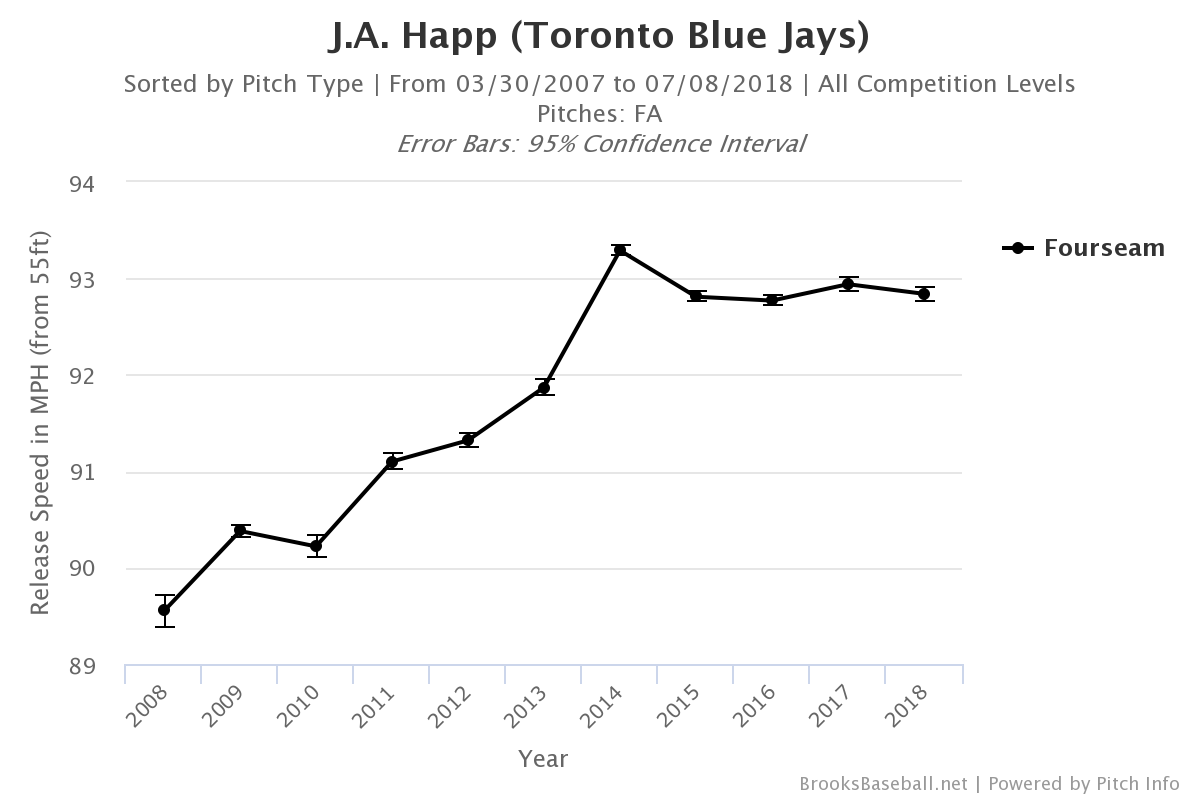 "I feel like I've been a lot more consistent and probably more confident. I think those things go hand in hand," Happ said of his improvements. "The hardest thing about the big leagues is being consistent. Because everybody has the talent and the ability up here. It's about doing it for the long haul and doing it consistently. That's kind of how you separate yourself. And I've been proud to do that, for the most part."
The contract the Blue Jays signed Happ to was questioned at the time, but with the benefit of hindsight it appears to be a terrific deal for both sides. From the team's perspective, Happ has provided terrific value for the money he's been paid. Happ has been worth 7.8 fWAR over the first two seasons-and-a-half of the deal, pitching to a 3.59 ERA over 445.2 innings.
Happ, meanwhile, has made more money over these three seasons than he did in his entire career prior. He's also enjoyed a level of professional security he hadn't had before, and he got to go to the post-season with the Blue Jays in 2016.
"My wife and I were talking about that not too long ago — just how good a decision it turned out to be to sign here and to sign early when I did," Happ said. "This is a special place that will always be for my family and I. It's one of those things that you never know how it's going to work out. But we talk about how glad we were to make that decision to sign and to come back to Toronto."
Ben Nicholson-Smith is Sportsnet's baseball editor. Arden Zwelling is a senior writer. Together, they bring you the most in-depth Blue Jays podcast in the league, covering off all the latest news with opinion and analysis, as well as interviews with other insiders and team members.
Now, the awkward part about all of this is that Happ likely won't be a Blue Jay come August. Toronto is well out of the American League post-season picture, and with Happ pitching well on the final year of his deal, he's an obvious candidate to be traded ahead of the July 31 non-waiver deadline. Prior to the pair of rough outings Happ's experienced this month, he looked like the best starting pitcher available on the trade market.
And that may still be true, particularly if Happ can bounce back from this challenging spell. He's been steadily linked to the New York Yankees, who have a clear need for a dependable starter and plenty of upper-minors talent to offer in return. But there are expected to be as many as 10 teams in the market for starting pitching this month, which puts the Blue Jays in a strong position with one of the most alluring rotation pieces available at the deadline.
But that's a discussion for another day. All Happ wants to focus on now is pitching well his next time out, and then enjoying his first mid-summer classic.
"Really, there's no other way to describe it than it's a dream come true," Happ said. "I just want to try to take it in as best I can. I think it's going to be fun to sit on the field, watch the home run derby, and then just be a part of the game. If I get a chance to pitch, great. And if I don't, just to be a part of that game and see the best players on the planet play — that's pretty cool."