ATLANTA – Marcus Stroman's success on the mound always revolves around his sinker, and when it's good he's going to be good. What's interesting parsing through his 11 starts so far this season is the many different ways in which he's complemented his bread-and-butter offering.
The right-hander took a different approach during Tuesday night's seven-inning, one-run gem in a 6-2 Toronto Blue Jays victory over the Atlanta Braves, paring down his repertoire to essentially three pitches: sinker, cutter and slider.
Variance in pitch usage isn't necessarily unusual, especially for someone with as many different options as Stroman, but the cutter is a pitch he had shelved in recent seasons, reintroduced in May against the Minnesota Twins, and run hot and cold with since.
Against the Braves, he used it to get three groundball outs, a strikeout and three swinging strikes, while his slider, a pitch he'd shunned for his curveball in his past two starts, generated three groundouts and a K, along with one whiff.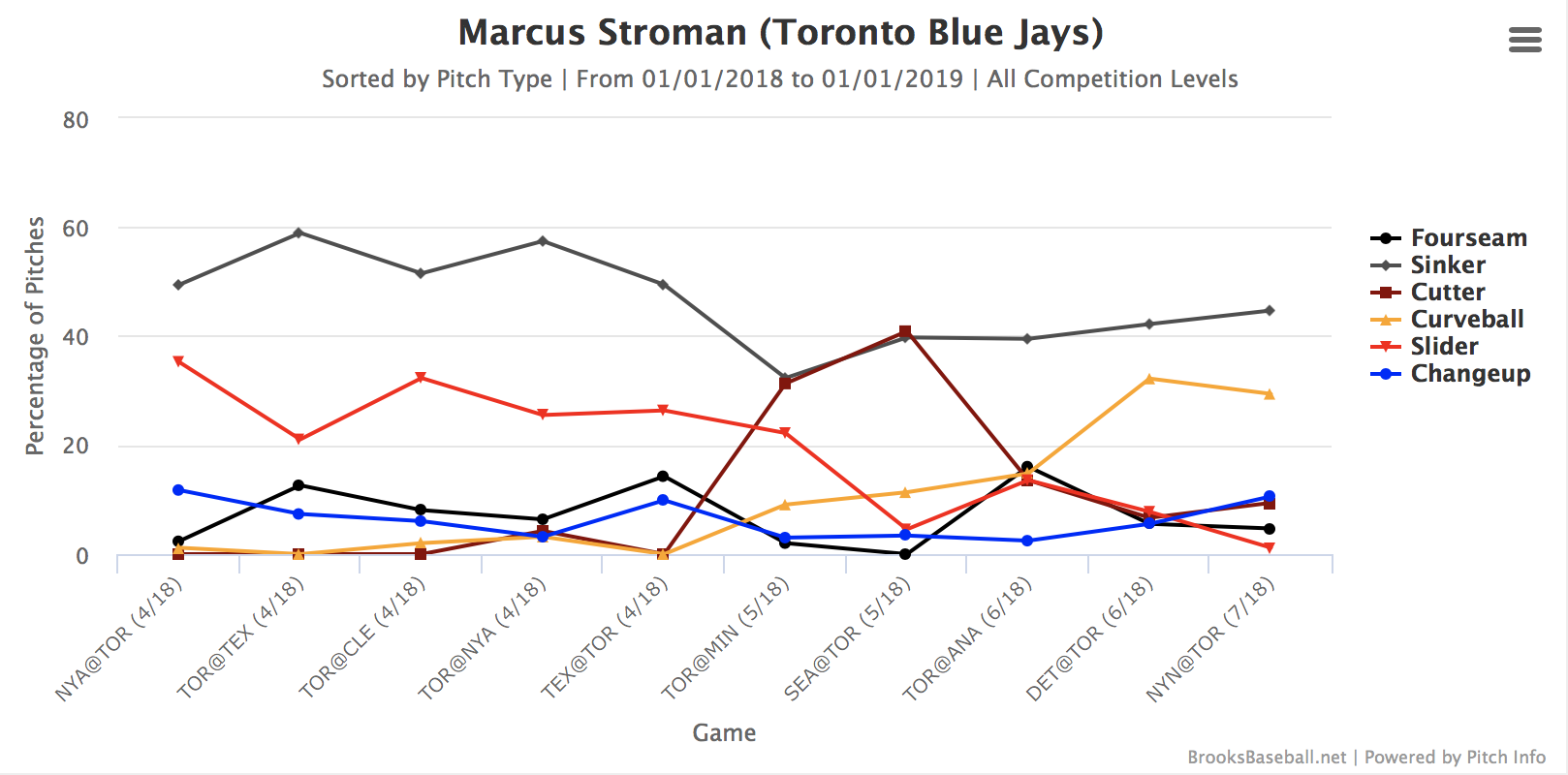 "Honestly, it's day to day," Stroman said of choosing his pitch mix. "I feel like I spin the ball pretty well, but on any given day I might go the slider, the curveball, the cutter more, just depending on what feels great. It's hard to have all three of those working all together. I'm usually using two of them and then I might mix in a third, but the cutter felt great today.
"When I'm pairing the cutter and sinker it makes it pretty hard on hitters as far as when I'm throwing that pitch in, it gives me a lot more room to miss with my sinker in or away."
The cutter certainly played perfectly off a sinker that he threw 40 times in 93 pitches per Baseball Savant and was money – seven groundball outs, four strikeouts, five swings and misses and 13 called strikes.
Stroman also mixed in eight four-seamers and a single changeup (turned into a single by Ozzie Albies for Atlanta's first hit of the night in the fourth) with his 23 cutters and 21 sliders, allowing six hits and two walks with five strikeouts in one of his strongest outings of the season.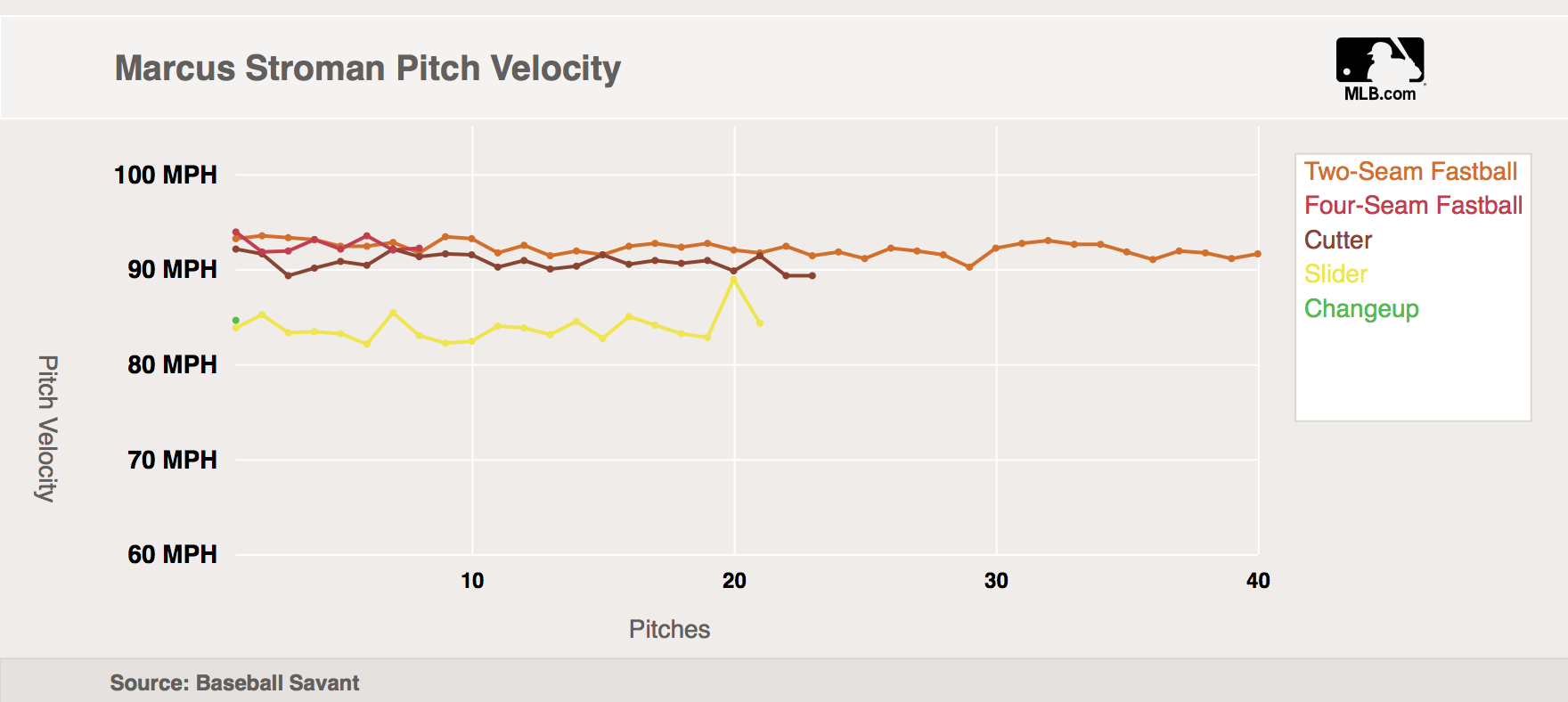 "Today right away he was like, 'I have a good feel for the cutter,' and that was enough for me to start calling it," said catcher Russell Martin. "Against an aggressive hitting team, and a lot of good low-ball hitters on the other side, too, the sinker alone doesn't play nicely. I feel like you have to combine it with something and the cutter was that combination for us. Up and in with the cutter and then sinker down and away it's tough to cover when you're hitting."
The performance was as different in repertoire as in results from his last time out, when Stroman was mainly sinker/curveball while allowing six runs on six hits in 4.2 innings against the New York Mets.
Stroman was also fighting through a stomach bug in that start, which may have explained why he hit a wall in the fifth inning that night. Against the Braves he remained strong and efficient through a muggy 32-C haze that made standing a sweat-inducing activity, with his various delivery disruptions adding another layer to the challenge facing his opponents.
"He'll quick step, he'll quick pitch you, he'll hold the ball, and when guys have leg kicks, they're double or triple tapping to get their timing," said Martin. "It's never a comfortable at bat. Just going in the box knowing you have to honour that he might quick-pitch you already sets you in a spot where you don't feel as comfortable."
For good measure, Stroman also collected on the Blue Jays' three hits off Julio Teheran, who allowed just one run on a Justin Smoak homer in the third, through his 6.2 frames.
Still, it was 1-1 through seven until a Dansby Swanson error on a Yangervis Solarte grounder in the eighth opened the floodgates to a five-run outburst.
Russell Martin's RBI single brought pinch-runner Lourdes Gurriel Jr., home with the go-ahead run, Kevin Pillar knocked in another by poking the ball through the right side, Aledmys Diaz rocked a two-run double and Devon Travis' ground-rule capped the uprising.
"Some good clutch hitting," praised manager John Gibbons.
Such run support has been extremely rare this season for Stroman, who hadn't enjoyed more than four runs behind him since an 8-4 win at Cleveland on April 13. He was pretty much all sinker/slider in grinding through five innings that night, yet to unleash his first cutter of the year.
"It feels great, it's just matter of throwing it," said Stroman. "The more I throw it the better it gets and when I start to hit on it, that's a safe pitch for me. I feel like when I throw that in to a lefty, I feel that's either going to be weak contact or pulled foul for a strike."
Versus the Braves, the cutter was all that and plenty more.