DUNEDIN, Fla. – Did you see what Marcus Stroman posted on social media the other day? No, not the tweet about his arbitration hearing with the Toronto Blue Jays. The Instagram post where he outlined plans to mess with hitters' timing more than ever in 2018.
"Zero fear," Stroman wrote. "Shimmies, delivery hesitations and different arm slots."
Shimmies and hesitations we've seen before. But different arm slots? That will be new even for Stroman. He has started throwing sidearm in early spring workouts, and expects the new delivery will help him keep hitters off-balance.
"Obviously I'm not going pure submariner," said Stroman Wednesday morning, a few hours before a panel of arbitrators ruled in the team's favour. "I would never do that. I'm a sinkerballer, I'm going to stick to my strengths."
Arbitration dispute just a "blip" in the Blue Jays' relationship with Marcus Stroman
February 15 2018
There will be times, though, that Stroman drops down. He already feels that he can throw a sidearm strike at any time. The early returns are encouraging for the 26-year-old. "It's nasty," he said.
All of which leads to another set of questions: How did Stroman start throwing sidearm? Who inspired him to drop down in games? And how often will he realistically use this new offering?
An infielder in college, Stroman's always been comfortable throwing from different angles. In batting practice, he takes grounders on the infield regularly. While warming up before starts he attempts to mix up his arm slot, too.
"I literally try to hit every arm angle when I'm playing catch," he said. "It's just something I got really comfortable with … you have your natural arm slot, but I'm (also) very comfortable throwing in all the other slots."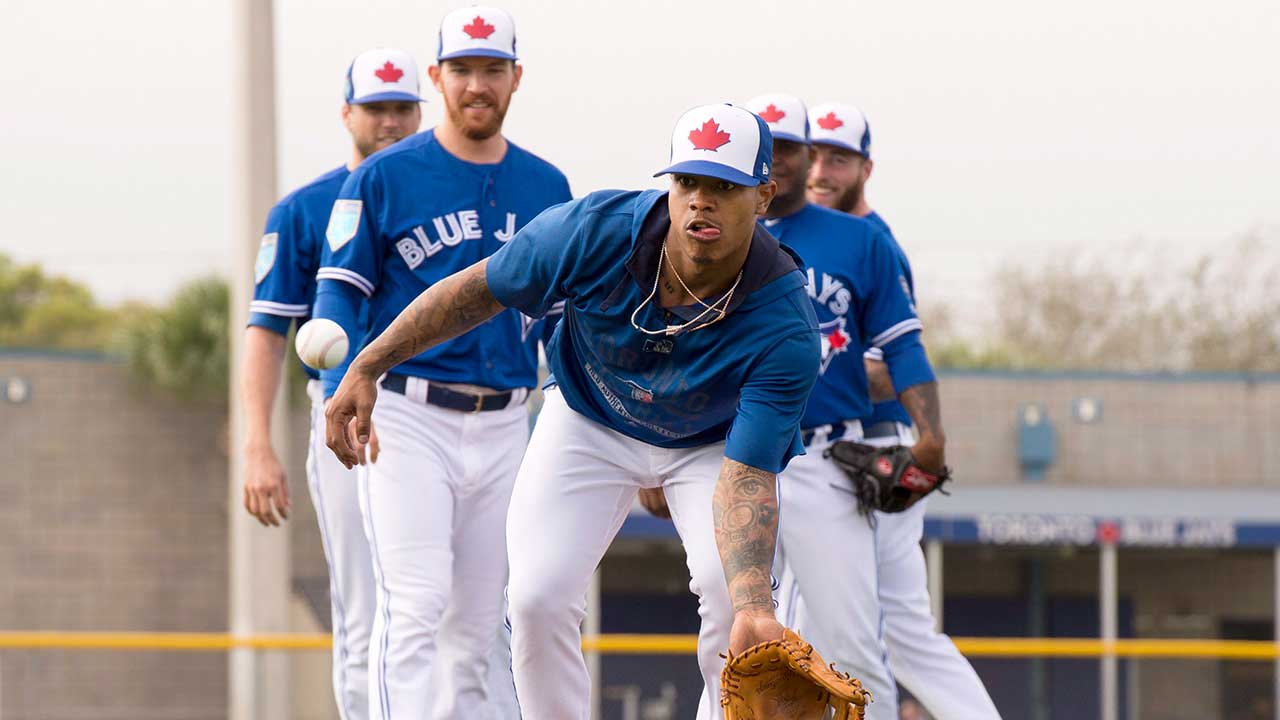 The 2017 Blue Jays featured a couple of right-handed pitchers who dropped down regularly. Reliever Joe Smith has made a career of throwing from a low arm slot, while spot starter Cesar Valdez would drop down selectively and keep hitters guessing. Intrigued, Stroman took note of his teammates.
By then, he was already mixing in hesitation pitches, shimmies and quick pitches routinely. Some hitters, like Tim Anderson of the White Sox took issue with Stroman's timing. Others begrudgingly acknowledged that these disruptions work.
"I was joking with Stroman recently," said Curtis Granderson, "And I was like 'you know what, if you start doing that stuff, what if I start doing a bunch of stuff? Do you think they'd let me do it?' It's just a crazy part of the game.
"Pitchers have a lot of freedom and flexibility," Granderson continued. "Things don't start until they get the ball and they're ready to roll, so (there's no chance for payback) unless I start stepping out of the batter's box, move up in the batter's box, jump at him."
Until this year, Stroman had largely worked to disrupt hitters' timing. Now he's looking to increase deception, with sidearm pitches that will have similar action from a different arm slot. He throws a two-seam fastball and a four-seam fastball sidearm, and he's working on a sidearm slider, too. Gradually, his command has improved from the lower arm slot.
"It's a weapon," he said. "Why not use another weapon if you have it?"
To Stroman, this is primarily a way to get a called strike or an early swing. To Granderson, the combination of gamesmanship and entertainment value calls to mind baseball history.
"You hear all the stories of all the Negro League greats doing crazy stuff like that — the funky windups," Granderson said. "All of those different things were not only to disrupt the rhythm of the hitter, but to add to that entertainment side of the game."
If Stroman's sinker and slider are working well, he might not drop down much at all. There could be games where he barely uses his new arm slot. On other days, it'll feature prominently.
"I probably won't even use it more than two to three times an inning at any point," Stroman said. "But maybe there's a game where I throw it six to seven times, maybe there's a game where I throw it once, maybe there's a game where I throw it 10 times."
Ben Nicholson-Smith is Sportsnet's baseball editor. Arden Zwelling is a senior writer. Together, they bring you the most in-depth Blue Jays podcast in the league, covering off all the latest news with opinion and analysis, as well as interviews with other insiders and team members.
Once Stroman raises his left leg, he can finish with any of his deliveries — by hesitating, pumping his leg twice or delivering sidearm. He attributes this ability to the core and lower-body strength that he generates from an unconventional training program that balances lifting, flexibility and core work.
For example, he throws left-handed for the same reason that former teammate Jose Bautista would occasionally hit left-handed: by practicing on their non-dominant sides, they can balance out their bodies.
"As athletes, as pitchers, we become extremely one-side dominant," Stroman said. "I don't believe in that."
If he throws 90 pitches in a game, he'll complete the same number of pitches left-handed afterwards. Sometimes he'll hold the ball, other times he'll release it. Gradually, he's improving.
"I'm starting to get pretty good, lefty," Stroman said. "Not velocity, but I'm starting to get accurate."
Accurate enough that he could eventually lobby the Blue Jays for some left-handed appearances between starts?
"Maybe, hey! That'd be awesome. I'd come back on my two days' rest."