The Toronto Blue Jays fell to the Baltimore Orioles Wednesday night, 2-1. There wasn't much in it. Five Orioles pitches pieced together a four-hitter, with Billy McKinney's eighth-inning solo shot — a 409-foot blast — winding up as Toronto's only extra-base hit.
Lourdes Gurriel Jr. had a couple of singles, Justin Smoak walked twice, and Teoscar Hernandez made a real, honest-to-goodness impressive play on a challenging fly ball to the wall in right in the fifth inning. Otherwise, this was about as September-ey as September baseball gets between two non-contending teams playing out of little but obligation.
But we still found some takeaways. And we might as well start with one of the more underappreciated figures of recent Blue Jays history — Marco Estrada.
Estrada shines as he nears the end of the line in Toronto
With obvious consideration given to the quality of competition, Estrada was rather strong over his six innings Wednesday night. His lone run allowed came on a Camden Yards special solo shot off the bat of Orioles designated hitter DJ Stewart. The homer travelled only 364 feet and carried a hit probability of just 25 per cent, but thanks to its collision with the right-field foul pole it counts the same as McKinney's no-doubter to centre.
Otherwise, Estrada allowed only four baserunners on three singles and a walk. Living in the zone while relying almost exclusively on his fastball and change-up, Estrada ran up 12 swinging strikes and nullified hard contact. The Orioles put only one ball in play against Estrada at over 100 m.p.h.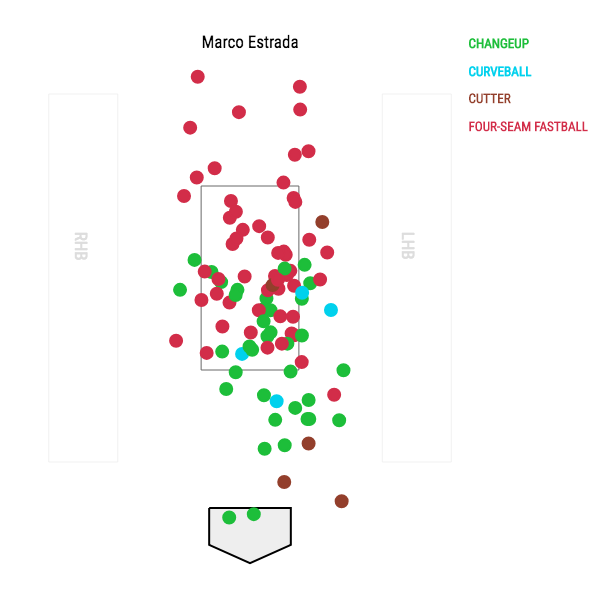 Still, considering Estrada's 5.57 ERA over 139 innings pitched this season — not to mention recent market trends that have moved dramatically away from committing money to veteran starters — the 35-year-old pending free agent may be hard pressed to find anything more than a minor-league deal in free agency this winter.
That's too bad — Estrada is only a couple years removed from a stellar two-season run for the Blue Jays in 2015 and '16, in which he posted a 3.88 ERA over 346.1 regular-season innings (the 21st-best mark in baseball), earned an all-star nod, and pitched some of the best outings in Blue Jays post-season history.
Estrada made six starts across Toronto's back-to-back ALCS runs, pitching to a 2.16 ERA over 41.2 innings. He dominated the Texas Rangers in the series-turning Game 3 of the 2015 ALDS; he shoved against the Kansas City Royals in the must-win game 5 of the 2015 ALCS; he went eight strong innings in Game 1s of both the 2016 ALDS rematch with Texas and ALCS versus Cleveland.
Estrada will likely make his final start at Rogers Centre in a Blue Jays uniform next week during Toronto's final home series with the Houston Astros. Here's hoping those in attendance give him a proper send-off.
Another night on the bench for Martin
You've appeared in as many MLB games over the last two weeks as Russell Martin. The Blue Jays catcher has played only twice this month and hasn't seen an inning of work since Sept. 3.
Blue Jays manager John Gibbons told reporters at the beginning of the month that Martin's playing time would be reduced going forward with Danny Jansen and Reese McGuire both called up from the minors. But no one expected him to lose his role entirely.
It's worth noting Martin spent three days during this run of inactivity on the paternity list. But Tuesday still marked the 12th consecutive game he's been eligible to play in and has not. You have to go all the way back to Aug. 15 to find the last time he played in back-to-back games. In the five weeks since, he's played only 10 times.
At this point, it might be a surprise to see Martin play again this season. The Blue Jays are clearly prioritizing experience for their young catchers when it comes to doling out playing time, and it would arguably be unfair to ask Martin to come off such a long stint on the bench and try to hit major-league pitching.
The most petulant of Blue Jays fans will tell you Martin was already having trouble in that regard. And, yes, if you consider only batting average in your evaluation — Martin's hitting .194 — it's easy to come to that conclusion. Fortunately, it's 2018, and we have far more useful tools at our disposal, such as on-base percentage and weighted runs created, which paint a much rosier picture of Martin's offensive abilities.
This season, a league-average MLB catcher has a .305 OBP and 84 wRC+. That puts Martin's numbers — .338 OBP and 92 wRC+ — well above average. Plus, pitch framing statistics — such as the ones available at Baseball Reference, Baseball Prospectus, and StatCorner — rate Martin as a top-15 catcher in baseball when it comes to turning balls into strikes. And despite playing only 90 games to this point, Martin has still posted 1.3 bWAR, 18th among MLB catchers.
This is to say nothing of the leadership and experience intangibles, that only a player like Martin with 13 seasons in the majors — and nine trips to the playoffs — can provide. It's unquestionable that Martin is still a valuable major-leaguer, both when crouching behind the plate and standing beside it.
But he clearly isn't a good fit for the Blue Jays going forward. Toronto isn't expected to be competitive next year, which will be the final season of the five-year, $82-million contract Martin signed with the Blue Jays in November, 2014. The Blue Jays need to use that season to continue the development of young catchers like Jansen and McGuire at the major-league level. Plus, at 36, Martin is into the twilight of his career and would no doubt prefer to spend his final years playing for a contender. Or at least with a team that can afford him more playing time.
That's why it won't be surprising to see the Blue Jays explore the trade market for Martin this winter. Whether or not the team can move him — and what kind of return can be leveraged — will be almost entirely dependent on how much of Martin's $20-million 2019 salary the Blue Jays are willing to pay down. At least half the salary would likely be a starting point, and Toronto would probably have to go much further if it wants to acquire anything more than salary relief.
Of course, bringing Martin back to play a part-time role on a young team wouldn't be the worst outcome, either. The Blue Jays could merely kick the decision down the road to next season's trade deadline and explore its options then. But, if there's a market, a trade this winter makes sense for both Martin and the resetting Blue Jays.
And what of Pompey?
With Anthony Alford recalled Monday, the Blue Jays are now packing a whopping 39 players into their clubhouse. That leaves exactly one member of the 40-man roster not currently in uniform: Dalton Pompey.
After a miserable 2017 season, it was clear the 25-year-old would benefit from a change of scenery. And things certainly haven't improved in the year since. Pompey's been limited due to injuries, surpassed on the depth chart by several outfielders, suspended without pay following an incident with Bisons manager Bobby Meacham, and left on the outside looking in as the lone member of the club's 40-man roster denied a September call-up.
All those signals point to the Blue Jays and Pompey parting ways sometime in the coming months. He'll be out of minor-league options next spring, it's clear he's not part of Toronto's future major-league plans, and the club will be in need of 40-man roster spots this winter in order to protect young players from the Rule 5 draft.
If there is a team willing to surrender something of value for Pompey, the Blue Jays ought to make that exchange. Or maybe he'll be part of a multi-player package that brings back a single player and helps the Blue Jays create 40-man roster space. If a trade doesn't happen, it's hard to imagine Pompey not being designated for assignment between now and Opening Day 2019.
It's too bad because Pompey is uncommonly talented and was developmentally mismanaged by the club that drafted him eight years ago. The Blue Jays rushed him to the majors as a 21-year-old in 2014, bringing him to baseball's highest level of competition after playing only 43 games above high-A.
He hit just .231/.302/.436 in that brief late-season debut, but was still asked to be Toronto's every day centre-fielder in 2015, an experiment that lasted only a month before he wound up back in the minors. That was the last time Pompey saw extended run at the major-league level.
While injuries have played a substantial role in his struggles over the three years since, it's hard not to wonder what could have been if his development path was charted more thoughtfully. Wherever Pompey plays his baseball in 2019, here's hoping he can stay healthy and finally fulfill his considerable potential.
[relatedlinks]