On Monday, Toronto Blue Jays general manager Alex Anthopoulos appeared on Prime Time Sports with Bob McCown and Arash Madani to discuss his team as spring training opens.
Anthopoulous divulged on a number of topics, including the Dioner Navarro situation. Here are some of the highlights.
---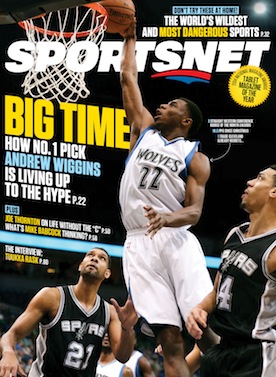 ATTENTION Rogers and Shaw customers. Already enjoying Sportsnet ONE? Now get access to digital editions of Sportsnet magazine at no extra cost.
---
Anthopoulos was looking to move Navarro before
"This was not about a change at the position [catcher], it was about a rare opportunity to get a guy like [Russell] Martin and something we needed to jump on.
Before he even had a chance we were going to look to move him and find him a new home and get him everyday at-bats but it didn't materialize. It may happen at the end of spring training, it may happen during the year and he realizes that."
Josh Thole will be affected by what happens with Navarro
"With Navarro and Martin on the team there's a scenario that we go with all three of [our catchers], but that's not ideal – we'd prefer to go with two.
If Navarro gets traded, Thole's there. If Navarro's still here and Martin can catch R.A. [Dickey's knuckleball] then, realistically, Thole's probably going to get squeezed out at that point."
Aaron Sanchez is definitely not a lock for the bullpen
"The big wild card here is going to be what happens with the fifth starter spot.
Everyone's assuming Sanchez will end up in the bullpen and it may end up that way, but if he looks that good in spring training as a starter and we think he could be an impact starter for us — and we want to have the strongest club — then he'll have a chance."
If he does go to the bullpen, Sanchez will be fine
"I think there's tremendous value — if you can — to break guys into the bullpen. It's a great experience for those guys — it's a good way to break in. So if Aaron Sanchez spends a year in the bullpen at 22-years-old I don't think it'll be an issue for his long-term development."
High praise for Dalton Pompey
"He's an intelligent player and he's got speed but we've seen plenty of guys who can run fast but don't have the instincts to steal a base. He's got the instincts to steal a base, and he's intelligent, and he knows what to look for and to study and things like that.
The most important thing is, he'll give you a great at-bat."