TORONTO — At around 3:00 p.m. on Tuesday afternoon, Toronto Blue Jays assistant hitting coach Eric Owens walked a black-and-grey pitching machine out to the mound at Rogers Centre. He wheeled out a basket of balls, too, and started pumping them into the machine one by one, checking the velocity and path they took towards home plate. He made adjustments to the machine's settings as he went along until he got it just right.
He wanted curveballs; nothing but curveballs. It's no secret that the Blue Jays have been taking strike three much more than they'd like to begin the season. After Tuesday night's game they were striking out in 27.8 per cent of their plate appearances, the second-most in baseball. Of course, it's early—and a week's worth of games doesn't at all suggest a trend. But nobody wants to strike out that much.
---
LISTEN: Talking Tulowitzki on At the Letters
---
So, a healthy group of Blue Jays—Michael Saunders, Darwin Barney, Josh Donaldson, Ryan Goins, Justin Smoak, Kevin Pillar, Russell Martin, and Troy Tulowitzki—took the turf Tuesday afternoon to try to hit every curveball they could.
"The curveball exposes a lot when it comes to whether you're swinging the bat well or not," Tulowitzki says. "So it's a good way to work on your swing, adjust some little things. Every guy's a little bit different. But it's good to get the reps."
Tulowitzki in particular has been struggling to find his way at the plate in the season's early days, going 3-for-28 in his first eight games, with 12 strikeouts, four walks and a sacrifice fly. What particularly sticks out when you look at his numbers is his contact rate, which sits at 68.9 per cent for 2016, well off his career rate of 84.1. Then there's his swinging strike rate, which is up to 12 per cent from his career average of 6.9.
While he's seeing the same amount of pitches in the strike zone as he has throughout his career, and actually swinging at fewer balls than he normally does, Tulowitzki simply hasn't been making the contact he needs to on strikes.
Again, it's early. He's played just eight games. Tulowitzki's next eight could be off-the-charts good, which would reverse his numbers completely and still leave him at a point in the season where it's way too early to read too much into those very numbers.
But after that early hitting session Tuesday, the five-time all-star conceded that his timing has been off in the early going and that he's working to make sure his brief slump is just that and nothing more.
"I can always get better. I can always have a bit better results," Tulowitzki says. "You know, you hit into some tough outs when you're not quite yourself in the early going, and then you're looking up at an ugly number on the scoreboard. But when you've been playing the game for a while, you know it's just a week of baseball and we have so many games left."
On the field, Tulowitzki's appeared more and more frustrated with himself after each strike out. But off of it, he's been hard at work trying to turn things around. Extra hours in the video room, additional swings in the cages after games, early work with Owens and the pitching machine—whatever steps he can take to find his way out of it.
"If you look at our strikeout numbers as a team, they're a little high. Myself included. And, yeah, we'd like to cut down on those," Tulowitzki says. "But you just keep on grinding. It's a long season."
One noticeable change Tulowitzki's made to his approach at the plate since the beginning of the season is dropping the leg kick he added to his swing during spring training, and reverting back to the toe tap he'd used throughout his career.
"For right now, my comfort level is just better with what I've been doing for a long time," Tulowitzki says. "I'm just trying to find that comfort level. And right now my toe tap feels more comfortable."
Tulowitzki says he doesn't remember the particulars of the decision to change what he does with his feet, only that there was a moment when he felt like he wasn't applying the leg kick the way he needed to.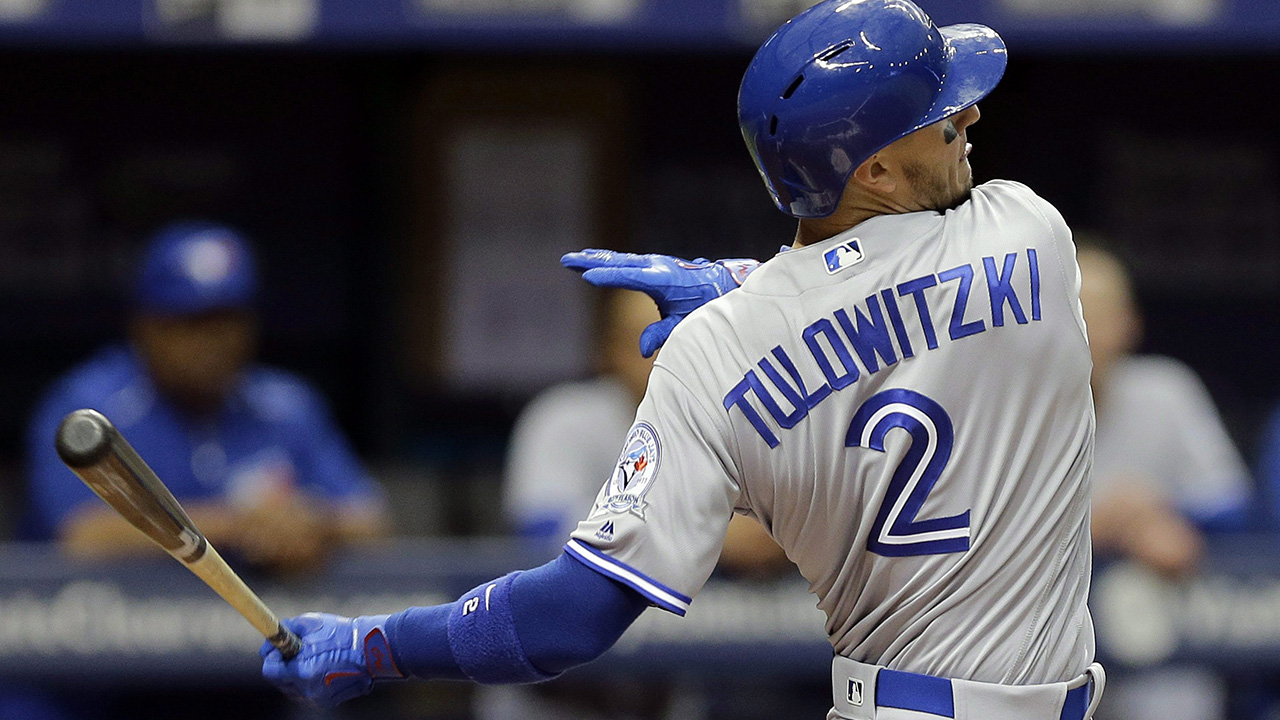 Troy Tulowitzki swings and misses during the Blue Jays' season-opening series in Tampa Bay. (Chris O'Meara/AP)
It appears the moment came in just the second game of the Blue Jays season against Tampa Bay. In his first at-bat that night against Rays right-hander Drew Smyly, Tulowitzki ground into a force out at third base with an awkward, late swing that began with a leg kick. In his very next at-bat, Tulowitzki was using a toe tap, which paid immediate dividends with a sacrifice fly to centre field.
Tulowitzki had good success with the leg kick during spring training (he hit four home runs in 45 plate appearances) but, of course, he's had greater success with the toe tap over his first 10 years in the league. Either way, Tulowitzki says the results don't matter, and that he's simply trying to do what comes naturally to him.
"It had nothing to do with having success or not. It was just a comfort level up there," Tulowitzki says. "The regular season starts and you're going to do what you feel most comfortable doing. And for me it was the toe tap."
Of course, the Blue Jays shortstop has just two hits since he switched back to the toe tap that day in Tampa. Ask Tulowitzki and he'll tell you he feels the biggest reasons for his slow start have been a combination of called strikes that didn't go his way and tough batted ball luck.
"There's been some tough calls. It changes the at-bat. All the time you're down 0-1 or 0-2 and you can't get that count leverage that you want," Tulowitzki says. "But it just goes like that some weeks. And then there's some weeks when you should've struck out a couple times but they left you in an at-bat and you ended up getting a hit or an RBI or something."
So, about that. According to PitchFX data kept by Brooks Baseball, Tulowitzki's strike zone has actually been mostly fair this season. He's received just two bad strike calls, both during the Blue Jays' opening series against Tampa Bay.
The first came in that at-bat against Smyly when Tulowitzki reverted to his toe tap. A called strike that should have been a ball took him into an 0-1 count, before he hit a sacrifice fly on the very next pitch. Then, the next day, a bad strike call gave Tulowitzki a 1-2 count against Jake Odorizzi, who would eventually strike him out.
But that's it. Two pitches out of the 158 he's faced this season have been called incorrectly. There are three others that were right on the black, but that means they caught some of the plate, so as a hitter it's hard to complain about those.
When it comes to the batted ball luck, Tulowitzki has a better point, as his soft, medium and hard hit rates are basically level with his career norms. His hard-hit rate is even a few points higher.
He's hitting plenty of fly balls and none of them to the infield, which is good. He's also hitting more ground balls than he normally does, but not an obscene amount when compared to the rest of the league. What he's failing to do is hit line drives—his line drive rate has bottomed out in 2016 at 5.9 per cent; he averages 19.6 per cent for his career—which are the type of hits most likely to get through a defence.
---

Download it now: iOS | Android | Windows | Special Offer
---
Really, there's not much there in the calls Tulowitzki's getting or the luck. The most glaring deficiencies in his first eight games remain the lack of contact and the wealth of swinging strikes, which go hand in hand.
Some of this could be due to the way he's being pitched. The most frequent location he's seen pitches in the zone this year has been down and away, where he'd gotten nearly 30 per cent of his pitches going into Tuesday night's game. That also happened to be where a good chunk of Tulowitzki's whiffs had come, as he'd swung and missed at six of those pitches.
Of course, this has always been the book against Tulowitzki, who crushes anything on the inside of the plate or up in the zone, but struggles with pitches down and away. That's probably why he says he hasn't noticed an increase of pitches to that area so far this year. It's just been par for the course.
"If pitchers make their pitches down and away there, it's obviously a tough pitch to hit," Tulowitzki says. "But when you're swinging the bat good you can handle all pitches and all zones, and you just wait for those hot streaks to come and you ride them out as long as you can."
One last time — it's early, it's early, it's early. That hot streak Tulowitzki is talking about is more than likely coming. The man is one of the best hitters of his generation. Full stop. It's hard to imagine him remaining this cold for much longer.
But Tuesday night brought another 0-for-3, with two more strikeouts and three more swinging strikes. Surely, it won't be this way forever. It simply can't. Tulowitzki just asks you give him some time.
"We'll see what happens. At least give me a month or so and see what happens. If the team's still striking out by then, obviously we'll have to address it and start putting the ball in play a little bit more often," Tulowitzki says. "But it can change in one game, you know? All you need is one good game. Right now, that's all it takes. So, that's the nice part. Every day's a new day where you can come out here and hopefully help the team win."