TORONTO — Marco Estrada's numbers won't be particularly impressive come the end of the season. Even after a strong performance Saturday afternoon in Toronto's 10-9 victory over the Minnesota Twins, Estrada's ERA still sits north of five. He probably has only a half-dozen starts remaining. And even if he's really, really good in those outings, it's going to be tough to undo all the damage done earlier this year.
But what might matter more than the numbers is how Estrada's throwing the ball. And Saturday afternoon's outing — which saw Estrada allow three runs on five hits over six innings, striking out five — demonstrated a continuation of some promising trends in his performance this month.
He was consistently in the zone, walking only one batter. He lived on the edges of the plate, staying out of the middle more often than not. And he commanded his fastball, throwing a heater nearly 65 per cent of the time.
Add in a smattering of good change-ups (which got him six swinging strikes) plus the occasional breaking ball, and you could see the Estrada the Blue Jays came to rely on over the last two seasons — the guy who pitched to a 3.30 ERA over 57 starts in 2015 and '16, and excelled in some of the biggest post-season innings Toronto has seen in some time.
"I felt pretty good out there — I thought I made a lot of good pitches," Estrada said. "There's a lot of pitches that I thought were strikes today and I didn't really get. It's hard when you're facing a good lineup like that and you're not really getting those pitches. But I was around the plate pretty often."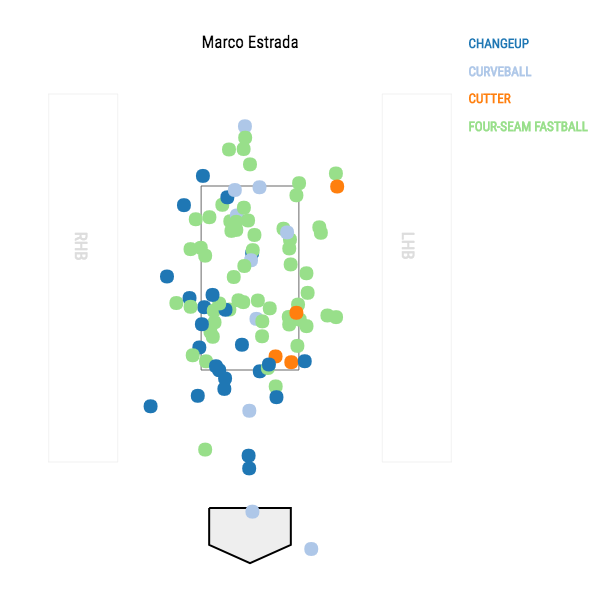 "I thought he was great — he threw the ball really well," said Blue Jays manager John Gibbons. "He lives and dies with location. He moves it around quite a bit. He's got to get certain calls and he's got to live on the corners for the most part.
"But, shoot, Marco's been good since Day 1 when he got here. He had that run earlier in the year, but in a lot of ways he was probably due for that, the way he was rolling for a couple years. But I think he's feeling good right now. And he's where he wants to be for the most part."
Much of Estrada's success of late is thanks to improved fastball command and a better feel for his curveball. Estrada's best pitch is his change-up, but he needs to be able to put his fastball where he wants in order to set it up. And the curveball gives hitters another pitch to think about, which helps make Estrada less predictable. That's why it's so crucial that he can throw it for strikes. It's no surprise that Estrada's strong August has corresponded with season-highs in fastball and curveball usage.
"I'm not a guy who throws 100, so I've got to use every pitch I have," Estrada said. "There have been outings when I basically don't use anything but a fastball, change-up. But today we used all four pitches, and I'm glad he called them."
Estrada's also lowered the batting average against on his fastball from .291 in June and .326 in July to .238 in August coming into Saturday's start. Estrada's ability to keep his fastball down in the zone this month is very much to thank for that.
With that in mind, Saturday afternoon presented a perfect case study. After cruising through his first four innings, allowing only a hit and a walk as he worked around the edges of the strike zone, Estrada threw his worst pitch of the day to Eduardo Escobar: an 0-1 fastball left up and over the plate. Escobar hammered it over the right-field wall for a two-run shot.
"That pitch got away from me," Estrada said. "I got a little lazy with it and didn't really follow through with it. It just kind of stayed over the plate and, obviously, he hit it out."
After an extended-yet-welcome break following his fifth inning — the Blue Jays offence was busy scoring six runs — Estrada didn't look his best, surrendering back-to-back hits to open the sixth. But a visit from pitching coach Pete Walker helped settle things down, and Estrada got the next three batters to make outs, limiting the damage to only an Eddie Rosario sacrifice fly.
"They made a run at him there. But he was sitting in between innings for a pretty long time," Gibbons said. "But he got through it."
That inning was Estrada's last, as he turned things over to a Blue Jays bullpen that nearly gave the game away. Danny Barnes pitched a clean seventh. But Tim Mayza and Ryan Tepera combined to allow four runs in the eighth, all of them scoring when Tepera left a two-out, two-strike cutter on the plate to Max Kepler, who sent it over the right-field wall for a grand slam.
That brought the Twins within one. But the Blue Jays responded by putting two more runs on the board in the eighth, and Roberto Osuna needed all of them in a two-run ninth that nevertheless resulted in his 90th career save.
The Blue Jays bullpen had so much room to work with thanks to a rare offensive outburst. It started when Kendrys Morales hit a second-inning solo shot, absolutely crushing a full-count fastball from Twins starter Dillon Gee to deep centre field with an estimated distance of 455 feet.
Perhaps channeling the Saturday night hopes of Connor McGregor, noted MMA fan Josh Donaldson shocked the world in the third, placing a perfect bunt up the third base line with two runners on and none out. That loaded the bases for Justin Smoak, who struck out. But Jose Bautista was next, and he hit a sacrifice fly to right field, plating Toronto's second run.
A couple innings later, Donaldson contributed in a much more familiar fashion, as he turned on an 0-1 fastball and lifted it 427 feet into the second deck for a two-run shot, his 23rd of the season.
"I was able to put a pretty good swing on it — I've been getting pounded in pretty much for the last five or six games," Donaldson said. "It was nice to finally be able to make somewhat of an adjustment and get the barrel on the ball."
Donaldson's homer drove Gee from the game. But his replacement, Tyler Duffey, didn't fare much better, as he walked Smoak, then gave up three consecutive singles to plate another run. The procession of hits was only halted by Ryan Goins driving a sacrifice fly to deep centre off Duffey which scored another.
But Raffy Lopez picked it back up with two out, lining a single to centre off Ryan Pressly to plate a couple more. When all was said and done, the Blue Jays brought 11 batters to the plate in the fifth inning and scored six.
"That was awesome," Donaldson said. "I feel like we've been swinging the bats pretty well, we just haven't been able to get those runs across like we needed to. And today was a nice relief."
Donaldson drove in another in the eighth with a bloop double that the Twins badly misplayed, cashing Ezequiel Carrera's leadoff walk. The third baseman then scored himself on a wild pitch.
Meanwhile, Estrada wasn't perfect on a day when he very much didn't have to be. And come the end of the season, his ERA will no doubt look a little salty. But Estrada's fastball and curveball have been much better of late. And if he keeps that up, the pending free agent will only continue to help his case this winter.