TORONTO – To appreciate how seriously teams take their pitchers' blister problems, consider that Rich Hill was pulled from a perfect-game bid after seven innings Saturday because the Los Angeles Dodgers feared their left-hander might re-aggravate his trouble spots.
So yeah, those things are no joke.
Aaron Sanchez's blister issues aren't nearly as serious as those of Hill, who's made three starts after a month off to heal, but the Toronto Blue Jays are wisely exercising caution with their right-hander.
The current plan is to skip Sanchez's next turn Friday in Anaheim, slotting R.A. Dickey into his place, and then pitching him Sept. 21 at Seattle in the series finale versus the Mariners. That would give him nine full days of rest to heal the blister that emerged on his middle finger Sunday against the Red Sox, and line him up to start against Boston and Baltimore in the final week of the season.
What can he do to speed the healing process between now and then?
"There are a bunch of things you can do," says Blue Jays head trainer George Poulis. "You can soak the blister in salt-water solutions, there are old school remedies like pickle juice, tomato juice, anything that will make the skin tighter and stronger. There are surfaces you rub the finger on a regular basis to toughen up the skin, something with a rough surface, sandpaper, an emery board, sometimes stones that have a rough covering, a rough towel. And then if there is any blistering in there, the fluid inside the blister can eventually drain out and the soaking can help the skin get tough.
"They're a challenge, no doubt."
Sanchez revealed Sunday that he's been working to contain blister issues since the spring. Sometimes his middle finger becomes vulnerable to blistering in an area known as a hot spot, while at other times it develops into a blister that needs to be managed.
Salt-water solutions have so far been most effective for Sanchez.
"He knows all (the different treatment options), we know them all, we do everything we can each day to make sure to take care of that and he's very good about taking care of it," says Poulis. "A lot of times even if you do the right things, things can still come up."
That's what happened Sunday, when Sanchez said he felt the blister on what he thinks was his fifth pitch of the game and couldn't throw his secondary pitches comfortably – his curveball requires lots of pressure from the tip of his finger – for the rest of his outing. Throwing his fastball wasn't problematic.
When blisters develop mid-game, "you can take an emery board and shave the fingernail down," says Poulis. "The length of the fingernail is key because when the ball rolls off the pad of the finger, it comes in contact with the end of the fingernail, and if it's too short or too long, that's a friction point. If the skin is compromised, it can cause a blister. A lot of times you can get blisters on the feet. Those are a lot easier to manage because you're not throwing the ball. It's amazing how much a blister can affect performance."
Still, Poulis believes that the nine rest days between starts Sanchez will be getting can help "quite a bit."
"The bad thing about the fingers, toes, there are a lot of nerve-endings, that's why when people get a paper cut, it hurts so bad," he says. "It's just very sensitive there. It's definitely not a one- or two-day thing, it's something you have to continuously do and hope they get to a point where they're comfortable throwing.
"It's a boring treatment. It's just time, but you keep chipping away at it."
BAUTISTA GOES DEEP: Jose Bautista went deep for the first time since Aug. 31 in Monday's 3-2 victory over the Tampa Bay Rays, his 18th of the season providing a short-lived 2-0 lead. While he hasn't slugged at the rate he's accustomed to, he has reached base in 20 straight games.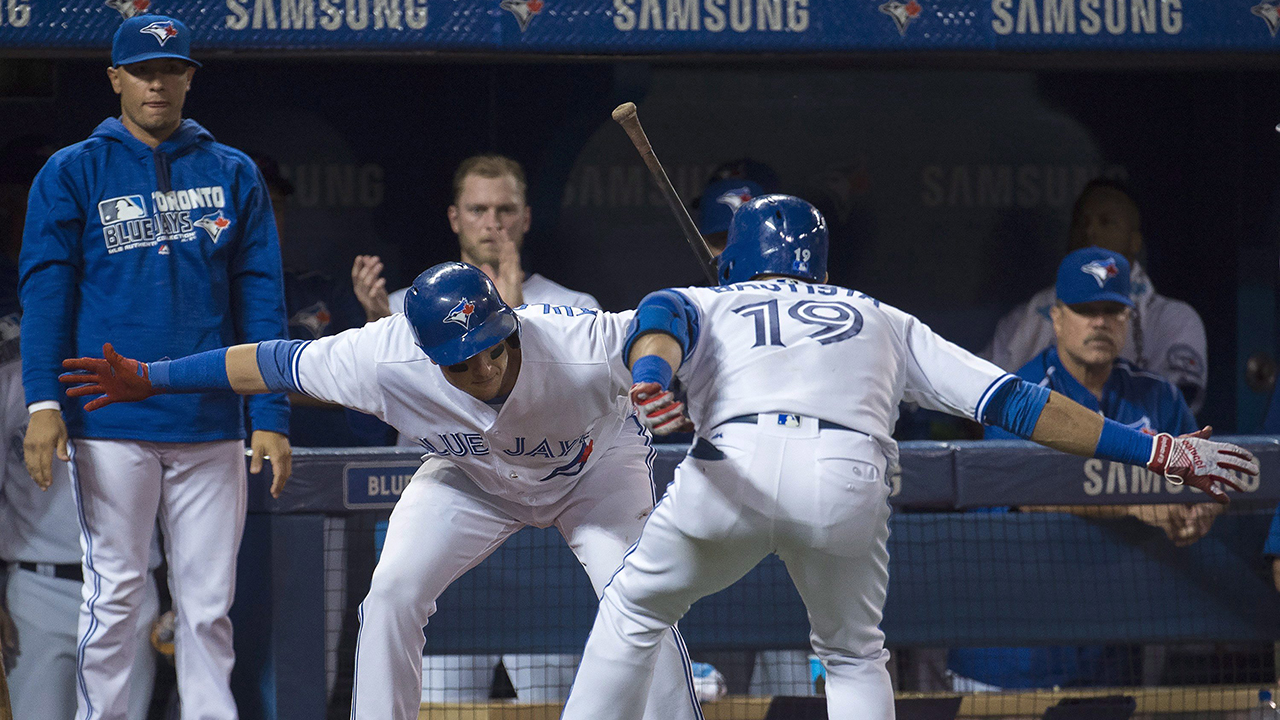 Jose Bautista celebrates his homer Monday with Troy Tulowitzki. (Nathan Denette/CP)
"Obviously we wanted to get on the board, it was a little later than we had hoped but anytime you do something positive for the team you feel good and just I try to contribute," Bautista says of the homer. "It's always gratifying to be able to put some runs on the board."
OSUNA GEARS UP: Roberto Osuna always throws serious gas but in closing out Monday's win over the Rays, the young closer turned it up a notch. He threw 15 pitches, all but two of them fastballs, only three of the heaters less than 97 mph. He topped out at 99 mph.
"I know these are really important games for us so I've got to get (something) extra," he explains. "That's why it's about energy. We're all trying to make the post-season as soon as possible, so doing a little extra right now."
TIME TO GRIND: With the Boston Red Sox in the midst of a stretch of 11 games against the Baltimore Orioles and the New York Yankees, the Blue Jays have an opportunity to make up ground on someone while taking on the Rays, the Los Angeles Angels and Seattle Mariners.
Still, the Blue Jays have had to grind for any bit of success recently so they can take nothing for granted.
"The season is never easy, it's long, every team is capable of beating you on any particular night, you've got to bring your A-game, you've got to be in a good place mentally, you've got to be ready to execute and you have to perform once the game starts," says Jose Bautista. "We're not playing any triple-A teams around here, they're very talented over there and we've struggled this year against them because they have very good pitching and an opportune offence. We're glad to get the win tonight, but I don't feel like it's been more difficult as of late, it's just that sometimes we have been executing and sometimes we have not."