The lack of hospitality shown to returning players stands out among the characteristics that most define Toronto sports fans. Regardless of the circumstances for a player's departure, hecklers and boo birds will find them upon their return to the city in another team's uniform.
This is part of the context for what makes the case of J.A. Happ – and the studiously subdued reaction to his return – such a curious case of the relationship between fans and their players.
Seemingly, much of Happ's history with the franchise has been written in small, muted fonts. He arrived in Toronto as likely the biggest name in a massive 10-player deal in July of 2012 … but was summarily dispatched to the bullpen upon his arrival. He'd spend much of the subsequent years scrounging to make his way back to or keep himself in the rotation.
It's not that Happ was egregiously bad as a Blue Jay in his first stint, but he was likely a disappointment to those who recalled his early days in Philadelphia, where he came in a close second in the 2009 NL Rookie of the Year balloting, and put up a 3.11 ERA over 217 innings across four seasons with the Phillies.
But by the time Happ arrived in Toronto, he had been beaten around in his three partial seasons with the Houston Astros, posting a 4.84 ERA. His fielding independent numbers might have looked marginally better, but few would attempt to fool themselves into believing he was a diamond in the rough.
His first tenure with the Blue Jays wasn't all bad. While invariably pegged as an extra arm, Happ stepped in and filled the rotation slots vacated by the oft-injured Ricky Romero, Josh Johnson and Brandon Morrow. Unfortunately for Happ, the shoes that fans expected him to fill weren't those of the actual recent output by those high profile pitchers, but rather our anticipation of how they should have performed. It's hard to live up to your own expectations, much less the loftier expectations of others.
It also never particularly helped that Happ's time on the mound could be ponderous and frustrating. If there is an image that sticks in the brain from those appearances, it is that of an endless close-up of Happ's face looking puzzled and perplexed while staring in interminably for the signs. And if the payoff for that wait was a fitful delivery and an errant pitch, it could make watching his starts a maddening exercise.
So by the time the Blue Jays traded him to the Seattle Mariners in exchange for Michael Saunders before the 2015 season, it's fair to say that his departure went mostly uncelebrated and certainly unwept.
Jays fans could have been excused for scarcely noticing him last year. Happ never returned to Toronto in a Mariners uniform to receive his unceremonious chorus, and faced the Jays just once in Seattle. His performance with the Mariners was more of the same mid-4.00's ERA that he had in Toronto. So amongst the party atmosphere of last year's trade deadline, Jays fans would scarcely have noticed the July 31 deal that sent Happ to the Pittsburgh Pirates.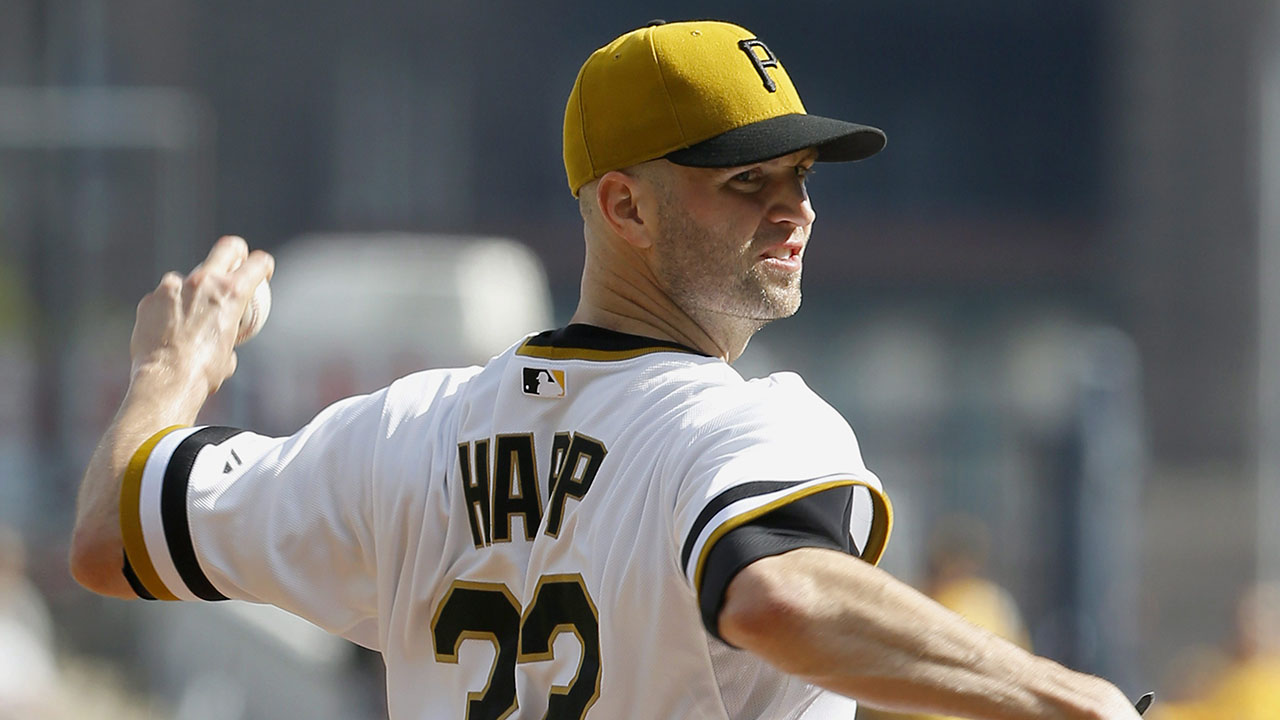 J.A. Happ was dominant after a trade to Pittsburgh last year. (Keith Srakocic/AP)
A few would take notice down the stretch, though, as Happ posted a 1.85 ERA along with 9.8 strikeouts per nine against 1.8 walks in 11 starts. But even that was met as much with skepticism as admiration. There's a cottage industry in stomping out the seeds of narrative before anyone attempts to sow them, and before you could utter the words "Ray Searage reclamation project," referencing the Pirates' sage pitching coach, you were most likely to be met with a dubious shrug.
So when the Jays locked up Happ early in the free agent signing period to a three-year, $39-million deal, the reaction was mostly quizzical. "Him?"
Or if he elicited much more passion than that, it was from those who saw his signing as the final clear indication that the Jays would not make an attempt to re-sign David Price. "Seriously? Him!?"
But the J.A. Happ that we've seen thus far does not appear to be the same one who toiled here previously. Granted, it's just the pre-season plus four starts in 2016, and maybe we're wanting to believe in the pixie dust that Searage seemed to have sprinkled over Happ last season.
His delivery now appears less like four individual limbs launching themselves on separate and distinct missions, and seems tidier and purposeful. His location is more consistent, and his pitches generally end up in the same realm as the catcher's mitt.
Happ also appears to be more focused and decisive on the mound, and less likely to take painful amounts of time planning the next pitch. Whether this is the indication of an actual gameplan, or just the appearance of one, Happ's approach has been far more efficient, and to this point, far more effective. With a 2.42 ERA in 26 innings, there's an argument that he's been the Jays' most effective starter thus far.
The question is: Can Blue Jays fans learn to love J.A. Happ? Can we let go of our previous perspectives on who he is and what he can offer? How much of the improved Happ will we need to see before we can talk ourselves into trusting him?
Or if we can't love him, can we at least warm up to him a little more?