DUNEDIN, Fla. — Right around this time five years ago in Sarasota, Toronto Blue Jays catcher Mike Ohlman hopped in his truck after a spring training workout and started making his way to the mall. He was 21 at the time and climbing the ranks in the Baltimore Orioles organization after the team drafted him in the 11th round of the 2009 draft. He'd made it to A-ball the year prior and the Orioles were hoping to move him up to high-A for the upcoming season, testing the promising young prospect with a higher level of competition.
But he didn't make it to high-A that year. And he didn't make it to the mall that day, either. Shortly after he left the Orioles complex, Ohlman was cut off approaching a red light and had to swerve to avoid crashing into the much smaller vehicle. Ohlman's two left wheels caught the car and jumped up onto it, flipping his truck over on its roof.
He remained conscious throughout the incident and crawled out of a window with the help of bystanders who rushed to his aid. But Ohlman dislocated his right shoulder and suffered a labrum tear that sidelined him for more than four months.
"It wasn't a fun ride," Ohlman says. "It came right at a big spot in my career. I was moving forward and doing really well. That season would have been a really big learning one for me. It really set me back. I lost more than half a year."
He actually lost even more than he had to, as Ohlman was suspended a little more than a month after the accident when he tested positive a second time for what the league called a "drug of abuse." That's the designation baseball uses to refer to recreational drugs, like marijuana or cocaine, which can get you severely punished in the minor leagues but not the majors.
Ohlman's happy to recount the car accident, but he isn't fond of talking about the suspension, only to say that he made a mistake he now regrets.
"It's done. It's over. It was a learning process. I grew up from that," Ohlman says. "You make mistakes and you learn from them. That's the advice I would give anybody."
After Ohlman recovered from his injury and served his suspension, he was returned to low-A and couldn't resume his progress until a season later when he finally got up to high-A as a 22-year-old and put up an impressive OPS of .934 in 100 games. But a major league opportunity never came with the Orioles, who traded him to the St Louis Cardinals in 2015.
After two seasons in the Cardinals organization, including 2016 when he hit .287/.344/.434 across the two highest levels of the minor leagues, Ohlman found himself a free agent. That's when the Blue Jays called.
"They contacted me right away," Ohlman says. "They said I was a priority going into free agency this year. And that's huge. It's a really good feeling to know that people are interested in me—that people want you and like what you do."
What the Blue Jays like about Ohlman is his offensive profile. Massive for a catcher at six-foot-five, 240-lbs, Ohlman's raked at every level he's touched, puts on laser shows during batting practice, and posted a .798 OPS as a catcher in triple-A last season. That could be the level he settles at for Toronto, considering he's also played some first base in his career and could split time between the two positions.
"He's a big, strong kid. He's got some experience. He's shown us some things," Blue Jays manager John Gibbons says. "Shoot, he's hit a couple bombs down here. He can swing the bat. He's a real pro. I like what I've seen out of him."
Ohlman hasn't seen a ton of action this spring but he's done his best to make the most of it, going 4-for-15 with two home runs. He's lasted longer in big league camp than Reese McGuire, another young catcher who the Blue Jays acquired at the trade deadline last season.
The Blue Jays have a bit of a vacuum at catcher beyond big leaguers Russell Martin and Jarrod Saltalamacchia, with Ohlman, McGuire and Juan Graterol all fairly even in terms of who fits in third on the club's depth chart. Ohlman chose the Blue Jays in free agency for precisely that reason, despite having other offers on the table.
"There's definitely an opportunity to move forward in the organization," Ohlman says. "My ultimate goal is to play in the big leagues and help this team. These guys are right on the cusp of winning a World Series. If I can contribute at all to that, that's my main goal."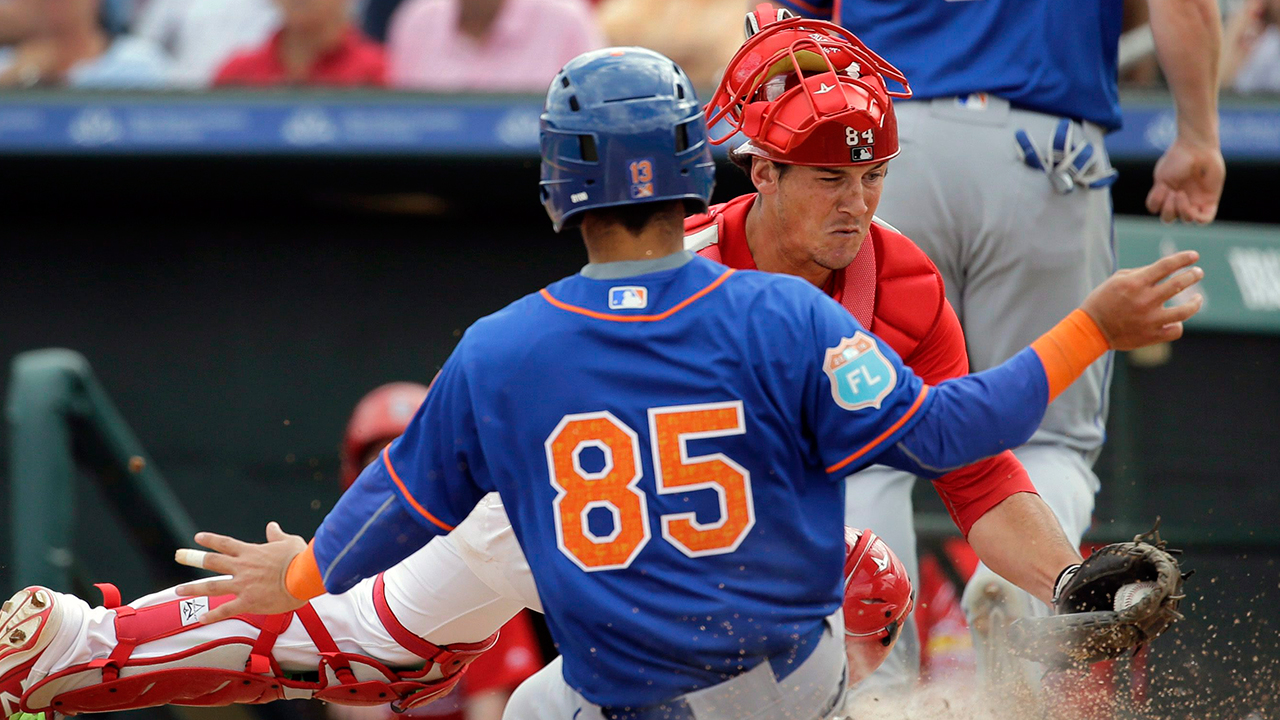 Ohlman spent the past two seasons in the St. Louis Cardinals organizaton. (Jeff Roberson/AP)
The Blue Jays also love Ohlman's work ethic. He's a gym rat who's rarely been at his locker this spring as he constantly searches for ways to keep himself busy. He's a regular presence in the batting cages before and after games, and he often likes to load up a pitching machine with dozens of balls and work on his receiving.
He's a student of the game, too, who says he's enjoying the opportunity to be around veteran major league catchers like Martin and Saltalamacchia, who are always happy to talk about the art. Yadier Molina served a similar role for Ohlman when he was in the Cardinals organization. Blue Jays bullpen catcher Jason Phillips has been another crucial resource. He played 465 games in the majors as a big-bodied catcher like Ohlman, and the pair have spent plenty of time discussing the ways that a large man can be most effective behind the plate.
"We just bounce stuff off each other and brainstorm. That's just how you get better. You can't stay stagnant. You've got to keep moving forward," Ohlman says. "I like constantly tinkering with stuff. That's just part of your preparation. I want to take good advantage of the opportunities I'm given. I prepare a lot because I'm afraid to fail. As long as I prepare and trust in myself, the rest will take care of itself out there."
Ben Nicholson-Smith is Sportsnet's baseball editor. Arden Zwelling is a senior writer. Together, they bring you the most in-depth Blue Jays podcast in the league, covering off all the latest news with opinion and analysis, as well as interviews with other insiders and team members.
Ohlman's certainly turned some heads in camp and if he can get off to a good start in the minors he could be the club's next option if there was an injury to one of Martin or Saltalamacchia. Catchers who OPS .800 aren't exactly common. Ohlman's always hit well in his career, he's just never quite gotten back on track after he got in his truck in Sarasota five years ago. He hopes that with the Blue Jays he can change that.
"When that happened, I went to a place mentally that wasn't great. It's not a whole lot of fun to go through that. When something like that happens, it's traumatic," Ohlman says. "But I just had to make a decision. I could've gone right at the fork in the road and stayed positive or gone left.
"I decided to take the right path and just keep working. I told myself I was going to bounce back. I prepared myself and I did all the work necessary to go out and perform at a high level. It made me a better person—a better man. It's made me who I am today."