DUNEDIN, Fla. – Habemus closer.
For now.
As John Gibbons sat in his office following Sunday's two-hour, two-minute 3-0 shutout of the Tampa Bay Rays, he stared at a magnetic board with players names on tiles. Broadcaster Buck Martinez poked his head in.
"I mean, that's kind of the way we were going, right?" the Blue Jays manager asked when queried about his pseudo-naming of Brett Cecil as closer. Indeed it is. Just as Gibbons acknowledged that while he hasn't said so publicly, things are lining up for Drew Hutchison to get the opening day start at Yankee Stadium.
Um, you might want to announce that sometime skipper, yeah? Or at least tell the guy? "I guess we should," he said.
Don't mistake Gibbons' low-talking of his pitching as a sign of disinterest, dissatisfaction, or dis-anything. Even with the season-ending injury to Marcus Stroman, and the stillborn springs of Cecil, Edwin Encarnacion and Michael Saunders, Gibbons said he has "a really good feeling about this team.
"Russ [Martin] … Josh [Donaldson] … they've made a difference in here," he said. "They're no-nonsense guys. They've brought a focus."
Indeed, an hour after the win over the Rays, Donaldson – still sweating from an extra session in the batting cage, carrying a bat – and Jose Bautista emerged from the trainer's room. They set up shop in front of the door and for 15 minutes, as clubhouse attendants and team personnel navigated their way around the men, Bautista talked about shoulders and hips and swings. Donaldson, of course, studied Bautista's swing on video before he became a teammate but there was less of a student-pupil and more of an interactive tone to the discussion. The two were oblivious to the eyes and ears around them, the intensity of discussion remarkable.
---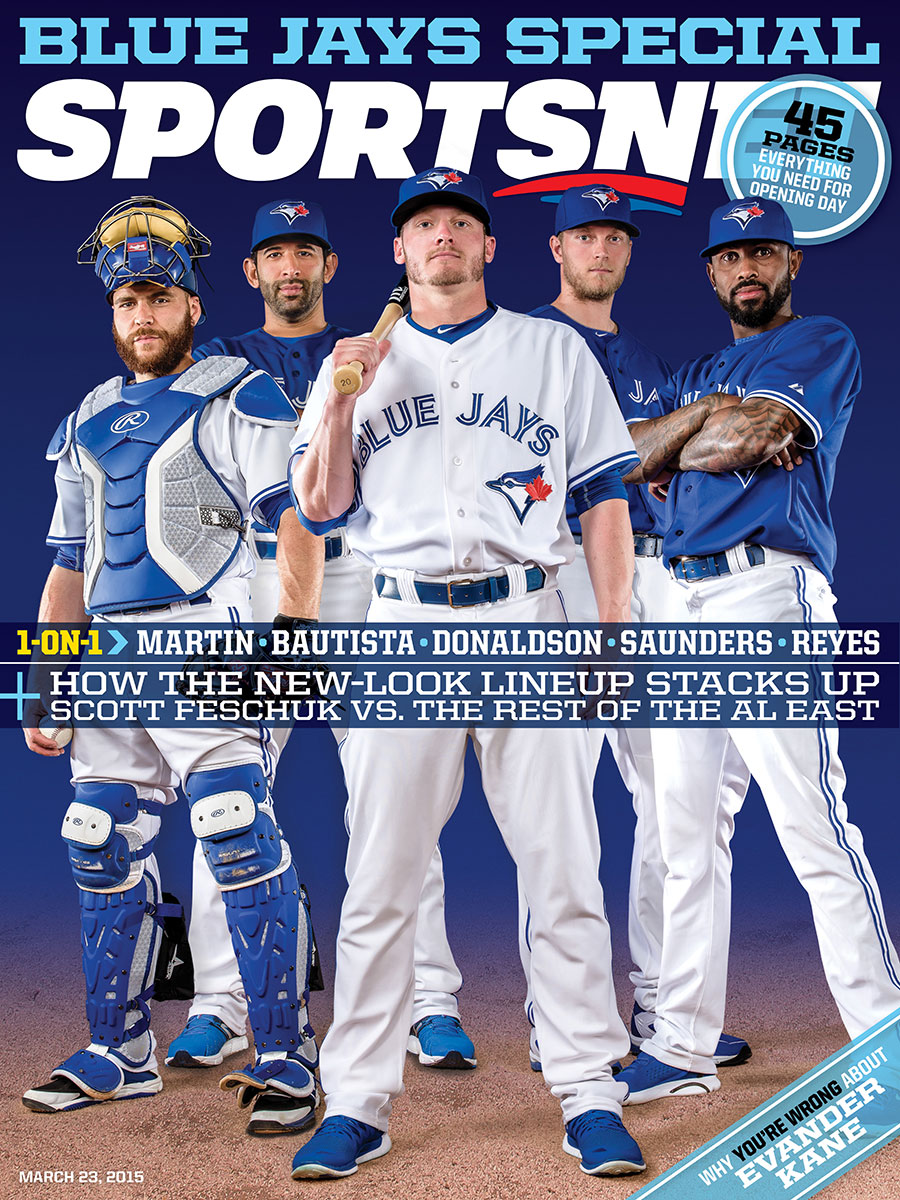 Sportsnet Magazine's Toronto Blue Jays Special: From the heart of the order to the bottom of the bullpen, we've got this team covered in our preview issue. Download it right now on your iOS or Android device, free to Sportsnet ONE subscribers.
---
But it was the Blue Jays bullpen that was the story of the day, after the tag-team duo of Roberto Osuna and Miguel Castro ran their streak of innings without an earned run to 18.2, including 16 strikeouts. Osuna started because of an ankle injury sustained by Marco Estrada in – you guessed it – a fielding drill. He could be back on the mound Wednesday or Saturday.
Gibbons and general manager Alex Anthopoulos have caught themselves on more than one occasion musing about both Osuna and Castro going north – "think about it, we have two guys who are either going to be in the Majors or at Single-A when it's all said and done," Gibbons remarked – but scuttlebutt is that the Blue Jays have all but resolved themselves to having Osuna start the season here in the Florida State League, as opposed to risking his elbow in the colder Eastern League at Double-A New Hampshire.
The Blue Jays skipper said Osuna will likely start again next Saturday in a split-squad game in Bradenton against the Pittsburgh Pirates.
Truth is, barring a trade – and the Arizona Diamondbacks have been trailing Dioner Navarro for the better part of a week – right now the one real bullpen battle could be for the second lefty's job, which seems to have come down to Canadian Jeff Francis and a pitcher with one of the best names on the team — Colt Hynes — and a so-far close to impermeable spring performance, with one hit and six strikeouts in 6.2 innings.
Hynes, 28, was claimed off waivers from the Los Angeles Dodgers in August and along with fellow waiver claim 29-year-old Bo Schultz have made the best of whatever opportunity they get.
Two years ago, while spending time at Double-A and Triple-A in the San Diego Padres organization, Hynes had 58 strikeouts and two walks. It's possible they will both be at the back end of the Triple-A Buffalo Bisons bullpen, perhaps to play the role Neil Wagner once played for the Bisons and Blue Jays.
"He's got some deception to that delivery," Gibbons said of Hynes, who almost seems to tuck the ball behind his back. "He's been good."
Fastball and slider command is Hynes' task this spring. He has heard about the deception in his funky delivery, but says "mostly, it's from catchers and friends I've played with. It seems like my pitch just kind of sneaks up on people. I mean, I have no idea why it does, but if it helps, it helps."
So for now Cecil is the closer and Aaron Loup, Castro, Todd Redmond and Estrada have all but made the team.
Steve Delabar's velocity makes management smile – his inconsistent command of his split-fingered pitch less so.
Chad Jenkins' ability to harness a cut fastball will tell whether he goes north.
There has been talk about an eight-man bullpen, but on a team already trying to figure out how to carry a personal catcher for knuckleballer R.A. Dickey — an offensive hole at first base that would best be filled by a slugger in Edwin Encarnacion whose back problems make him a perfect designated hitter – let alone an aging shortstop whose defensive game is deteriorating, it seems like a bit of a luxury.
Habemus closer.
And the bullpen seems a little clearer now, although as Gibbons told the assembled media Sunday morning, "if something happens and somebody comes along and takes over that role … good for them."