TORONTO — Hours before Saturday's game, Toronto Blue Jays manager John Gibbons was asked if he had a chance to become acquainted with Chris Rowley, who joined the team at Rogers Centre just one day prior.
"A little bit, not a lot," responded Gibbons, before asking, "Do you know him?"
If Rowley continues to perform like he did in his start against the Pittsburgh Pirates, the Blue Jays skipper will be investing plenty of time into getting to know the right-hander.
Stories like Rowley's are a definite positive in what's been a season full of injuries and inconsistency for the 55-61 Blue Jays. Making his major-league debut, the Atlanta native allowed just one run on five hits over 5.1 innings, walking one and striking out three in a 7-2 victory over the Pirates.
Rowley said he was a nervous the night before, but once Saturday's affair began, the anxiousness faded. However, when he exited the field to a standing ovation in the sixth inning, the emotions kicked in full gear.
"Walking off and [seeing] all those people standing, that was something really special for me," Rowley said. "I don't think anybody really expects to experience that in life."
His manager was certainly impressed.
"A debut's never easy but I thought he did a tremendous job. He should be proud of himself," said Gibbons following the game. "He had that good, confident look in him. I noticed that right away."
Rowley, who became the 12th different pitcher to start a game for the Blue Jays this season, could be in line for an extended look in the rotation. Joe Biagini needs more time to build up as a starter in triple-A, while there's no timeline for Aaron Sanchez to return to the starting rotation — when he does come back, it could be in the bullpen, Gibbons said Saturday.
That means Rowley and Monday's starter, Nick Tepesch, could be in competition for an open spot in the starting five.
Rowley is the first graduate of West Point — the United States Military Academy — to ever play in the majors and features quite the interesting story. His pitching career was interrupted for two seasons during which he served in the Armed Forces.
He spent time at the Army Field Artillery School in Oklahoma, where he commanded a five-man tank crew, working on the artillery range. As well, Rowley was stationed in Bulgaria and Romania.
The right-hander, who turns 27 on Monday, missed two years of pro ball while in the army, but has progressed quickly since his return. He enjoyed a strong season for class-A Dunedin in 2016 and put up impressive numbers for double-A New Hampshire and triple-A Buffalo this year.
He had no trouble replicating those results Saturday, inducing plenty of swings and misses from Pirates hitters in the early going with strong movement on his pitches. Relying heavily on his sinker and slider, Rowley worked quickly and was effective with velocity that ranged from 81 to 90.5 mph. He moved the ball outside and in, brushing batters off the plate at times and keeping them off balance.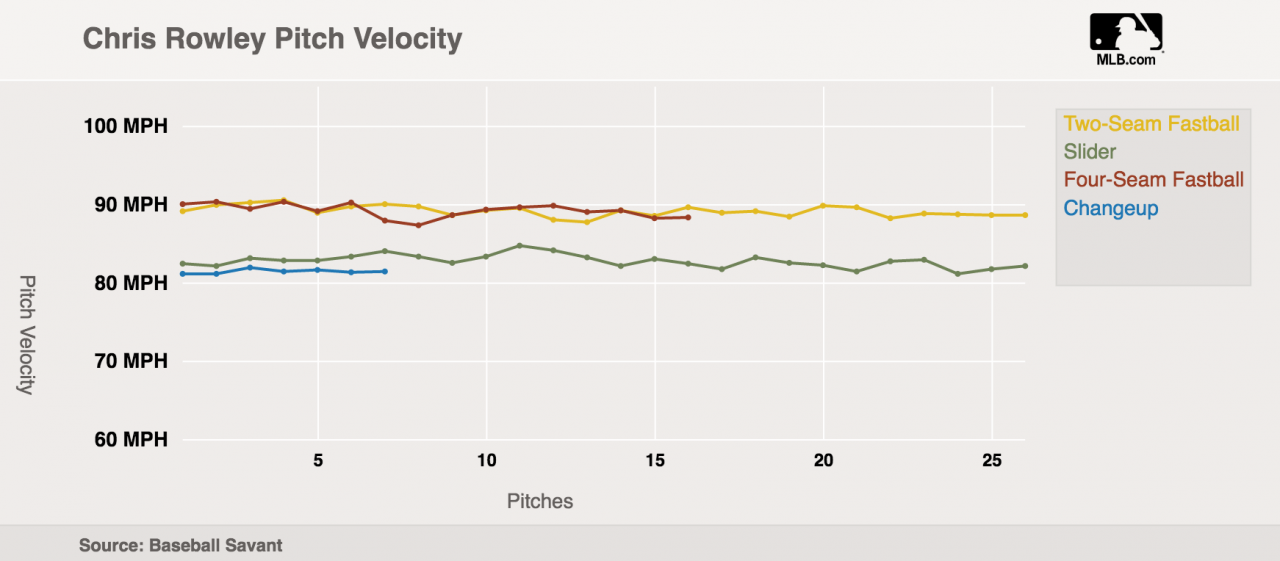 Rowley retired the side in the opening frame and gave up his first hit in the second inning when Pittsburgh first baseman Josh Bell smoked a triple to left-centre field and later scored on a Jordy Mercer single to tie the game at 1-1. Rowley got the next hitter, John Jaso, to ground out and cruised from there until the sixth inning.
"I just wanted to make sure I didn't let that inning spiral," said Rowley of the second frame. "I would have liked to get out of it with no runs — I had two outs and an 0-2 count — but I made a pitch I thought was pretty good and base hit right up the middle."
Gibbons said he thought Rowley's military experience helped him stay poised on the mound. Rowley, for his part, was just trying to stay present.
"I just sort of stay in the moment," he said. "I try not to think too much about the past and the future and try to experience what I'm going through. My job is to execute the next pitch as best as I can.
"I don't think that there was really a point where I got outside of that. I felt pretty comfortable."
He got Adam Frazier to fly out to left field to open the sixth inning, before allowing a single to Josh Harrison and issuing his only walk of the afternoon to Bell.
Rowley was then removed from the game, receiving an ovation from the crowd of 46,179, which included his parents and sister. The pitcher said his family was "very, very emotional right now," and he was looking forward to spending the rest of the day with them.
Right-hander Dominic Leone came on to relieve him and escaped the jam. Aaron Loup, Ryan Tepera and Leonel Campos helped preserve the win for Rowley, who also got help from the Blue Jays offence.
Jose Bautista walked in the first inning, then went first to third on a Justin Smoak single to right field before scoring on a fielder's choice grounder by Steve Pearce.
In the second, Bautista drew a walk on a close, full-count pitch to load the bases for Josh Donaldson, who also walked to earn an RBI that gave Toronto a 2-1 lead. The Blue Jays tacked on more runs in the fifth when pinch-hitter Kendrys Morales grounded into a fielder's choice that forced an error and plated two runs. Toronto added three runs in the seventh, helped in part by an error from Pirates third baseman Harrison.
Rowley can only hope for similar run support in his next start, which could come this Thursday, when the Blue Jays host the Tampa Bay Rays in the finale of a four-game set. That gives Gibbons a good four days to learn more about his newest pitcher.