Jose Bautista's playing career was in jeopardy following his final game in a Toronto Blue Jays uniform last October. He had concluded his worst season in a decade and, as he approached age 37, there were serious questions about whether Bautista's time as a productive big-leaguer was over.
Since then, the narrative surrounding the slugger has transformed through turbulent pendulum swings. Bautista went from unsigned free agent to starting third baseman for the Atlanta Braves. He went from losing that job and looking completely washed up, to surprising the baseball industry by re-establishing himself as a key contributor.
The New York Mets are set to begin a two-game series against the Blue Jays on Tuesday, giving Bautista an opportunity to showcase that resurgence at his old Rogers Centre stomping grounds. It's something the outfielder has been looking forward to.
"I'm trying not to think about it," Bautista said recently. "I'm trying not to dwell on it too much.
"Obviously, I played there for 10 years," he added. "I consider it one of my homes away from home. I'm just going to let it come and enjoy it when it gets here."
Ahead of what figures to be an emotional return to Toronto, here's a closer look at Bautista's turnaround.
Biting the Big Apple
Bautista signed with the Braves on April 18 and following a brief stint in the minors, he was manning the hot corner for the big-league club. He largely struggled in Atlanta, though, prompting his eventual release.
He regained his footing shortly after joining the Mets.

Sure, it's a small sample size, but Bautista has actually been one of baseball's more productive hitters since joining the Mets lineup on May 22. In that time he's posted a wRC+ of 147, which is 47 per cent above the league average. Entering Monday, that ranked 35th among all qualified hitters (since May 22) and ahead of big names such as Freddie Freeman, Edwin Encarnacion and Christian Yelich.
An even keener eye
Bautista has always been known for his plate discipline — even during his nadir 2017 campaign, he still managed to draw walks at a rate that was above the league average. This season, though, Bautista has taken that to another level. His 19.3 walk percentage is the second best of his career, just a shade under the 20.2 per cent he posted during a monster 2011 campaign. It's helped that Bautista has reduced swings at pitches outside the strike zone by 3.1 per cent from last season.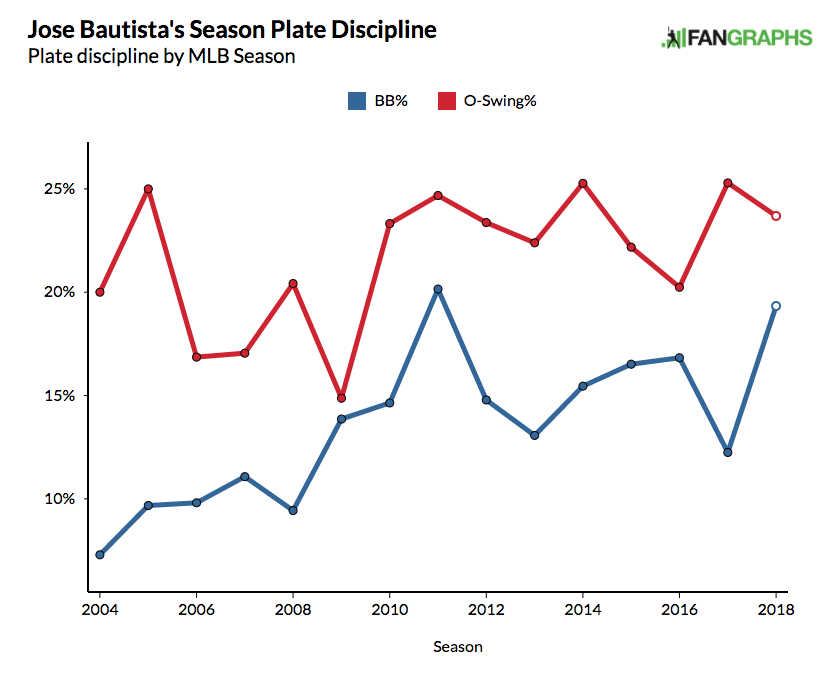 Again, it's important to note that Bautista has just 150 total plate appearances under his belt, a minuscule sample size. However, that figure can serve as a "stabilization point" for a walk rate, according to FanGraphs, meaning it provides an effective assessment of the hitter Bautista currently is.
It's not all roses for the slugger, as evidenced by his 28.7 per cent strikeout rate. That's the highest of his career, with the exception of his rookie year in 2004, in which he had limited plate appearances. But the bloated number has been mitigated this season simply because when Bautista makes contact, he's doing more damage.
Handling the heat
Pitcher velocity has risen in baseball over recent seasons, a trend that has hurt aging players who experience diminished reaction times. Bautista was grouped into that category in 2017, both by the numbers and optically.
Watching the slugger struggle to catch up to heat was a more-than-regular scene. Bautista slugged a paltry .361 on fastballs, his worst output since 2008, while his exit velocity on the pitch type was 91.4 mph. This year, those numbers have risen to .594 and 93.9, respectively.

He's also faring much better on breaking and off-speed pitches. Overall, Bautista's hard-hit percentage is 46.8 per cent, a drastic improvement over the 31.4 he posted last season.
There was talk this past winter that Bautista discovered his sight was poor following an eye checkup. He denied that in mid April, but did tell John Lott of The Athletic that he was experimenting with contact lenses.
"I have a prescription for a small correction," Bautista said. "I'm still trying to get used to it so we'll see if I use them. It hasn't been the most enjoyable experience, but I'm trying to give it some more time before I make up my mind."
Whatever the reason, the fact remains that Bautista is generating more quality contact across the board in 2018.
Better than your local DH
Weighted on base average is an effective measure of a hitter's overall offensive contributions per plate appearance. As of Monday, Bautista's wOBA was .352. To put that into context, it's better production than several teams are getting from their designated hitters. For example, Blue Jays DHs have produced a .329 wOBA, with Kendrys Morales and his .322 mark getting the bulk of plate appearances in that role.
The defending World Series champion Houston Astros have seen their DHs produce a .324 wOBA, while the Los Angeles Angels rank near the bottom of the American League with a .315 wOBA from the spot.
Those numbers help to paint an authentic picture of where Bautista stands as an offensive contributor at the moment. Just a few months ago, he wasn't considered a worthy option as any team's DH, yet here he is now, traversing the outfield as a strong contributor for the Mets.