While baseball is played in a variety of massive parks, each with their own quirks, the game often amounts a fight for control of the invisible space suspended over a pentagonal piece of dinnerware.
Dominance of the no man's land known as the strike zone is consistently the difference between wins and losses. Jose Bautista uses incredible bat speed to hit home runs, but it's his mastery of the zone that gets him in favourable counts that allow him to put his power to use.
It's for this reason that early in the season we tend to evaluate hitters by primarily by their approach. Regardless of small-sample April results, if a player is putting himself in position to succeed, it stands to reason that success will follow.
For Toronto Blue Jays shortstop Troy Tulowitzki this has not been the case. So far this season he's sporting a meagre .160/.267/.320 line, and striking out 28.4 percent of the time. Seeing those numbers, especially the ballooning strikeout rate, it would be logical to assume Tulowitzki's approach has eroded, but his discipline statistics are in line with career norms.
| Time Period | Outside the Zone Swing% | Zone Swing% | Total Swing% | Walk Rate |
| --- | --- | --- | --- | --- |
| Career Prior to 2016 | 25.3% | 61.9% | 42.8% | 9.8% |
| 2016 | 25.9% | 57.0% | 40.0% | 12.1% |
He has been slightly more passive in the zone, but overall there isn't much of a discrepancy between these numbers. Tulowitzki, by and large, is swinging for the right pitches; he's just coming up empty more than ever before.
| Time Period | Out of Zone Contact% | Zone Contact% | Total Contact% | Strikeout Rate |
| --- | --- | --- | --- | --- |
| Career Prior to 2016 | 73.1% | 88.5% | 83.8& | 16.4% |
| 2016 | 69.9% | 75.4% | 75.4% | 28.4% |
What's peculiar is that on pitches that should be called balls Tulowitzki looks the same as he always has. He still swings at a relatively low percentage of them and makes contact at an above-average clip when he does offer. The shortstop's problems reside within the zone where his contact rate ranks 188th among 196 qualified hitters.
Tulowitzki is winning his cat-and-mouse game at the plate. With his patience he's forcing pitchers to come to him. In the past that has resulted in spectacular offensive production, as he's crushed everything in the zone. This year he hasn't been able to execute.
| Time Period | Zone AVG | Zone SLG |
| --- | --- | --- |
| Career Prior to 2016 | .335 | .600 |
| 2016 |  .204 |  .426 |
The shortstop's inability to make pitchers pay in the strike zone is defeating the purpose of his patience. When facing a hitter like Tulowitzki, a pitcher would hope to get ahead and then get him chasing a pitch that he can't drive. At the moment, they can attack the zone with impunity regardless of the count, because it's not a dangerous place to operate.
It's difficult to know how to interpret this information with confidence. An optimist might say that Tulowitzki has a sound approach, an impeccable track record and a .175 BABIP that indicates he's had some poor luck this year.
Those three things are indisputable, but the contact issue remains troubling. What made Tulowitzki so dominant in the past is he was able to take big swings and drive the ball with authority, without the strikeouts that are often a byproduct of that power. Over the last two years, that hasn't been the case.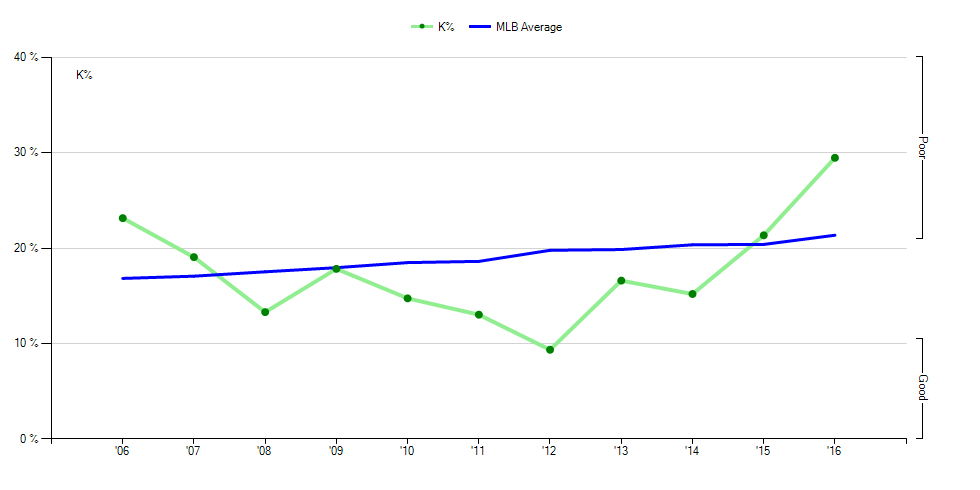 For the better part of his career, Tulowitzki has been the best shortstop in baseball. It would be exceedingly unwise to write him off on account 116 poor plate appearances. Given the extent of his struggles, it's a virtual certainty that he will do far better down the stretch.
How much better will depend on whether he can get a handle of his contact issues. For the duration of his 11-year career, the strike zone has been a place where Tulowitzki hurts opposing pitchers, not one where he's vulnerable.
If he's going to be the kind of hitter he was with the Colorado Rockies again, he needs to reclaim it.