When kids first take up baseball they tend to aim high. They imagine themselves hitting full-count ninth-inning grand slams in Game 7 of the World Series, or perhaps pitching the 24th perfect game in major-league history.
There aren't many five-year-olds fantasizing about making their names as pinch runners. The role is too small, even if recent playoff history has shown guys like Dave Roberts and Jarrod Dyson can be immortalized for stealing a critical base with the game on the line.
However, at the tail end of an up-and-down season that saw him start with the Toronto Blue Jays and sink as low as double-A, that's what Dalton Pompey was asked to be. When he was promoted back to the Blue Jays as rosters expanded in September, he knew that they were looking to turn him into a weapon on the bases.
"They were going to stick with the group that they had and I didn't blame them," Pompey recalls. "They were all playing well, so whatever I could do to help the team was what I was trying to do. I was fortunate to be given the opportunity to come in and run and make the most of it."
In his new role, 23-year-old quickly realized that things are a little bit harder when your presence on the bases telegraphs an intention to steal.
"It's tougher, but I just needed to pick my spots," he said. "When I came in to pinch run they had a good idea I was going to at least try to steal one base."
The added degree of difficulty did not stop Pompey from making an instant impact upon his return to the Blue Jays. In his first game back he stole second and third base running for Justin Smoak.
The most important factor in those thefts was the man on the mound: Ryan Webb. The Cleveland Indians' reliever has allowed 54 stolen bases in his career, with only seven runners being caught – good for an 89 per cent success rate.
"I don't really steal off the catcher," Pompey explains. "The difference between a really good catcher's pop time and an average one isn't that big of one for me. It's moreso about stealing off the pitcher. My jump is off the pitcher."
By the time the regular season ended, Pompey was firmly entrenched as a designated runner for the Blue Jays. In September he pinch ran seven times, scoring five runs and stealing three bases. He was only caught once, as Caleb Joseph of the Baltimore Orioles threw him out for the only time in his major-league career.
Despite its relative insignificance in a game played after the Blue Jays had clinched the AL East title, Pompey's memory of the play is crystal clear.
"That day it was a little bit slippery. I didn't get the best jump I could have just because of the track I had," he said. "I remember I slipped a little bit out of my jump.
"Once I started going I just said 'keep going'. I probably could have shut it down but I kept going. The catcher made a one-hop throw that was low and right on the base. So a tip of the cap, he made a good play."
During the post-season Pompey got a few chances to make his mark. He first appeared on the bases in Game 2 of the ALDS running for Chris Colabello in the bottom of the 12th inning.
"Suddenly it was two outs and I thought it was time to take a chance," he said. "I was pretty nervous going in, but I knew my role and what to expect so I was prepared and just waited for the right opportunity."
First, Pompey took off for second base.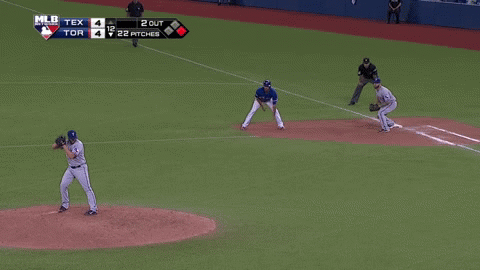 Sitting on second he was reluctant to take another base, not wanting to commit the cardinal sin of making the last out of the inning at third.
Then Pompey spotted Jose Bautista in the dugout encouraging him to come on over.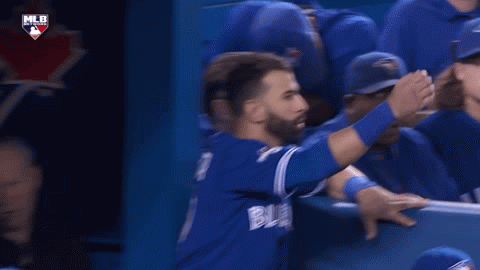 "I'd stolen second and he was waving me over wanting me to go to third because they weren't going to throw it," Pompey recalls. "He wanted me to get to third in case there was an error or a passed ball and I could score in more ways."
Moments later, he'd make it to third without a throw.
Ultimately, Ryan Goins would ground out to end the inning, but Bautista's quick thinking earned Pompey a base, and the moment reminds him how teammates and coaches helped him succeed as a runner.
"I thank [first base coach] Tim Leiper for helping me out and Cliff Pennington when he was here," Pompey said. "He was really big on showing me on video different things that pitchers do that I could pick up and use to my benefit."
In Game 6 of the ALCS Pompey got his final chance of the season to etch his name into the annals of Blue Jays history, entering the game in the bottom of the ninth and immediately swiping two bases off Kansas City Royals closer Wade Davis.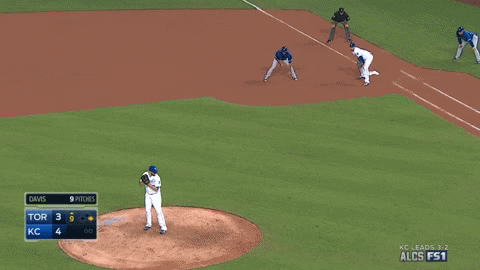 It was a tall task as the right-hander had only allowed 35 stolen bases in his career, with runners converting at a below-average 68 per cent rate. Standing at third base with no outs, Pompey was positioned to score the tying run and go down as a playoff hero in Toronto.
Due to some overpowering pitching by Davis and a few controversial calls at the plate, things didn't play out that way. It was an ending that highlighted the constraints on the impact a player can have in such a specialized role. No matter how well Pompey ran he couldn't score without his teammates executing at the plate, and despite stealing four bases in the playoffs he didn't score a single run.
When he looks back on the experience, the limited playing time the role afforded him makes it a little bittersweet, but as someone who grew up in Mississauga, Ont., the significance of the Blue Jays' 2015 run sticks with him.
"Anybody would want to play every day, so it was tough," he said. "At the same time my legs gave me the chance to make the playoff roster and be there for such an exciting time for Canada."