TORONTO – Field dimensions and wall heights exactly matching those at Rogers Centre, an outfield boardwalk that includes a "good-sized 'tiki' bar," and multiple robotic HD cameras for video feeds baseball operations staff can access remotely are part of the Toronto Blue Jays' deal with Dunedin on a spring training home.
The details are contained within an agreement on the construction and renovation of spring training facilities approved during a city commission meeting last Thursday, a pivotal step in completing a complicated $81-million deal.
Dunedin's unanimous vote in favour of $5.6 million in funding along with an additional $100,000 for capital expenses in each of Years 6-10 of a 25-year lease pushed the process toward its end game, with Pinellas County next in line to approve an outlay of $41.7 million. Once that is in place, an application for $13.7 million from a state fund earmarked for spring training facilities will be made no later than Dec. 31 to complete the funding puzzle.
"The city part of it was a huge milestone for us and the city. We still need to get through the county piece and apply for that state money," Andrew Miller, the club's executive vice-president, business operations, said in an interview Monday. "(The state funding) is actually money that's been set aside by legislation specifically for spring training facilities. There's an application process. We, collectively with the city and county, have to meet the requirements of that application process, but it's not really a negotiated process.
"They may be looking for more information or maybe some tweaks to the information we've given them, but the money is already set aside for spring training facilities, with the caveat that it's politics and anything can change."
Other teams based in Florida for spring training have applied for and received the state funding in the past. For the Dunedin project, the money would be paid out in 20 yearly instalments of $1 million, with Dunedin issuing a bond to fetch the net-present value of $13.7 million.
The Blue Jays will commit $20 million to the project, up from an initial proposal of $15.7 million, along with $13 million in capital replacement costs and a projected $45.3 million in operating expenses ($1.6 million in maintenance costs) and taxes over the duration of the lease. Fans will help pay for the upkeep, as a $2 capital replacement surchage will be levied on all tickets and remitted to the city after spring training.
The renovation of Florida Auto Exchange Stadium is budgeted at $33,259,901 with the Bobby Mattick Training Center upgrades set at $47,784,290, and both projects assume an April 2018 start date. The Blue Jays are responsible for cost overruns but have the right to ask for funding assistance.
Though there are no final building designs and all planning will be subjected to public request for proposals, the building agreement sets forth a detailed vision for what is to be included in both facilities.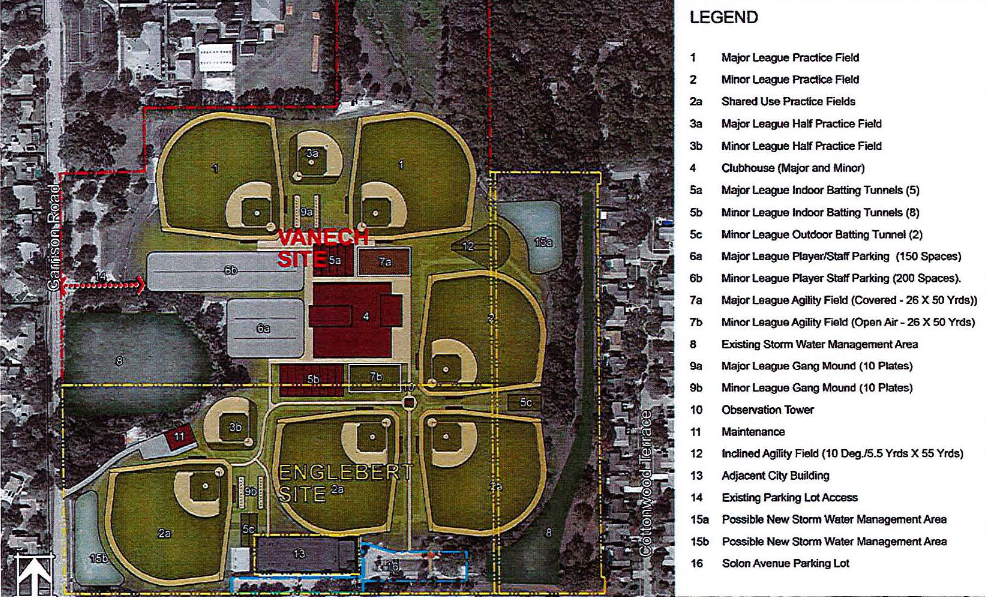 The stadium will grow from a capacity of 5,500 seats to 8,500, with about 6,500 fixed seats plus "standing room, berm seating and 'alternative seating' space (such as at least one 'party deck,' and four tops/high top seating on outfield portion of boardwalk) for 2,000."
The outfield-spanning boardwalk will permit 360-degree fan circulation throughout stadium, while fans will be protected by netting from behind home plate, behind the dugouts and down the lines.
There will be five private suites, three that can be combined into a single party room, along with a box for the family of players and another for the Blue Jays' ownership.
The Blue Jays' baseball operations department will be able to gather a treasure trove of video on players with up to 10 robotic, remotely operated pan-tilt-zoom 1080i HD cameras situated around the stadium, one installed permanently in centre field, three in clamped locations (behind home and along the first and third base lines, and six more that can be place at high home plate, low home centre, two at first base for open-side hitter and catcher vantage points and two at third base for the open-side hitter and catcher shots.
There are similar camera requests for all six full fields called for in the club's upgraded training facility.
Two full fields – one replicating the Rogers Centre dimensions and outfield wall height, with artificial turf, a dirt infield and lights – along with a half-field will be for big-league use. The other four full fields and another half field is for minor-league use, three of which may be available to the city from April to November.
The complex will also feature covered batting tunnels, a covered agility field and an inclined agility field, along with new offices and clubhouses that will feature a 10,000 square foot gym, a hydrotherapy room with various tubs and pools, an 800 square foot yoga studio, a sports science lab with the space for a built-in force-measurement platform, an exam room for doctors, an X-ray room and 22-foot ceilings in the big-league clubhouse with windows to allow natural light and the ability to darken the room.
As part of the agreement, the Blue Jays must host an average of 15 big-league games each year for a total of 375 games over the lease's duration. The 25-year agreement can be extended by two years up to five times.
The Blue Jays get the revenue generated from food, concessions, merchandise and parking, while Dunedin gets all the money for stadium naming rights up to $100,000, gets 50 per cent of anything above that amount up to $250,000, and a maximum of $175,000 if the naming rights exceed $250,000.
"We think it's a fair agreement and the city obviously does, too, or else they wouldn't have agreed to it," said Miller. "We tried to be really mindful of the importance of the 40-plus year relationship we've had down there and the importance of Dunedin to the Blue Jays organization, and really have a way that all the interests align for the next 25 years. We're all really excited that's happened."
[relatedlinks]